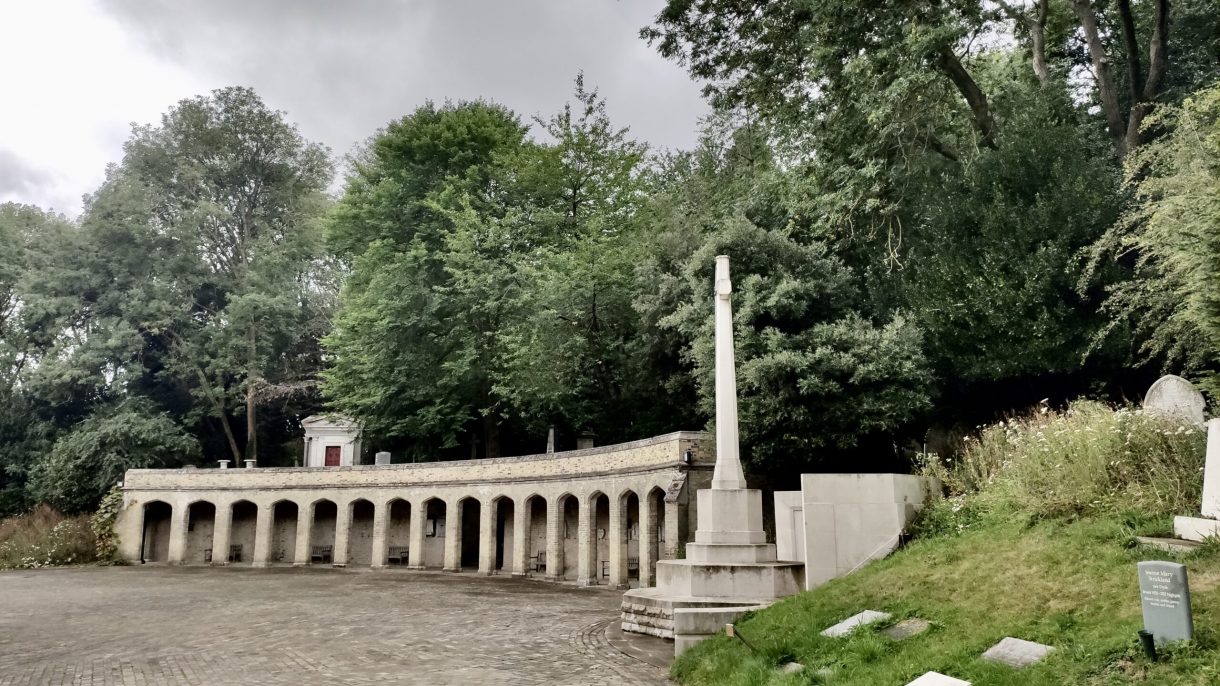 Highgate Cemetery | Things you should know before you go
Highgate Cemetery is definitely one of the creepier places in London. Discover obscure history, hidden in the stories of those who strolled the streets of the UK capital. 
Read on for everything you need to know before visiting London's Highgate Cemetery. 
A Brief History of Highgate Cemetery
Opened in 1839, Highgate is one of London's most famous cemeteries. This tranquil space is home to some of the Victorian era's most influential figures. Perched on a hill away from the smoke and filth of London, Highgate Cemetery was once the place for wealthy Londoners to be buried.
Among the impressive tombs are the gravestones of communism father Karl Marx, Victorian author Charles Dickens and Adam Worth, a famous criminal and the possible inspiration for Sherlock Holmes' nemesis, Professor Moriarty. 
However, over time the cemetery was forgotten about. Nature took over, adding to its creepy feel, and the cemetery fell into disrepair.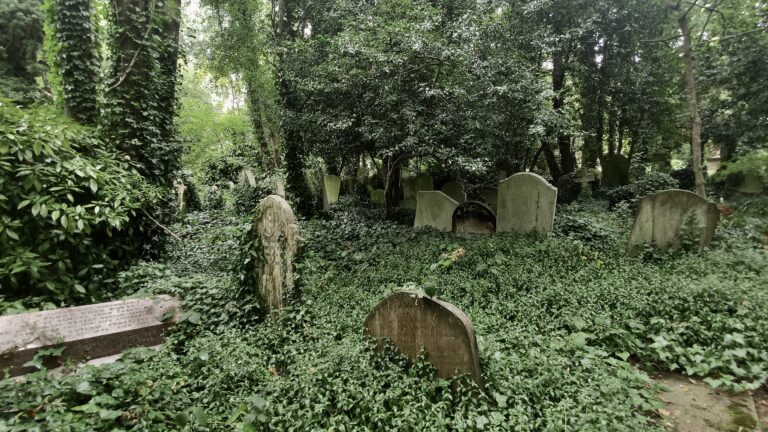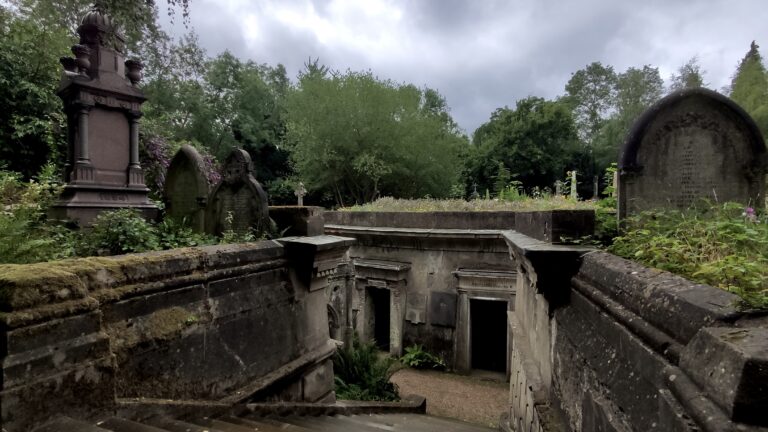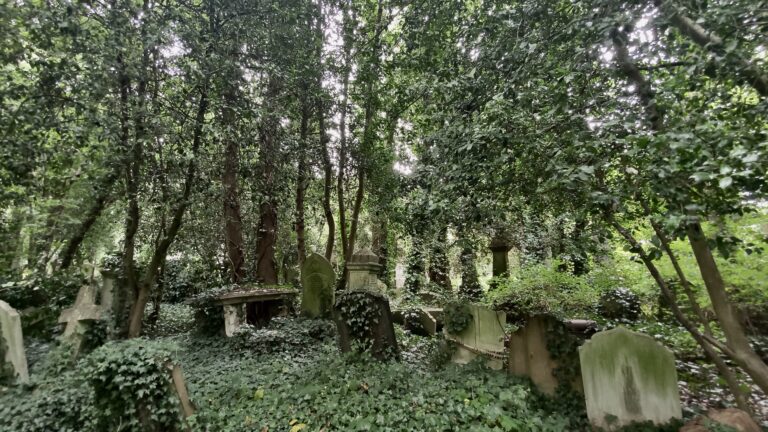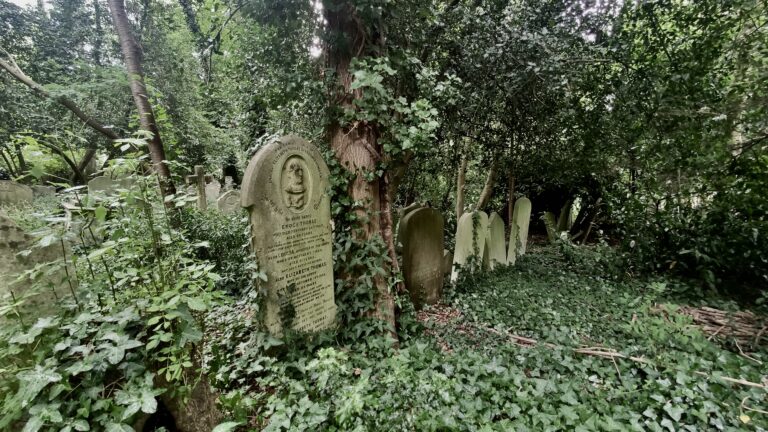 The Highgate Vampire and Duelling Magicians
The 1970's saw a period of grave-robbing, desecration and vampire stories appearing in the news as the cemetery became a popular horror film location. These films regenerated public interest in the area, sparking the 'Highgate Vampire Sensation'. Scores of 'vampire-hunting' horror fans regularly converged on the graveyard with wild claims of mysterious red-eyed figures spotted hovering over graves.  
This culminated in two young magicians each claiming they would be the first to find and kill the vampire. They led night time hunts through the cemetery and, finding nothing, agreed to settle their feud with a 'magicians duel'. However, the duel never took place as one of the pair was arrested in 1974 next to Highgate Cemetery carrying a crucifix and wooden stake.
Though neither magician ever found the supposed vampire, graves were ransacked in the 'hunts' and real corpses dragged out, beheaded and staked. The cemetery remains a popular location for occult, paranormal, and vampire enthusiasts.
It's also a fairly nice place for a stroll… in the daylight of course!
The cemetery is split into two parts, East and West.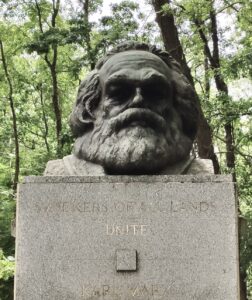 The East Cemetery is the more modern of the two. Visitors flock from around the world to see the grave of Karl Marx, whose political philosophy has had such an impact on many.
However, it's also home to illustrious figures of the nineteenth century and eminent people of our own time.
You many find a few names you recognise. Permanent residents include Douglas Adams, author of The Hitchhiker's Guide to the Galaxy and George Michael, best known for his role in WHAM.
'With its sinuous paths winding up a steep wooded hill and ivy-clad monuments, here is a secluded funerary landscape at its most evocative'
The West Cemetery, however, will really make your jaw drop. Home to the most impressive architectural features of Highgate, the West Cemetery is beautifully overgrown. Intricately carved stones echo with stories of those who were laid to rest underneath them. Unruly ivy creeps up the sides of moss-covered crosses. Gothic busts and cracked tombstones lean against each other for support.
Behind every stone is a story. Immerse yourself in obscure historical tales, from menageries to murders, architects to artists – there's something to interest everyone.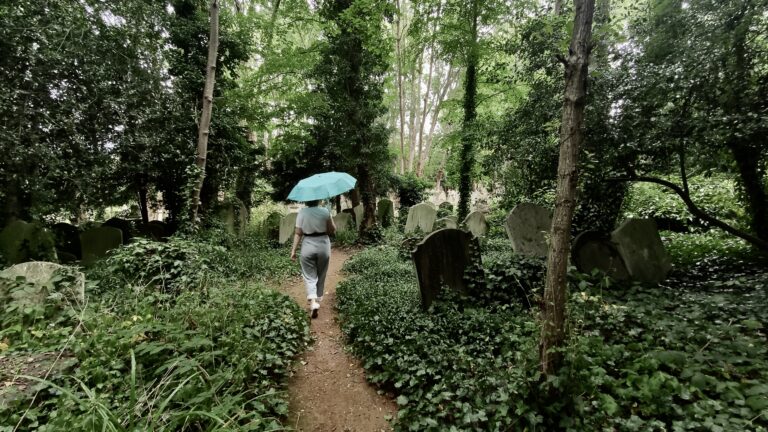 The World's Largest Potted Plant
The cedar tree in Highgate Cemetery earned its title by accident.
At the top of the west side of Highgate Cemetery is the Circle of Lebanon. This round of mausoleums accidentally created a massive 'pot' containing a very ancient cedar tree, which predated the cemetery. 
The tree became a sort of bonsai and remained here as the world's largest potted plant until 2019, when it collapsed due to decay. It has been replaced, but it will be many years before the new tree can grow into the title of its ancestor.
You can see the new 'largest potted plant in the world' at Kew Gardens, also in London.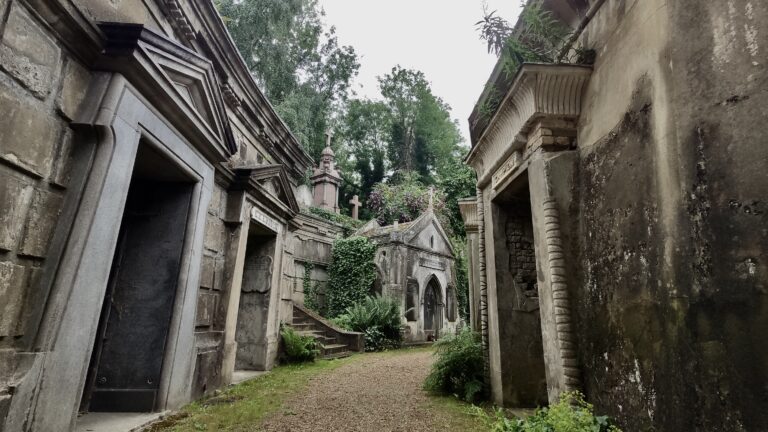 Highgate Cemetery is a hot-spot for urban biodiversity. A rich assemblage of plants, bugs and birds occurs in the woodland and glades, many of them unusual for this central London location. 
This creepy  graveyard is now accumulating further fame with the help of a new discovery. The Orb Weaver spider is a rare arachnid that thrives in total darkness, making historic tombs their ideal home. Over 100 of them have been found living among the dead in sealed up vaults for the last 150 years.
It's important to protect these natural places and preserve the species that call the cemetery their home. So there are a few things you should keep in mind during your visit: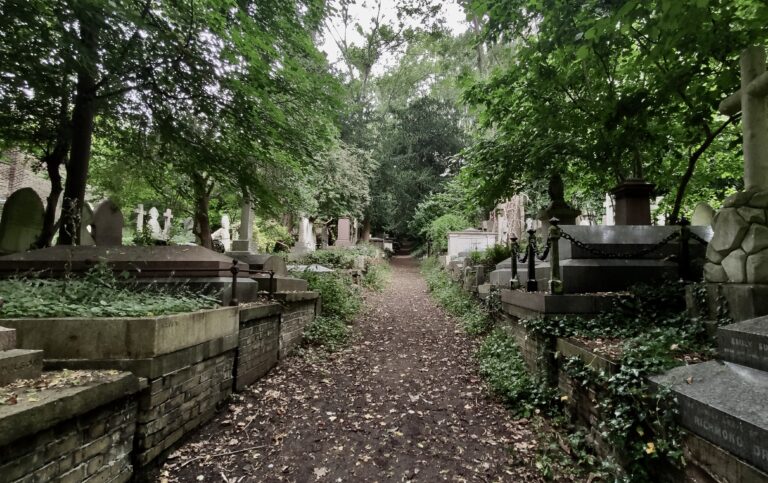 Admission to the West Cemetery is usually by guided tour only. As of summer 2020, Highgate Cemetery is trialling a 'free range' tour approach. Numbers are limited to preserve the tranquility of the area and tickets must be booked in advance. Experts are available throughout the grounds if you want to hear any of the fascinating stories behind the stones
The East Highgate section, including the grave of Karl Marx, can be visited on your own. There is an entrance fee for both East and West cemeteries. More information and current prices can be found here.
How to get to Highgate Cemetery
Take the High Barnet branch of the Northern line to ARCHWAY tube station. Don't go to Highgate tube, it's a much longer walk. Take the Highgate Hill exit then turn left and walk up Highgate Hill. It's then a five minute stroll through Waterlow Park to the cemetery gates.
Bus 88 stops at Parliament Hill Fields and C11 stops at Brookfield Park. From here, follow Swain's Lane uphill to the cemetery. Buses 143, 210 and 271 stop at Waterlow Park. Walk through the park to the cemetery gates.
There's a bicycle rack outside the West Cemetery gates. It's a damn big hill to cycle up though it would be great fun coming back down. The cemetery is close to Hampstead Heath if you wanted to combine a trip with a longer bike ride.
This post may contain affiliate links (yay for transparency!) This means that I will earn a small commission, at no additional cost to you, if you click the link and choose to buy the product. I only link to stuff I have personally bought and found useful and never endorse crap. Your support helps keep the site going, thank you!