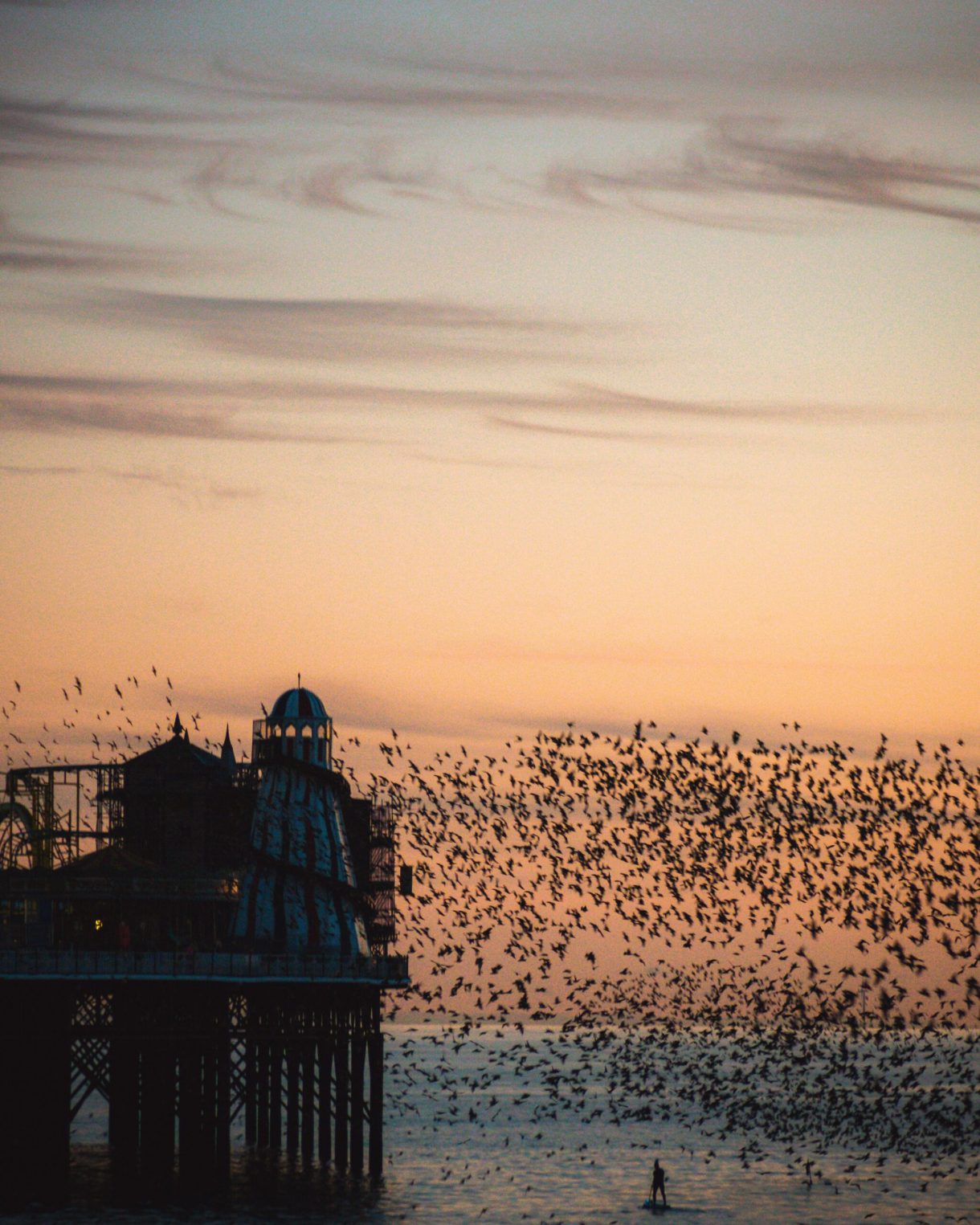 The Green Guide to Brighton
Part of the Green Travel Guide series, the Green Guide to Brighton will cover everything you need to know to experience the best of the city. Our first-hand recommendations will ensure you're seeing the best sites, eating at the best restaurants and immersing yourself in this beautiful beach town. So read on if you're keen to get some vitamin-sea.
Dive right in to the Green Guide to Brighton
Click any of the bullets below to be taken straight to that section
Ahh Brighton. What's not to love? We all need a day to escape, filling our lungs to the brim with salty sea air and Brighton is one of the most easily accessible British seaside destinations. At only an hour from London, it's often a go-to weekend escape for city-dwellers and visitors to the UK. And it's packed with options for the sustainable traveller.
Brighton isn't all fish and chips and arcades on the pier – though you're sure to find that without much trouble. It's a quirky, colourful, vibrant beach town known for being the 'hip' place to be. There's an eclectic food scene, with some amazing vegetarian and vegan options, great antique shops and a vintage clothing scene. Brighton is also the unofficial gay capital of the UK with a large LGBTQ+ community. The city goes wild every year for Brighton Pride, with around half a million people turning out every year to celebrate love of all types. 
Brighton is perfect if you're keen to reduce your carbon footprint whilst still getting that beachy experience. Low cost flights to mainland Europe can be tempting for us Brits, but they aren't good for the planet. And when government regulations can change within 24 hours (2020 I'm looking at you), there's a lot to be said for exploring our own country.
Best things to do in Brighton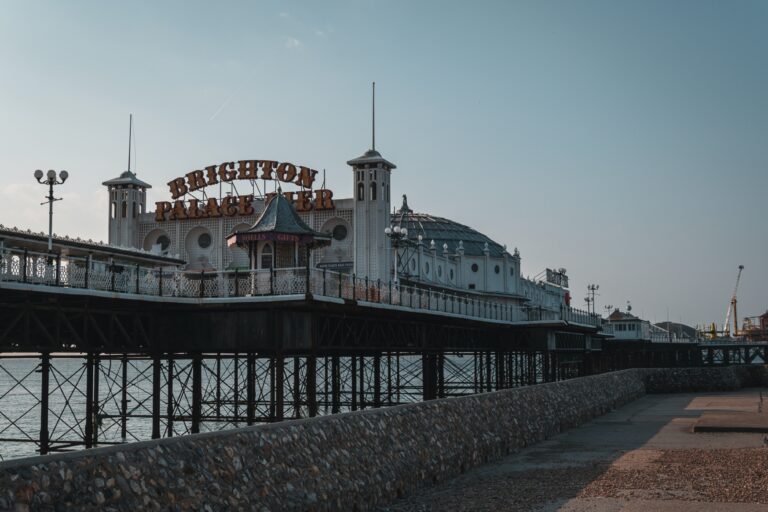 Check out Brighton Palace Pier
A trip to Brighton would be incomplete without a visit to Brighton Palace Pier. This Grade II listed pleasure pier is brim-full of activities, rides and stereotypical seaside fun. Try your luck at the typical tacky beach amusements. Enjoy the quintessential British seaside experience of breaking your teeth on a stick of rock. Or tuck into a rustling paper bag of fish and chips (but watch out for the swooping seagulls trying to get their share).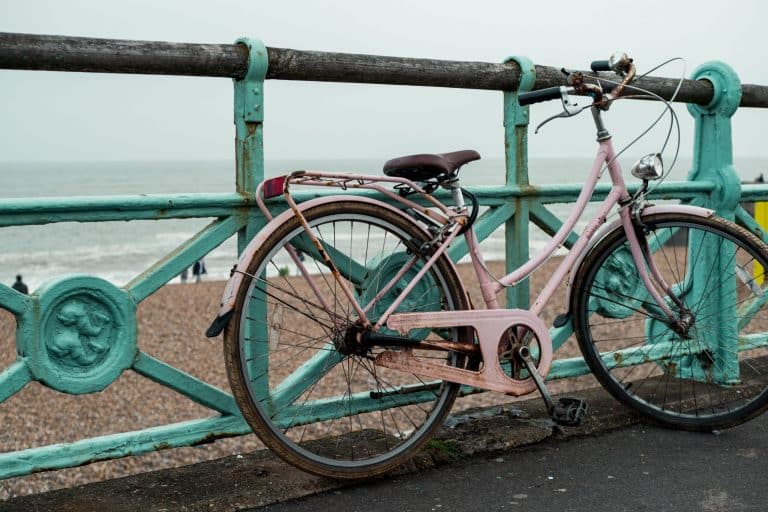 Cycle along the seafront with Brighton's bike-sharing scheme
My favourite way to explore is by bicycle, and Brighton have introduced the prettiest turquoise bike-sharing system which perfectly matches the town's colour scheme. Escape the masses by cycling along the seafront in search of a quieter spot. Or head into into the quieter town of Hove. The bikes cost 3p per minute (£1.50 an hour). Simply download the app to unlock a bicycle and return it to a drop-off point when you're done.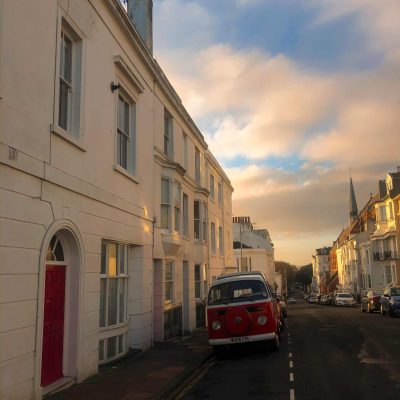 Grab a bicycle and head into Hove. Considered to be the more up-market counterpart to Brighton, Hove has some lovely, leafy neighbourhoods worth walking around. It's much less touristy. 
Check out the instagrammable beach huts, relax on a quieter beach or enjoy the gorgeous Regency townhouse exteriors over a hot drink from one of the quaint little cafés in the area. 
Hove is the perfect place to relax and unwind away from busy, buzzing Brighton.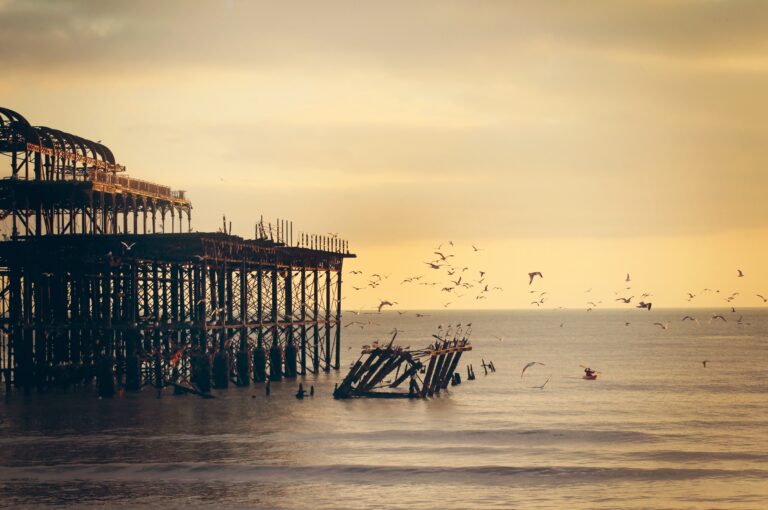 Watch the Sunset Over Brighton's West Pier
Look past the bright arcades of buzzing Brighton Palace Pier  towards the ocean and it's impossible to miss the metal skeleton of Brighton's West Pier. The derelict pier was heavily damaged by several storms, and a fire eventually destroyed any hope of restoration. The remains of the pier have been left and it has become an iconic part of Brighton's coastal view.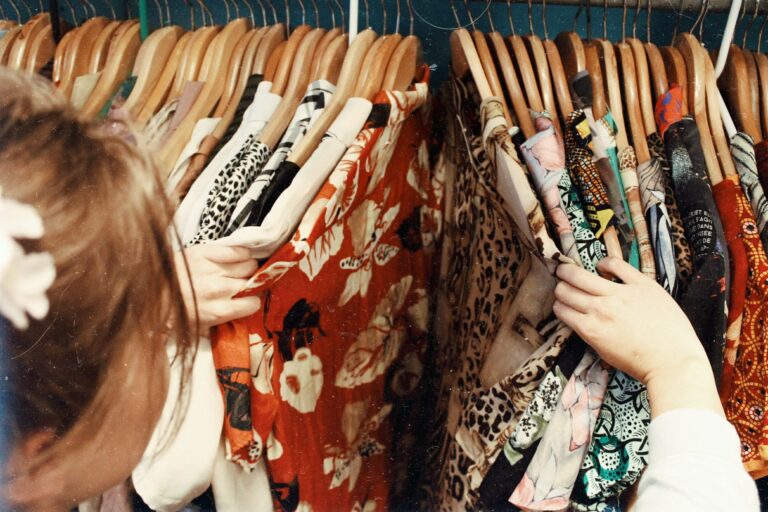 The Lanes is Brighton's quirky independent shopping scene. These narrow, winding streets are brimming with brilliant art shops, record stores, vintage clothes and flea markets. Soak up the atmosphere by picking one of the independent cafés to sit and watch the world go by as you sip your drink. The Lanes don't open until 11am on weekends so you might not want to head here first if you're an early riser.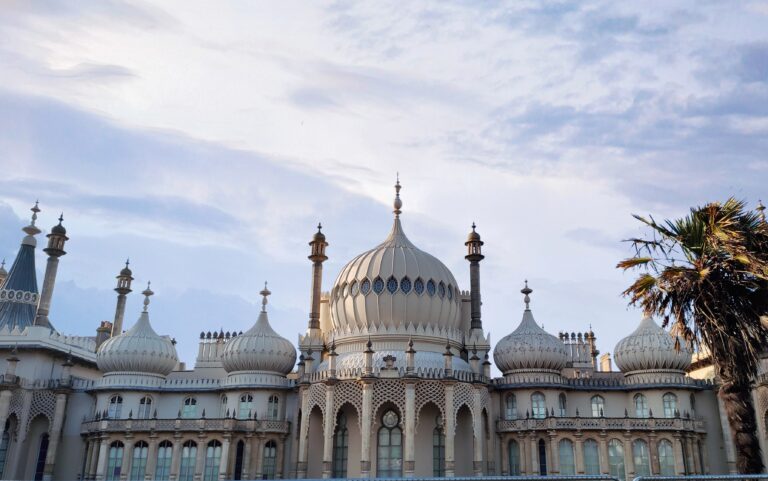 Relax in the Gardens at the Royal Pavilion
Brighton's Royal Pavilion looks like it would be more at home in India than England. This Grade I listed former royal seaside residence was built in the 1780's for King George IV. It's a combination of classic British Regency period architecture with Indian and Chinese influences. You're sure to find many students and locals alike soaking up some sunshine in the gardens. You can explore the interior from 10:00AM in the winter and 9:30AM in the summer but the exterior is the best part (and it's free!).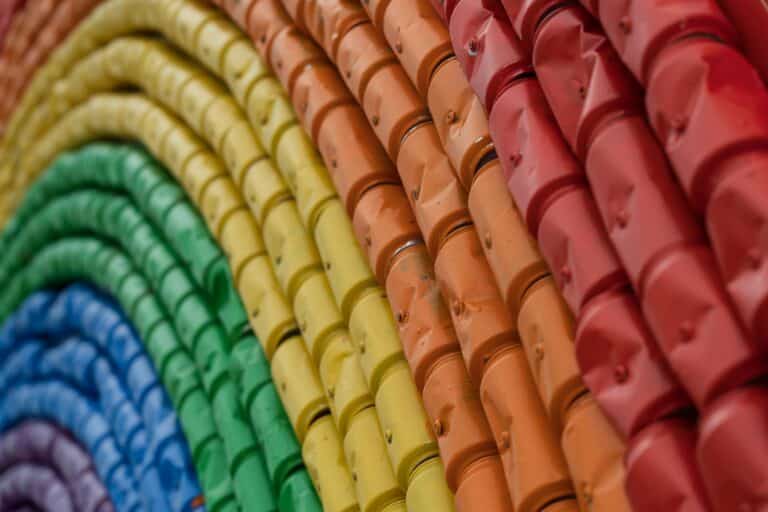 Educate yourself with an LGBTQ+ History Walking Tour
Rainbow flags fly proudly in Brighton which is arguably the LGBTQ+ capital of the UK. A walking tour from a local expert is the perfect way to learn about Brighton and Englands LGBTQ+ history. The walk takes you through 200 years of history, charting the progress, bravery and achievements of individuals in very different times to the more progressive attitudes of today. Tours also take you through some of Brighton's best sights, from the grandeur of the seafront, through The Lanes, to the 'gay village' of Kemptown.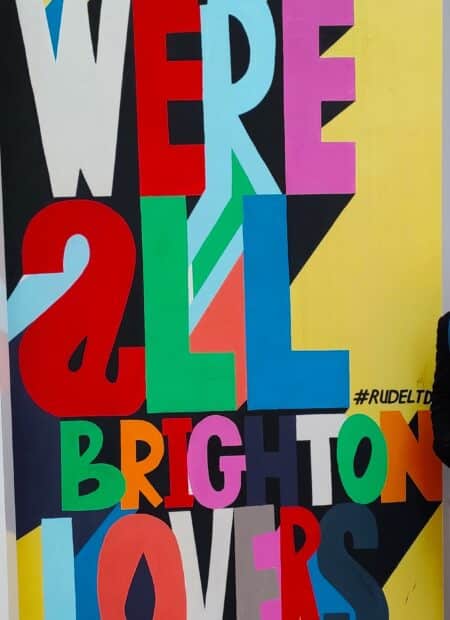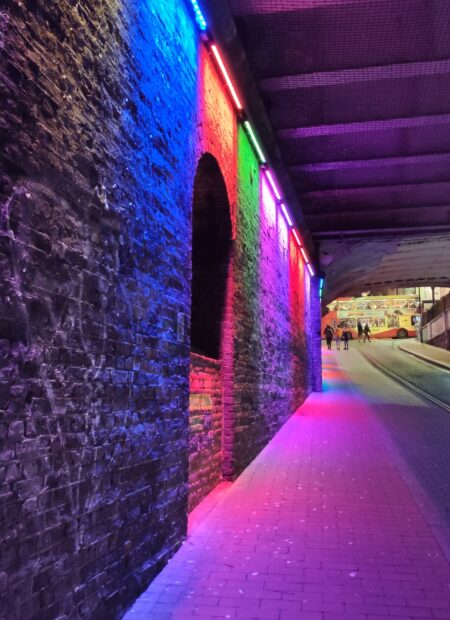 Explore Brighton's Graffiti Scene
Brighton & Hove has earned itself an international reputation  for its stunning and original graffiti artwork which can be found across the city. Simply wander around the city and you are guaranteed to stumble across impressive street art, from famous Banksy to local masterpieces. 
Check out the Open Market
Raining? Of course it is, this is England after all. The Open Market is the perfect place to head when it's bucketing it down. This undercover market packs independent boutiques, artists' studios and traditional market stalls under one rain-safe roof. It's a great place to shop local and support independent. Pick up some fresh food, rummage through some vintage, grab a book from the dinky bookshop or snuggle up with a coffee. Check their Facebook for up-to-date market times.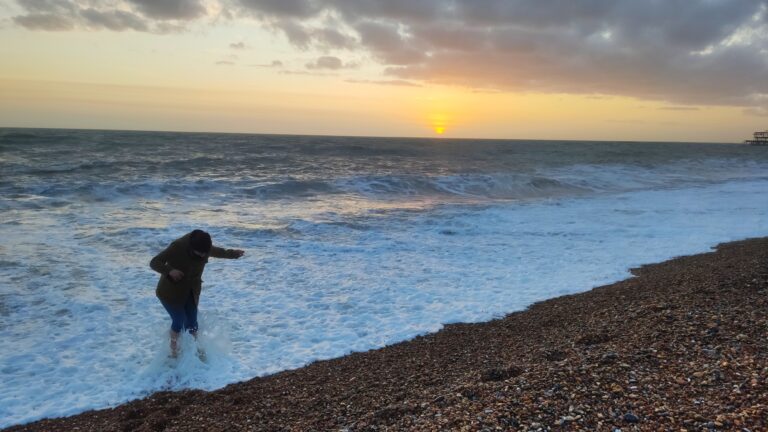 Whether the weather is beautiful or grey, no trip to Brighton is complete without a dip in the sea. Kick off your shoes and dip your toes in just to say you've done it! 
Brighton has so many wonderful things to do; secondhand shopping; beach picnics; bike rentals; and photo opportunities.  As sustainable travellers, it's important to put our money where our ethics are. All of the above activities are things that won't hurt the planet but there are a few things below that we personally don't support. 
British Airways i360 Viewing Tower
The i360 promises the perfect perspective of Brighton and Hove. However, since its erection the colossal structure has actually been blocking beautiful beach views across Brighton's neighbourhoods. The soulless, ugly tower can be seen from pretty much everywhere in the city. Locals hate it, and the money earned from the tower supports British Airways instead of the Brighton economy.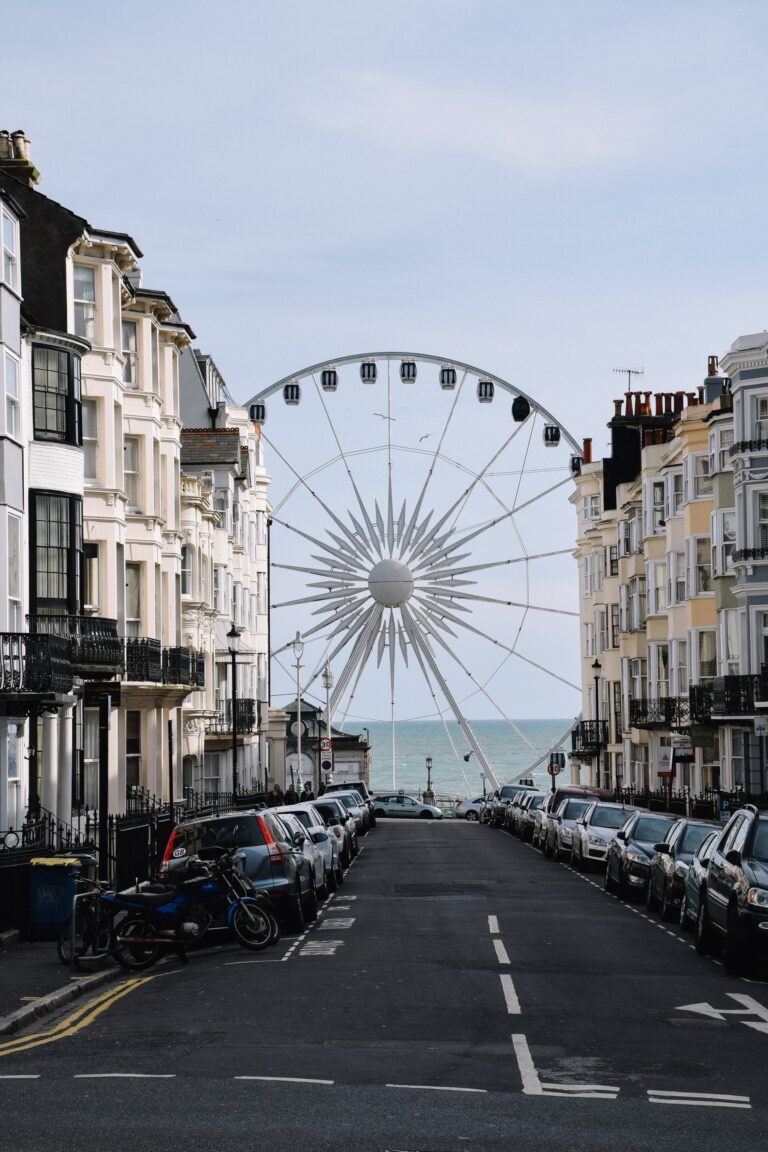 If you're about in festival season, make the most of the amazing events put on in Brighton throughout the summer months. Whether you want to support some up-and-coming talent or a more established act, we recommend browsing what's on and taking a chance on something new.
Remember to enjoy the festivals with sustainability in mind. Find out what drinking facilities are available and bring a refillable bottle and re-usable cup for those drinks. Try and shop second-hand or support small businesses for your festival attire. And most importantly, remember to dispose of your trash or pack it out with you and take your tent home so it doesn't go to landfill!
Brighton Fringe (1st – 31st May)
Brighton Fringe is the largest open-access arts festival in England. This international festival with community spirit embraces every art form and every form of artistic expression. It supports both new and established performers in trying out new work and taking risks and is often where people practice their acts before trying out for larger Edinburgh Fringe
Brighton Festival (2nd – 24th May)
Brighton Festival takes place alongside Brighton Fringe and is an annual celebration of music, theatre, dance, circus, art, film and debates across Brighton & Hove. This is the largest curated annual arts festival in England and well worth a visit. 
Brighton Pride (First week of August)
Brighton is the unofficial LGBTQ+ capital of the UK and this annual summer festival held in the first week of August commemorates the struggles and achievements of the LGBTQ+ community. The event attracts almost half a million a year, with a parade through the city centre followed up with a festival event in Preston Park. Evening events include parties across the city which are especially vibrant in the Kemptown clubs. There's even a Pride Dog Show!
Brighton has always done its own thing. It's a hub for the independent, alternative or just downright odd. So it comes as no surprise that Brighton's food scene hasn't followed the trends of other major UK cities. Instead, Brighton has developed an independent spirit propelled by firmly held beliefs about local, organic, sustainable produce. 
Terre à Terre (Vegetarian)
Six years winner of the Best Ethical Restaurant in the South, Terre à Terre has been making ethical and sustainable choices since 1993. 
One of Brighton's original vegetarian and vegan food options, Terre à Terre are transparent about their ingredient sources, recycling and food waste management. Plus they're entirely vegetarian with some great vegan options! Prices are a little on the expensive side but the food is delicious.
Piecaramba (Vegetarian/Vegan Friendly)
Looking to experience some retro? Piecaramba are passionate about pies and pop culture. Order one of their inventively-named pies then sit back and enjoy a selection of vintage video games whilst waiting for your meal. They have a great range of flavours to try out and offer vegetarian, vegan and gluten free options. 
This vegan falafel place is a family-run business that started by creating small batch artisan handcrafted houmous based on traditional Middle Eastern recipes. They added a dollop of that unique Brighton flair that's sprinkled across the city and the result was a dish people went wild for. Their falafel and houmous are amazing and the best part – they're 100% vegan!
Purezza is Brighton's only plant-based pizza restaurant. We love their creatively named pizzas which sound suspiciously like an episode of Friends. They also offer non-pizza options, including a vegan cheese board which will blow your mind. 
Brighton's independent coffee scene is buzzing. As a Green Guide to Brighton, we recommend that you forget the large corporation chain coffee shops. Instead support local Brighton coffee businesses by ordering your latte to go at an independent coffee stop. In these cafes, you can expect unique and instagrammable interiors, artisan roasted beans, expert baristas and beautiful coffee art. 
Many of us can't imagine starting the day without a cup of coffee but then struggle against the inevitable midday crash. If this is sounding like you then pay a visit to Bluebird Tea Co. Their matcha tea drinks promise the same buzz, but without the mid-morning slump. 
Fed up of coffee shops serving watered down coffee? Bond St Coffee is for you. The locally roasted coffee here is strong, bold and will keep you buzzing past midday. 
This one is super close to the station so the perfect stop whilst waiting for a train. Café Coho specialises in dark-roasted coffee and brews a blend of coffees from fairtrade farms across South America and Africa
Redroaster Coffee was one of the first specialist coffee houses in the UK when they set up at the turn of the millenium. They roast up their beans every day, making sure you're getting the freshest coffee around.  The stylish cafe is decked out in white marble with high ceilings and an abundance of houseplants to make you smile.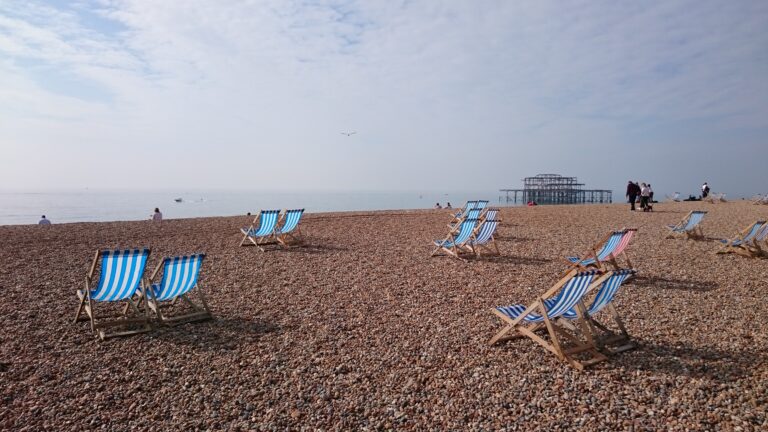 The Green Guide to Brighton always recommend sustainable ways to travel and travelling by train is the easiest way to reach Brighton. There are direct services running from London Victoria and London Blackfriars which leave approximately every 20 minutes. With a travel time of little over an hour, the train is the easiest, cheapest and most relaxing way to visit Brighton. 
The National Express runs a semi-regular service from London stops to Brighton. This is marginally cheaper than the train, however travel time is 2h30 and the National Express is famous for its lack of punctuality. If you are planning an overnight stay in Brighton and Hove, the bus could help you save those precious pennies. But I would always opt for the comfort and ease of the train, especially for a day trip. 
Brighton isn't huge and you'll be able to make the most of the colourful streets, back alleys and beachfronts by walking. The town is small, people friendly and easily walkable
If you want to explore further afield, cycling might be your best option. Brighton's bike-sharing system is affordable at 3p per minute (£1.50 an hour). Simply download the app to unlock a bicycle and return it to a drop-off point when you're done.
Walking or cycling isn't always the most attractive option when the heavens open and the rain falls. Brighton and Hove have a great bus system which can take you around town or further out. Check the website for up-to-date timetables.
Follow our daily adventures on Facebook and Instagram
Brighton Fringe (1st – 31st May)
Brighton Fringe is the largest open-access arts festival in England. This international festival with community spirit embraces every art form and every form of artistic expression. It supports both new and established performers in trying out new work and taking risks and is often where people practice their acts before trying out for larger Edinburgh Fringe
This post may contain affiliate links (yay for transparency!) This means that I will earn a small commission, at no additional cost to you, if you click the link and choose to buy the product. I only link to stuff I have personally bought and found useful and never endorse crap. Your support helps keep the site going, thank you!