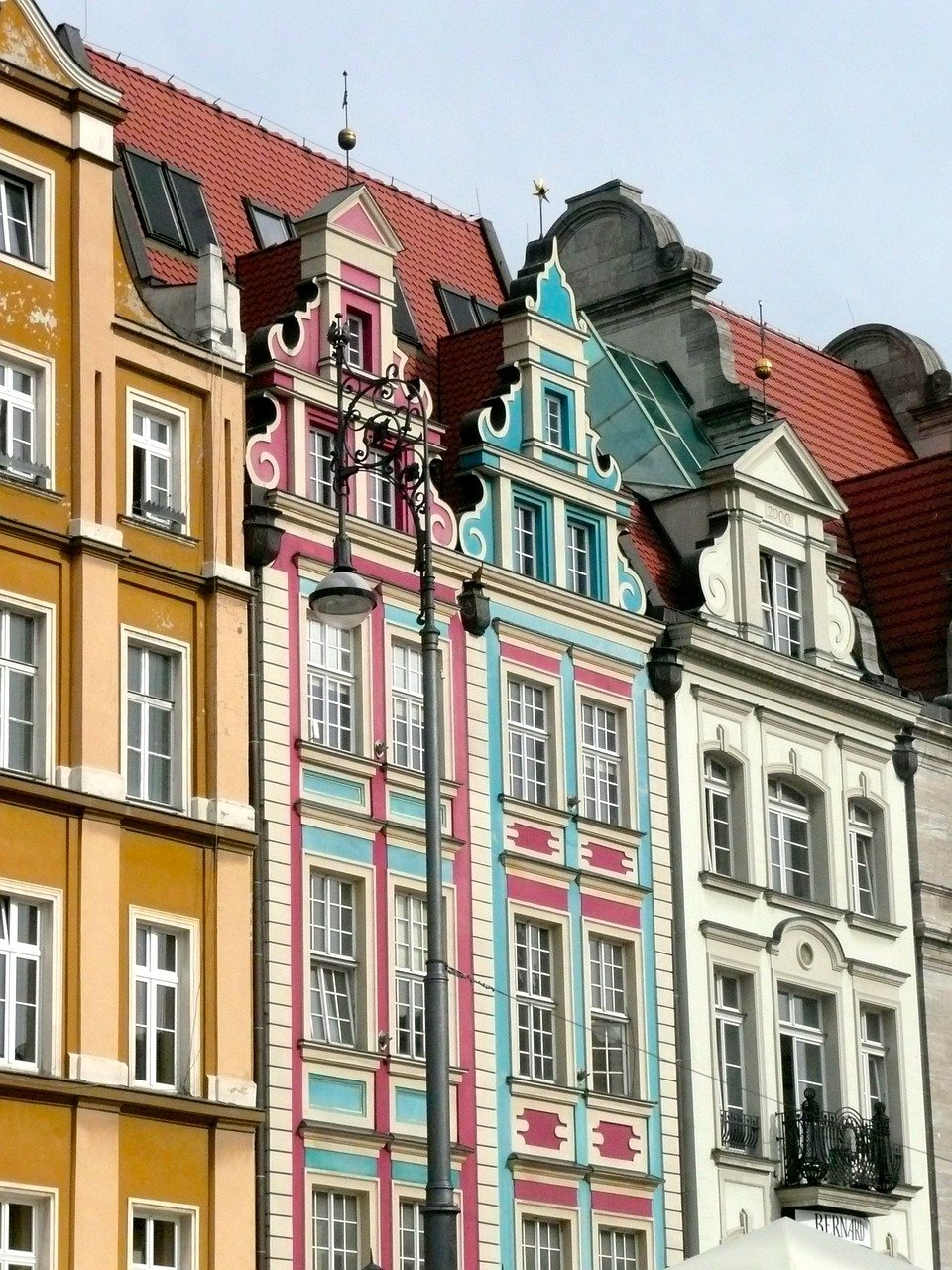 The Green Guide to Wrocław
Part of the Green Travel Guide series, the Green Guide to Wrocław (pronounced 'VROTS-wav') will cover everything you need to know to experience the best of the city. Our first-hand recommendations will ensure you can see the best sights, enjoy the finest Polish cuisine and soak up the atmosphere of this lively city. What are you waiting for? Dive right into the Green Guide to Wrocław to discover the best of this city. 
Dive right in to the Green Guide to Wrocław
Click any of the bullets below to be taken straight to that section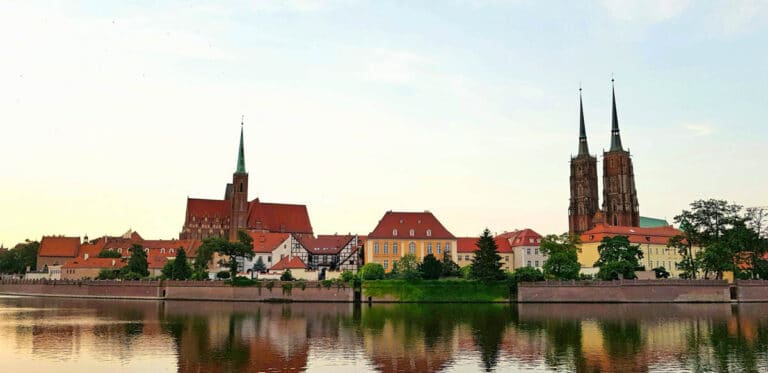 Prepare to get starry-eyed strolling the streets of this Polish gem. At the crossroads of Europe, Wrocław has the postcard panoramas and upper-class culture of its neighbouring western capitals combined with the wonderful history and ready-for-anything attitude of its formerly communist neighbours. 
Wrocław is one of the most romantic cities in Europe stuffed to the brim with fine architecture, little cafés, walkways and parks. Here, you'll find more bridges than any other European city, and they're definitely needed as Wrocław is a city made up of twelve islands. 
One of the most colourful cities in Europe, many of Wrocław's buildings are painted brightly to reflect the city's youthful and creative vibe. Over 130'000 students bring a lively atmosphere to this small city, filling the tables which spill out across the market square. It's a bright, bubbling place and definitely worth a visit. Not convinced? We hope you'll be buzzing to book that trip by the end of our Green Guide to Wrocław.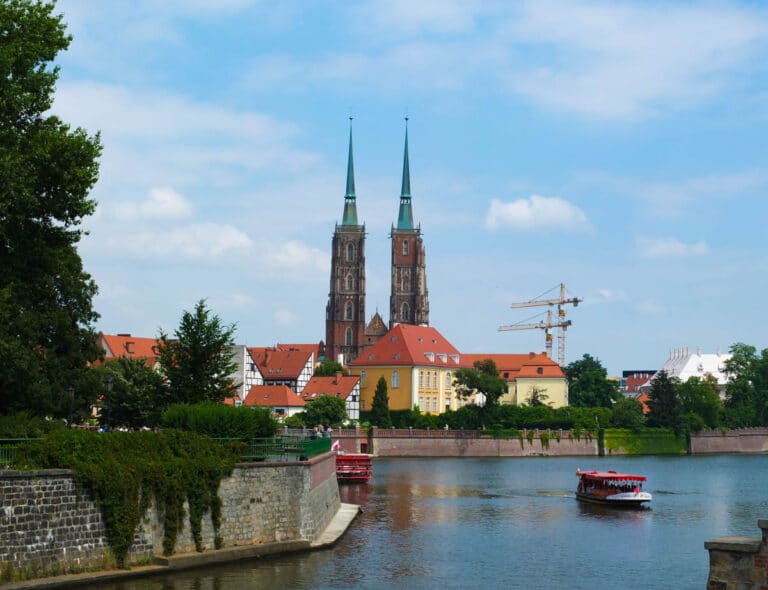 Best things to do in Wrocław
If you know me, you'll know I love a free walking tour. They're the perfect thing to do to stretch your legs after a long journey and help you find your feet. Free Walking Tours offer a variety of tours in different languages. They're tips-based – at the end you can tip your guide whatever you feel like the tour was worth, or what you can afford. I can personally vouch for the Dwarves and Communism Tour, it was great fun and really interesting. 
Climb the Cathedral of St John the Baptist
One of Wrocław's most enduring icons, the twin spires of the Cathedral of St John the Baptist watch over the island of Ostrów Tumski. Built in 1244, this gothic cathedral was the first brick building in Poland. The real gem, however, is the panoramic view from the cathedral tower. It's easily accessible with by taking the lift, and costs just a few zloty. 
Relax in the Botanical Gardens
Fancy some green space? The Botanical Gardens are a brilliant place to relax. The gardens were designed by the university as a scientific pursuit, but have become a favourite retreat for residents and tourists. With a huge diversity of plant life, the botanical gardens have enough hidden nooks that you might almost forget you're in a city… until you spot the spires of St John the Baptist towering above you!
Poland's Venice wasn't just a name they made up out of the blue. Built on islands, the rivers and canals play an important part in the city's development and identity. Grab a picnic and head down to the river to rent a kayak. For a more leisurely outing, buy yourself a ticket for a ride on one of the tourist river boats which offer sightseeing trips. And if you're up for some booze and a boogie, make sure to board one of Wrocławs party boats at sunset!
Check out Wrocław's flea markets
Wrocław's open-air markets are possibly the best place in Poland to bag a bargain. Whether you're searching for a snack or a souvenir, you're sure to find what you need. For a real cultural adventure, head to Swiebodzki Market on a Sunday. Set up on the disused railway line, this open air bazaar, sprawls endlessly over the train tracks, and holds everything from trash to treasure at incredibly cheap prices.
More upmarket markets (pun intended) include Wrocław Market Hall, selling the finest fresh foods around. The Flea Market under the Mill is in a picturesque setting and, whilst there's often not much to interest visitors, you might be able to score some antiques, communist memorabilia and old records.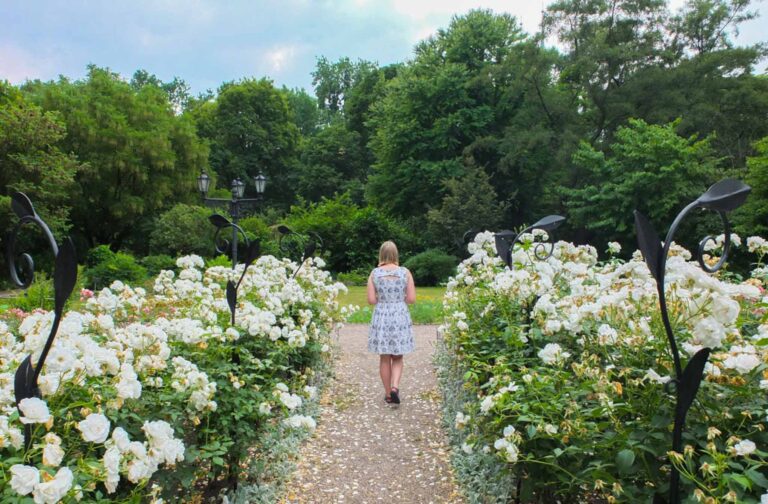 Things you absolutely shouldn't miss
Lamplighter has to be one of the most charming and romantic jobs I've ever heard of (seriously, can I switch careers?). Before electricity was invented, it was the lamplighter's job to light the town's lamps at dusk and put them out again at dawn. During the night, he served as a town watchman, patrolling the streets for signs of trouble. 
Wrocław is one of only two European cities that still employs a lamplighter, the other one being Brest, Belarus. Dressed in his signature cape and top hat, it's not easy to catch him in the merry act. For your best chances, head to the island of Ostrów Tumski at dusk.
Easy to miss if you're not looking, these little folk are a beloved symbol of Wrocław. When Poland was under the communist regime, dwarves became the calling card of the Orange Alternatives; a secret movement that used absurdity and nonsense as a canvas for their protest.
During the times of communism, any anti-establishment graffiti was quickly painted over. Armed with paint cans, a group of art and history students used humour to ridicule this attempt at censorship by painting over the cover-up yet again. This time with dwarves. 
As the movement gained popularity, dwarves became a symbol of Wrocław. In 2005, a local artist was commissioned to create five dwarf figures which were placed around the city. They became so popular and local businesses wanted in, so began to commission their own! There are now over 400 of these little men and the city has a hard time keeping track of them all. This dwarf map will help you find most of them, but you may stumble across some unexpected little fellows too. 
The Colourful Market Square
This colourful market square is difficult to avoid if you're in Wrocław. With the plans laid out in 1241, it's one of the largest and oldest squares in Europe. Built over 250 years, Wrocław's Rynek is an eclectic mix of architecture, ranging from Gothic to Art Nouveau. At the centre of the square is the magnificent Town Hall; a marvel of medieval architecture. 
During the World War II fight for the city in 1945, the market square and Town Hall were heavily damaged. Beautifully restored, the square has resumed its position as a place of summer festivals, Christmas markets, New Year's Eve parties – a centre of culture and. celebration. There's always something going on so make sure you check it out!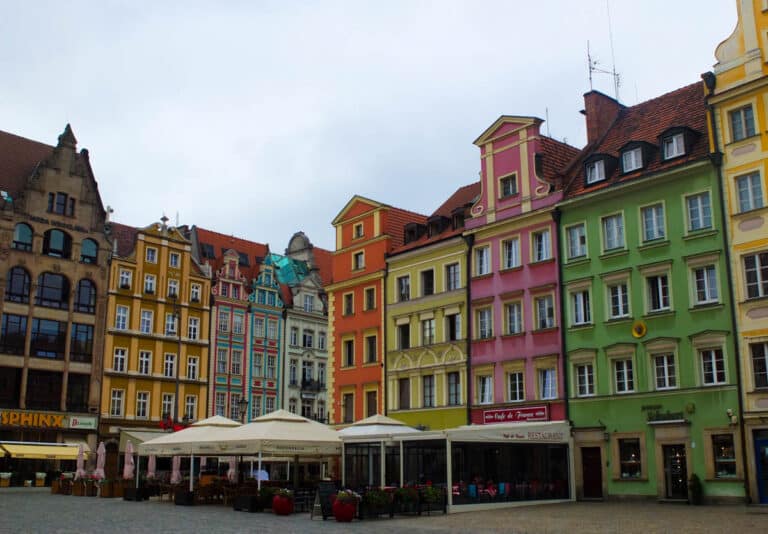 Eating out in Poland is wonderfully good value. Huge portions are plenty, perfect for those on a tight budget. Less popular than other Polish cities, Wrocław's menus aren't always geared up for tourists. But with a little know-how, you'll be eating like a king (or queen!). Our Green Guide to Wrocław complies a list of our favourite places in Wrocław to grab a bite – all are vegetarian friendly!
You probably won't find milkshakes at one of Wrocław's many milk bars (bar mleczny), but don't be disappointed. The Polish 'Milk Bar' was the communist party's innovative solution to feeding the workers. Government subsidised and somewhat stuck in time, a visit to one of these cafeterias provides an insight into Eastern Bloc Poland. Popular with all (especially students), you can enjoy a cultural experience and local cuisine for just a few zloty. 
Top tip: No one speaks English in the bar mleczny, so brush up on your Polish and pointing skills. If in doubt, Pierogi (dumplings) are popular with locals and tourists alike, and make for a safe option.
A budget friendly, English-speaking option, Konspira won't disappoint. Recreating the 1980's with Poland's hidden anti-communist history openly displayed throughout, Konspira is part restaurant, part museum. As well as dishing out history, it also dishes out a fine range of delicious, traditional food. With large portions at low prices, what's not to love?
Anyone visiting Wrocław should expect to fall in love with Poland's pierogi. And what could be better than an entire restaurant dedicated to these delicious dumplings? This huge wooden tavern boasts a varied, veggie-friendly menu, with enough savoury and sweet options to suit everyone!
Popular with the locals, Prewar is a pub with an authentic and somewhat vintage vibe. The drinks are cheap, the food is awesome and the staff are friendly. We settled in here on our first evening as it was so close to our apartment, and we didn't want to leave! 
Vegan food in Wrocław can be difficult to find, but Vega does an excellent job at veganising Polish cuisine. Expect hearty bean borsch, vegan pierogi and filling salads. If you're sick of Polish food (impossible!), Vega also serves up the usual vegan burgers, falafel and wraps, as well as Thai, Chinese and Indian influenced dishes.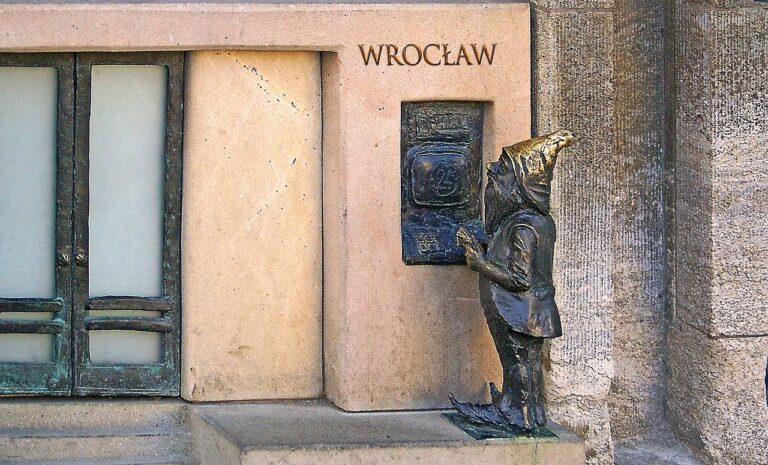 Imagine falling asleep in one country and waking up to the scenery of another flashing past your window. If you're already in Europe, you're in luck! Wrocław is easily reached by night-train from many capitals, including Berlin, Budapest and Vienna. Here at Green Guide to Wrocław we use Seat61 – an excellent resource to plan rail adventures across the world.
For a more budget option I recommend FlixBus. They run coaches connecting most European cities at a very reasonable price. They make up for in price what they lack in comfort and speed. Coaches to Wrocław currently start at £1. 
Budget flights are readily available from many European cities. If you must take a flight you should consider checking out more of Poland or other neighbouring countries. Poland has so much to offer for all types of traveller, whether you're an adventurous soul, a cultural connoisseur or both! If you do fly consider offsetting your carbon emissions. 
Wrocław's Old Town is small and so easy to walk around that you might not need to catch a ride. But if you do need to venture further afield, don't worry!  Wrocław's public transport system is easy to use and very cheap. A single fare ticket is just 3zł (60p). 
Don't speak Polish? Me neither. Don't worry. Most major European language options are available on the ticket machines stationed at most transit stops.
Top tip: Remember that tickets are not valid until you stamp them using the machines inside the tram or bus. If you're caught riding without a stamped ticket, you'll be fined 120zł (£25), plus the price of the original ticket.
Follow our daily adventures on Facebook and Instagram
This post may contain affiliate links (yay for transparency!) This means that I will earn a small commission, at no additional cost to you, if you click the link and choose to buy the product. I only link to stuff I have personally bought and found useful and never endorse crap. Your support helps keep the site going, thank you!