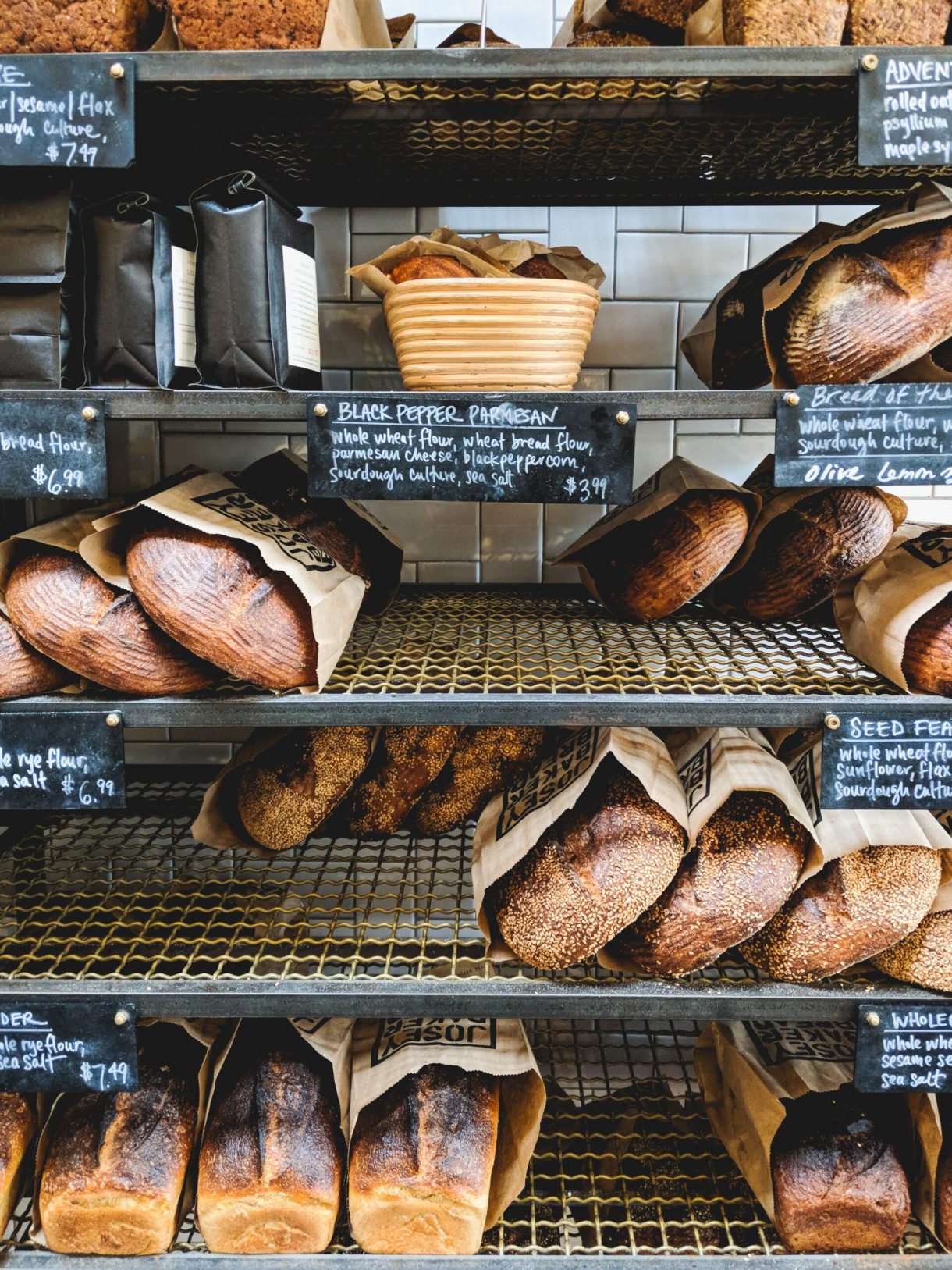 Eco-friendly ways to save money on food when travelling [2023]
City Breaks don't come cheap and eating out can be a big contributor to the cost. Read on to find out how YOU could save money on food when travelling, whilst doing your bit for the earth.
There's a reason we usually choose city breaks as short excursions; a weekend in London; a few days in Paris; a stopover in Brussels; city breaks don't come cheap. Diving into a city's culture, we geek out in museums, pose for photos by landmarks, go all-out on shopping and savour the country's delicacies. 
Whether it's a pizza in Milan, al fresco in the main square, or a Michelin star restaurant with a view of the Tour Eiffel in Paris, food is one thing we all like to indulge. Fun but far too short, we come home from these city breaks with full hearts and stomachs but empty wallets.
But what if there was a different way. A way to pick up delicious food from a city's best restaurants at a budget-friendly price? A way to save your hard-earned cash for the activities you really want to do. And what if I told you that doing this would reduce your emissions and help to save the planet?
Read on for an eco-friendly, budget traveller's dream.  How to save money on food when travelling, whilst also saving the planet.
As a planet, we waste 3.5 million tonnes of food every single day. That's over 3.000.000.000 kilograms daily. The weight of almost 32'000 blue whales, the largest animal on our planet. One third of all food produced is wasted. EVERY. SINGLE. DAY.
Although food is mostly biodegradable, most of that food doesn't just disintegrate naturally into the earth. It releases harmful gases into the atmosphere as it decomposes in landfill, causing our planet to heat up like a greenhouse. On top of this, a lot of food that goes to waste is packaged, causing unnecessary plastic to end up in our oceans.
But that's not the only problem. It takes a lot of land, energy and water to make our food. Entire forests are cleared to grow food that will never be eaten. Ecosystems are destroyed and every day, an estimated 150 species become extinct . 
Underpaid workers, in less developed countries, work long hours in hot weather with minimum breaks to grow food their own country and families will never see the benefit of. Transporting food across countries by boat, plane and lorry releases carbon dioxide into our atmosphere.
By wasting that food, we also waste the resources and labour that went into producing it, putting needless strain on our earth.
It's easy to forget, but we are privileged to have the time and money to see the world. As travellers, adventurers and explorers, we should be thinking about how we can take care of the planet we love so much. Finding food on-the-go is not always easy or cheap, especially when on a city break. 
London, Paris, New York; major cities are usually difficult to see on a budget and the cost of consistently eating out can leave a hole in your wallet. Even in cheaper countries, it's easy to splash a lot of cash on restaurants, drinks and snacks, especially if you're missing your home comfort foods. But there's a new way to save money on food when travelling and it's especially useful in cities. 
Enter food-saving apps, an eco-friendly budget traveller's dream to save money on food when travelling. Social impact startups such as Too Good to Go and Karma aim to inspire and empower everyone to fight food waste. 
Accessible via an app, customers are connected with shops, cafes and restaurants that have surplus food at the end of the day. You get delicious local food at a great price, businesses can recover some costs and the food is enjoyed instead of wasted.
How food-saving apps work
If you're in a new city, simply jump into the in-app map and explore. We've used food saving apps to discover new areas of our own city and find hidden gems when travelling. You never know what you'll find!
The only catch? You can't always choose what you get. But if you'll try most things, food saving apps are a way to savour the local delicacies at a fraction of the price. Most businesses will allow you to select from what's left at the end of the day and you can use the in-app filters to suit your dietary needs. 
TOP TIP: 'Reserve' your meal in the morning to pick up later
"We've picked up pastries in Brussels, sandwiches in Stuttgart and iced tea in London. Most places try to cater to your dietary needs and let you select what you want, some give a Magic Bag. I always say that if we get something we absolutely hate, we can donate it to someone in need rather than waste it".
Alternatives to Save Money on Food while Travelling
#1 GET AWAY FROM THE TOURIST AREAS
If you want to try the local delicacies for a cheaper price, walk away from the city's tourist destinations. Sure, they may feel safe and comfortable, but the highest prices usually surround the main tourist attractions. You may discover a hidden gem wandering down a back street or side alley. Google maps also has a price gauge for restaurants so organised travellers can find budget friendly restaurants in advance.
#2 TAKE A HINT FROM THE LOCALS
A restaurant full of locals is likely to be a delicious and great value place to grab a bite. Pay attention to where, what and when locals eat and you'll be on your way to successful, delicious meals that serve as cultural experiences as well as fuel for your body. Mimic the local eating times as this is when food is most likely to be cooked fresh, you don't want to eat food that's been sat around! Locals wont over-pay for food, so eating where they eat is a great way to save money on food when travelling.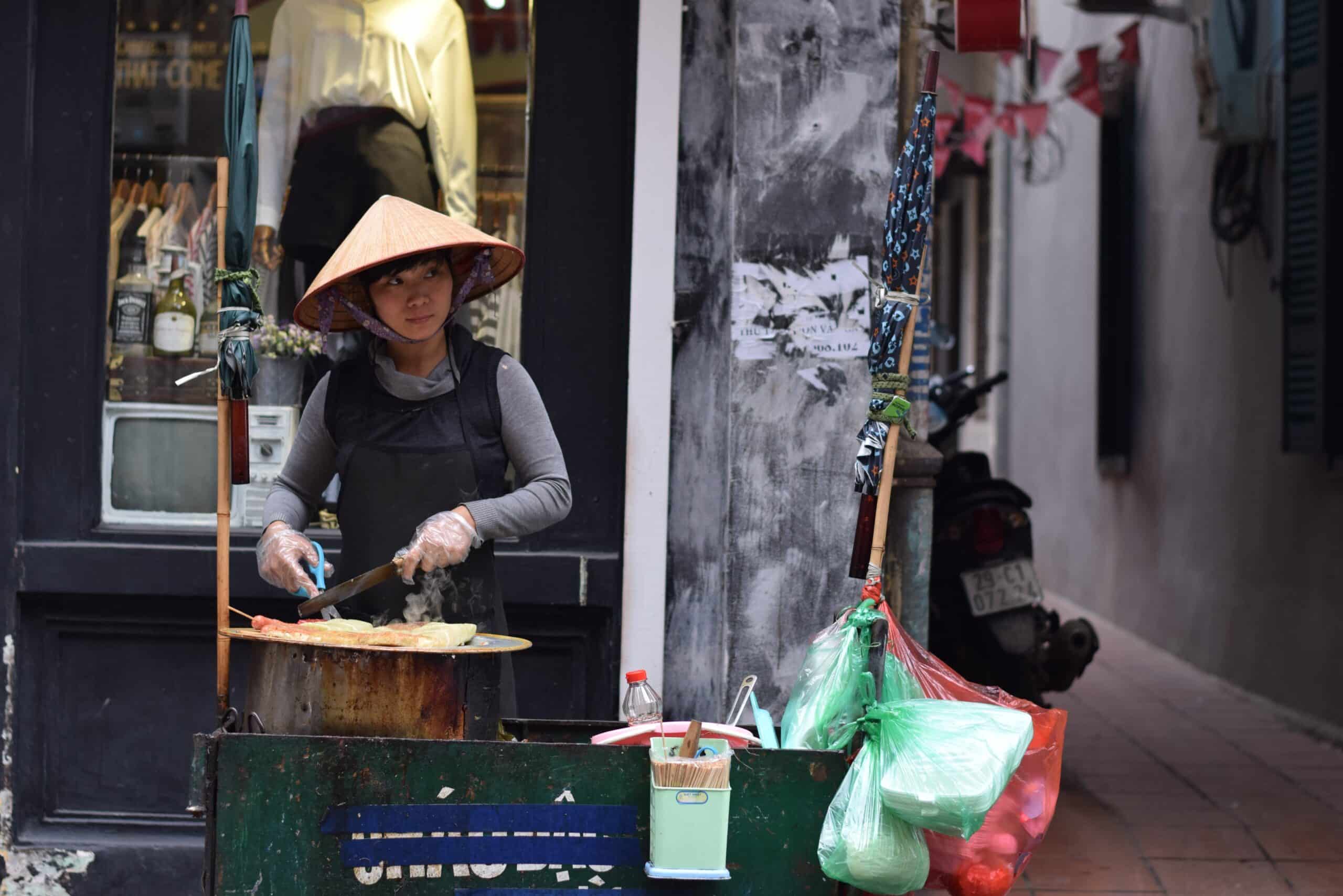 #3 DON'T BE SHY ABOUT STREET FOOD
Street food has a bad rap, with tourists telling tales of upset stomachs and nights spent in the bathroom, but these are rare and exaggerated. No matter where you are, street food is a delicious, cheap option for the budget-conscious traveller.
If you want to minimise your chances of a tummy upset, pay attention to the queues at stalls. Opt for a vendor with women and children waiting in line, as their stomachs will likely be less resilient, as yours will. Consider going vegetarian for a while, peel all your fruit and be vigilant of washed salad or ice cubes in countries that do not have a clean water supply. Check that cash is being handled separately from the food and ensure the cutlery is clean. I always travel with my own cutlery set which includes chopsticks, a knife, fork, spoon and metal straw.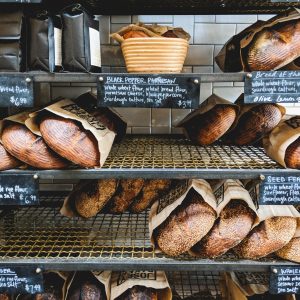 No matter where you are, local food will always be cheapest. If you're in Nepal, fill up on dumplings and dahl bhat for dinner. When visiting France, grab a baguette, some local veggies and french cheese for a delicious picnic lunch. If you're in China, hot pot, dumplings and Chow Mein are the way to go. And it goes without saying that pizza and pasta is cooked best in Italy. Countries know how to do their cuisine, and they know how to do it well. Local food will also usually be catered to, well, locals, so it's expected that this will be your cheapest and tastiest option. There's nothing wrong with craving home comforts, but often these are imported and come at a price, so eat them sparingly.
Hostels are great. You can meet like-minded travellers who may share the best cheap bars and local restaurants they have discovered. If you stock up at local markets on fruit, bread, cheeses, you can create awesome meals in your hostel kitchen for a fraction of the price of those in restaurants. The only downside to this is that you usually end up cooking what you'd eat at home. Tasting the flavour of a country is a big part of travelling but combine hostel cooking with a few cheap restaurants here and there and you can really start to save money on food when travelling. 
Follow our daily adventures on Facebook and Instagram
This post may contain affiliate links (yay for transparency!) This means that I will earn a small commission, at no additional cost to you, if you click the link and choose to buy the product. I only link to stuff I have personally bought and found useful and never endorse crap. Your support helps keep the site going, thank you!