Catching Chicken Buses in Central America: 17 Things You Should Know
When you make the decision to travel overland you commit to hopping aboard some of the wildest buses around. Central America's unique and vibrant 'chicken buses' are no exception. Yes, these buses may annoy you and give you back pain (we're not 18 years old anymore!). But they'll also make you laugh, give you a sense of community spirit, and you'll see some things you never thought you'd see, much less on a bus. 
Catching a ride on a local bus can be daunting, no matter where in the world you are. Although they might seem crazy on the surface, there's a certain etiquette you might not find elsewhere. Having travelled from Panama to Mexico, entirely on public transport, we'd consider ourselves experts on the humble chicken bus. Here are the things we think you should know before you use Central America's public transport system.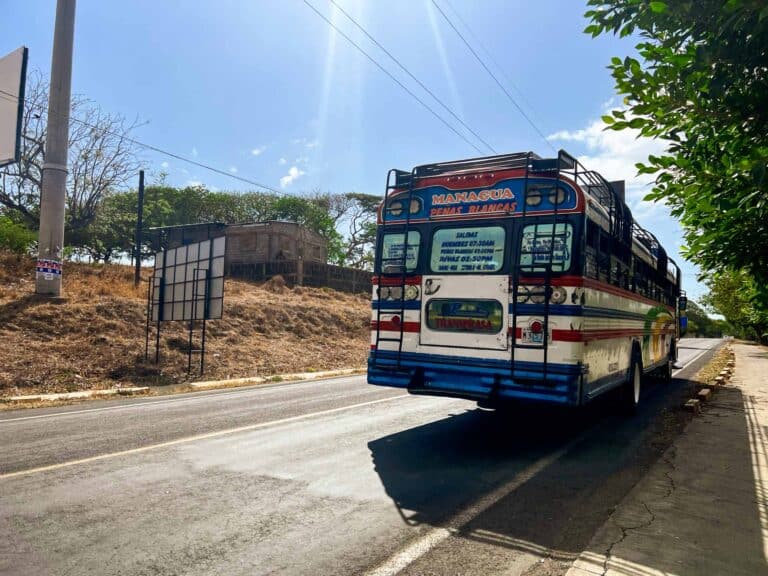 17 THINGS YOU SHOULD KNOW BEFORE RIDING CENTRAL AMERICA'S CHICKEN BUSES
#1 FULL CAPACITY DOESN'T EXIST IN CENTRAL AMERICA
Think there's no room? Think again.
Forget the concept of full capacity when it comes to Central American buses. Personal space is a luxury you won't often have. We often found ourselves perched on the dashboard on top of the engine (yes, it will burn your butt if you don't sit on your backpack) or sitting knees-against-chest for hours with our feet on a wheel arch (highly uncomfortable, would not recommend).
But the best lack-of-personal-space was in Honduras, when we were travelling the six hours from San Pedro Sula to Copan. A tiny bus rocked up (late, of course) and there was a mad dash – clearly the locals knew what they were doing as they'd all pushed on at least one family member onto the bus to save seats. It was chaos. I managed to squeeze on the edge of a space barely fit for two with a local woman and her eight-year-old child. Parents will usually try and make room by popping their kids on their laps, regardless of age, but it didn't really work here! My partner thought he'd have to stand the whole way, until the driver pulled out a couple of rickety wooden stools to slot in the aisle. All in all, an uncomfortable ride! 
Trending: The Ultimate Guide to Copan Ruinas: A hidden Mayan gem (coming soon)
My point is, even if you think there's no space for anyone else to possibly squeeze onto the bus, trust me, there is.
Of course, if you've booked a long-distance coach (such as a Tica Bus) you will have a reserved seat. We're talking chicken buses here.
#2 RIDES ARE CHEAP ON CHICKEN BUSES (BUT TRY TO HAVE EXACT CHANGE)
Chicken buses are CHEAP! For most short journeys expect to pay under a dollar for a ride. Even for journeys upwards of a few hours, it's unlikely they'll cost more than five or six dollars. There are exceptions of course, Panama and Costa Rica being two of them.
However, we found that a lot of the chicken buses tried to extort a little extra cash from tourists. I don't mind paying a small 'tourist tax', but sometimes it felt a little ridiculous.
In Nicaragua, we were charged triple because we had backpacks, which were cabin-sized and still had to sit on our knee for the whole journey anyway. In Panama we paid with a larger bill and were refused change from a smirking bus boy. And throughout our journey, a few chicken buses tried to charge us almost the same price as a tourist minibus!
Ask your hostel or a local on the bus how much your journey should cost, and try to have small bills. Pay the bus boy in exact change with confidence. And be prepared to haggle if you think they're trying it on!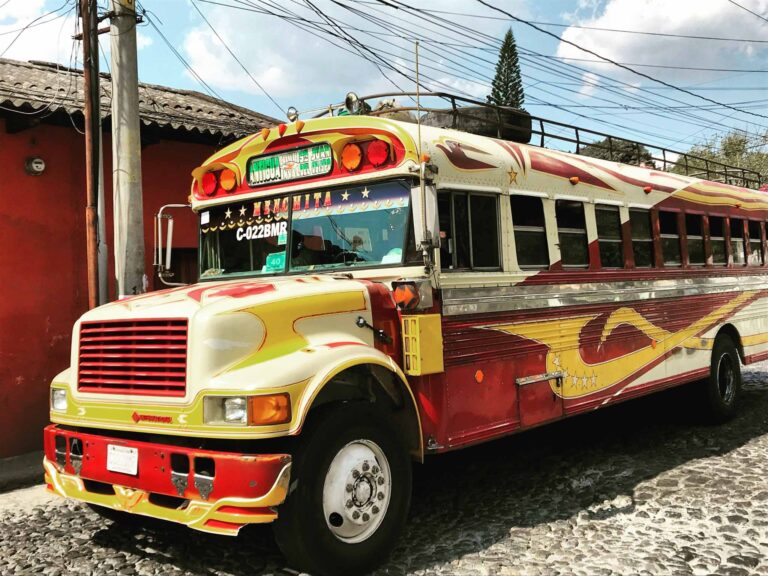 #3 THE BUS BOY HASN'T STOLEN YOUR MONEY
Talking about having exact change…
Once you're aboard, the busboy will come and take your payment. It's best to have the perfect amount. If neither you nor the busboy have the right change to give, he'll probably take your money and walk off to see to other passengers.
Don't worry, he'll come back later once he's got the correct amount to give you. Some give you a ticket with how much change you're owed, and you can cash it in just before you get off the bus.
#4 FLAG DOWN CHICKEN BUSES WITH CONFIDENCE
In a lot of countries, buses will only pull in at designated stops to let people on and off. This isn't the case in most of Central America! You can hail a bus practically anywhere. Wave your arms at a passing bus, and it will most likely stop and squeeze you on, no matter how full it appears.
This doesn't apply in Panama or Costa Rica. Local buses simply won't stop if they're full. We once waited 2.5 hours for a bus that was supposed to pass every 20 to 30 minutes.
This works for getting off a bus too! If you need to get off anywhere, just stand up and let the driver know. You might have to yell, but it's part of the fun.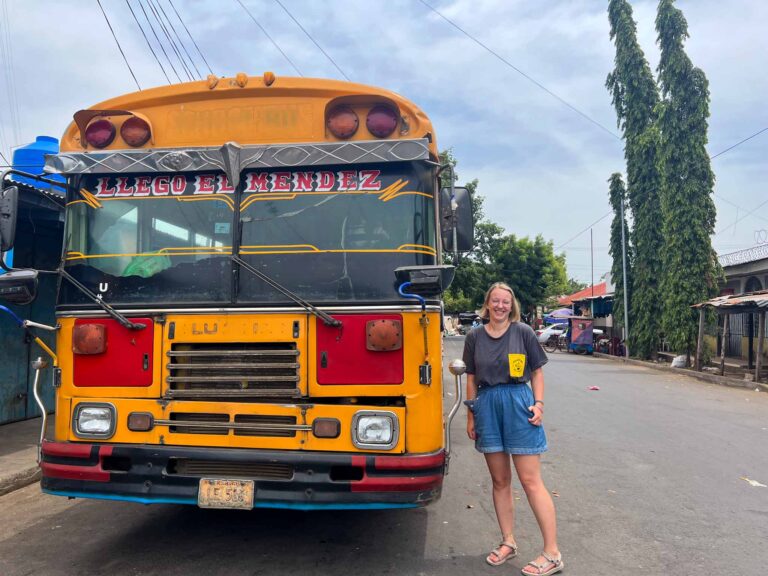 When taking public transport, it's normal that you might have to change buses once or twice to get to your destination. 
Drivers in Central America are lovely. Although they may come across as a bit stoic, they have an impeccable knowledge of the routes and timetables in the area. Let your driver know where your final destination is, and they'll usually stop, let you know where to get off, where to wait, and when the next bus will arrive. 
Don't fret if you get dropped off in seemingly random locations; trust the driver. We were dropped at the side of a highway in Nicaragua, the sun was setting, and I really didn't want to be waiting on the side of some random road in the dark. Not sixty seconds later, we flagged down the bus to Granada that we needed.
#6 BUSES IN CENTRAL AMERICA ARE FREQUENT
A lot of people in Central America don't own cars: the public buses are the cheapest way to get around. You'll find that there are buses heading to common destinations every hour or half-hour, so if you miss one, don't worry. There's probably another one just around the corner. 
Whilst timetables might be a bit loose, the locals waiting for your bus usually know the schedule. Ask them when the next bus is coming, they'll be freakishly accurate with their timings.
Private buses in Central America, which tend to be for longer journeys, will leave less frequently and at set times. If you want a seat on a private bus you should book in advance, either at the bus station or on the website.
#7 BUSES IN CENTRAL AMERICA START AND FINISH EARLY
The day for a lot of people in Central America starts very early, and buses are no exception. Most routes will start at the crack of dawn.
But this means that the working day ends earlier and most buses in Central America stop between 4 to 6pm. Find out when the last bus leaves to avoid getting stranded, especially if you're changing buses somewhere.
If you've got a long travel day ahead of you, I recommend getting on one of the first buses of the day to ensure you make it to your final destination.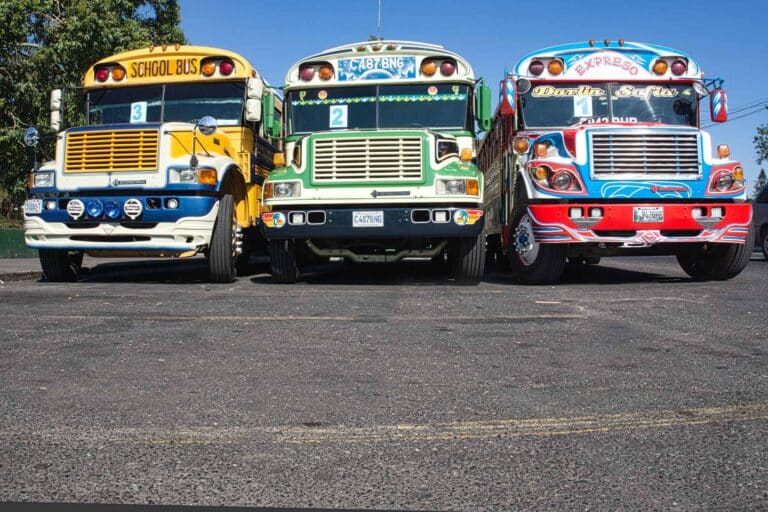 #8 TIMES ARE A BIT MORE RELAXED ON CENTRAL AMERICAN BUSES
Everything is a bit more relaxed in Central America, and the bus timetable is no exception. So when you get told that the bus leaves at 8 am, take it with a pinch of salt. What they actually mean is the time closest to 8 am they think the bus is full enough.
We were told that the bus from La Fortuna, Costa Rica, to the Nicaraguan border would arrive any time between 6:30 am and 8 am. Once we got to the bus stop, the local shopkeeper told us it would arrive at 7:30 am, and he was just minutes out with his approximation.
Know roughly when your bus leaves, but be aware that you're on Latin American time, and leave some flexibility in your schedule. And trust the locals, they know the 'timetable' better than anyone else.
#9 LOCALS ALWAYS KNOW BEST
Most of the time, bus timetables don't exist, and if they do they're very flexible. Organisation is not a strong point when it comes to bus travel in Central America. Locals are always the best source of knowledge so practice your Spanish skills by asking them! I can guarantee someone will know what's going on.
Central American people are for the most part, so willing and eager to help that if they don't think they can help you, they'll find someone who can! Most are fiercely proud of their city or country, and want to make sure you – the tourist – have a great time.
#10 BUSES IN CENTRAL AMERICA WILL GIVE YOU MOTION SICKNESS
I suffered from motion sickness as a child. As an adult, I've mostly gotten over it. But if there's one place you have a high chance of getting travel sick, it's on chicken buses in Central America.
The roads are winding and bumpy rides are the norm, particularly away from the main tourist trail. I have less-than-fond memories of the many hours I spent feeling queasy as the driver turned corners at ridiculous speeds and threw the bus over bumps and potholes with reckless abandon.
It's a good idea to bring a supply of motion sickness medication, especially if you already know you get travel sick.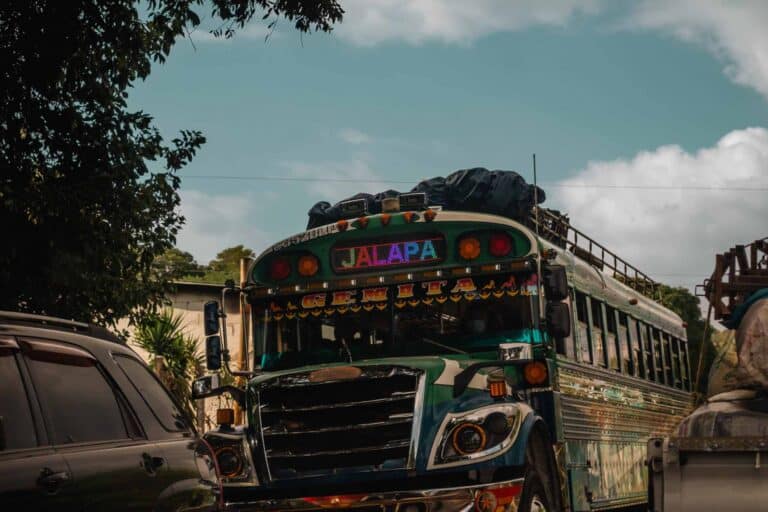 #11 YOUR LUGGAGE IS IN FOR A WILD RIDE
If you have a big backpack, it's likely to get manhandled quite a bit. Whilst smaller backpacks can be brought on the bus, bigger bags will be thrown around, jammed in any suitable space, and often tied to the rooftop. They may get wet. They'll probably get dusty. You don't want to have anything you care about in your big backpack when you're jumping on and off chicken buses in Central America.
We really recommend travelling hand-luggage only. I found myself endlessly grateful for having packed light for our Central America adventure. Our luggage was almost always allowed to travel inside the bus, protecting it from opportunistic thieves or the unpredictable rainy-season weather.
#12 GET USED TO CURIOUS STARES
Expect curious stares not only on buses but everywhere you go. Central America, although increasingly tourist-friendly, still treats foreign visitors as a novelty. This is especially true if you go to places that are off the beaten track, such as less-travelled Honduras and El Salvador, and even areas of Nicaragua and Guatemala. 
Embrace the attention; it's an authentic experience. With a little Spanish, you'll discover a real warmth from locals, who are often genuinely interested in your travels and experiences. Do you like their country? What have you seen? Are people being kind to you? Why are you on the local bus?
With our broken Spanish, we managed to chat to some lovely humans. My favourite was a little old man who was waiting at the bus stop towards Leon, Nicaragua, with a bucket of freshly-caught fish on ice.  He was asking all about our life in Scotland and why we weren't married with children yet!
#13 YOU WON'T GO HUNGRY ON CHICKEN BUSES
Street sellers will often stop the bus and cram themselves on for few minutes shouting out a myriad of the different things they're selling. Mostly, they'll be selling cookies, fruit, fresh coconut water, or bottled drinks; perfect for those long hot journeys where you're just dying for an ice-cold cola. But you'll probably encounter everything from socks and underwear, to a full meal of fried chicken and rice.
Bear in mind that if you show any interest whatsoever, even by looking for too long or asking how much something is, you won't be left alone and you might get hassled into buying something.
If you're vegetarian (like us!), snacks may be more limited. My favourite snack for a long day of travel was refried beans and tortillas! You get them in a little squeezy pouch as opposed to a tin, like we do here in Europe. Rip the pouch, squeeze onto tortilla, add some advocado (if you like) and you'll be all set!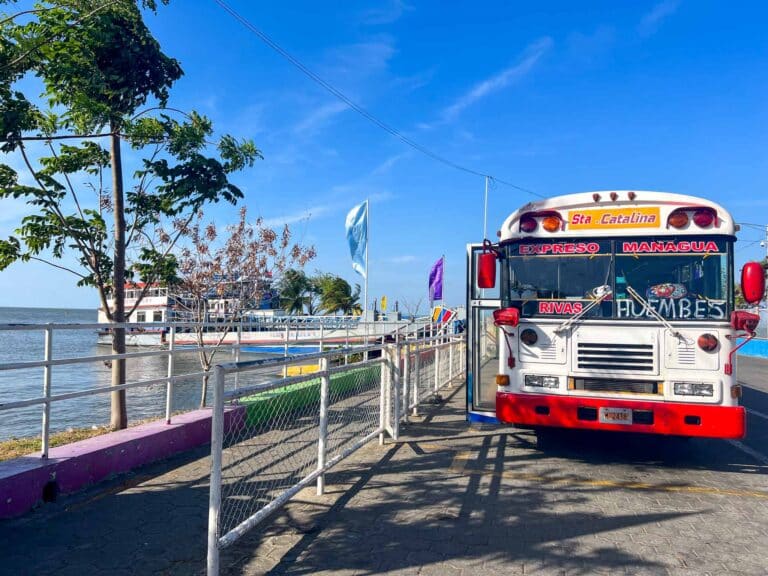 #14 PLAN YOUR BATHROOM BREAKS
It's tempting in the heat, but be careful how many of those ice-cold drinks you buy! Buses in Central America rarely have onboard toilets. They usually run shorter journeys, and will only stop for a break at either end.
Longer distance coaches might have a toilet but don't expect it to a) lock properly, b) be clean, or c) have toilet paper or soap. Make a habit of carrying toilet tissues, hand sanitiser, and small change for public facilities.
#15 EXPECT ONBOARD ENTERTAINMENT
From musicians to preachers to medicine men, Central American buses host diverse performances. 
El Salvador and Honduras were particularly crazy for this. Women walked up and down the aisle, sharing the benefits of their homemade remedies, a cure for absolutely anything. And men would get on and loudly preach the bible, a wild look in their eyes. 
Forget your headphones and prepare to be surprised – you might just enjoy the live entertainment.
#16 WEAR COMFORTABLE CLOTHES
It's hot and humid, your butt will stick to the leather seats, and you'll be squeezed up against strangers. Wear comfortable clothes or your journey won't be any fun. I always opted for long, flowy trousers and a baggy t-shirt. Avoid wearing white: chicken buses aren't always clean, the windows are always open, and dust flies around everywhere. Save your nice white shirt for another day.
#17 SAY HELLO TO YOUR FEATHERED FRIENDS
People will bring all sorts of random things on board. Surfboards? Check. Buckets of fish? Check. Enough fruit for a market stall? Check. It doesn't happen as frequently as it used to, but people even occasionally bring their chickens on board, making for a unique fellow passenger. Ever wondered how the term 'chicken bus' came to be? Now you might just find out firsthand!
Riding buses in Central America is a wild experience and a whole activity in itself. It would be a huge mistake to avoid them, both for your wallet and for your memories. You'll have a mad, crazy, and chaotic time, but it's 100% worth it. Don't leave Central America without trying a chicken bus at least once!
What are your stories from riding these thrilling vehicles?
Follow our daily adventures on Facebook and Instagram
This post may contain affiliate links (yay for transparency!) This means that I will earn a small commission, at no additional cost to you, if you click the link and choose to buy the product. I only link to stuff I have personally bought and found useful and never endorse crap. Your support helps keep the site going, thank you!