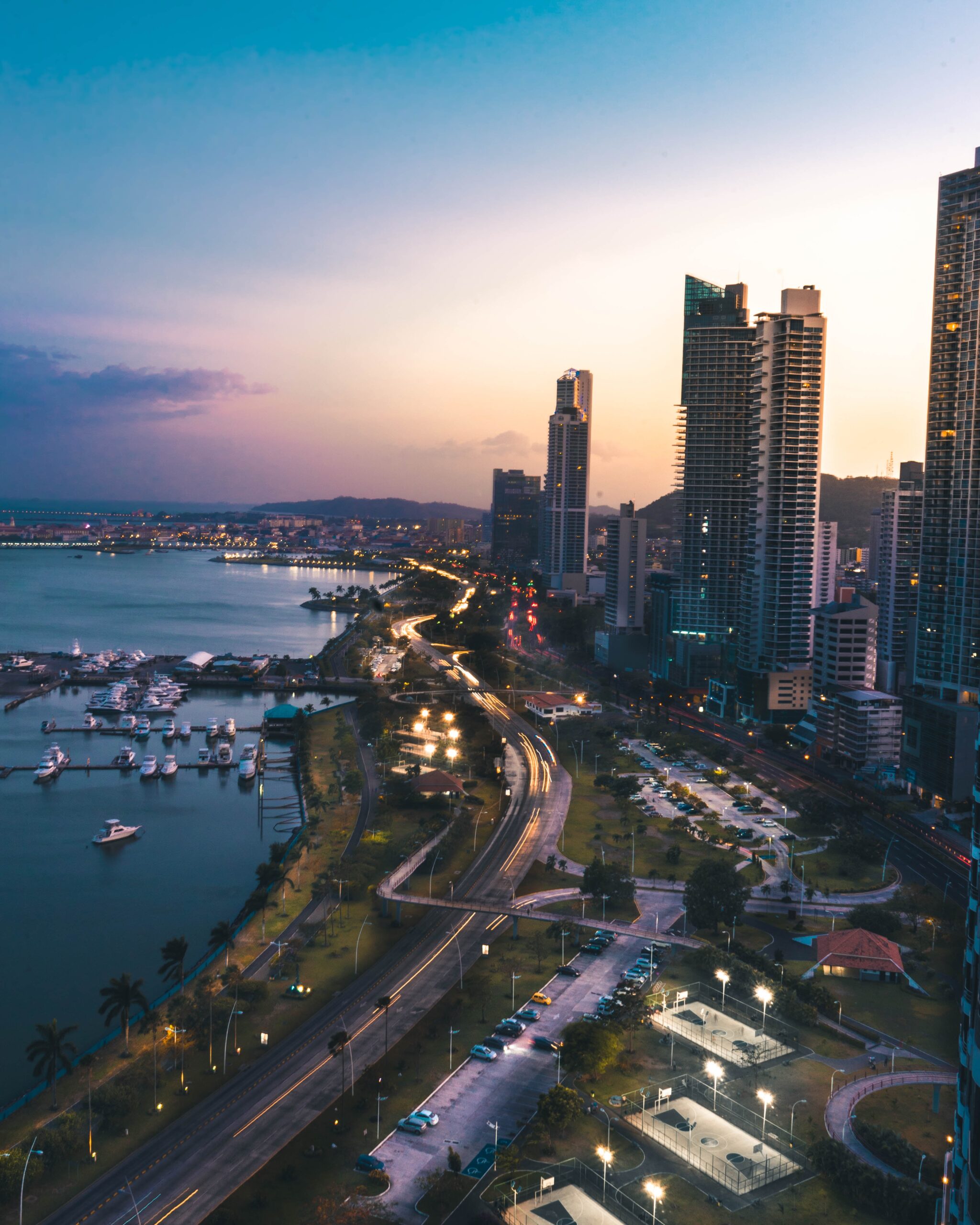 Getting Around Panama City: Everything you Need to Know
Panama City, the vibrant and cosmopolitan capital of Panama, is a bustling metropolis that seamlessly blends modern skyscrapers with historical charm. With a rich history and diverse culture, Panama City is well-connected to Europe, the USA and the rest of Central and South America, often forming a 'start point' for backpacking adventures in the Americas.
But navigating this city, whether you've just arrived at Tocumen International Airport or are truing to get between Panama City's many attractions, can be an adventure in itself. In this guide, we'll cover everything you need to know about getting to, from, and around Panama City.
HOW TO GET TO PANAMA CITY FROM THE AIRPORT
Most international travellers arrive at Tocumen International Airport, which is located about 24 km (15 miles) from the heart of Panama City. We ended up going between the airport and city centre three times during the somewhat scrambled start to our adventures (yep, we squeezed in a last-minute trip to Peru and Machu Picchu around two weeks before departure). This means we've taken every route possible! 
Here are the best ways to get to Panama City from the airport:
#1 GETTING TO PANAMA CITY BY TAXI
The easiest and most convenient option is to take a taxi. This was the first way we got from the airport into the city (we were tired and jetlagged!). You'll find taxis readily available at the airport's taxi stand. As usual, be sure to confirm the fare with the driver before starting your journey. A taxi ride to downtown Panama City typically takes around 20-30 minutes, depending on traffic, and costs between $25 to $30 USD.
Uber is also widely used in Panama City and is often a more affordable alternative to traditional taxis. We found this an easier way to travel with our somewhat limited Spanish skills as you know where you're going, and how much it'll cost up front. Simply request a ride through the app and wait for your driver to pick you up.
#2 GETTING TO PANAMA CITY BY BUS
The airport bus is an affordable option ($0.70 USD), but it gets busy (and sweaty!) during peak hours. From Terminal 1 you can reach bus stop Aeropuerto-I via a covered walkway, which is 5 to 10 minute walk. If you want to travel in the direction of the city, you have to cross over, and wait at the bus stop across the road. Check maps.me to find bus stops in the city that are airport-bound from your specific location.
#2 GETTING TO PANAMA CITY BY METRO
A new and exciting option, Panama City's Metro link to Tocumen International Airport opened in 2023. This is the most affordable option to get from the airport to Panama City: a single ride of any distance costs just $0.35 USD. This was the third (and final!) way we got from Tocumen International Airport to Panama City.
Take the L2 (green line) from Aeropuerto to Corridor Sur. Change at Corridor Sur for the southbound train to San Miguetto. From here, change to L1 (red line) towards Albrook, which will take you through the city centre.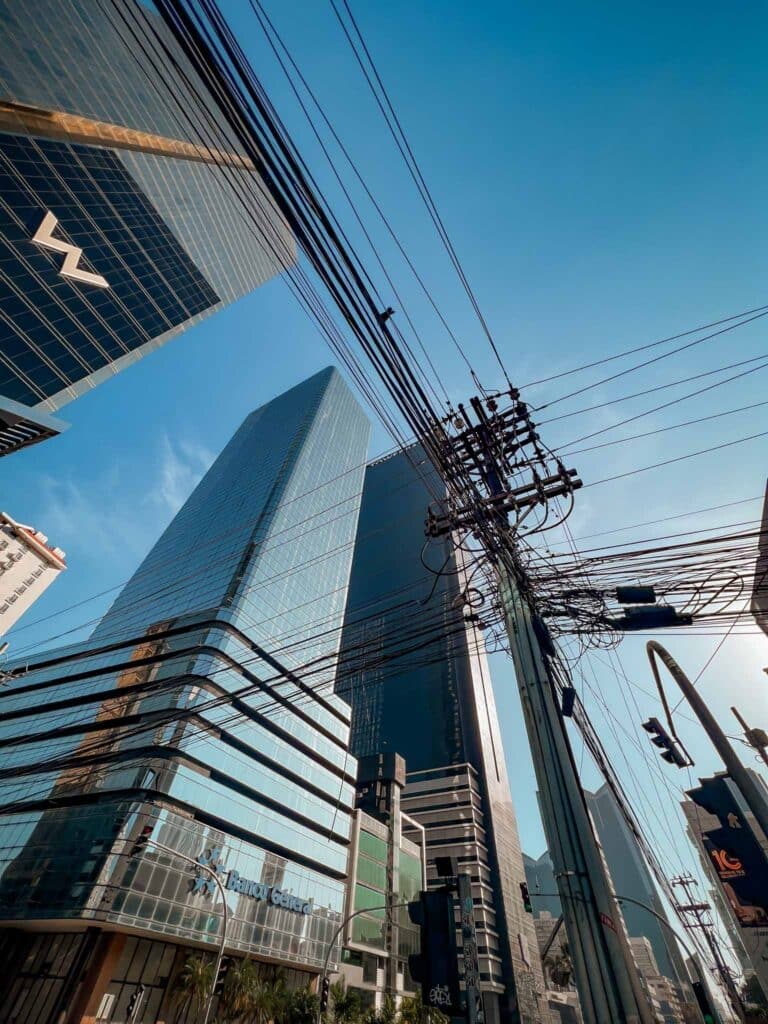 HOW TO GET AROUND PANAMA CITY
So you've arrived, dropped your bags, and now you want to explore. But what are the best ways to get around Panama City? 
Buckle up folks because it's time for a short history lesson. Panama and the USA have a somewhat entwined history: the USA played a pivotal role in building the Panama Canal in the early 20th century, with many US citizens immigrating to Panama to work on the construction. This is obvious in the city design: similar to large cities in the USA, Panama City is very car-centric. 
However, the city does have modern metro system, and an extensive bus network to get you where the metro doesn't reach. Both of these options are great, cheap ways to get around, as long as you exercise a little patience! 
Here are some transportation options to help you get where you need to go:
#1 GETTING AROUND PANAMA CITY BY METRO
Panama City boasts a modern and efficient metro system – there's even air con! This was our favourite way to get around. It's convenient, ridiculously affordable ($0.35 USD per journey) and covers many popular tourist areas, including Casco Viejo (the historic district) and Albrook Bus Terminal (for when you need to continue on your overland adventures).
Before you travel, you'll need to get a "Rapi>Pass" card. The rechargeable card itself costs $2. You can buy one from any kiosk inside a Metro station. After purchasing, you can recharge it at many locations, including each metro station. If you're travelling as a pair, you can use the same Rapi>Pass card and just tap in and out for each person.
#2 GETTING AROUND PANAMA CITY BY BUS
Panama City's bus system is useful for reaching destinations not accessible by metro, such as the famous Panama Canal at the Miraflores Locks. 
We hated Panama's bus system. Although it was cheap ($0.25 USD per ride), it was confusing, difficult to navigate, and incredibly unreliable when it came to bus times. Bus stops are often located in unsafe areas such as dual carriageways, or obscure places that you would only discover if you were already familiar with them. We only took the bus when we absolutely had to. 
#3 GETTING AROUND PANAMA CITY BY FOOT
The compact layout, narrow streets, and vibrant atmosphere of Casco Viejo make it a great place for exploring on foot. In fact, you'll get the most out of Panama City's Old Town if you take a free walking tour: we recommend this one with Giovanni (he's seriously adorable, he'll even take you for lunch afterwards!).
Maybe it's because we're from Europe (and therefore blessed with numerous pedestrian-friendly cities), but we didn't find the rest of Panama City particularly walker-friendly. The city is very car-centric, with highways and dual carriageways weaving through the main areas of town. Most neighbourhoods are a confusing warren of streets. The pavements don't join up, signage is poor, there are a lot of potholes, and you'll often be crossing dual carriageways using a zebra crossing (although most vehicles do give way at these despite the crazy driving standards). We were also warned against walking through parks, such as the María Carter Pantalones Park, due to high crime rates against foreigners. Which brings me to…
#4 GETTING AROUND PANAMA CITY BY BIKE
Some areas of the city offer bike rentals, allowing you to explore at your own pace while enjoying the sights and sounds of Panama City. This isn't something that we tried, but we heard positive things from other travellers. That said, the roads and traffic can be quite daunting. If you aren't a confident cyclist, you might want to try a bike tour. 
#5 GETTING AROUND PANAMA CITY BY TAXI
Taxis are readily available throughout the city and are a convenient way to reach specific destinations. When the bus failed to turn up, taxis were our last resort. Uber usually works out cheaper than a regular taxi.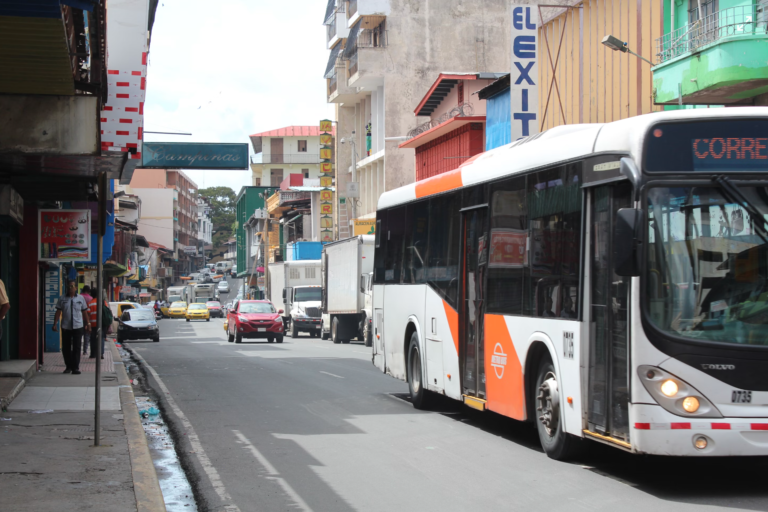 HOW TO GET TO PANAMA CITY'S POPULAR TOURIST POINTS
Panama City offers a wealth of attractions for visitors to explore. Here's how to reach some of the most popular tourist destinations:
HOW TO GET TO CASCO VIEJO (OLD TOWN)
The historic district of Casco Viejo is a must-visit. It's easily accessible by metro. Take Line 1 (Red) to Estación 5 de Mayo and then it's just ten minutes by foot.
Casco Viejo is a beautiful place to spend half a day: the narrow streets are best explored by foot at a leisurely pace. We really recommend a free walking tour to help orient yourself and understand the city and its history a little better. Then you can dive into any of the museums that interest you (note: most are closed on Mondays)
HOW TO GET TO MIRAFLORES LOCKS VISITOR CENTRE
The cheapest way to get to the Miraflores Locks Visitor Centre is to hop on bus C810 from Albrook Bus Terminal. This is the largest bus terminal in Central America – it's confusing and chaotic (especially if you're trying to fight through on the Friday before a national holiday!). The C810 leaves from between the bus terminal and the mall. The sign on the bus will say 'Miraflores'.
If you've got cash to splash, the easiest and least stressful way to get to Miraflores Locks Visitor Centre is to take a taxi or use a tour service that provides transportation to and from the canal. 
HOW TO GET TO THE AMADOR CAUSEWAY
This scenic area is best reached by taxi or car. You can also rent bicycles and ride along the causeway while enjoying views of the Panama City skyline and the Pacific Ocean. We were warned by police against walking here due to high crime rates against foreigners, but cycling should be okay. Always exercise caution and be aware of your surroundings. 
HOW TO GET TO THE BIOMUSEO
Looking across the ocean from Casco Viejo, you may see a modern, colourful building in the distance. That's the Biomuseo! The Biomuseo is a fascinating museum dedicated to Panama's biodiversity and natural history. You can get here by bicycle or take bus C850 from Albrook Bus Terminal. The Biomuseo can also be reached by taxi.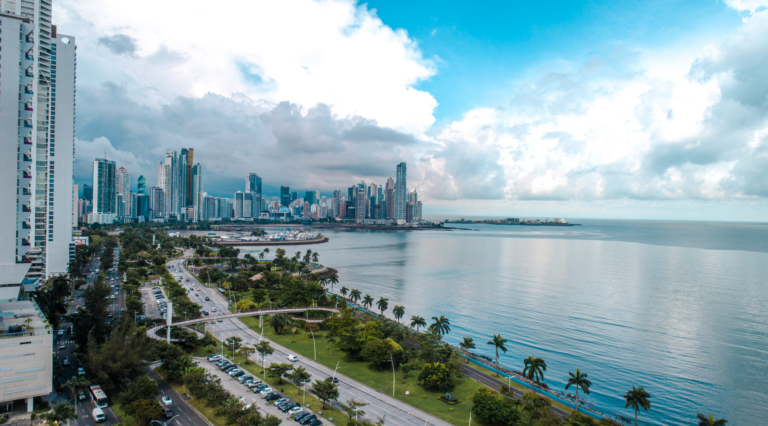 Panama City, like any major city, has its share of safety concerns. However, it's generally considered safe for tourists, especially by Central American standards! The banking district and old town are well policed, at least during the day, and most crimes are the low-key and opportunistic type you'll encounter in any major city.  
As usual, stay aware of your surroundings and be cautious with your valuables. If you're getting in a taxi, always check they're licensed, and if you're waiting for an Uber, always check the details match those in the app. 
FINAL ADVICE FOR GETTING AROUND PANAMA CITY
Carry a light jumper or jacket: Panama is tropical-hot but they love their A/C. If you're on the Metro, in a taxi, or in and out of shops/hotels you'll soon start to feel the chill. 
Avoid traffic: Cars definitely dominate in Panama City. Be prepared for traffic congestion, especially during rush hours. Your bus can and will be late. Plan your outings accordingly to avoid being stuck in traffic.
Maps: Download an offline map or use a GPS app to help you navigate the city. Online maps can also provide real-time information about traffic and public transportation schedules.
Follow our daily adventures on Facebook and Instagram
This post may contain affiliate links (yay for transparency!) This means that I will earn a small commission, at no additional cost to you, if you click the link and choose to buy the product. I only link to stuff I have personally bought and found useful and never endorse crap. Your support helps keep the site going, thank you!