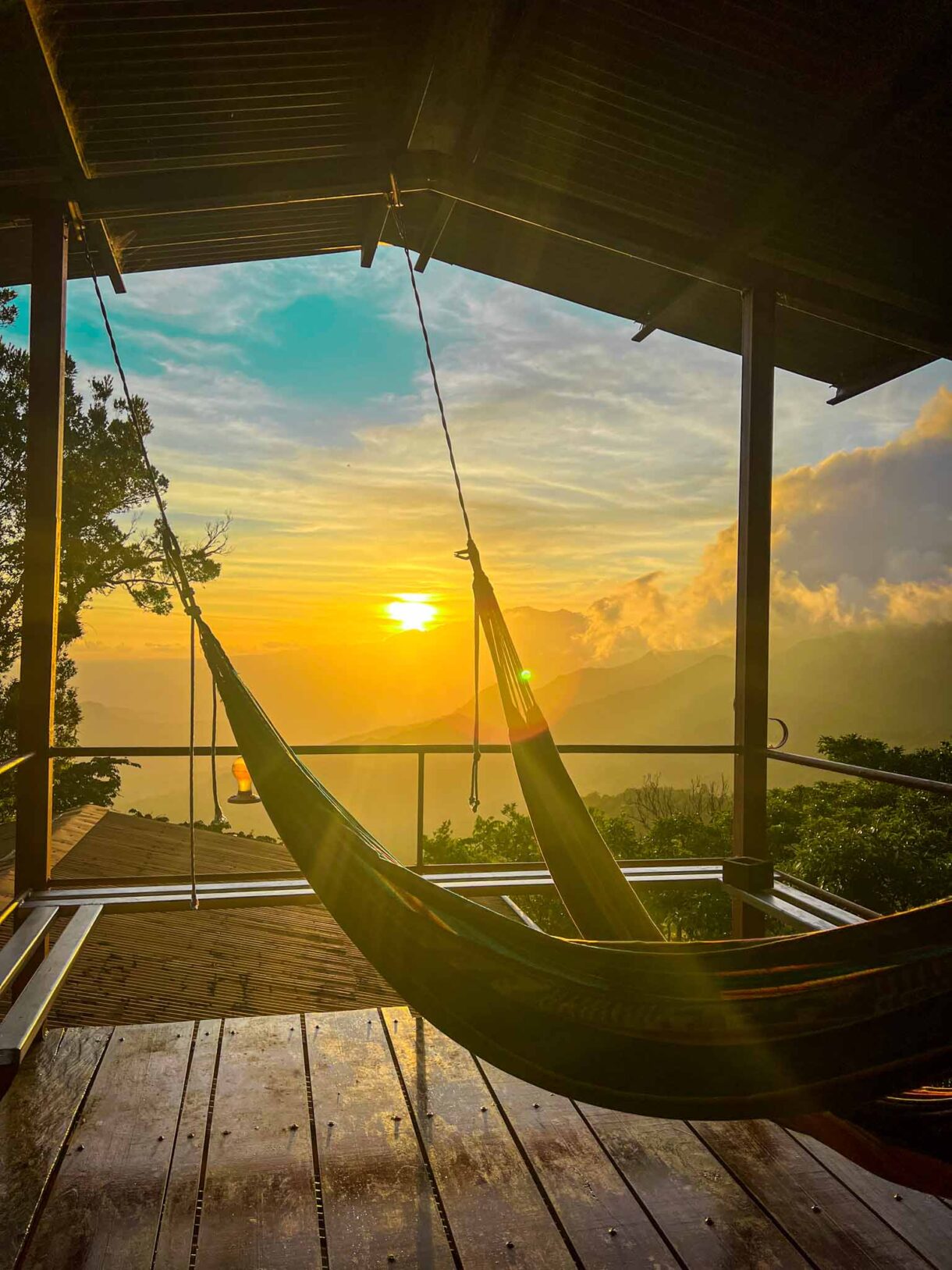 Lost and Found Hostel: Panama's Secret Hike-In Jungle Adventure
Hidden amidst the lush embrace of Panama's cloud forest, the Lost and Found Hostel beckons adventurous souls seeking a unique, offbeat experience. In this comprehensive guide, we unravel the secrets of this jungle oasis, what you can expect, and the thrilling adventures that await intrepid travellers.
WHAT'S THE LOST AND FOUND HOSTEL?
Let me paint you a picture…
Imagine waking up to the melody of chirping cicadas, the whirring of hummingbird wings and the rustle of leaves as monkeys swing from tree to tree. This is the experience that you'll find at Panama's Lost and Found Hostel, located deep within the Chiriquí province's dense jungle. Surrounded by pristine wilderness, this eco-friendly hostel offers rustic yet comfortable accommodations, allowing guests to immerse themselves in the raw beauty of Panama's biodiversity.
Travellers arrive at the Lost and Found Hostel seeking adventure and solitude – to be a part of nature. But you might find that you end up staying longer than planned because of the amazing people you meet. The adventure begins before you even arrive, as Panama's jungle hostel is actually a hike-in hostel. That's right, it's a 15 to 20-minute trail walk through the jungle just to arrive at the picturesque property.
We found that this attracts a certain type of traveller. If you're the type of person who's excited to be walking through the jungle with your big backpack in the sweltering heat, you're guaranteed to meet like-minded folk with a similar thirst for adventure and excitement.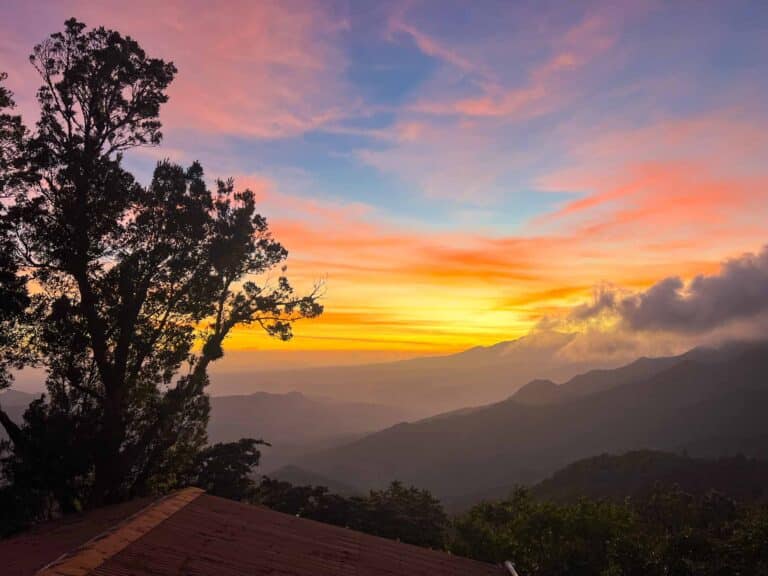 Hammock views: a typical evening at Lost and Found Hostel
WHAT'S SO GREAT ABOUT PANAMA'S JUNGLE HOSTEL?
We stayed at the Lost and Found hostel right at the start of our Central America trip. It was my favourite thing that we did in Panama, and remains one of the best experiences from our entire time in Latin America.
We arrived at the crack of dawn on the night bus from Panama City. The front desk wasn't even open and no one was around. The kitchen was open, so we popped the kettle on, grabbed two hammocks, and watched the sun rise over the expanse of jungle and layers of mountains in the distance. Clouds flowed, almost in a time-lapse, through the thick mountainous jungle to our right as we sipped on fresh Peruvian coffee that we'd picked up in Machu Picchu Valley the week before. Somehow these magical clouds never touched the hostel or obscured our views. 
As the sun started to warm the air, hummingbirds emerged, wings whirring as they enjoyed the sugar-water feeders dotted around. Other backpackers – friends yet to be made – began congregating at the large communal table with steaming cups of coffee in hand. This is a typical morning at the Lost and Found Hostel.
I find it quite hard to capture the vibes of this hostel. Lost and Found Hostel is a getaway, an escape into nature that becomes a retreat with people who soon become great friends. There's so much to do, but it's also a great place to relax and do nothing. One thing's for sure. You'll never want to leave!
WHAT TO EXPECT AT LOST AND FOUND HOSTEL
THE LOST AND FOUND HOSTEL PANAMA: FACILITIES
Looking for a fancy hostel with keycards, fancy decor, a modern kitchen and speedy wifi? This may not be the hostel for you. Lost and Found is the sort of hostel from 'the good ol' days' of backpacking. It's quirky and colourful, with basic facilities and a rustic eco-lodge vibe.
This doesn't mean you have to compromise on essential comforts! Cosy dormitories and private cabins provide shelter, ensuring a good night's rest after a day of exploration. The shared bathrooms were always clean with hot water (although sometimes you'll find yourself making friends with moths as darkness falls).
The kitchen is small and basic. It may not be fancy, but there's everything you need to cook a few basic meals. The communal areas – a large wooden dining table and bar –  exude a vibrant atmosphere, where travellers from around the world gather together for meals every night, swapping stories beneath the canopy of stars.
Top tip: Lost and Found has a great veggie-friendly menu that you can order from until 3pm (all-day breakfast, ayyy!). But unless you want to be paying $15 to $20 USD a day for food, we recommend picking up some groceries in Panama City or David. Simple meals that we cooked included porridge, vegetarian tacos and pasta.
THE LOST AND FOUND HOSTEL PANAMA: COMMUNITY
This is not the kind of hostel where everyone ignores each other. Lost and Found hostel is just the right size, and it's set up in a way that makes it easy to make friends and band together for activities. Although quite spacious and with lots of areas to chill (and no shortage of hammocks), the common area just outside reception usually fills up with guests chatting about their lives and travels.
Every night, you have the option to join Lost and Found's 'family meals' ($6 each) at 6pm – just in time for sunset (the sunsets at Lost and Found are seriously unreal) These communal meals were one of the highlights of our stay at Panama's jungle hostel. They're a great opportunity to make friends, swap stories, and hear about everyone's adventures. Every day we played games together, learnt about each other's cultures and had such a laugh!
We made so many good friends here, and because most people travelling Central America are heading along the same route (Panama to Mexico, or vice versa!) we ended up bumping into the same faces throughout our 3-month adventure! 
THE LOST AND FOUND HOSTEL PANAMA: THE JUNGLE BAR
Around 8pm, the bar opens and everyone slowly moves over for beers, beer pong, card games, and my personal favourite, Spicy Giant Jenga (it's like normal Jenga, just with dares and drinking).  Most people go because, well, where else are you going to go? 
These were some of my favourite party nights during our whole Central America trip, mostly because they were really relaxed. Most people take a shower after getting back from a hot and sweaty day of exploring, so everyone shows up to the bar in their pyjamas and socks/sandals combo! It's just fantastic. 
Top tip: Beers are $1.50 USD with dinner, but just $1 in the bar! If that isn't an incentive to go hang out there, I don't know what is! Mixed drinks are $1.50. Everything is on a tab system, so you don't have to pay until the end. If you're on a budget, remember to keep track of what you're ordering, so you don't get a shock at check-out.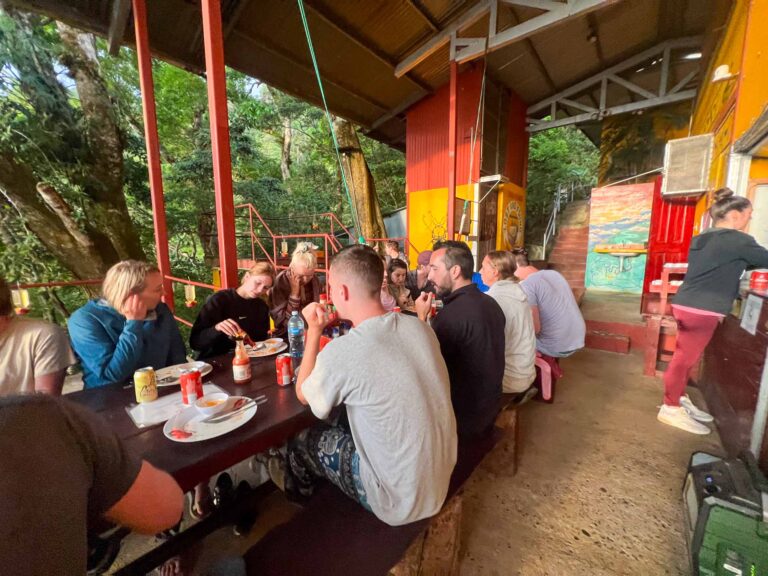 Catching up with other travellers every evening at Lost and Found's 'family dinners'
LOST AND FOUND HOSTEL ACTIVITIES
The Lost and Found Hostel isn't just a place to sleep; there are so many epic adventures to be had here too! Embark on self-guided hikes through winding trails, discovering hidden waterfalls and vibrant wildlife. Discover secret lagoons that you'll have all to yourself. Or go horse riding through the jungle and mountains. There's no shortage of things to do. And the best bit? Most of them are free, or you just pay the local bus fare. 
We'll split these up into two categories: self-guided adventures and hostel tours
SELF GUIDED ADVENTURES AT LOST AND FOUND HOSTEL
#1 INDIANA JONES SCAVENGER HUNT
One of the coolest things about Panama's jungle hostel is the awesome treasure hunt hikes that are artfully (and sneakily) woven into the design of the hostel. 
If you like puzzles, this is for you. Grab your hiking boots and a day-pack with the bare minimum of water, sunscreen and insect repellant. Ask for the free map from reception. And off you go, into the jungle, deciphering riddles. The hike through the jungle allows you to experience some unbelievable views. It takes 5-6 hours from start to finish. And it's hard. Most people give up halfway through. 
Ok, I got seriously invested in this treasure hunt. If you follow me on Instagram you'll have seen me running around trying to solve it. It took us all day. But we solved it! And the reward? A free can of ice cold Balboa beer and the respect of all the other travellers who gave up!
#2 LOST AND FOUND HOSTEL HIKES
Not interested in puzzle solving? Don't worry, there's a whole jungle of hiking trails to explore, right from your doorstep. Head uphill to the old radio tower to give you some crazy views over the cloud forest! There's also an incredibly huge hollowed-out tree you'll pass.
The trail map is painted on a few walls in the hostel, and marked with viewpoints and canyons. You can spend days enjoying the jungle paths and views. Just don't cross the river if the water is brown or if it's heavily raining. You might not be able to make it back safely!
This is a really cool day trip. If you're feeling up for it, you can hike one way (or both!), but the hike just follows the road so it's not that exciting. You can also jump on the local bus for $0.50 to $1 USD each way. Entrance to the four waterfalls costs $1 if someone's around at the farmhouse to charge you!
You can spend the whole day here, jumping into the clear blue water and relaxing in the sunshine. It's the perfect way to cool down from the hot Panamanian weather. And the best bit? You'll likely have it all to yourself. Start at Waterfall 4, and work your way down to number 1 for the best 'wow factor'.
Top tip: Google Maps will tell you that there's a hot spring near by! After clambering up and down every cliffside path looking for it, I can tell you that it's not the relaxing natural spa you're imagining. There is a hot spring, but it's a small stream trickling into the main river. Not worth trying to find it!
Known in Spanish as Cangilones de Gualaca, Gualaca River Canyon catches all the local sun and is the perfect place to spend the day with a picnic lunch and a couple of beers. Jump into the cooling water, float along with the current, clamber out, and walk a few minutes back to do it all over again. 
Catch the bus towards David and tell the driver you want to get off at the Canyon. It should cost $1 to $2 USD each way. There are no facilities, but there's a bus stop and a car park. It's pretty accessible from David, so there might be a lot of local and foreign tourists enjoying the water on hot days.
#5 CELESTINE WATERFALLS ADVENTURE
Located at the end of a high, narrow canyon, the 30m Celestine Waterfall is one of the hidden jewels of the Palo Seco National Park. It's a real adventure. You'll have to climb through the boulder-strewn creek bed and swim through rugged sections to reach the start of a canyon with walls so high that the sun's beams can only penetrate at midday.
Celestine Waterfall is a bit tricky to find (and left us stranded in a thunderstorm for 3 hours waiting for a bus back!) but it's so worth it. Take the bus towards Boquete, and tell the driver you want to stop at Celestine Waterfall. You'll get off the bus next to a little blue shack-style bus stop. Head back up the road a little, clamber over the barrier, and follow the trail down to the river. Then, slip off your shoes and follow the river upstream to the waterfall! 
Top tip: Buses going back towards David are frequent, every ~30 minutes or so, but they won't stop if they're full. And, as we found out, hitchhiking isn't really a thing in Panama! Plan your trip for a morning and leave plenty of time to get back to the Lost and Found. It might help to get the contact details of someone at the hostel in case of an emergency.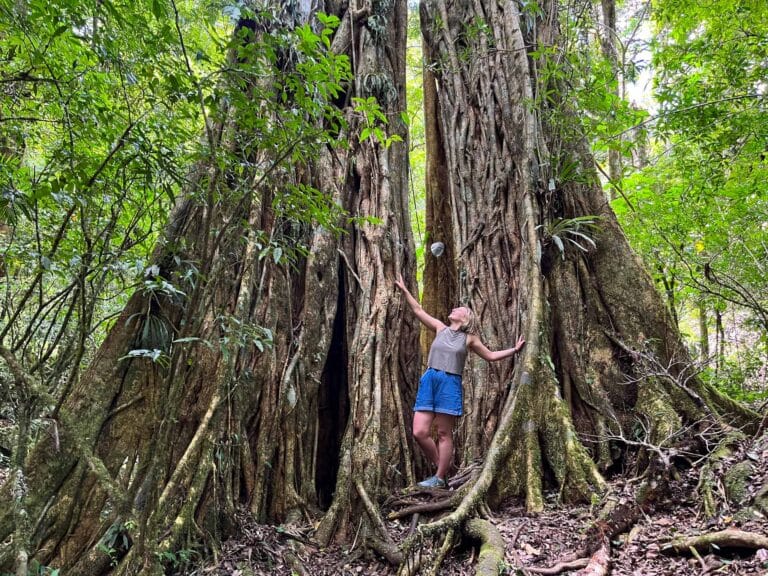 Really cool hollow tree to discover in the jungle
TOURS AT LOST AND FOUND HOSTEL
#6 EXPLORE THE CHIRIQUÍ VALLEY ON HORSEBACK ($45 USD)
This one wasn't in our budget, but I would loved to have tried it. The hostel can organise for you to ride with local guides through rugged gullies, forests and meadows, in the province of Chiriquí. You'll get to enjoy a farm-to-table lunch cooked by a local family two-hours from the nearest road. It's a pretty special tour that'll show you a side of Panama that not many people will get to see. 
#7 DON KUNE'S ORGANIC COFFEE FARM TOUR
The coffee farm tour wasn't running when we stayed at Lost and Found Hostel. The sweet old man who owns the local coffee plantation, Don Kune, isn't getting any younger, and apparently he kept forgetting to show up to take guests around, so these tours are on hold for the foreseeable. That said, he does occasionally pop up to Lost and Found Hostel to have a chat and deliver his coffee, which you can buy in the shop. We'd recommend trying some. It's a delicious way to support a very local business.
We hope that, in the future, the coffee tour will be up and running again. Don't worry though, there are plenty of places in Panama and Central America for you to learn about coffee.  
You know that volcano you can see in the distance whilst relaxing in your hammock? That's Volcan Baru, and yes, you can hike it! The hostel can help you organise an overnight trip to hike up Volcan Baru in time for sunrise, but most travellers do this as part of their itinerary when they head to Boquete.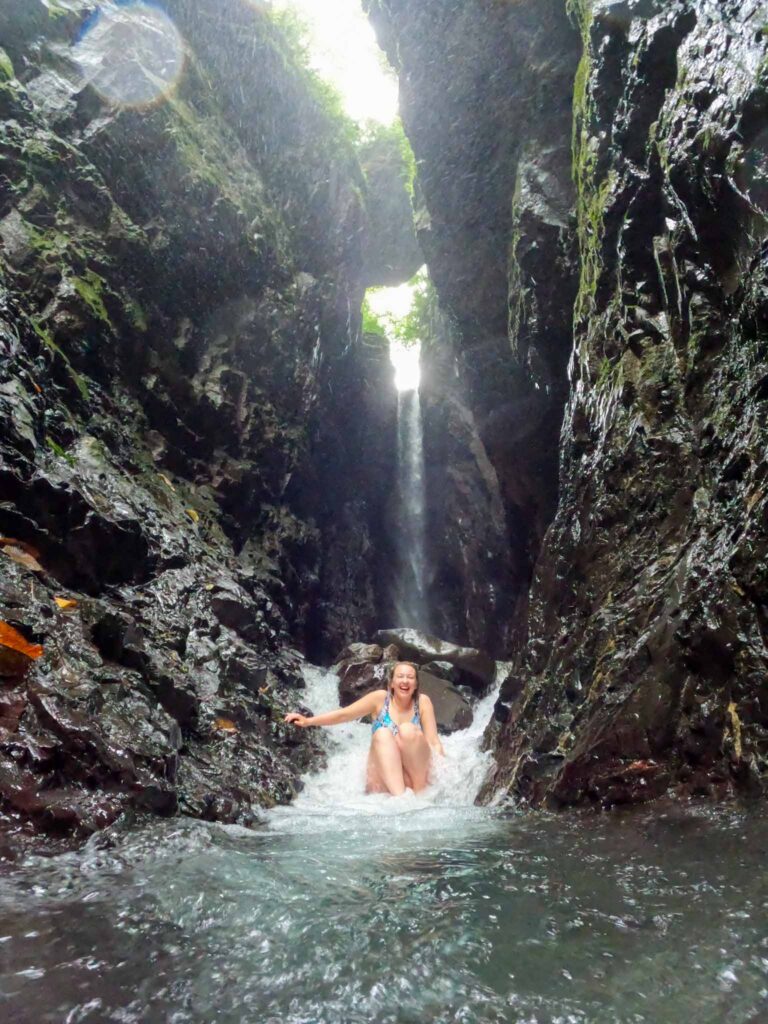 Celestine Waterfall: ultimate happy moment!
HOW TO GET TO LOST AND FOUND HOSTEL
It's a real adventure to get to Lost and Found Hostel. The hostel is located in the beautiful Valle Hornito, on Highway 10 (the main road between David and Bocas del Toro). This makes Lost and Found Hostel the perfect stop-off for those travelling between Bocas, Boquete, Panama City, Santa Catalina, or David.
Staying a couple of nights at Lost and Found Hostel is the perfect way to break up a long bus ride and make some incredible memories along the way. We promise, you won't want to leave!
HOW TO GET TO LOST AND FOUND HOSTEL FROM PANAMA CITY, BOQUETE OR DAVID
From Panama City board a bus heading to David, a major city in the Chiriquí province. We took the 11pm night bus from Albrook Terminal, and it was really comfortable, but we arrived in David at around 4:30am and the bus terminal felt a bit sketchy. If we did this again, we'd probably take the midnight bus from Panama City, which arrives in David at around 6 am.
At David Bus Station, board the bus going to Bocas/Changuinola. Let the driver know you want to go to The Lost and Found Hostel. The bus ride should cost $3.50 USD (but we were charged 'tourist tax' for a total of $5 USD). It will take around an hour and the driver will stop when you arrive. 
Top tip: The last bus from David to Changuinola leaves at 6 pm. If you're taking the night bus from Panama (like we did), don't worry. The Changuinola bus service starts really early, around 5am. 
HOW TO GET TO LOST AND FOUND HOSTEL FROM BOCAS DEL TORO
Take the boat from Bocas back to the mainland. Once you arrive in Almirante, you can take the public bus heading to David. Again, tell the bus driver that you are going to The Lost and Found. The bus ride should cost around $8 USD (again, you might be charged $10 USD including the 'tourist tax'). The journey should take about 3 hours, and the driver will stop when you arrive. 
Note: Lost and Found Hostel also work with Hello Travel Panama. They run daily shuttles between all the places you'll likely want to visit. We took the public bus from David, but ended up taking a private shuttle from Lost and Found to Bocas del Toro. When all the public buses charge you a (sometimes hefty) 'tourist tax', taking the a private bus can sometimes work out an easier option for a similar price. 
ONCE YOU GET OFF THE BUS...
Once you arrive, embrace the spirit of adventure as you follow the hostel's well-marked trails, each step bringing you closer to the heart of the jungle and the Lost and Found Hostel's magical ambience. The trail is really obvious. You'll pass by a few houses before the path narrows and starts to wind up into the jungle. From there, it's around a 15-minute walk uphill. If your backpack is heavy, there are plenty of places to stop and relax. 
HOW TO LEAVE LOST AND FOUND HOSTEL
Lost and Found hostel has a sort of alluring quality that will make you not want to leave. But, alas, all good things must come to an end. And if you don't leave, you can't come back! 
Leaving Lost and Found is the same as arriving. Head back down the jungle path and wait on the side of the road, next to a small stall selling coffee and bananas. 
If you're heading to Bocas, flag down a bus on this side of the road. If you're heading to David, flag down on the other side of the road. They should stop (unless they're full). Jump in and enjoy the journey!
You can get more detailed information about getting to and from Lost and Found Hostel on their website.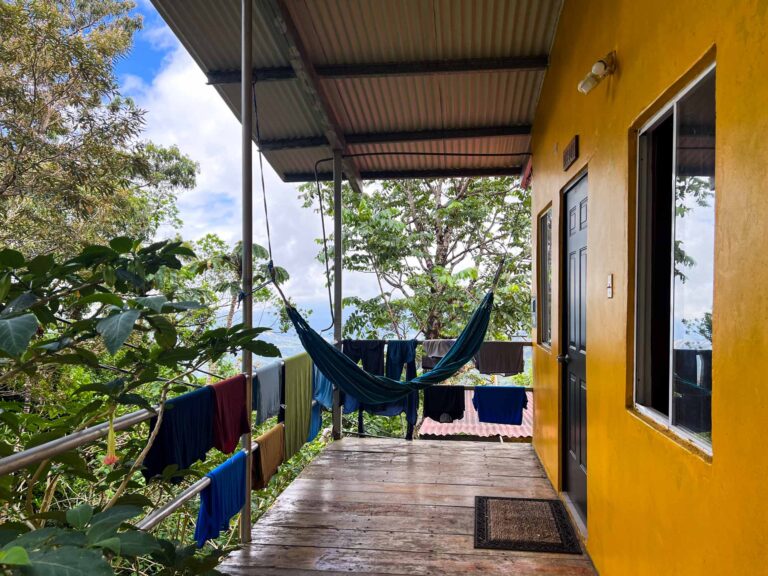 What to expect, simple but clean jungle accommodation
LOST AND FOUND HOSTEL: FINAL THOUGHTS
As you will definitely see, the Lost and Found hostel has a sort of alluring quality that will make you not want to leave. There are so many budget-friendly activities – you'll never run out of things to do – but it's also perfect place to sit and read a book in a hammock all day.
Ultimately, Panama's Jungle Hostel is more than just a hostel: it's a whole experience that you definitely shouldn't skip. With its community-oriented spaces and epic budget-friendly adventures, this hostel offers a unique blend of tranquility and excitement.
Travellers who skipped the Lost and Found end up full of regret. Travellers who turned up but couldn't get a bed end up disappointed. Surely, this is a sign of just how absolutely amazing this jungle hostel is.If you can only do one thing in Panama, this should definitely be it!
Follow our daily adventures on Facebook and Instagram
This post may contain affiliate links (yay for transparency!) This means that I will earn a small commission, at no additional cost to you, if you click the link and choose to buy the product. I only link to stuff I have personally bought and found useful and never endorse crap. Your support helps keep the site going, thank you!