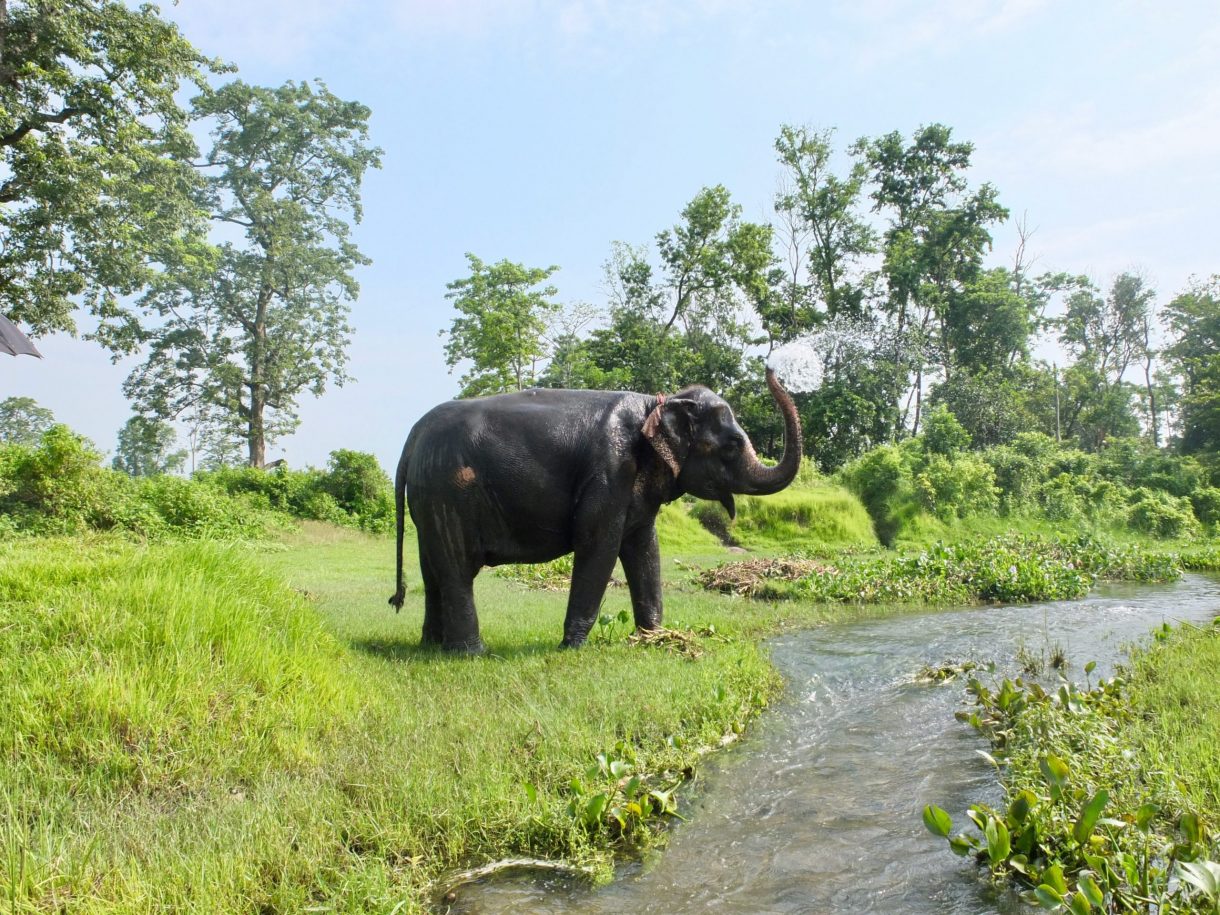 Elephant Happy Hour | An Ethical Elephant Experience
When visiting Nepal, seeing an elephant in Chitwan National Park was close to the top of our bucket-list, but we couldn't find out how to see elephants up close without contributing to their mistreatment. 
Read on to learn about the Elephant Happy Hour experience in Chitwan, an elephant-friendly interaction.
Sauraha, Chitwan National Park
Pulling into Sauraha on a creaky coach, we were buzzing with excitement, my sister in particular, as she had been wanting to meet an elephant for several years. We stepped off the bus into the sticky heat, shouldered our packs and walked the last bit of the journey to the village, keeping our eyes out for an ethical elephant activity.
A sleepy town on the banks of the Rapti River, Sauraha didn't have much going on during the low season. We dumped our backpacks at Evergreen Eco-Lodge, our home for the next two nights. Desperate to explore and stretch out legs, we set out to see what Sauraha had to offer. 
We wandered down to the bank of the river and with a stroke of luck, some tourists were bathing an elephant. Having come to Chitwan with the same intentions, we were shocked at what we saw. The tourists atop the majestic creature were whooping and squealing, clambering over the elephant like children on a climbing frame. A mahout stood knee deep in the water, prodding and poking the elephant, issuing sharp commands for her to spray water and tip the tourists off her back.
Elephants are expressive creatures and we could clearly see the stress and weariness in her eyes. We turned away, refusing to contribute to any suffering and mistreatment during our time here.
Prefer audio? Have a listen to this podcast, where I chat to Matty of the Travel Story Society about Elephant Happy Hours and Roughing it in the Jungle
Elephant Happy Hour, an Alternative Experience
Unfortunately, in 2018 Sauraha did not have an Elephant Sanctuary, and if it did, I would still be hesitant to visit without prior research. We were lucky enough to bump into Michael from Stand up 4 Elephants, an organisation in Chitwan looking to make a difference. They run an Elephant Happy Hour where you can hang out with a working elephant, giving her a much needed break from tourist rides. By 'buying the elephant's time', the owner and her mahout still get paid (read more about why this is important here), but the elephant can have a proper scratch, splash herself with mud and water, snack on bamboo and get time to just be an elephant – a rare luxury for those of Chitwan.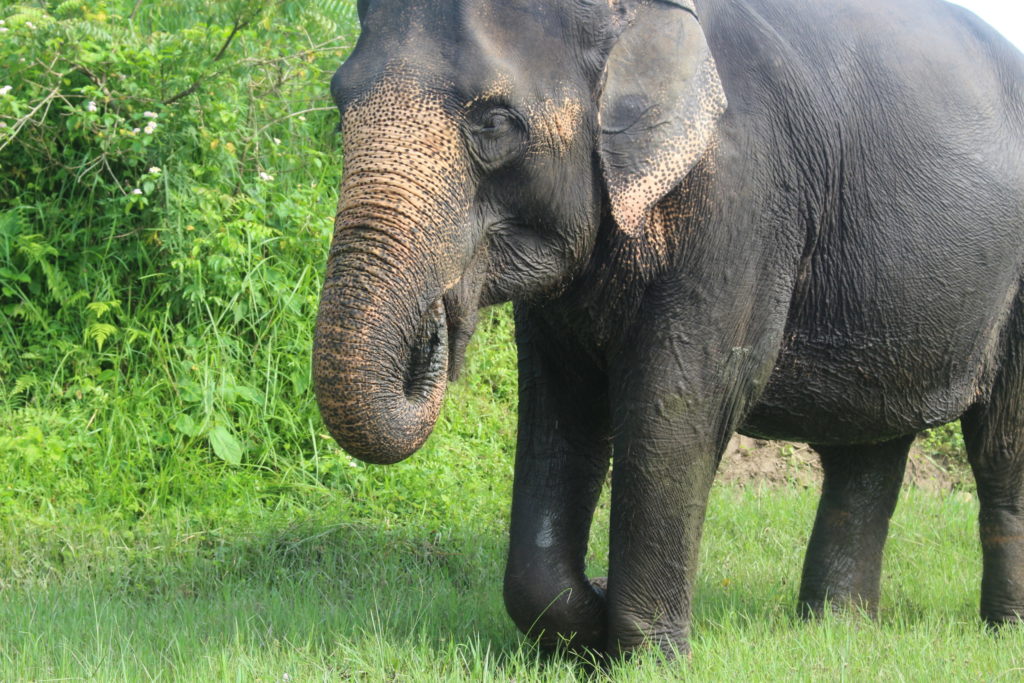 We enthusiastically agreed and Michael arranged a Happy Hour for the next morning. The experience included a knowledgeable introduction to the state of elephants in Chitwan and Nepal and we were free to ask questions.
After a 20 minute Jeep ride to Kumroj, we arrived at a lush green field bordered by the jungle and Rapti River. There, we were introduced to the beautiful Rupa Kali. We earned her trust through the bags of cucumbers we had brought with us. Once Rupa had seen our empty hands and probed us with her trunk (just to make sure), she understood that the food was gone. She knew her time was now hers, and headed straight down to the river to cool down from the sticky heat.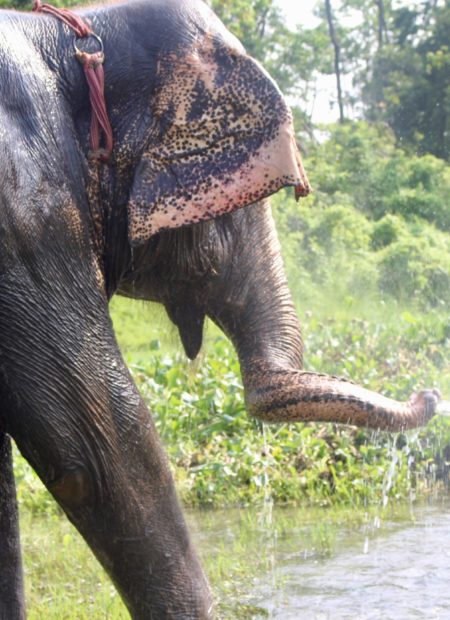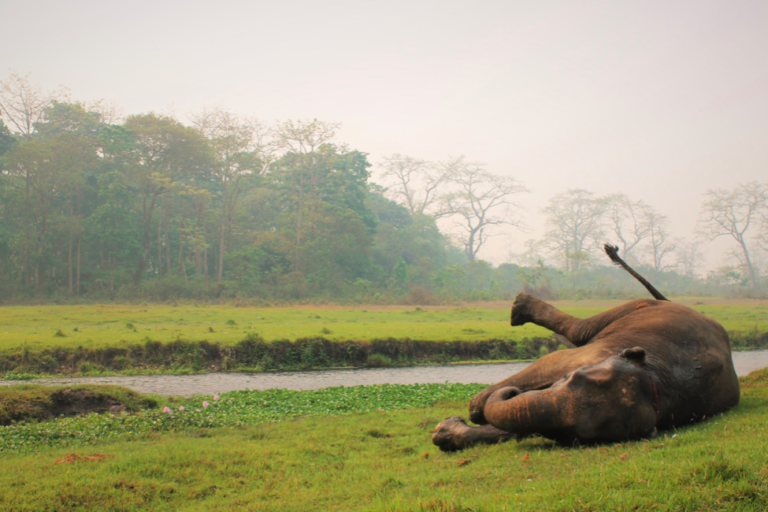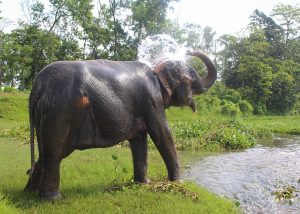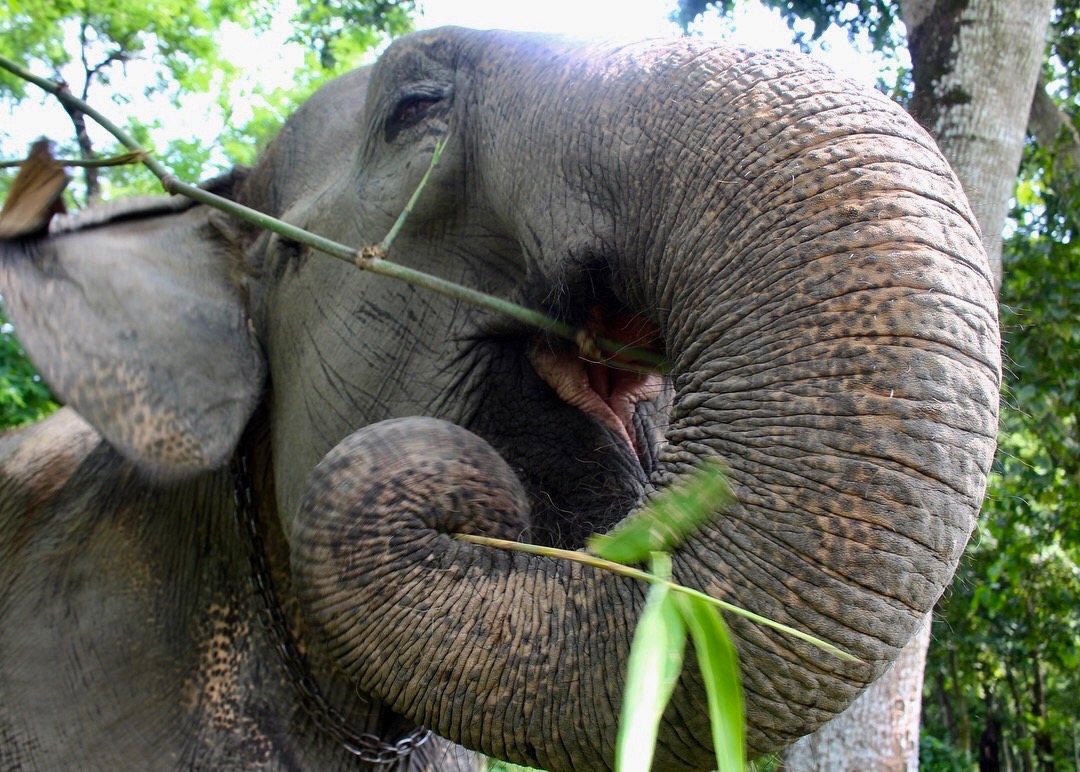 Free of chains, Rupa was allowed to wander where she pleased. Unsatisfied with her cucumber snack, she led us down to the jungle edge. She spent the time joyously scratching herself on trees and expertly pulling down delicious bamboo with her trunk. She sprayed herself with mud and leaves and rolled in the grass like a 3000kg puppy.
While Rupa was eating, we continued discussing the complex Nepali elephant situation and the initiatives taken by SU4E. It was also nice to see her mahout relax and engage with us. This Happy Hour is as much for the mahouts as it is the elephants, as both often work long hours without a break. You can read more about how treatment of mahouts and elephants are so intertwined here and here
Our time with Rupa was one of the most amazing experiences we had in Nepal. I would highly recommend an Elephant Happy Hour to anyone visiting Chitwan as an alternative experience to elephant rides or bathing.
SU4E: Behind Elephant Happy Hour
Since our visit in 2018, SU4E have continued to grow. They have now built an elephant home where Eva the retired elephant lives in peace with her mahouts. They are currently training Eva using positive reinforcement to accept treatment for her injuries with great progress.
If you are visiting Chitwan I would highly recommend the Elephant Happy Hour. SU4E also has a volunteering program which allows you to work up close with elephants and directly contribute to their welfare in Chitwan.
You can contact the organisation through e-mail or whatsapp:
E-mail:  info@su4e.org
Whatsapp: +977 980 722 9837
If it is not possible for you to visit Nepal, SU4E runs an Elephant Happy Hour Live. Ethically-minded individuals worldwide are now able to sponsor an hour's free time for an elephant like Rupa and receive a unique live-stream. 
Follow our daily adventures on Facebook and Instagram
This post may contain affiliate links (yay for transparency!) This means that I will earn a small commission, at no additional cost to you, if you click the link and choose to buy the product. I only link to stuff I have personally bought and found useful and never endorse crap. Your support helps keep the site going, thank you!