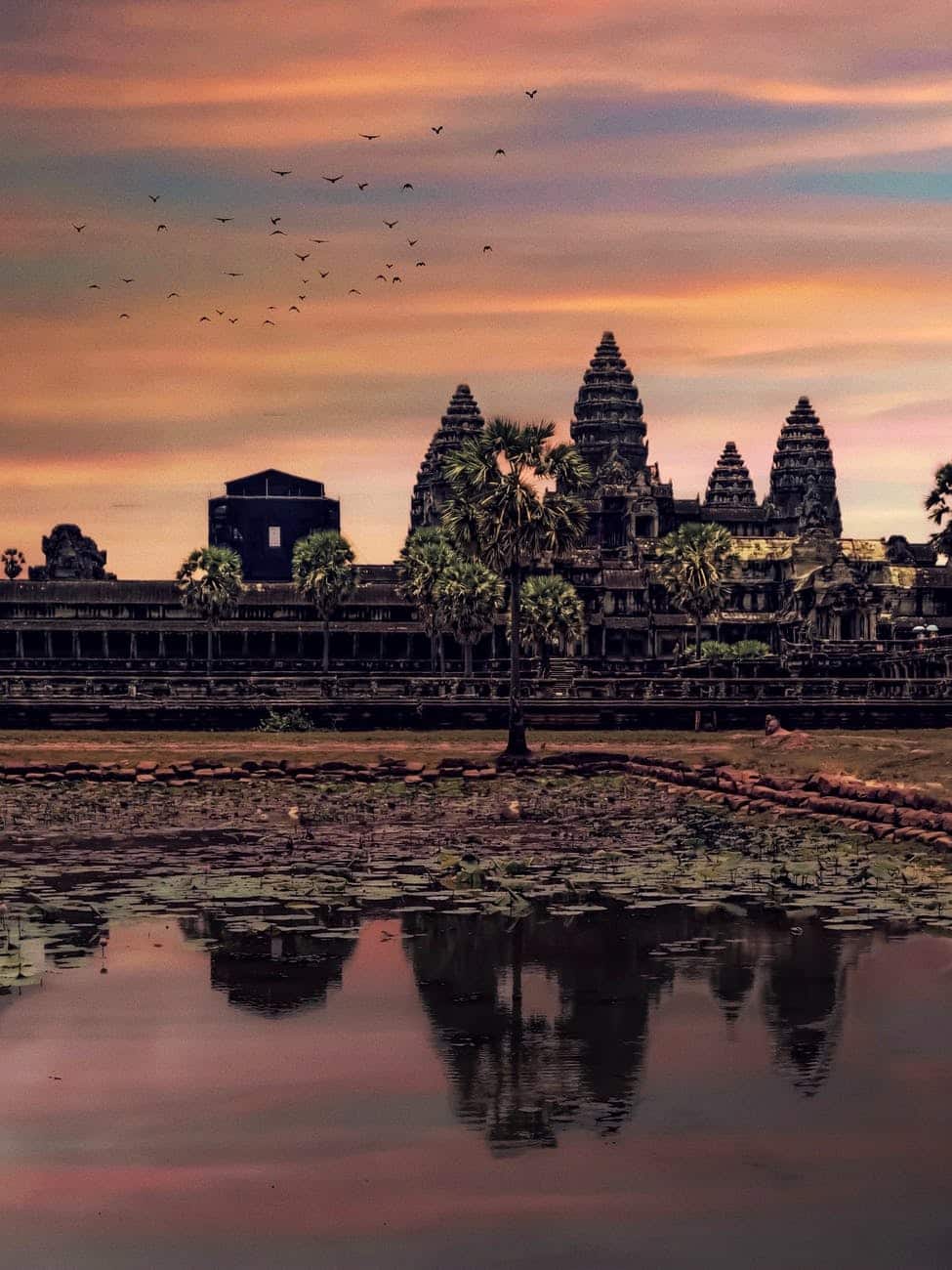 Beyond the Temples: 11 sustainable ways to enjoy Siem Reap
Angkor Wat, the world's largest religious monument and a UNESCO World Heritage site, is a must-see for many travellers. Most visitors to Siem Reap province come for this iconic temple complex, hitting the 'main trio' of temples before dashing off to tick the next location from their Southeast Asia bucket list.
Yet the province remains one of the poorest in the country.
Travellers can do their part to help the economy of this amazing province by staying a few extra days to explore beyond Angkor Wat. Siem Reap has so much to offer. Here, your tourist dollar can contribute to the local economy, conservation projects, and social enterprises that are paving the way toward a brighter future. 
So go beyond the temples with these 11 sustainable and unique ways to enjoy Siem Reap. We promise, you won't regret it.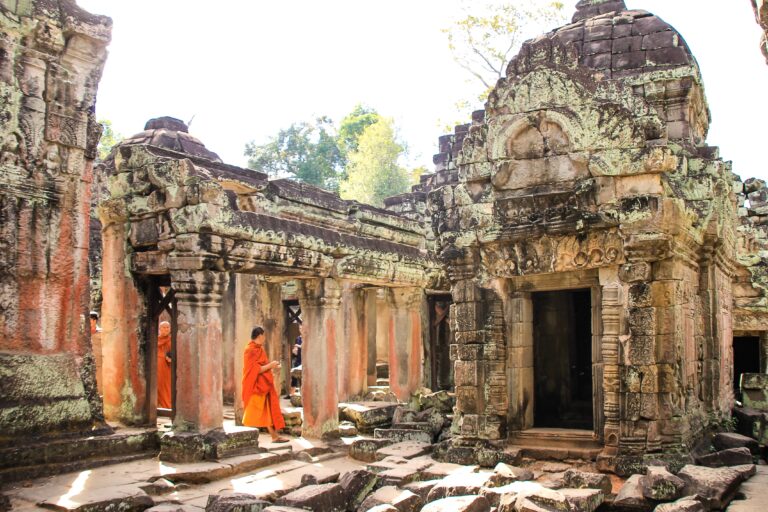 Embrace Cambodian Culture
"More than just a circus, Phare performers use theatre, music, dance and modern circus arts to tell uniquely Cambodian stories; historical, folk and modern." 
The Phare Circus was formed in 1994 by nine young men returning to Siem Reap after living as refugees during the Khmer Rouge regime. Finding comfort in creativity, they founded Phare Ponleu Selpak, an NGO school and professional arts training centre in Battambang. The profits from selling tickets, refreshments, and merchandise support free education and social support programs for disadvantaged Cambodian students. 
And even better, this circus uses the amazing talents of people only. You won't find any animals or ringmasters here! Check out a preview below: 
Visit Tonle Sap floating villages
Tonle Sap floating villages are a semi-popular attraction in Siem Reap. Many people visit, fascinated by the locals that live on stilted houses above the water. But it's important to remember that this isn't a zoo. Passing the houses of the locals in a paddleboat can be interesting to view a different way of life, but it's incredibly invasive and the locals rarely see a penny of your tourist money.
If you're simply looking to ogle people as they go about their daily lives, please don't visit. They do not need and will not appreciate obnoxious and ignorant tourists distracting them from their livelihoods and family lives.
If you want to visit Tonle Sap sustainably, great! Hop into a TukTuk and head to Kampong Khleang. This village is around 50km out of Siem Reap and does not experience the same levels of overtourism as many of the others. Additionally, the boat service here is owned and run by locals, meaning your money is directly supporting the local community.
If you're looking for a closer village you could also visit Mechrey, where many grassroots organisations are developing eco-tourism approaches. You can hire a local boat to take you around the mangroves, or flooded forest. Remember to stop at a floating restaurant or shop to support some of the local tourism industry.
Unless you're planning to travel onwards by boat to Battambang or Phnom Penh (a great slow-travel option) we recommend avoiding Chong Kneas. The boat tours here are not owned by the local community and the people living in this village see very little of your tourist money. There are also many scams in place. Remember, the best way to support communities in the Tonle Sap Lake region is to spend money at souvenir shops, restaurants or information centres. You can also donate to established organisations, such as the Lake Clinic who provide medical support to communities on the Tonle Sap Lake.
Chat with a monk at the Peace Café
Thearavada Buddhism is the official religion in Cambodia which is practised by 95 per cent of the population. Whether you're just interested or looking to incorporate Buddhism into your life, this is a great location to learn from the masters! The Peace Café offer a 'talk with a monk' on set weekdays if you want to learn more about Buddhism.
The temples of Siem Reap are active monasteries. Remember to respect all monks you encounter and be extra careful if you're a woman; it's strictly forbidden for practising monks to have physical contact with women, so avoid touching or brushing past them.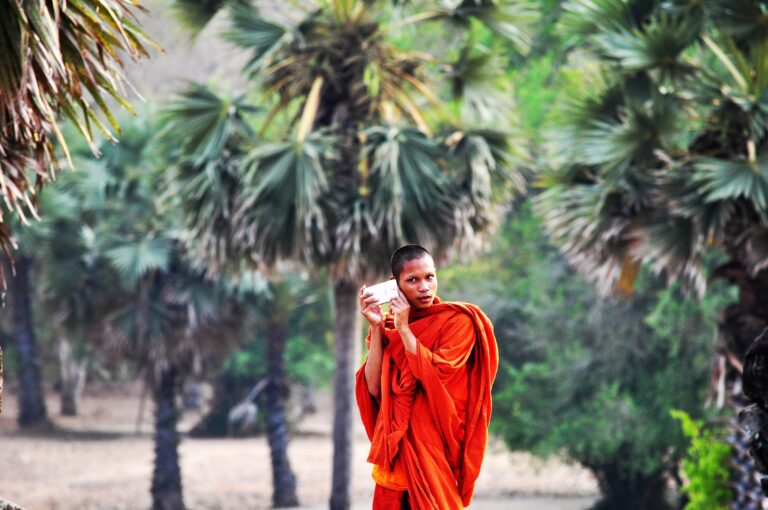 Stay with locals at Banteay Srei
Launched in 2016, the Visit Banteay Srei campaign aims to direct tourists to this lesser-known town just 30 minutes away from Siem Reap. You could stay in a private villa, but we recommend spending the night sharing a room with locals in their home. A homestay is the perfect way to experience the Cambodian way of life and hosts can organise activities, such as remote temple treks, bike rides through the countryside and guided walks along nature trails. You'll have a great experience and your money directly benefits local livelihoods. 
Hop on a grasshopper bike tour
If you're suffering from temple fatigue, Grasshopper Tours offer bespoke cycle tours around quirky attractions. Take a day trip along the quiet lanes of Siem Reap and visit some wonderful social enterprises on the way. You'll be able to meet the giant rats that have been trained to safely sniff out landmines and visit Rehash Trash, where disadvantaged women are trained to create stylish stuff from roadside rubbish. You can even join in and create your own souvenir! Ending your cycle trip at a rice-wine distillery, you'll taste traditional spirits infused with local flavours. Probably a good thing that's the last stop-off… 
Explore Phnom Kulen National Park
Phnom Kulen (literally Mountain of the Lychees) makes for a great day trip from Siem Reap. Those who choose to hike Kulen Mountain will be rewarded with a picturesque picnic spot,  set up in Cambodian style with hammocks and shelters to keep you out of the scorching sun. There are cooling waterfalls if you fancy a dip and plenty of temples to explore if you aren't all templed out from Angkor Wat. 
Remember, this is also a place local people enjoy. Cambodians tend to dress quite conservatively, so if you do go swimming please respect this. All genders should opt for shorts and a t-shirt at the minimum and it'll keep you covered from the sun.
Looking for an adrenaline rush? Get ready to return to the jungle after your temple visit for the Angkor Zipline. This thrilling treetop exploration will see you soaring through the canopy using a combination of sky bridges, zip lines and even a controlled abseil descent. Even better, the organisation donates a portion of the cost directly to various grass-root causes supporting the people, jungles and environments of Angkor Park and Siem Reap. 
Go Wildlife Spotting in Prey Kbal Teuk Community Forest
Prey Kbal Teuk is one of the first Community Forests in Cambodia. It's home to a series of unique and rare flora and fauna, including carnivorous pitcher plants and a range of orchids. Activities include guided nature trails through the woodland which you can arrange through their official site here.
Grab a Coffee with a Cause
There are so many spots around the city to eat well and do good. Get your morning caffeine fix at the non-profit Bayon Coffee Shop. The proceeds of your coffee and snack will support the training of underprivileged girls and women to become bakers and pastry chefs.
Unlock the secrets of Cambodian cuisine with an afternoon cookery class. There are lots of different classes in Siem Reap; you'll often see them advertised in restaurants. We recommend the vegetarian cooking class at Peace Café where you'll learn how to make fresh spring rolls, papaya salad, and the national dish, Amok. Peace Cafe is a sustainable social enterprise that provides eco-training, education and workshops for local Khmer people. 
Shop smart and be wary. Estimates for souvenirs imported to Siem Reap run as high as 80 per cent with many of the cheap goods on offer being made by almost slave labour overseas. We recommend avoiding purchasing cheap souvenirs when visiting the night markets and spend your money on street food instead. 
But you can also find quality locally crafted gifts. Aim for the open-air 'Made in Cambodia' Market, where you can grab some food, chat with local artisans, and enjoy live entertainment while perusing ethically made souvenir options. Here, your money will go straight back into the economy. 
If you like to do all your shopping in one place, Angkor Handicraft Association also offers a variety of locally made products. If you prefer to shop-hop, you can pick up a map here for Siem Reap stores that sell authentic handmade goods.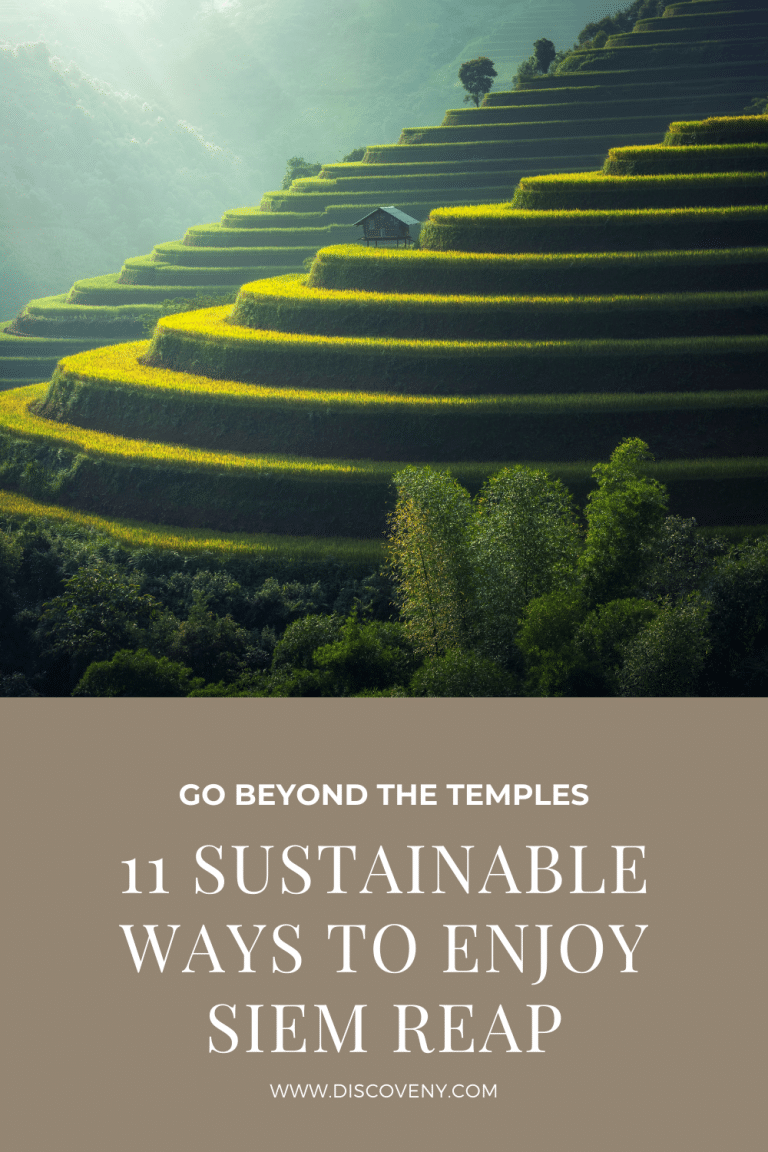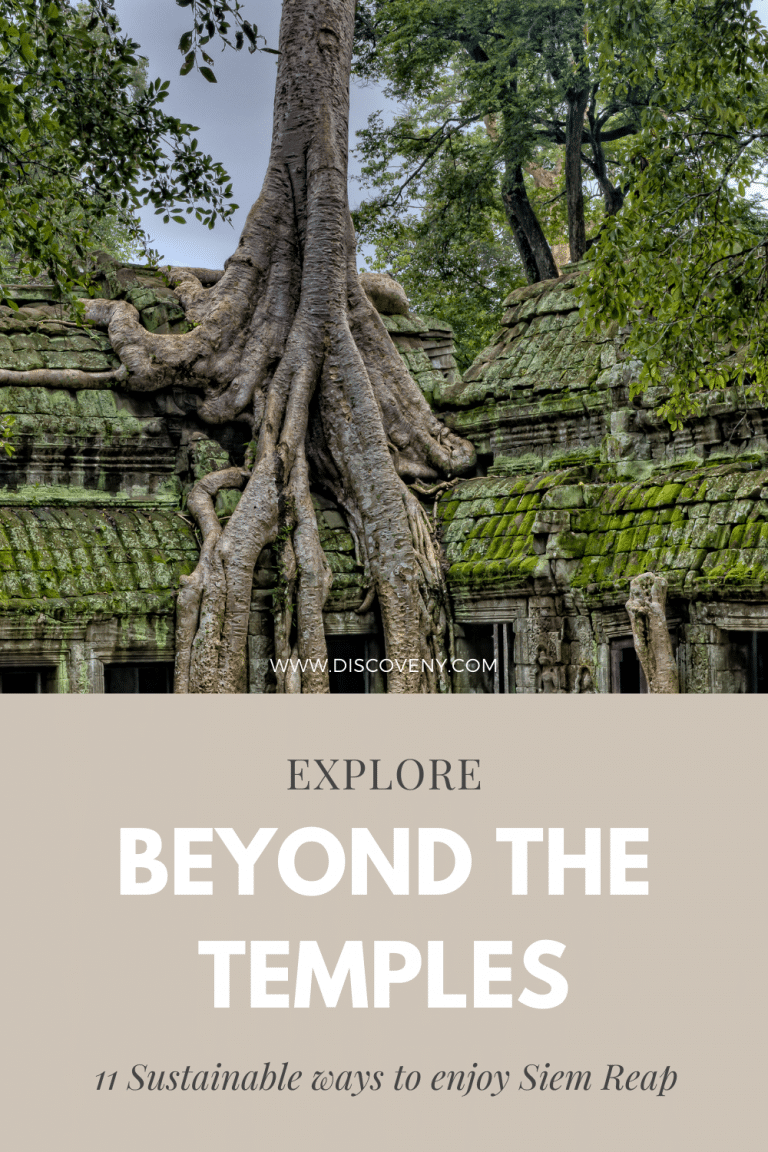 Amazing! You're now fully equipped with all the knowledge you need to start planning your trip to Cambodia. But why stop there? Why not venture on to other Southeast Asian Countries, like Laos, Vietnam and Thailand?
To make the most of your trip and for more detailed information, we recommend grabbing a Lonely Planet. It makes great plane or train reading too and when you're done, you can pass it on or leave it in your guesthouse/hostel. 
Siem Reap is a wonderful place to spend time. You could stay for weeks and still not see all of it! Did I convince you to explore beyond the temples? Let me know in the comments below and remember to check out our other Cambodia resources to help you plan your trip!
Remember to check our complete packing list to make sure you don't forget a thing! And as always, reach out with any questions. Our inbox is open.
Follow our daily adventures on Facebook and Instagram
This post may contain affiliate links (yay for transparency!) This means that I will earn a small commission, at no additional cost to you, if you click the link and choose to buy the product. I only link to stuff I have personally bought and found useful and never endorse crap. Your support helps keep the site going, thank you!