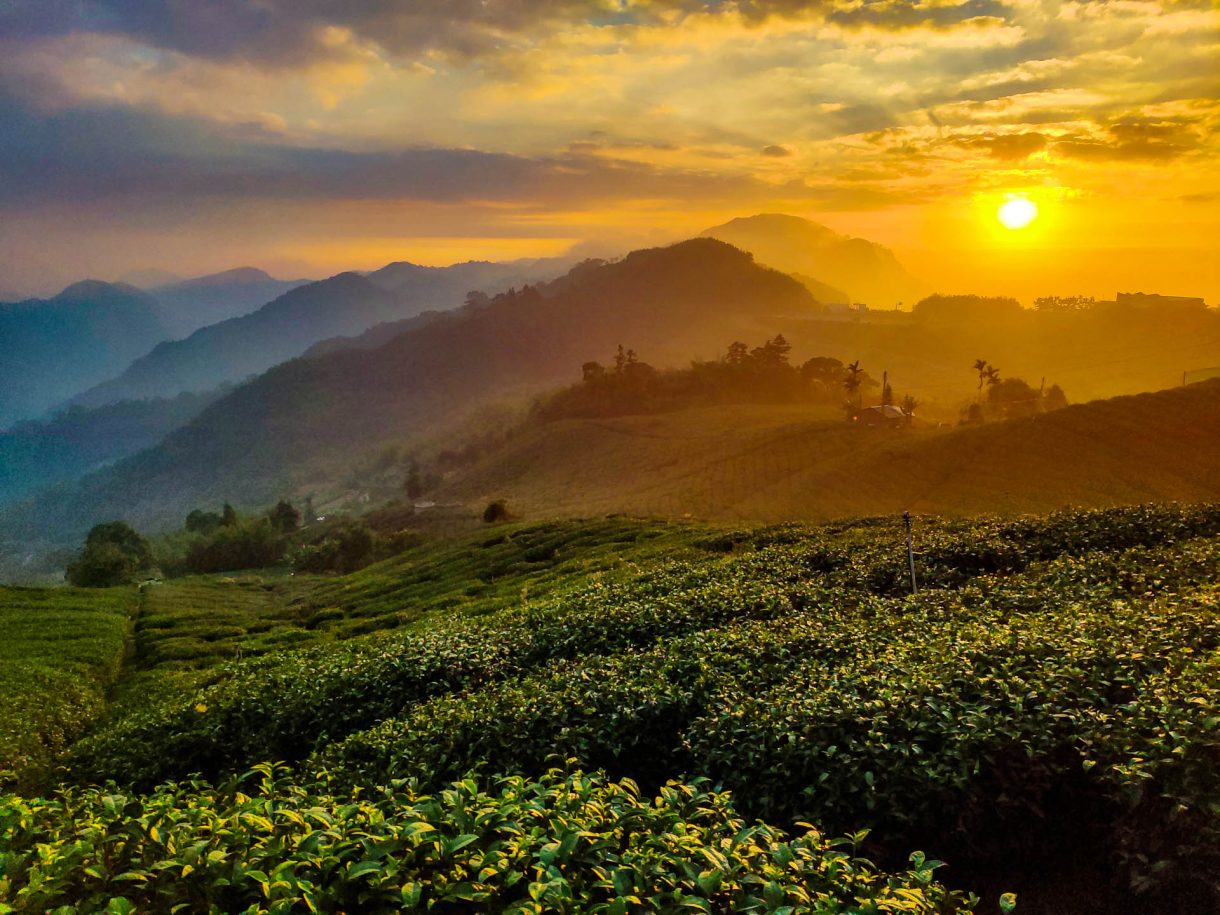 Avoid tourists in Taiwan with this hidden Tea Trail
With mighty tea plantations stretched out along the hillsides and clouds drifting above deep valleys, the island of Taiwan is home to breathtaking landscapes throughout. Nestled between the easily-accessible central Taiwanese city of Chiayi and the famous Alishan National Forest recreation area, the quieter but no less beautiful Taiwan tea trails of Shizhuo, which are are overlooked by many tourists.
This is a guide to the tea trails near the Shizhuo (石棹) village, an adventure that you shouldn't miss when visiting the Alishan area of Taiwan. An overlooked hiking trail winds between the Oolong tea plantations of this scenic area, providing a quieter alternative to popular Alishan. Read on for the bestway to get a taste of the real Taiwan without so many tourists.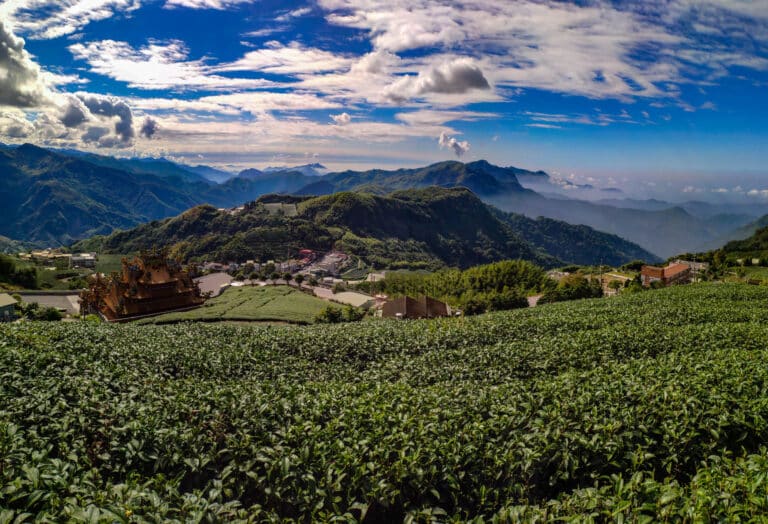 The Shizhuo Trails (石棹步道群)
Alishan National Forest Area is a huge national park, 2000 meters above sea level. This forest has soaring cypress and cedar forests, with 36 large "sacred trees" with an average age of over 1000 years old. Combined with beautiful forest and mountain scenery, this area is one of Taiwan's most popular destinations. It's definitely worth a visit. But it can often be touristy, with locals and travellers flocking to this natural beauty.
Shizhuo Trails are located near Shizhuo along the Alishan Highway, and offer a quieter alternative. The main attraction of these Taiwan tea trails is the beautiful track that winds through the many Oolong tea plantations of Shizhuo. In fact, these are multiple trails, with beautiful names such as the mist trail, sunset trail, cloud trail, sakura trail and tea trail. 
This circular tea trail is around 5 km long and walkable in 2 – 3 hours. This can vary and you may want to stop off for a cup of tea, picked fresh from the fields (think of how low the food milage would be!), or to take scenic pictures. The trails are between 1,370 meters to 1,699 meters altitude so altitude sickness should be no problem here for most. All paths are very well made and clearly signposted in Chinese and English. 
Check out the map below for an overview of the route:
The trail begins by bringing you above the Shizhuo village, where you start to see the immense tea plantations stretching across the hills in front of you – especially beautiful when the low-hanging sea of clouds begins to drift through the valleys. Following the path takes you through a bamboo forest, with an easily-navigatable wooden pathway to guide you. This trail takes you through the forest before stunning views of the plantations appear once more. Make sure to check out the Wu Feng temple on your way back!
TOP TIP: Download the maps.me offline map for southern Taiwan. All the trails are clearly marked in there and it will help you to not get lost. 
A trip to the tea trail is best combined with the famous Alishan National Forest Recreation Area. Shizhuo, the starting village of the tea trails, is on the main road between the city of Chiayi (嘉義) and Alishan area (阿里山), so you can stop off on your way. The regular bus 7322 between Chiayi and Alishan stops at Shizhou (石棹). The journey takes about 2 hours, but the last hour takes you along a winding mountain road – something to consider if you suffer from motion sickness!

Make sure to double-check the departure times. Hotels, hostels, and tourist information points can help you with the language barrier. If you're really stuck, you can do what I do, and approach a young-looking person. Young adults throughout the world are more likely to speak some level of English than their older relatives and can be really helpful if you're in a pinch. 
TOP TIP: We've written the names in Mandarin for a reason! Feel free to show them when. buying bus/train tickets or arranging a pick-up stop!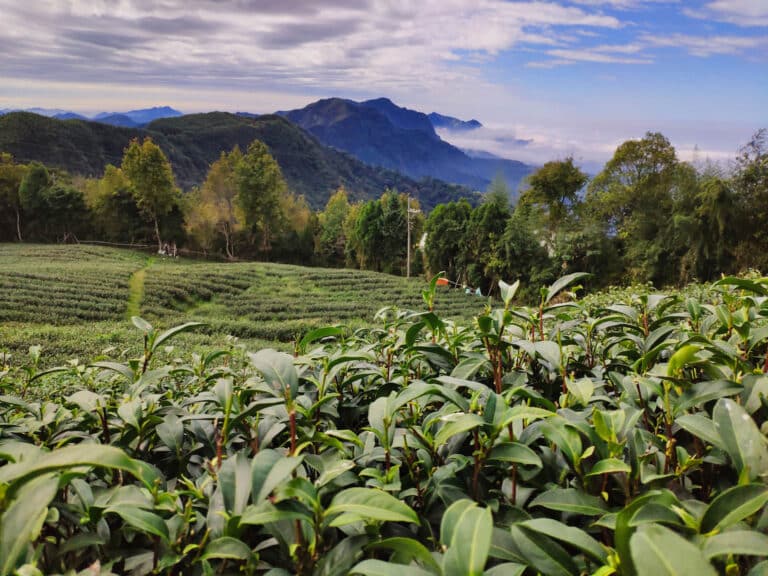 The famous Forest Rail, built by the Japanese in 1912 to transport wood, is now a famous tourist attraction which connects the city of Chiayi to the Alishan area. Riding the train is an attraction in itself. It zigzags up the mountains, crossing through tunnels and over wooden bridges.
Unfortunately, the Shizhuo village is not directly served by the train but the stations Duolin (多林火車站) and Shitzulu (十字路) are not so far away. The ancient village of Fenqihu (奮起湖)  is also worth a visit, with a station just 10km distance from Shizhuo. Most guesthouses in Shizhuo are happy to arrange a pickup for a small fee but make sure to arrange this in advance.
You can book your train ticket online. If you're feeling spontaneous, you can also get your train ticket from the automatic ticket vending machine inside Chiayi Station or at the ticker counter.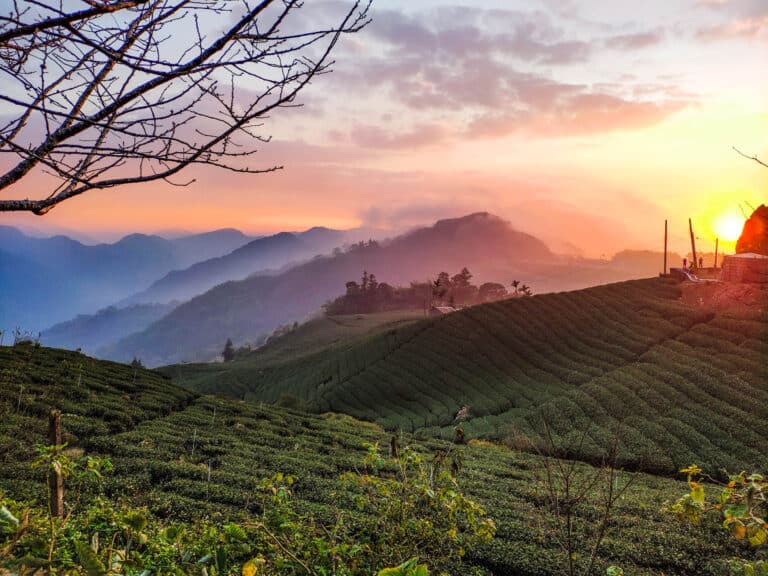 Shizhuo has a number of guesthouses tucked between the tea plantations. Staying in Alishan can be difficult in the high season as there are only a few accommodation choices. Basing yourself a little further out, in Shizhuo, leaves you surrounded by beautiful tea plantations, gently drifting clouds and fewer tourists.
Cultivation of Taiwan's celebrated High Mountain Oolong Tea first began in the village of Shizhuo. If you're a tea-lover (like me!) this is the perfect place to base yourself after the hike. There's plenty to do here, from tea picking, tea-factory tours and teahouse sessions. If you're up for it, there's lots more Taiwan tea trails in the vicinity too!
Satori Tea (悟 佐茶 )
This is where I stayed on my visit. Clean and comfortable with wonderful owners and complimentary tea in every room. You can also buy their home-grown tea leaves. 
Follow our daily adventures on Facebook and Instagram
This post may contain affiliate links (yay for transparency!) This means that I will earn a small commission, at no additional cost to you, if you click the link and choose to buy the product. I only link to stuff I have personally bought and found useful and never endorse crap. Your support helps keep the site going, thank you!