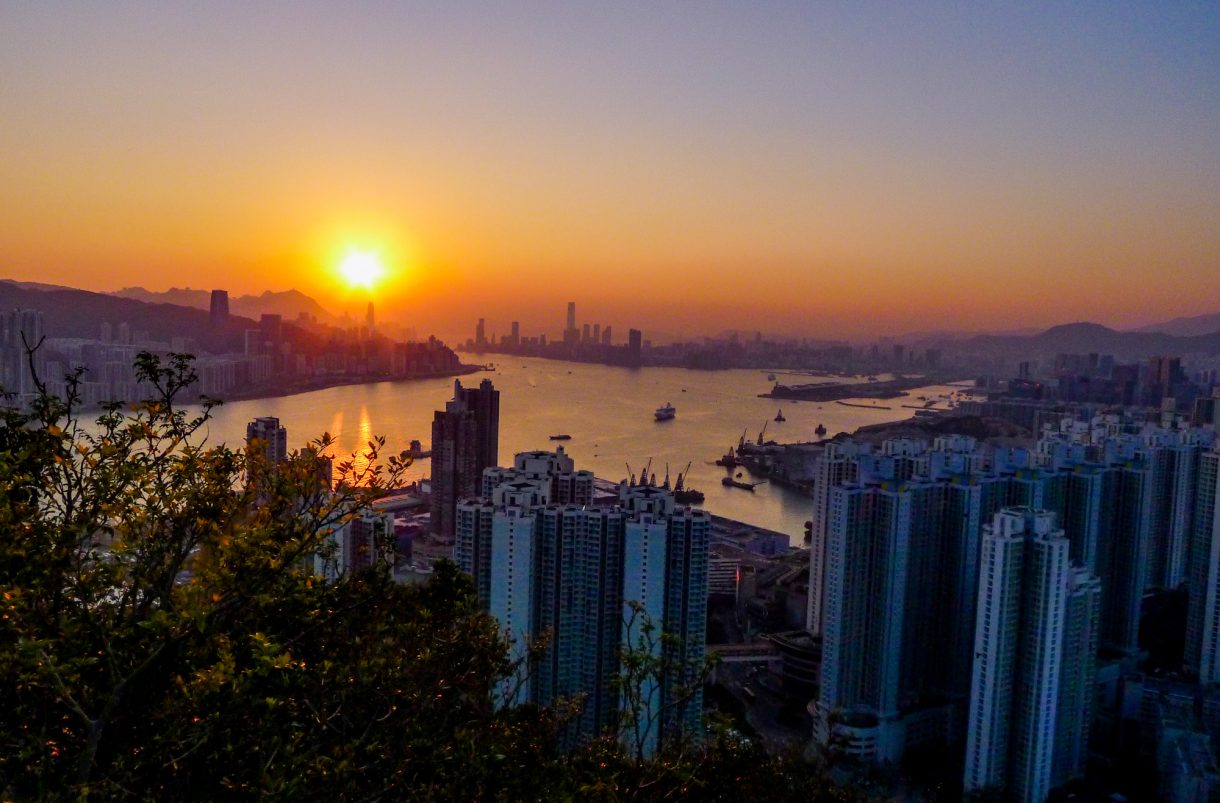 Five Overlooked Hong Kong Hikes that Shouldn't be Missed
Hong Kong, with its towering buildings and chaotic streets, might not seem like anything other than a city destination. However, if you need to escape to nature, you'll find that there are many hiking trails and national parks there to explore. When you choose to venture from the urban jungle of Hong Kong city, you'll discover that the rest of the SAR is filled with hills, peaks and beautiful views which are perfect for novice and advanced hikers alike. There are so many overlooked Hong Kong hikes that you'll be spoiled for choice!
If you want to get away from the crowds it's important to know which hikes are overcrowded and and which are overrated. Here, an expat is listing his top five hikes in Hong Kong which are often overlooked. Even if your trip to Hong Kong is only a few days' long, we recommend that you try out one of them for a completely different city perspective.
If you love views but hate crowds, then read on for the top 5 overlooked Hong Kong hikes that won't be recommended to you by most popular tourist sites!

Hong Kong: a hidden hikers' paradise
Most visitors' first impression of Hong Kong is just how crowded it is. Walking the streets between the overwhelming density of high rise buildings can make you feel quite small. However, looking down from the rooftops shows you an entirely different perspective, an aerial view of cars crawling along like ants below. Although Hong Kong is an amazing city, the bustling crowds, public transport, heat and humidity can leave you feeling drained and in need of a break.
At approximately 7000 people squished into every square kilometre, Hong Kong is one of the most densely populated cities in the world. Paradoxically, Hong Kong is also one of the greenest cities in the world. Over 1100 square kilometres, 75% percent of Hong Kong's territory is made up of green space. Removing the public parks and open spaces in the city give 7.5 million people approximately 15% of Hong Kong's total territory, making it incredibly compact. No wonder it seems so crazy!
There's a dramatically different side of Hong Kong to discover for the adventurous souls who step outside of the urban jungle. Sandy beaches, rocky shores, green valleys, almost deserted islands and steep mountains are abundant across the SAR. What's more, they can all be found just a short ride from the city. Read on for a guide to the top five overlooked Hong Kong hikes!
A short introduction to what3words
In this post you may see something like this: ///filled.count.soap
Don't be confused! To aid you in this guide we are using what3words. 
what3words is a really simple way to talk about location.
They have assigned every 3m square in the world a unique 3 word address that will never change.
For example ///filled.count.soap marks the exact entrance to their London headquarters.
3 word addresses are easier to say and share and are as accurate as GPS coordinates. You can use what3words to find a specific entrance to a venue, your tent in a busy campsite or your friend at a concert because they're so specific. 
Click on any of the what3words addresses in this post to be taken to a map detailing the exact point described. Use it to find your bus stop, trailhead or route. For easier access, download the what3words app (not sponsored, we just really love what they're doing).
The Top 5 Hikes in Hong Kong
The best overlooked hikes in Hong Kong will be ordered from left to right as on the map above. Zoom in on the map to view a route for more information.
HEIGHT: 934 metres | DISTANCE: 5 kilometres | DURATION: One day | START: Tung Chung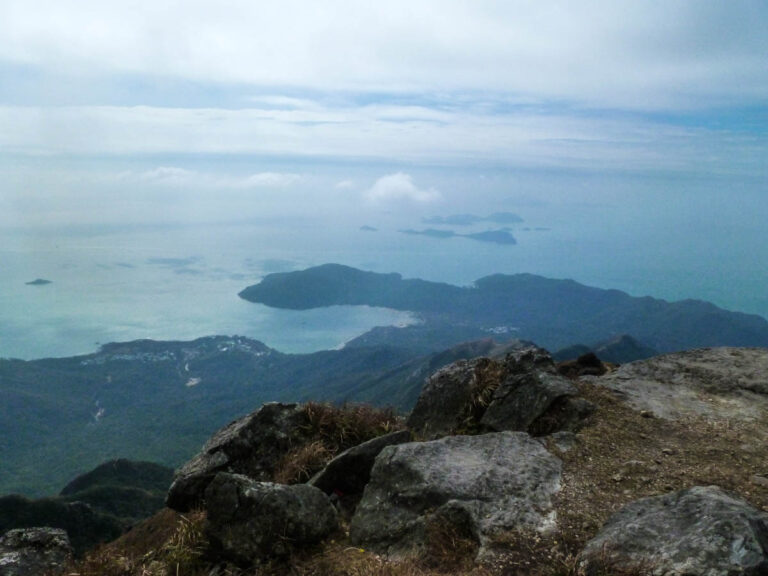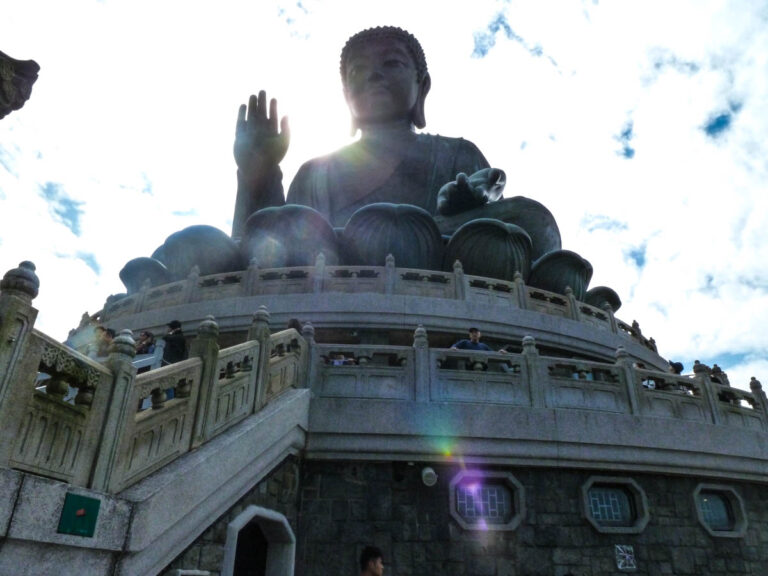 "Stunning scenery takes in Lantau Island with an exclusive perspective of the Tian Tan Big Buddah you won't find in the tourist brochures"
A spectacular route with views over Lantau Island and a unique aerial perspective of the Tian Tan Big Buddha make this a hike not to be missed. This route takes you to Lantau Peak, the highest spot on Lantau Island, with beautiful panoramas over the South China Sea and the Hong Kong Outlying Islands. Once you reach the summit you can spot the famous Tian Tan Big Buddah from above. 
This trek is best combined with a trip to the Tian Tan Big Buddha for a great day-escape from Hong Kong City.
Getting there: First, take the MTR to  Tung Chung and then hop onto Bus 3M, 11, 21 or 23 to Pak Kung Au (///variances.examiner.enable). Once there, follow the well-signposted South Lantau Country Trail
Getting back: Hike down to Tian Tan Big Buddah and take the Ngong Ping 360 Cable Car (169HKD) back to Tung Chung MTR. Alternatively you can take bus 23. 
HEIGHT: 554 metres | DISTANCE: 5 kilometres | DURATION: 2-3 hours | START: Peak Tram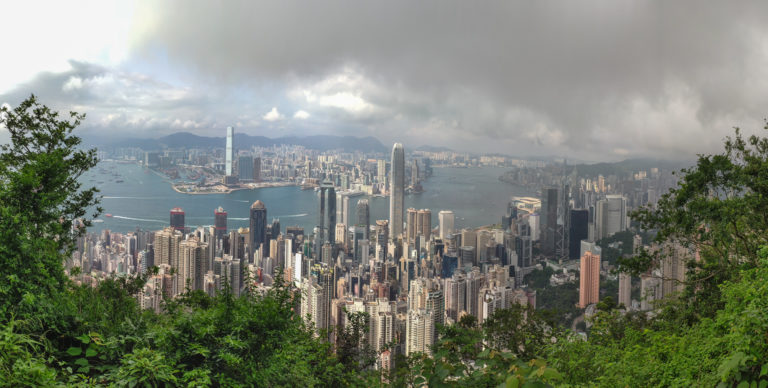 "A popular Hong Kong hike with world-famous views over the harbour and skyline, read on for the best ways to avoid the tourists and have the hidden summit to yourself"
The Victoria Peak or just the Peak is Hong Kong's main attraction and can be quite touristy. While this may be true, it doesn't have to be! Read on to find out how to get the best of the peak and save your pennies. 
There are free and less-crowded ways to see the postcard view of Hong Kong from above, depending on your energy and sense of adventure. These hikes start from the Peak Tram Terminus (///fragments.tadpoles.habit). Once you get out, however, walk away from the tourists, elbowing each other for the perfect Instagram photograph on the way to Peak Tower and instead, aim for Ludgard Road (///processor.croak.surfacing). Ludgard Road is a public footpath which loops around Victoria Peak, looking towards the Harbour. Walking along the footpath is completely free, whereas the sky terrace will set you back 52HKD (£5). The views are just as good and there are many beautiful areas to rest and take in the view and is usually only covered by a few joggers and occasional tourists. You'll find the views even more beautiful for the peace and quiet you'll enjoy.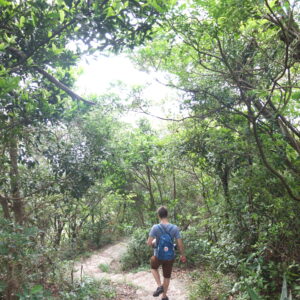 Getting there: Take the Peak Tram (£5/50HKD return) or city bus 15C from centrally located Exchange Square bus station or ferry pier. Make sure to get bus 15C as this one goes all the way to the top of the peak.
Getting back: Take the tram or bus back the same way you came, or stroll back to Central or Admiralty MTR via Old Peak Road for a leisurely afternoon walk. The trail starts at ///seabirds.apartment.breath and ends at Hong Kong University Campus where you can pick up signs for either MTR.
LOCAL SECRET FOR HAVING THE TOP OF THE PEAK COMPLETELY TO YOURSELF
Aim for Mount Austin Road (///ghost.unhelpful.blunt) instead of Ludgard Road. Follow the road around the peak and take a right, just before the Victoria Peak Garden Former Guard House (///moods.pothole.stiffly). The road becomes a narrow trail as you keep heading up. Following the trail, you'll arrive at the Hong Kong Radio Stations which are located at the tip of the peak. There is a lush green space offering you a gorgeous view over the trees to the harbour and very few tourists know this spot (///spoon.dose.ballpoint).
HEIGHT: 433 metres | DISTANCE: 3.5 kilometres | DURATION: 3 hours | START: Wong Nai Chun

"Another perspective on Victoria Harbour without a tourist in sight"
Whether you have already been to the Peak, or whether you're frightened by the queues, tourists and selfie-sticks, consider Jardine's Lookout as a magnificent alternative. Similar to Victoria Peak but with significantly less tourists, the hike is located on Hong Kong Island with equally stunning views over Hong Kong's skyline from another magnificent angle. From this side you can see the famous Happy Valley Racecourse from above and you'll have the peak to yourself. This overlooked Hong Kong hike is definitely not to be missed.
Views over the harbour make this a beautiful hike for catching photographs of the sun as it dips below the horizon. Make sure to check the sunset times before you head out so you won't be disappointed!
TOP TIP: If you're in town mid-week, why not head to the racecourse after your hike for Hong Kong's famous Happy Wednesday horse races and beer?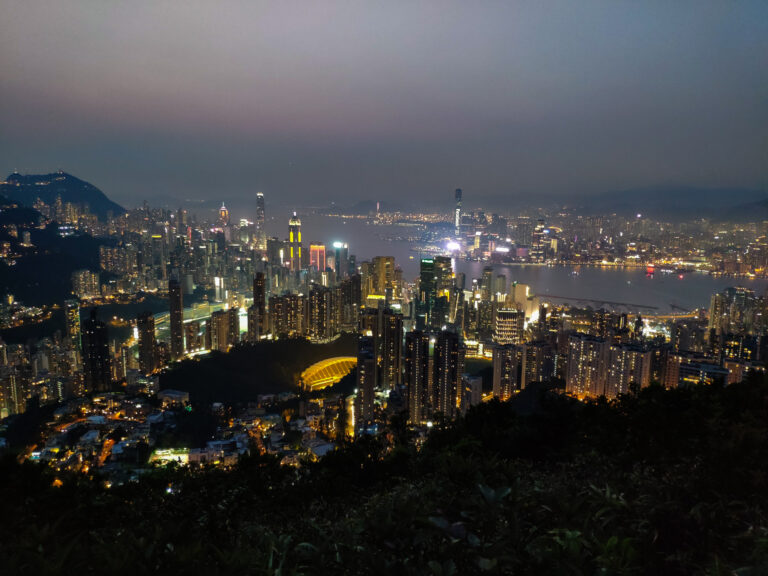 Getting there: To start with, take bus 6 or 66 from Central or Admiralty MTR station and get off at Wong Nai Chung Gap which is next to a petrol station (///merit.launched.engrossed). After you get off, walk up the stairs to Tai Tam Reservoir Road until you reach a gate to the Hong Kong Trail on the left hand side (///mailboxes.juror.sweat), then follow the trail along until you reach the Jardine's Lookout at the top (///prefect.universes.comic).
Getting back: The easiest and shortest route is to take the same path back. For a longer hike, follow the path onwards to Mount Butler (///scariest.hatch.originate) and down towards Tai Koo MTR.
HEIGHT: 222 metres | DISTANCE: 8 kilometres | DURATION: 3-4 hours | START: Yau Tong Metro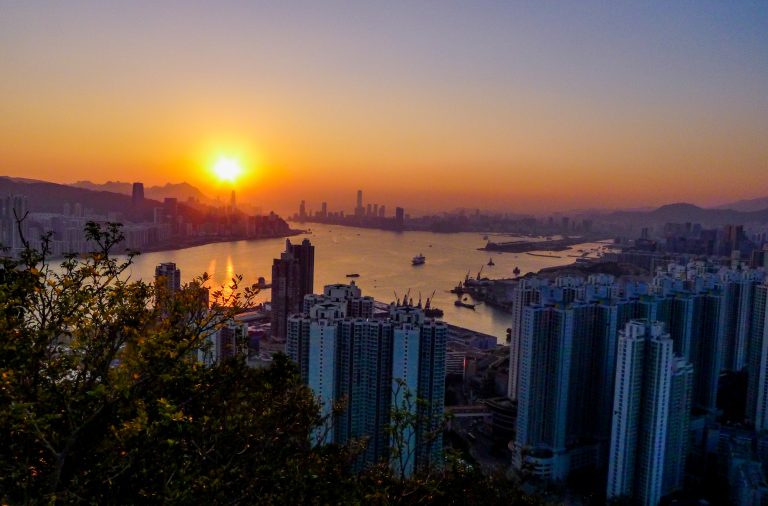 "This is the best hidden hike for views over Victoria Harbour and Hong Kong Island – perfect for sunset spotting!"
Devils Peak is a great spot for budding photographers to catch the sunset over Hong Kong's magnificent Victoria Harbour skyline and it's not too far from the city! The mountain has such a prominent position over the harbour that it features a significant military history, from 19th century pirates to the British Army.
You can approach Devil's Peak summit from either side. If you're just wanting to admire the views and snap some photographs, take the relatively steep but short hike from Yau Tong MTR up to the peak and back down again. Make sure to check the sunset times before you head out so you're not disappointed!
Alternatively for a longer hike (8 km, 3 hours), take the Bus 91 from Diamond Hill MTR to Tseng Lan Shue bus stop. Look out for Clear Water Bay Road, your start point (///fallen.undivided.biked) and follow the well signposted trail until you reach Devils Peak. Exit the way down to Yau Tong MTR.
Devils Peak is part of stage three of the Wilson Trail, a 78-kilometre (48 mi) long-distance route traversing Hong Kong's country parks. The Wilson Trail could be tackled as part of a multi-day trip for more adventurous trekkers. Although we haven't trekked the whole trail, many of the overlooked Hong Kong hikes in this post are incorporated into it.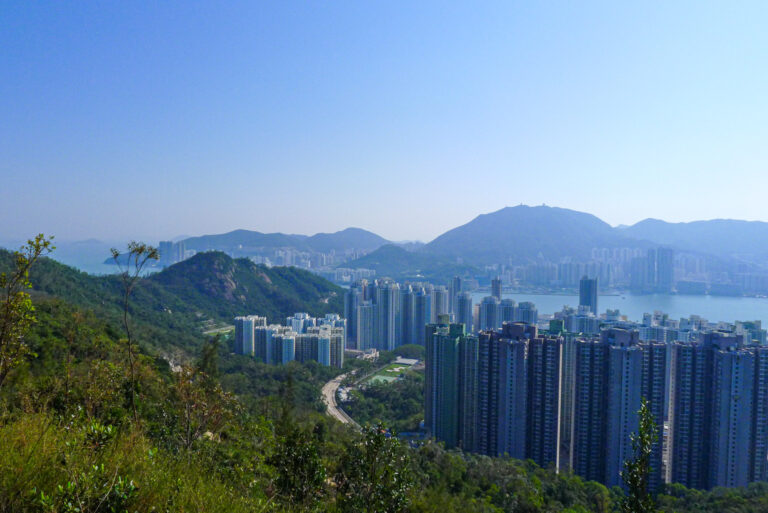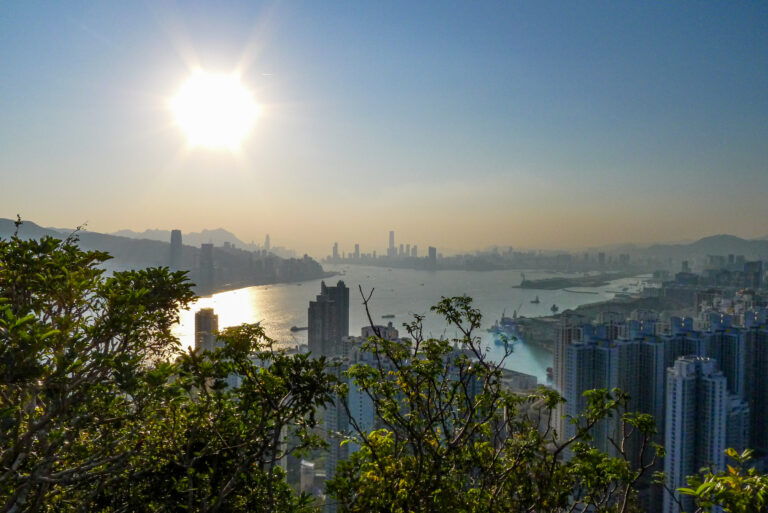 Getting there: Take the MTR and get off at Yau Tong if you would like the short hike. Alternatively, take the bus 91 from Diamond Hill MTR to Tseng Lan Shue bus stop for a longer hike. Look out for Clear Water Bay Road, your start point (///fallen.undivided.biked) and follow the well signposted trail to the peak.
Getting back: The easiest and shortest route for both hikes is to take the path back down to Yau Tong MTR. 
HEIGHT: 702 metres | DISTANCE: 7.5 kilometres | DURATION: 5 hours | START: Ma On Shan Metro

"Wide views over the New Territories from Tolo Harbour towards Sai Kung Country Park – you may even forget you're in Hong Kong until you catch a glimpse of the city below."
If you're up for a challenge, this overlooked and slightly technical hike offers amazing views across the Hong Kong SAR. This little-known hike is perfect for a whole-day adventure.
The trail starts at the Ma On Shan Country Park BBQ Site (///thousands.gratitude.huddling). Follow the trail and make sure to check your GPS (we use maps.me) from time to time because the path is not always clearly signposted. There is a steep ascent at the beginning but this is helped by a rope hand-rail. Follow the path as it opens up to the first of many breathtaking views over Sha Tin and the Tolo Harbour.
Walking along the mountain ridge over several peaks takes you to the Ma On Shan, the highest peak of the range at 702 metres. Here, you can take a break and enjoy the views that open up towards the Sai Kung Country Park before you descend towards Sai Kung. The descent is relatively easy and is well signposted so it's is easy to follow. It's easy to pick up return transport to Diamond Hill MTR station once you return to Sai Kung.
Getting there: Start by taking the MTR to Ma On Shan. After that, take a taxi to Ma On Shan Country Park BBQ Site (50-80 HKD) or infrequent minibus NR84. 
Getting back: The hike ends at Sai Kung Village. Minibus 1 brings you back to Diamond Hill MTR. 
Taking a minibus can be a bit of a shock at first if you don't know what to expect. Read the notes below to help you out.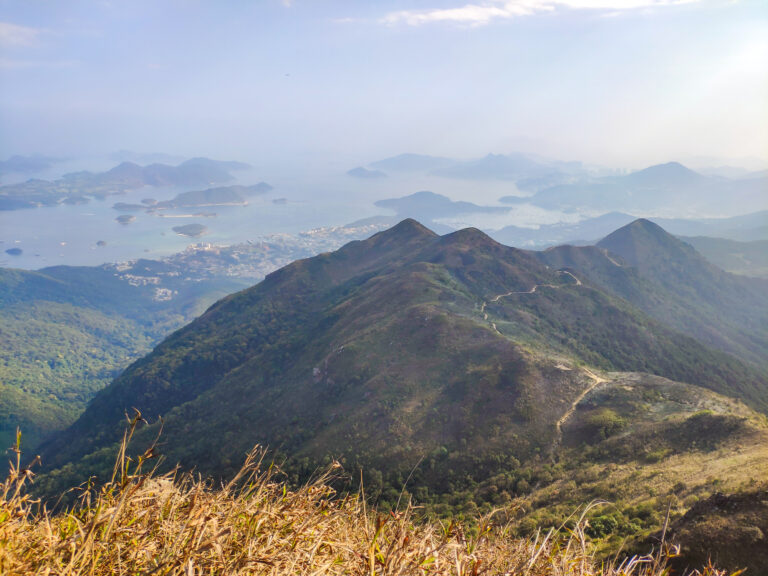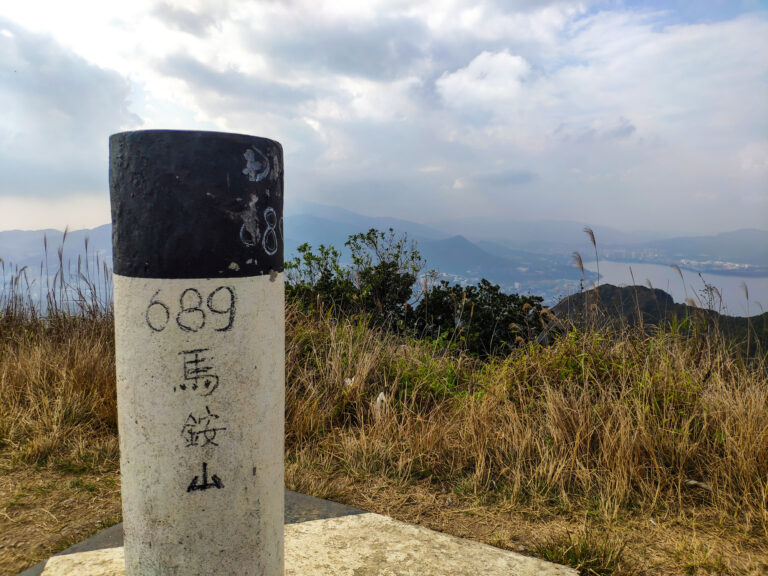 A note on Hong Kong minibuses
"There isn't a stop button on the minibus, how do I know when to get off?"
Don't panic! We'll clear that up for you and you'll be whizzing about on the minibuses in no time
Minibuses zoom around the city, following the lesser used routes. They are one of the best and cheapest ways to get to the start point of most of the overlooked Hong Kong hikes in this post and you'll find they're easy to use once you know how.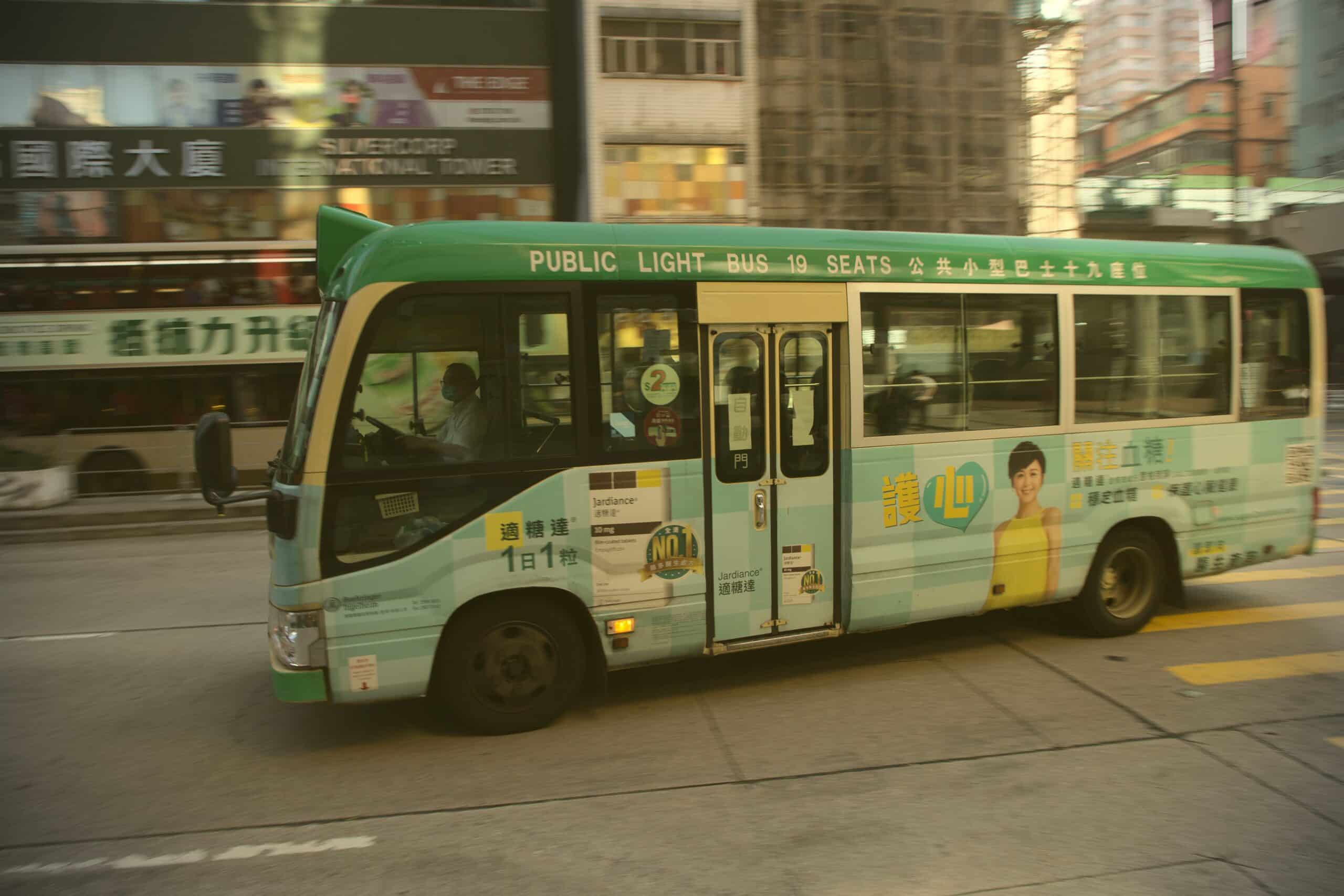 Green Minibuses are just like tiny city buses! They offer scheduled services, fixed routes and fares and usually have a specific station. You can pay with coins or octopus and most green minibuses have bells. No more struggling through yelling out "NEXT STOP PLEASE" at the top of your lungs in terrible Cantonese. Green minibuses are usually considered safer although you should still wear a seatbelt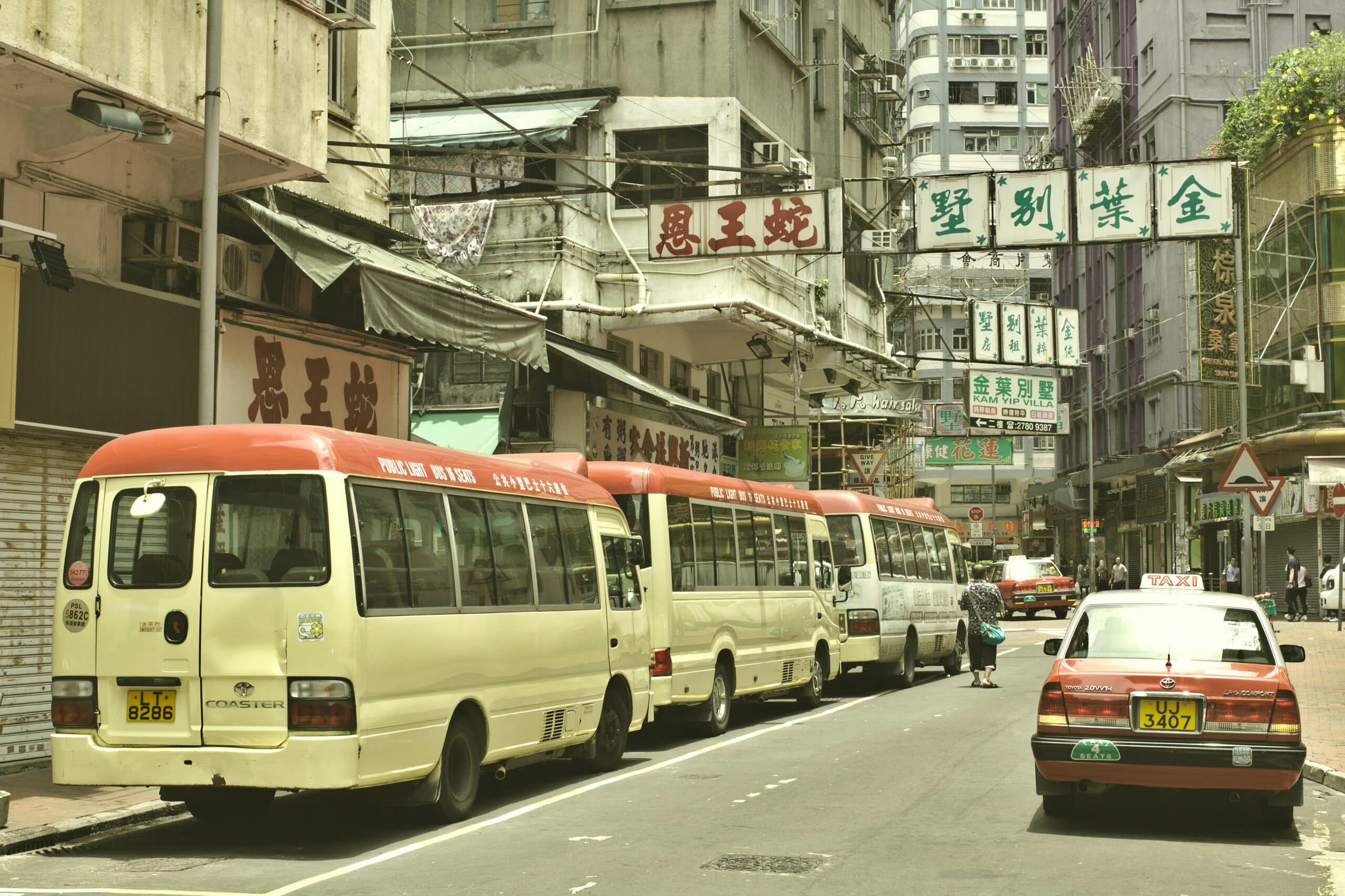 Red Minibuses run on a flexible schedule and do not have fixed times, routes or fares. These minibuses can be hailed from anywhere and will mostly take you where you want to go. You're usually required to pay the exact fare in cash because most red minibuses do not take octopus card. Red drivers are not regulated by the HK Transport Department and may be more likely to drive dangerously.
Before taking a minibus...
Follow our daily adventures on Facebook and Instagram
This post may contain affiliate links (yay for transparency!) This means that I will earn a small commission, at no additional cost to you, if you click the link and choose to buy the product. I only link to stuff I have personally bought and found useful and never endorse crap. Your support helps keep the site going, thank you!