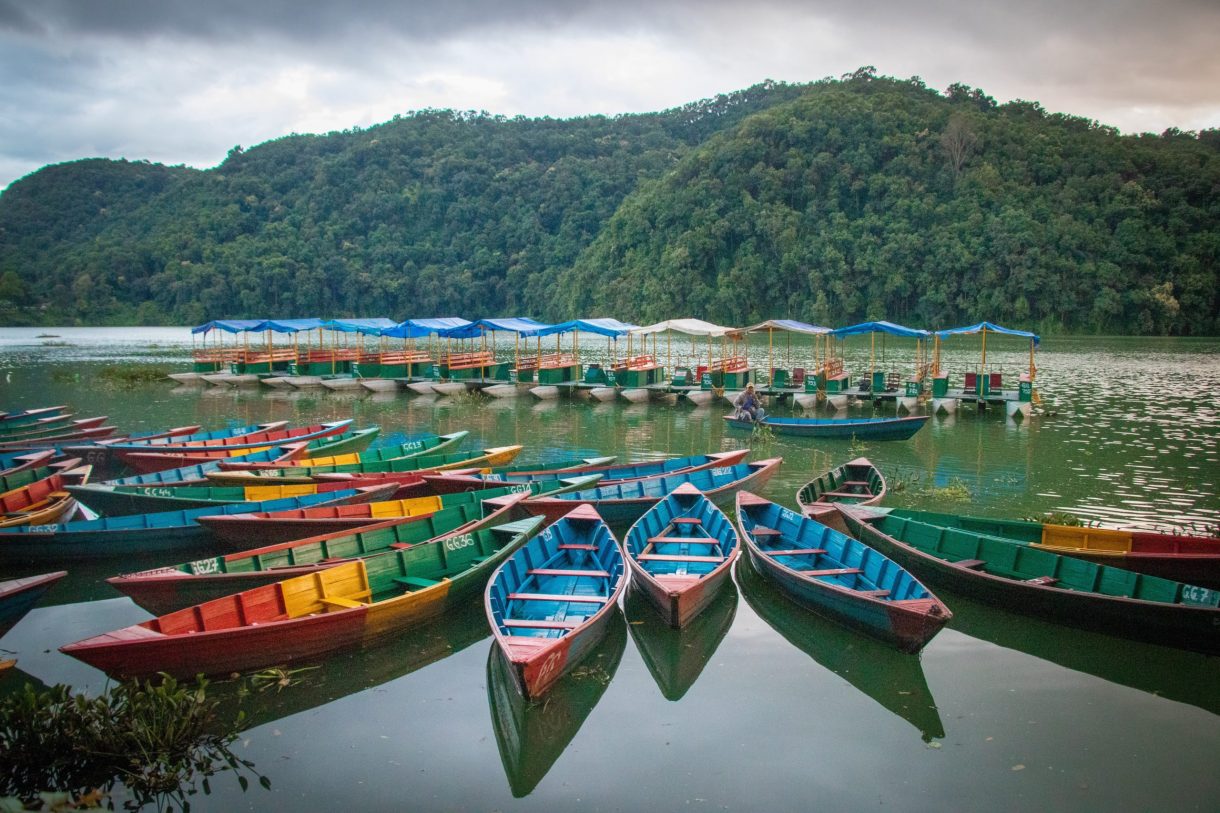 The Ultimate Pokhara Green City Guide for Eco-Travellers [2023]
Part of the Green Travel Guide series, this Green Guide to Pokhara will cover everything you need to know to get there and how to get around in an eco-friendly way. Our first-hand recommendations will ensure you're seeing the best sites, eating at the best restaurants and not missing out on the best bits. 
Dive right in to the Green Guide to Pokhara
Click any of the bullets below to be taken straight to that section
Where is Pokhara? Why should I visit?
Pokhara. Curving around the the shores of Phewa lake, dotted with colourful bobbing paddle boats, this peaceful little town is a great place to relax and unwind. Most people choose to hang out here before or after a trek. Relaxed and down-to-earth, Pokhara is also a great place to head to when you want to escape the chaos of Kathmandu.
We decided to relax in Pokhara after our Annapurna Circuit Trek. Each morning of our three day stay we'd head 'lakeside' to enjoy the fresh morning air coming off the mountains and admire the peaks towering in the distance. We'd sit by the shore and watch as market stalls were set up and shops began to open for the day.
Somehow, Pokhara manages to maintain a chilled-out vibe, despite being one of the places most tourists choose to visit. Walking a careful balance, Pokhara remains carefree and relaxed on the surface but with plenty of adrenaline-boosting activities to be found for those who look.
This  Green Guide to Pokhara will cover everything you need to know to get to Pokhara, how to get around the city and the best sites to see while you're there. 
Private jeeps and cars are available from upwards of £100 GBP ($120 USD,  €115 EUR)  one way. Although slightly less comfortable, travelling by bus is a budget-friendly option to get to Pokhara.  The majority of tourist buses leave from Kathmandu's Kantipath Road (near Thamel) at 7 am and cost about £7 ($8.50 USD,  €8 EUR) one way. Most buses offer a free bottle of water, air conditioning, onboard Wifi (though this is hit and miss). They stop frequently for rest, food and bathroom breaks.
Local buses are the cheapest option, at around £4 ($5 USD,  €4.50 EUR), one-way. They leave throughout the day, roughly every half an hour, and mainly from the Gongabu Bus Park. Local buses are often faster due to the relaxed driving rules and regulations (they can drive pretty fast!). However, they are less comfortable with no air conditioning, old seats, loud music and usually stuffed to bursting with people and luggage. 
All forms of road transport take you along the same road from Kathmandu to Pokhara, so one option isn't necessarily faster than the other. It's just a matter of comfort and cost. We recommend taking the tourist buses as they offer the best comfort to cost ratio.
Easily accessible overland, there's really no point in flying to Pokhara. I'm always advocating for greener travel and the Green Guide to Pokhara recommends that you opt for slow travel. Travelling overland as is much more relaxing and greatly reduces your carbon footprint. 
If you're really short on time, flying is by far the quickest and most comfortable way of traveling between Kathmandu and Pokhara. There are numerous flights every day from the domestic terminal of Tribhuvan Airport. The scenic flight takes only 30 minutes and you can even see the Himalayas if you sit on the right-hand side. However, flying is not cheap and you'll find there's one price for locals and another for tourists.
How to get around Pokhara
Pokhara is such a walkable town, significantly smaller with less traffic and quieter back streets than Kathmandu. Pedestrianised footways alongside Lake Phewa meant that we walked almost everywhere when in Pokhara – the short distances weren't worth taking a taxi for. 
Biking is a great eco-friendly way to get around. It's possible to hire motorbikes or pushbikes from lakeside operators. If you do plan to bike on the road, be aware of the dangers of riding on roads in Nepal and ensure your travel insurance covers you.
If you're staying Lakeside, there's no real need to hire a taxi as everything is so close. If you want to venture out to one of Pokhara's nearby attractions, it's easy enough to grab a taxi anywhere on Lakeside road. Just remember to agree the price before you set off (or ask for the meter to be switched on).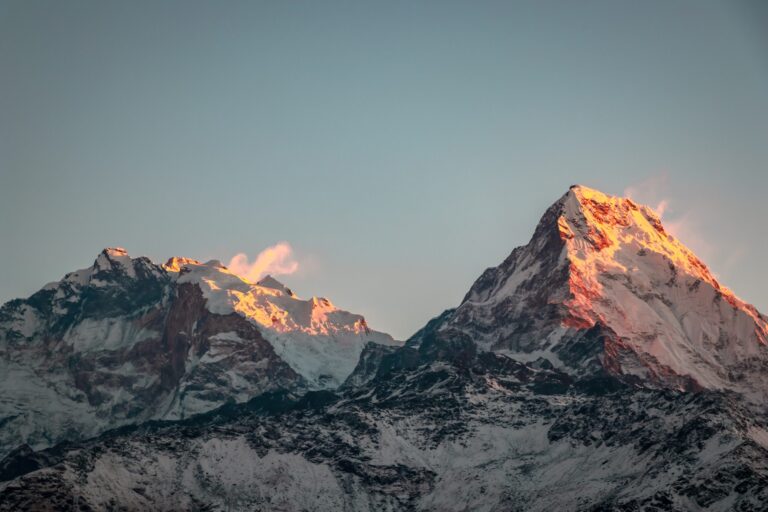 Despite Pokhara's laid-back vibe, there are plenty of adventure activities for those seeking an adrenaline boost. Pokhara is the start and end point for treks around the beautiful Annapurna Conservation Area and a haven for paragliders and water sport lovers. We're big on hiking here at Discoveny. Hiking is an eco-friendly, sustainable activity that's kind to the planet and our bodies. Read on for the Green City Guide to Pokhara's top hiking recommendations. 
Tackle the Annapurna Circuit
WHAT: The Annapurna Circuit, Annapurna Conservation Area
LENGTH: Around 14 days and 100 – 200km depending on route
HOW: Find a guide before you travel or ask one of the many reputable agencies in Pokhara about your options.
COST: Upwards of 700 USD for 2 weeks trek
If you're in Pokhara, chances are you're at the start or the end of one of the beautiful hikes in the Annapurna Region. If not, why not? The 2 weeks you'll spend hiking the Annapurna Circuit are without a doubt some of the most challenging but inspiring. Hit the trail!
Trekking between towering mountains through diverse climate regions is a wonderful travel experience and unique to this region in Nepal. Nowhere else can you trek from the humid tropic forests to the high alpine climate, sip on a steaming cup of chai or admire the peaks of the Annapurna Mountain Range towering above you.
The trek is difficult, with sticky and humid weather to begin with. This cools down throughout the trek and at 5400 m you'll definitely need all your layers. The days are long, the weather unpredictable, and the comforts stripped to the basics. But this is made up for by the stunning scenery and wonderful hospitality one can only experience in Nepal.
If you're looking to trek the Annapurna Circuit, I recommend booking with a reputable tour company that takes safety seriously and takes care of their staff and our planet. We used Trek Around Nepal and had a great experience. I can also recommend 3 Sisters Adventure Trek who empower women in Nepal through providing education, training and basic necessities. And don't forget to check out our tips for eco-conscious hikers before you go!
Watch the sun rise at Ghorepani Poon Hill
WHAT: Ghorepani Poon Hill Sunrise Trek
LENGTH: 4 days, 40km
HOW: Find a guide before you travel or ask one of the many reputable agencies in Pokhara about your options.
COST: Upwards of £370 ($450 USD,  €420 EUR) for 4 days trek
The Poon Hill Trek is considered to be an introduction to trekking in the beautiful Annapurna Region. It is one of the easiest, if not the easiest trek in Nepal. Unlike most treks in Nepal, Ghorepani Poon Hill can be done in a matter of days, making this the ideal trek for those short on time. 
Trekking up to 3193m, this short hike is one of the easiest in Nepal. Ghorepani Poon Hill is a great option for travellers wanting the Himalaya experience but in less time and for less money. Watching the morning sun rise over Dhaulagiri and Annapurna is one of the most beautiful sunrises you will ever experience.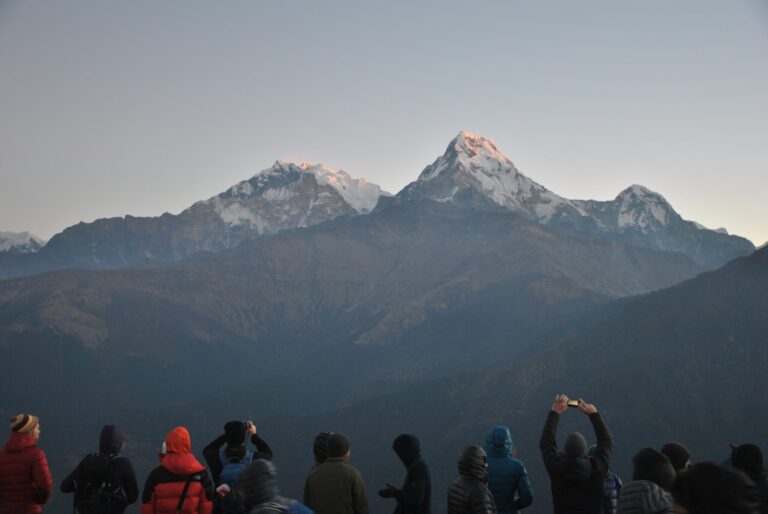 Visit the World Peace Pagoda
WHAT: World Peace Pagoda, Pokhara
LENGTH: 1 day, 3-4 km
HOW: Grab a boat across Lake Phewa and walk up to the pagoda
COST: Entry to Stupa is free | NPR 400 – 600 (£4-6 GBP $6-7 USD,  €5-6 EUR)boat trip one way
One of the most popular activities in Pokhara is visiting the World Peace Pagoda situated on Anadu Hill, watching over the lakeside town below.
Gifted to Nepal as one of 80 Peace Pagodas across the world, Shanti Stupa offers beautiful views over the Himalayas, Phewa Lake and Pokhara. Popular with foreign and Nepalese tourists alike, Pokhara's Peace Pagoda is definitely worth a visit for the views alone.
We thought that the best way to visit Shanti Stupa is by taking a small local boat across Lake Phewa. From there, there is a beautiful 45 minute walk to the summit through the tropical forest. You can ask the boat to wait, or walk back down a different way, though this second option takes 2-3 hours
You can also take a 45-minute taxi from Lakeside Road to the summit but we found taxis in Pokhara too expensive for our budget.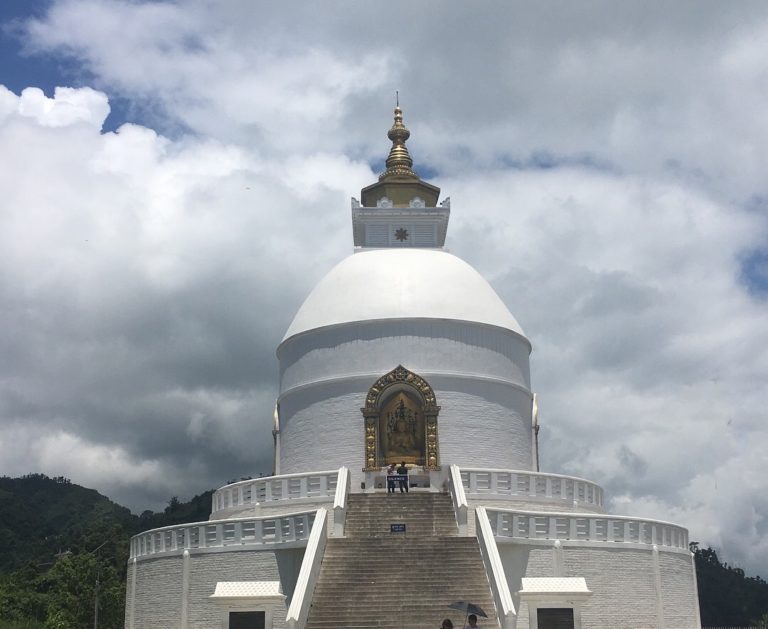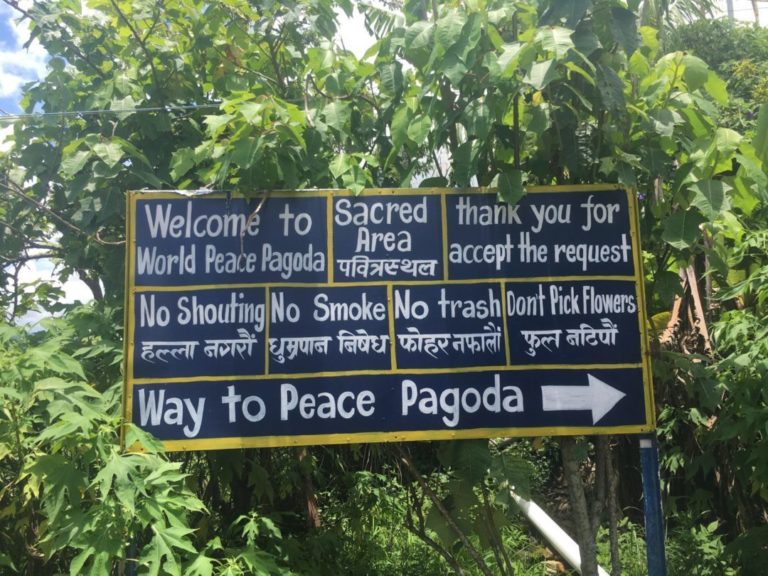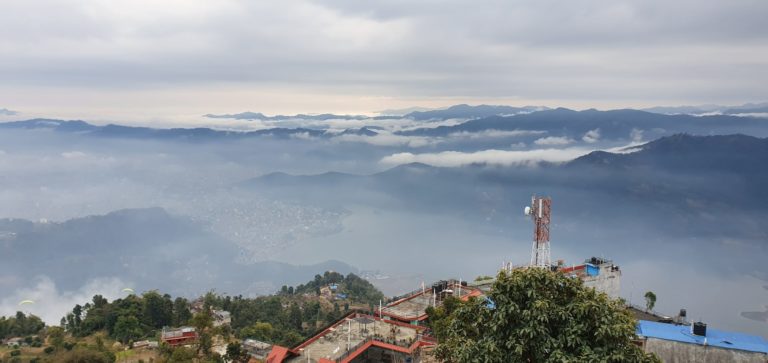 Of course, Pokhara isn't just a hikers paradise. Take to the air or the water with one of the many alternative adrenaline-boosting adventures available. Check out the Green Guide to Pokhara's recommendations for adventurous activities below.
Soar above Lake Phewa on a Tandem Paragliding Experience
WHAT: Tandem Paragliding, Pokhara
LENGTH: 15 mins to 1 hour flight time
HOW: Check out the paragliding companies along Lakeside Road and find a vendor that suits you
COST: Prices start at £50 ($60 USD,  €55 EUR)
If you're going to paraglide anywhere in the world do it in Pokhara. Rated as one of the world's top tandem paragliding locations, Pokhara is a safe place to launch yourself off a cliff, with beautiful aerial views you simply won't find elsewhere.
The flight provides an initial adrenaline rush as the thermals spin you higher and higher before a calm glide back to the banks of Lake Phewa. Floating above the lake with views of the Annapurna Mountain Range in the distance is an experience you will never forget.
Paragliding flights launch from Sarangkot, about 30 minutes drive from Pokhara depending on season and weather. There are multiple paragliding companies in Pokhara and your best bet is to check them out and find one that suits you.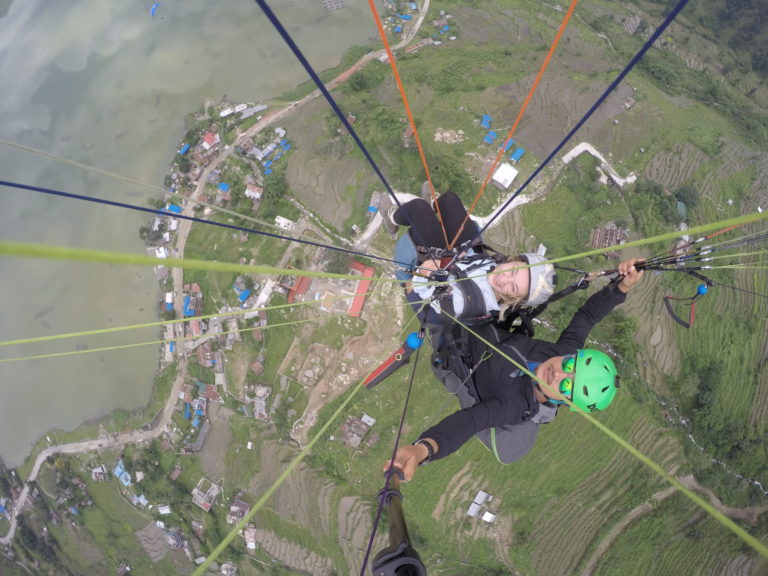 It's not just adventure, Pokhara also has plenty ways to relax and unwind. Whether you're returning from a trek, or simply looking to escape chaotic Kathmandu, Pokhara is the perfect place to take a break. Read on for Green Guide to Pokhara's favourite ways to relax. 
Take a stroll along the shores of Lake Phewa
WHAT: Walk along the banks of Lake Phewa
LENGTH: As long or short as you want
HOW: Head down one of the roads leading to the lake until you hit a pedestrian pathway
COST: Free
Pokhara's iconic Lake Phewa really is the centre jewel of the town and taking a stroll along the shores was one of our favourite things to do.
This stroll is best enjoyed in the morning, when you can start the day slowly, breathing in the fresh air and taking in the epic mountainscapes of the Annapurna range as they are bathed in golden light by the morning sun.
Equally beautiful in the evening, Lake Phewa is the place to be as the sun sets behind the mountains.. Lakeside bars open in the evening where you can relax with a fresh fruit juice or cold beer as the sun paints the sky with all shades of pink and purple. There are also a number of Tibetan crafts vendors selling their wares by the lake if you're keen to grab a bargain.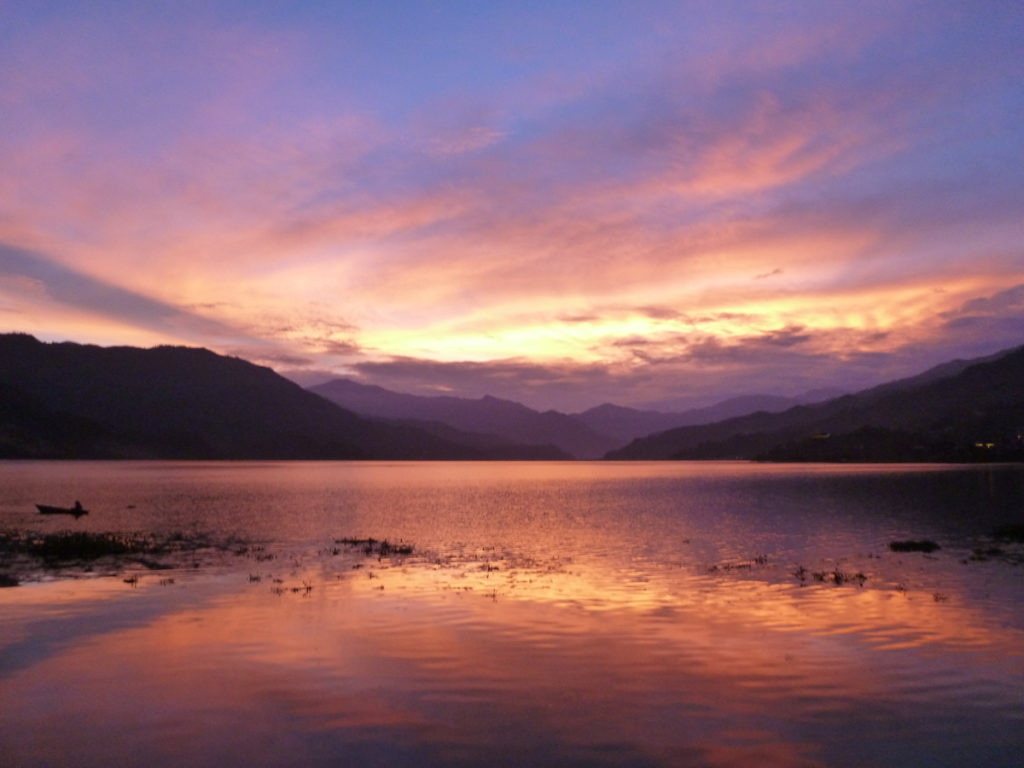 Enjoy a Massage with Seeing Hands
WHAT: Tandem Paragliding, Pokhara
LENGTH: 15 mins to 1 hour flight time
HOW: Check out the paragliding companies along Lakeside Road and find a vendor that suits you
COST: NPR 2,000 for 60 minutes, NPR 2,900 for 90 minutes and NPR 3,800 for 120 minutes (£15 – £30)
When you're in need of some pampering, the Green Guide to Pokhara wholly recommends Seeing Hands. Seeing Hands is a social enterprise providing training and employment opportunities in massage therapy for visually impaired people across Nepal. The therapists are all fully trained and deliver an excellent massage which will smooth and revive achy muscles, particularly after a long trek. 
Although not the most spa-like feeling (it can be quite painful after a trek actually!), a massage with Seeing Hands leaves you feeling like a new person. Above all, the profits contribute towards training more visually impaired people as therapists and improving their quality of life. 
Delicious Plant Based Food at Little Windows
Finding plant-based food in Nepal was never a huge issue as a large percentage of the Hindu population choose not to eat meat. However, stumbling across Little Windows is a treat for plant-based and meat-eaters alike.
An adorable boho style cafe on the main street, Little Windows serves a modern western-style cuisine alongside delicious traditional Nepalese food. Sick of Dahl Bhat, we were able to gorge on plates of tofu, grilled aubergine and the freshest salads and smoothies for a budget-friendly price.
Relaxing Lakeside Views at You & I
A beautiful arty cafe run by British expats, we were sure of a good welcome and it was nice to hear a familiar accent! You & I has some great ideas; they offer a book exchange, cooking classes and will promote local art, not to mention the readily available art supplies to create your own mini masterpiece as you wait for your meal. Great coffee, falafel and shakshuka in a beautiful location overlooking Lake Phewa.
Want to read this post later? Pin it on your Pinterest board!
Follow our daily adventures on Facebook and Instagram
This post may contain affiliate links (yay for transparency!) This means that I will earn a small commission, at no additional cost to you, if you click the link and choose to buy the product. I only link to stuff I have personally bought and found useful and never endorse crap. Your support helps keep the site going, thank you!