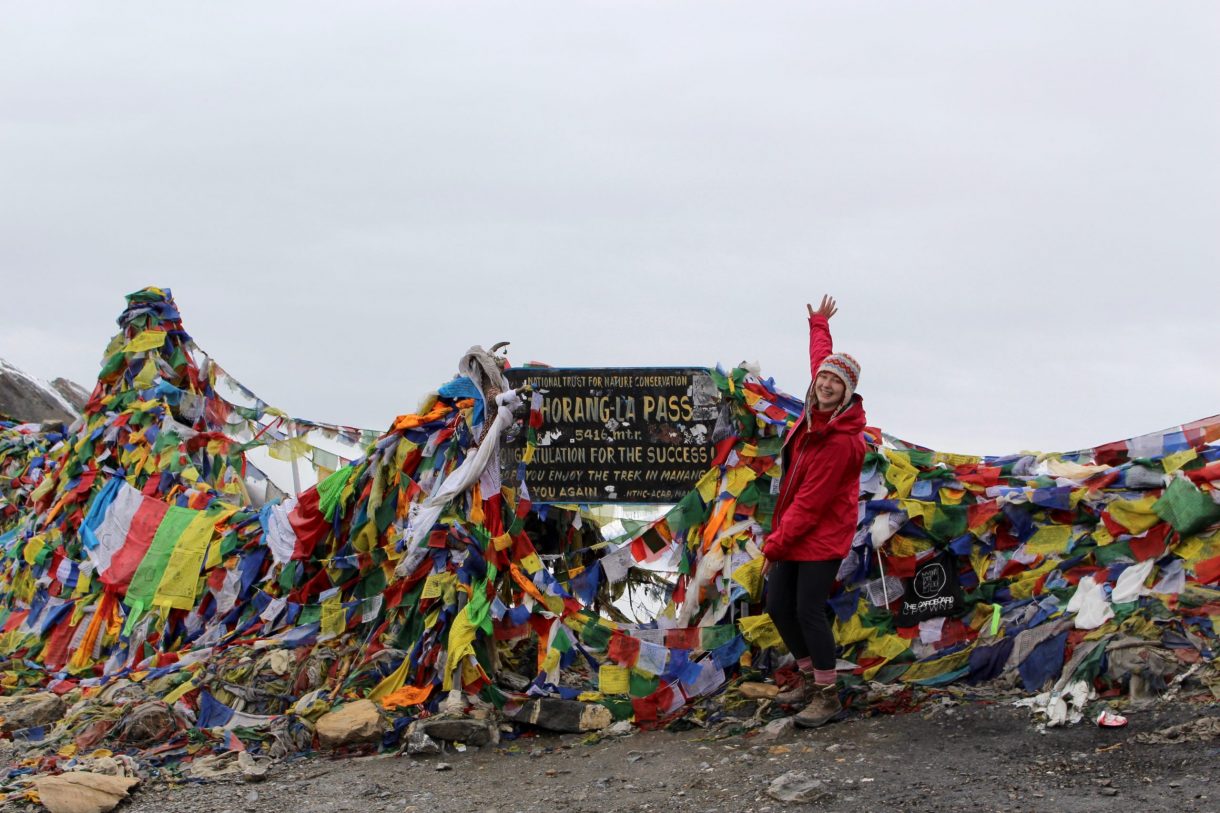 Hiking the Annapurna Circuit in Monsoon Season
The popular Annapurna Circuit is a firm favourite among trekkers looking to tackle the Himalayas. If you'd like to visit the highest lake on Earth and cross the mountain pass with the highest altitude in the world,  read on for our experience of hiking the Annapurna Circuit during Monsoon Season.
Why hike the Annapurna Circuit during Monsoon Season?
Hiking the Annapurna Circuit is one of the most stunningly beautiful, life-changing experiences you can have on your travels. It is one of the most popular treks in the world, and for good reason. The trail winds through some of the world's tallest mountains where you can breathe in the fresh air, drink from clear mountain streams, stay in quaint mountain villages and experience the welcoming Nepalese hospitality.
Hiking in Nepal can be dependent on seasonal changes (particularly around monsoon period) which can impact on which trails you can hike. However, the Annapurna Conservation Area is mostly in the Rain Shadow which means it stays relatively dry year-round (there's more on that later)
The recommended periods for hiking the Annapurna Circuit are October – early December, and late Feb – April. In June 2018, I was lucky enough to have a few months with few responsibilities. Being the strong-willed idiot that I am, I went against all advice, packed my backpack and flew to Nepal, dragging my little sister along with me for her first big adventure.
And let me tell you, we had the best time. 
Day 1: Besishar to Bhulbhule
Wanting the full Nepal experience (and ever conscious of finance), we opted to take the locals' bus to the start point. We strapped our backpacks onto the roof and set off from Kathmandu, incense sticks lit and Bollywood music blaring from the tinny bus speakers. We were dropped off at Besisahar. At 800m, the weather was hot and humid and we were sweating before we'd set off to begin the afternoon's hike to Bhulbhule.
That night I experienced the most violent thunderstorm of my life. Huddled in my bed with lightening flashing through the cracks in the wood of our teahouse, I questioned my sanity and how I had thought we would trek through the Monsoon.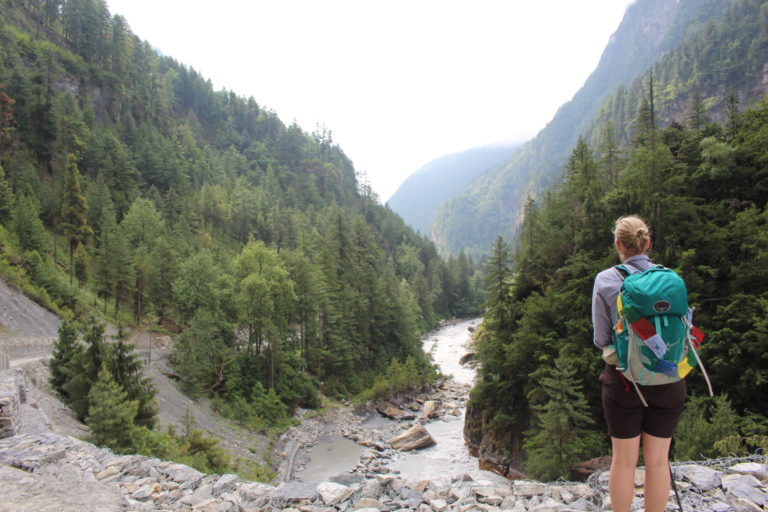 Day 2/3: Jagat to Chame Bazaar to Pisang
The next morning was bright and (relatively) cool and we were blessed with good weather. Bihm, our guide, explained that most of the Annapurna Circuit is in the Rain Shadow area of the Annapurna Conservation Area. The area is less vulnerable to rainfall due to the geography of the mountains. Bihm explained that most of the time, it only rains during the night, which means you are not likely to be soaked wet while trekking the Annapurna Circuit in monsoon season. He was right. Following that first evening, we did not experience rain until returning to Pokhara.
The trail wound upwards through the mountains with the heavy humidity and lush tropical greenery being replaced by a cooler breeze and pine trees. We stopped often to rest, hydrate and take in the ever-changing scenery. Nepalese women rushed out with steaming cups of hot chai and loaded plates of Dahl Bhat or Momos (Nepalese dumplings). Every village had their own twist on these staples, ensuring that we never experienced culinary boredom.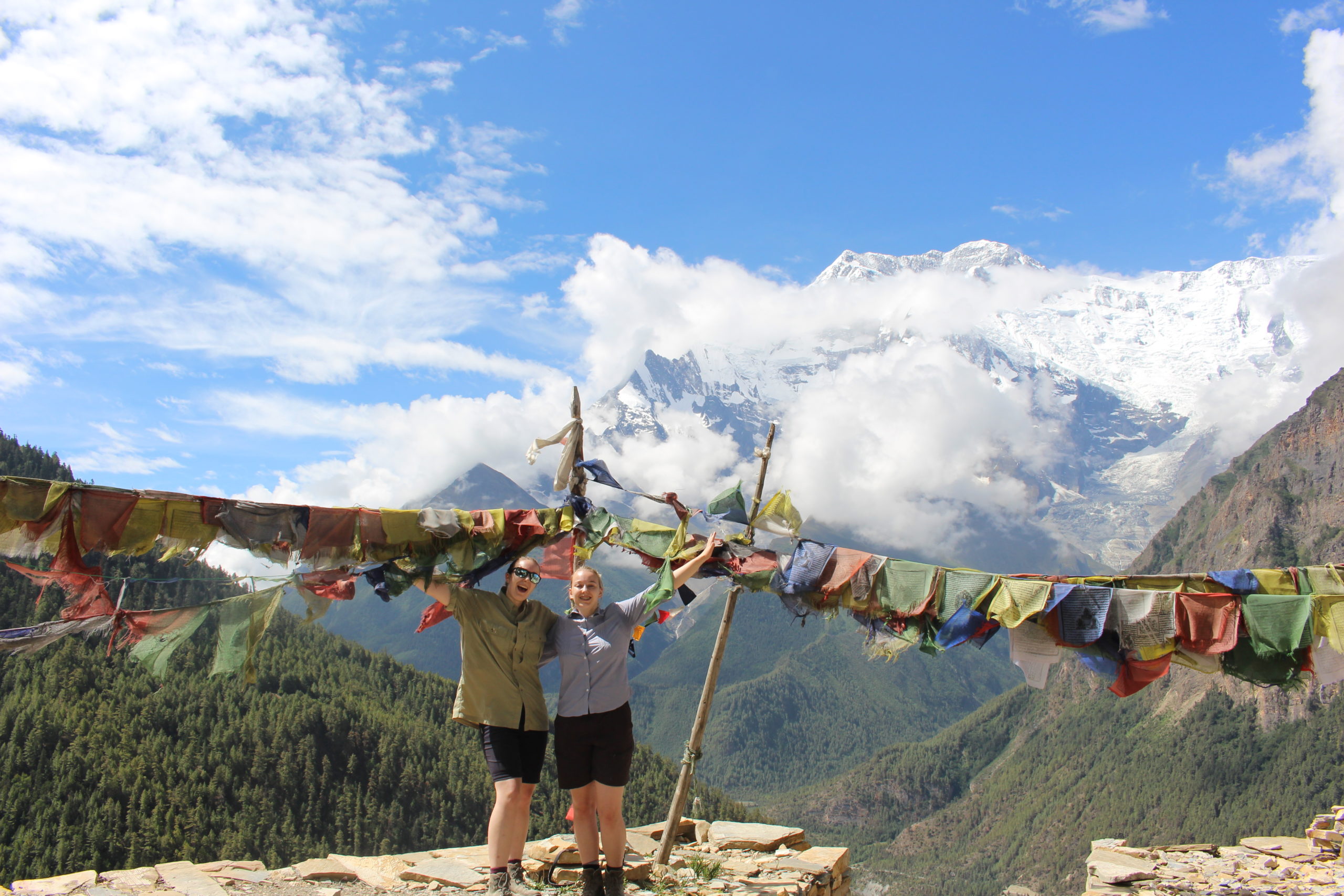 Leaving Pisang to pass through the small village of Ghyaru, was one of the steepest inclines of the trek. With the weather hot enough to still be uncomfortable, we struggled up the steep incline. As we arrived at Ghyaru, the clouds parted to reveal the most beautiful views of Annapurna II, the second highest peak in the Annapurna range. Needless to say, we stopped for a well-deserved cup of chai, breathing in this moment of triumph.
Having had limited access to the internet, we were looking forward to an acclimatisation day in Manang where we would be able to update our family on our trek so far (mostly convincing my mum we hadn't died yet) and send some postcards. However, Manang has a rather unstable power supply and we arrived in the middle of an outage. With no electricity, we spent the day napping, eating and playing endless rounds of cards with the Nepalese teahouse staff and Mammut, the first tourist we'd seen since leaving Besisahar.
Day 5: Manang side trek to Tilicho Lake
Rested up and itching to get back on the trail, we set off to Tilicho Base Camp, traversing a landslide where one false step would have sent us tumbling to the bottom of a deep valley. We made good progress, arriving at the first teahouse before noon, and pushed on to the Base Camp.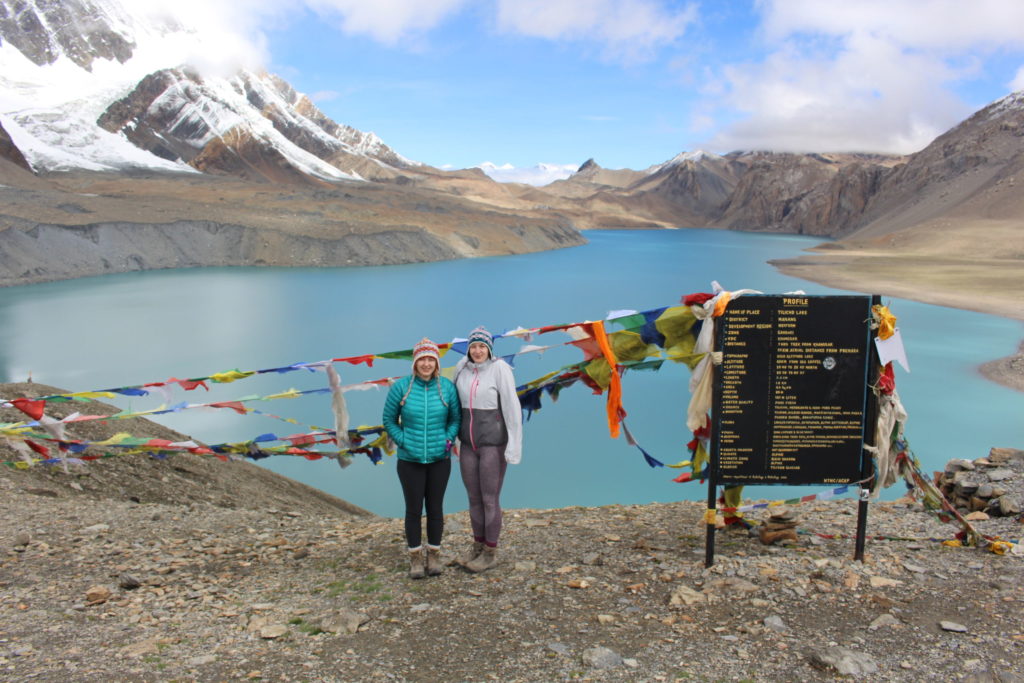 We arose at 4am the next morning, sleepily pulling on hats, coats and boots, having slept in our clothes the night before. Dragging ourselves to the dining room, we were greeted with steaming bowls of spiced porridge and hot chai. We left Tilicho Base Camp in the morning twilight, the air cool and fresh on our faces as we began the ascent to Tilicho Lake, the highest lake in the world.
Shivering from the high-altitude temperatures, we gazed across at the turquoise waters of Tilicho Lake, warming our hands on a flask of hot tea. Avalanches crashing down into the lake occasionally broke through the silence of the four of us taking in the view.
Day 7 - 9 : Tilicho Base Camp to Manang to Thorong High Camp
The next few days passed in a blur as we retraced our steps back to Manang to re-join the Annapurna Circuit trail. With a combination of Delhi Belly and the effects of high altitude, it took all my energy to put one foot in front of the other. We spent the night at Thorong High Camp (4700m), a lone tea house in the middle of a barren landscape, mountains towering above.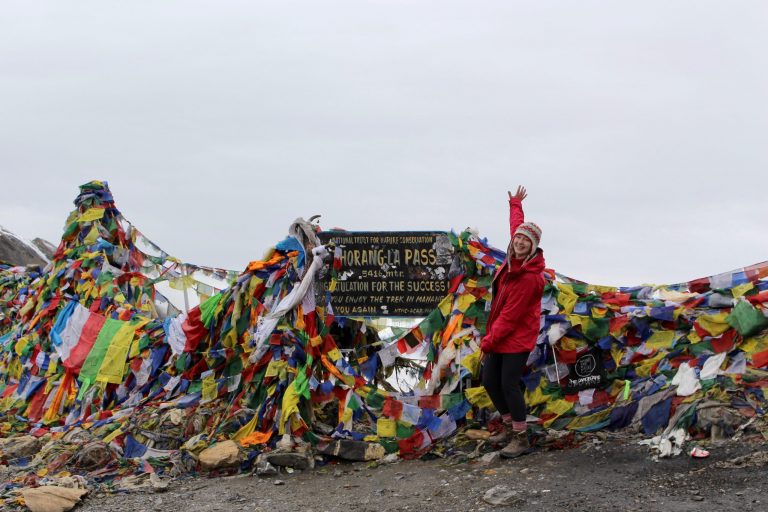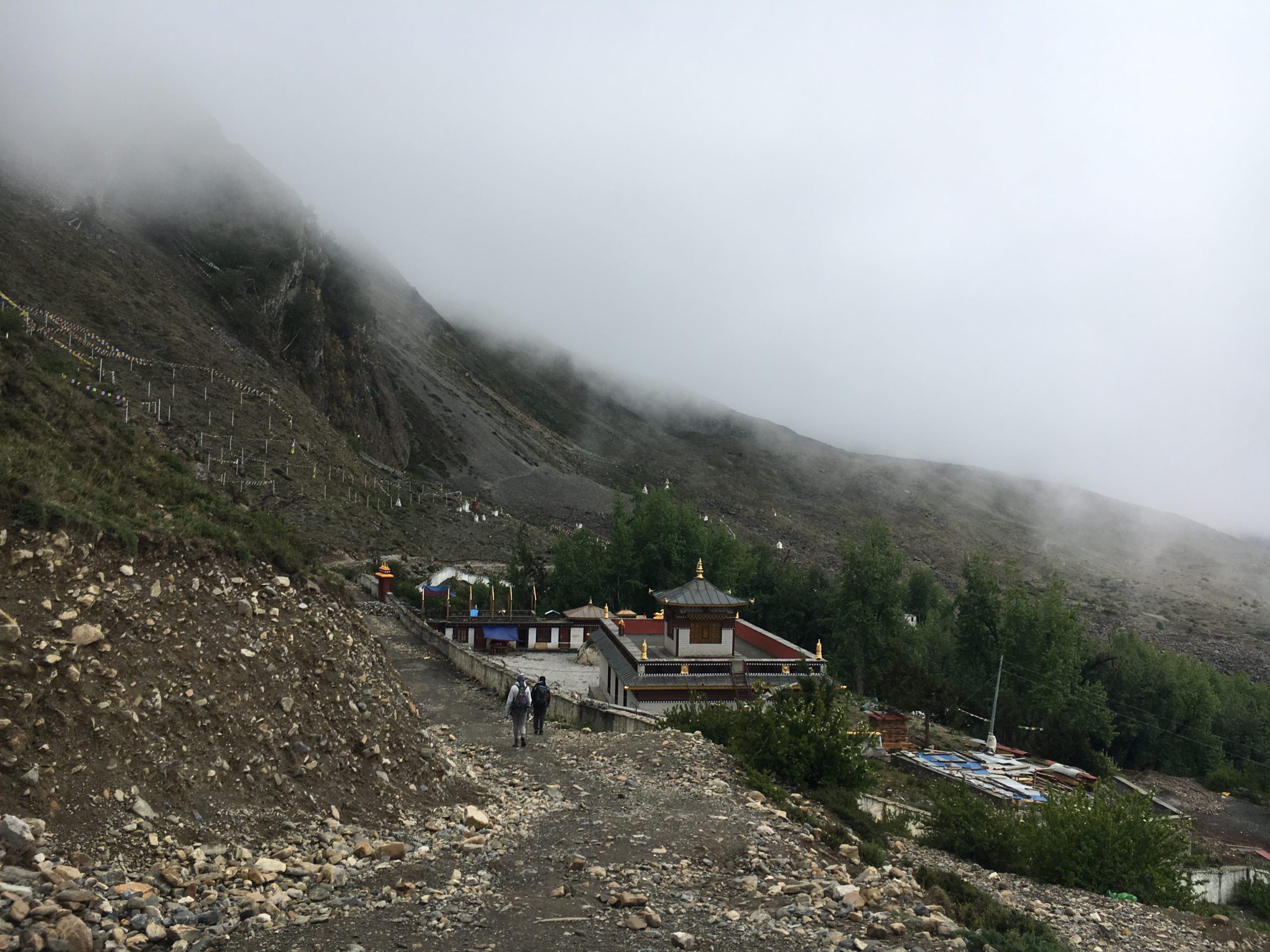 We rose once more before the sun, beginning the trek in near darkness. Stumbling over rocks, head torches strapped on, we watched the sky gradually lighten, finally arriving victorious at Thorong La Pass, the highest point of the trek. We had made it at last. We spent the next two days 
Why YOU should trek the Annapurna Circuit in Monsoon Season?
You'll have the entire trail to yourself. It's so peaceful.
It's not too cold. You can leave the heavy layers at home which means less weight to carry.
Less competition among trekkers for accommodation means that you can wake up anytime you want in the morning, stop for as many cups of tea you want along the way, and arrive at a tea house as late as you want in the evening.
Free Wi-Fi. Many tea houses will not charge you for WiFi during the low season.
Fewer blackouts. Less trekkers means more electricity to go around.
The summit is all yours. You can stay as long as you need and take as many photos as you like with no other tourists in your way.
Here's what we packed on our trek.
Traditional hiking gear will get you a long way on this trek. Make sure you have waterproof, well-broken-in hiking boots with good ankle support as you'll be spending every day in them. You'll need comfortable hiking clothes including trekking trousers (not jeans!) and a breathable base layer.
In fact, layering is key for this trek due to the difference in altitude and temperatures at the base and the summit. At 700m it can be above 30°C  (shorts and t-shirt weather) but Tilicho Lake and Thorong-La Pass can be below freezing in the early hours of the morning. Layer layer layer! Make sure you test out your kit before hiking the Annapurna Circuit to ensure it's comfortable and durable, it's difficult to find good kit up there.
Wind-proof and water-proof jacket (it doesn't rain a lot but it's good to be prepared
Light insulating layer, such as a fleece jumper.
Down jacket (good for those cold nights at altitude)
Technical base layers (we recommend merino wool tops and leggings)
Sturdy walking boots
Hat, gloves, and buff
Backpack to carry all your things.
Sleeping bag and sleeping bag liner (APC has a huuuuge range of temperatures, be prepared)
Water filtration device (we recommend Water-to-go bottles, I also brought a Katadyn micro filter, i'd use that if travelling as a group)
First aid kit 
Any prescription medication
Basic toiletries (toothpaste, lip balm, sanitiser etc)
Head torch + batteries  
Camera + charger
Portable charger (electricity can be scarce)
Kindle (Never without it!)
The Annapurna Circuit is easy enough to hike alone. But if you are looking for a trekking company to organise this for you I can recommend Trek Around Nepal. We booked our trek and everything was organised, from pick-up in Kathmandu to our trek completion in Pokhara.
Follow our daily adventures on Facebook and Instagram
This post may contain affiliate links (yay for transparency!) This means that I will earn a small commission, at no additional cost to you, if you click the link and choose to buy the product. I only link to stuff I have personally bought and found useful and never endorse crap. Your support helps keep the site going, thank you!