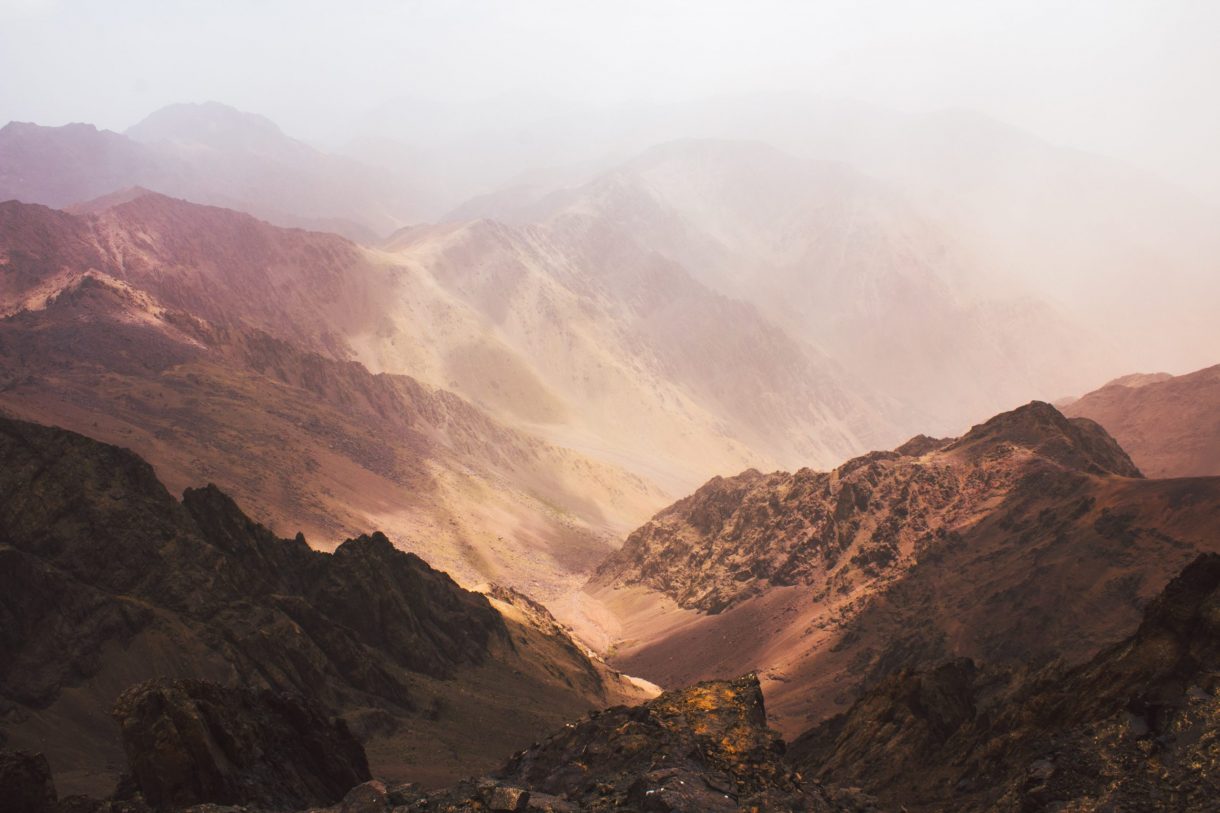 Everything you need to know before hiking Mount Toubkal
Lying just 60km from bustling Marrakesh, Toubkal is an excellent peak for novice hikers and experienced mountaineers alike. If you'd like to stand at the top of the highest mountain in North Africa, read on for everything you need to know before hiking Mount Toubkal.
The Toubkal trail is obvious and well signposted but feel free to save this map to your device to use during the hike.
Set in the Atlas Mountains, Toubkal lies just 60km south of Marrakesh, the heart of Morocco. It's an ideal escape from the city and should be manageable for hikers with a good level of fitness. At 4167m high, this challenging yet rewarding trek will let you sit on the roof of North Africa, looking across incredible mountain ranges below.
The Mount Toubkal Ascent takes a maximum of three days, although it can be done in two (as we did). Leg A of the trek follows 11 kilometres of mule paths that wind through the rocky valley towards snow sprinkled peaks in the distance. After sleeping at Toubkal Refuge (B) (3207m) to acclimatise, you can either summit (C) and return to the refuge, or summit and return all the way to start point, Imlil. Before hiking Mount Toubkal it's good to check the weather and seasons will be pleasant for your hike. 
WEATHER
Morocco is considered a hot trekking destination. However, the valleys of the High Atlas Mountains are typically cool and dry with clear blue skies. In all seasons the temperatures can drop massively at night due to the altitude. Keep an eye on the weather before you go!
WHEN TO CLIMB
The best time to climb Mount Toubkal is in the spring (April to May) or the autumn (September to October).  Climbing Mount Toubkal in the summer is difficult due to the heat (believe me, we went in June). In the winter it can be dangerous due to the snow and ice.
A short introduction to what3words
In this post you may see something like this: ///filled.count.soap
Don't be confused! To aid you in this guide we are using what3words.
what3words is a really simple way to talk about location.
They have assigned every 3m square in the world a unique 3 word address that will never change.
For example ///filled.count.soap marks the exact entrance to their London headquarters.
3 word addresses are easier to say and share and are as accurate as GPS coordinates. Use what3words to find a specific entrance to a venue, your tent in a busy campsite or your friend at a concert. They're that specific.
Click on any of the what3words addresses in this post to be taken to a map detailing the exact point described. Use it to find your bus stop, trailhead or route. For easier access, download the what3words app (not sponsored, we just really love what they're doing).
Whilst Toubkal is a non-technical climb, meaning that it does not require ropes or harnesses to summit, the difficulty should not be underestimated. Toubkal still offers a moderate challenge for experienced hikers. The high altitude and thin air as you reach the summit can make this trek difficult for those who are less good physical condition or those inexperienced with trekking at altitude. Toubkal ranks 36th in the world in terms of total prominence (the distance from base to summit), so it's important to read up about altitude sickness before hiking Mount Toubkal and keep an eye on this as you ascend. 
Loose scree on the upper slopes of the peak can make the approach to the summit a challenge. During the summer months this is easy to scramble up without too much trouble. If you fancy an additional challenge try summiting in winter where it might be necessary to use an ice axe or crampons to make your way to the top.
That said Toubkal is still a wonderful, approachable trek for anyone with a sense of adventure who doesn't mind giving up their creature comforts for a night or two (expect no hot showers and plenty of good old squatty potties).
A trek to the summit of Toubkal is very safe in terms of mountain hiking. The trail is easy to follow and well signposted throughout. A popular trek, you are bound to encounter other hikers alongside locals and their mules ferrying kit and tents to the refuge and back. Serious injuries and fatalities to climbers are rare, although make sure you take out good travel insurance before hiking Mount Toubkal.
It's important to keep signs out for altitude sickness. This can present as headaches, upset stomach and nausea among other issues. It can also lead to loss of appetite and difficulty sleeping. In severe cases it can lead to death. The only cure for altitude sickness is to descend as quickly as you safely can. Most people should be fine, especially if sleeping at Toubkal Refuge before summiting. 
While Morocco is generally seen as a secure destination for tourists, two tourists were murdered in a suspected terrorist attack near Imlil in 2018. Be wary if trekking alone, you may wish to hire a guide (safety in numbers).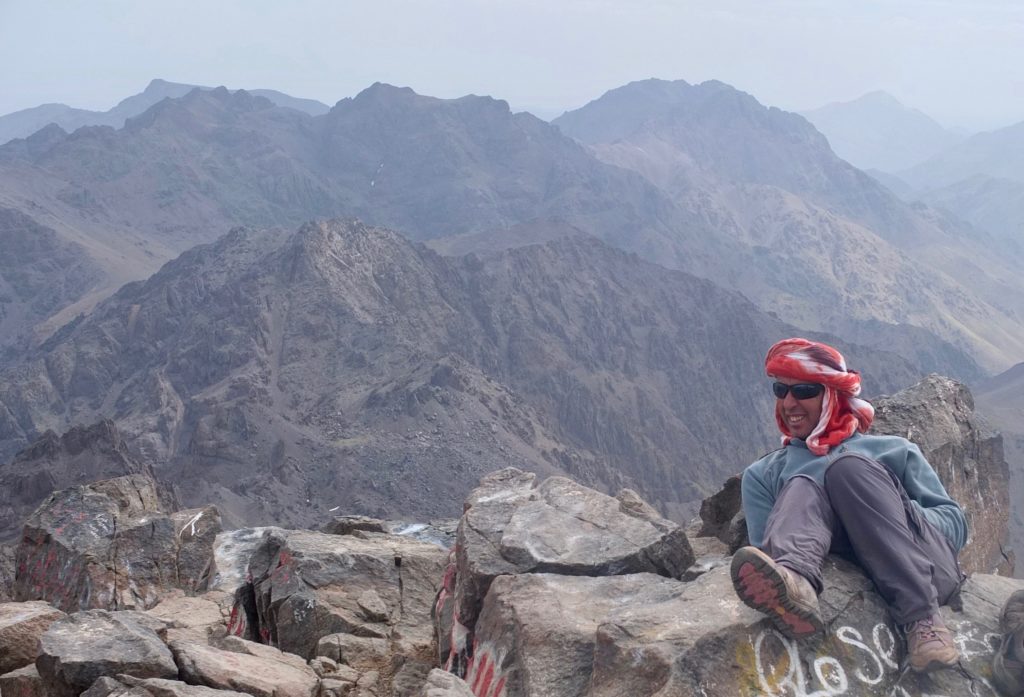 One of the main questions before hiking Mount Toubkal is "do I need to hire a guide?"
Unlike other mountains, where a guide is a requirement, you do not need to hire a guide to hike Mount Toubkal.  If you are an experienced hiker and feel comfortable in the wilderness, you can choose to summit alone, and many trekkers choose this budget-friendly option. There are more tips on solo-trekking below.
However, hiring a guide does bring some nice benefits. Trekking with a group allows you to connect with like-minded travellers on the trail and it's much more fun to have others to camp, eat, and share stories. Guides can arrange for tents and camping equipment to be brought to the refuge, leaving you without the burden of carrying all your stuff. They can arrange for your food to be cooked and your tents set up and taken down whilst you focus on the trek and beautiful views.
A guided trek means you can take the best route to the summit. It's safer, as you'll have someone who is familiar with the mountain to check your health and wellbeing and perform basic first aid if necessary. Guides are also trained in spotting signs of altitude sickness.
The cost of a guide is around €50 per person per day. This may be negotiable depending on the size of your group.
When we did this trek with friends, we hired a guide. Our guide spotted a team member suffering from altitude sickness and quickly intervened. He also helped another team member who was struggling and made sure he could summit in his own time. We found our experienced local guide 
here.
Of course, it's also possible to hike Mount Toubkal alone and there's no reason why you shouldn't, especially when the weather conditions are good.
The easiest way to get going on the trail is to start from the small mountain town of Imlil, easily reached by a 75 minute ride from Marrakesh (200dh/€18 for a private taxi, 50dh/€4.50 for a shared ride). Alternatively, buses from Marrakesh (20dh) run as far as Asni in 90 minutes.
Although not very well marked to begin with, any local should be able to direct you to the trail head (///regarded.barricades.lockdown). From here, it's easy to follow the trail upwards through the valley. You can download the map in this post for simple directions but we recommend using the maps.me app which can navigate you all the way to the summit, even if you are 'offline'. 
After leaving Imlil the trail leads you through a series of switchbacks until it meets up with the local road to Aroumd. 
After passing through Aroumd walk through open field of boulders.  Follow the clear path to the other side.
Follow the trail upwards through the valley until you reach Sidi Chamharouch, the last little town before Toubkal Refuge and its beautiful white-domed mosque. 
Keep following the mule track up to Toubkal Refuge (///godfathers.height.tiled). 
There are plenty of stops for snacks and famous Moroccan mint tea along the trail. There are also shacks selling locally made hats and scarves if you need to purchase extra layers.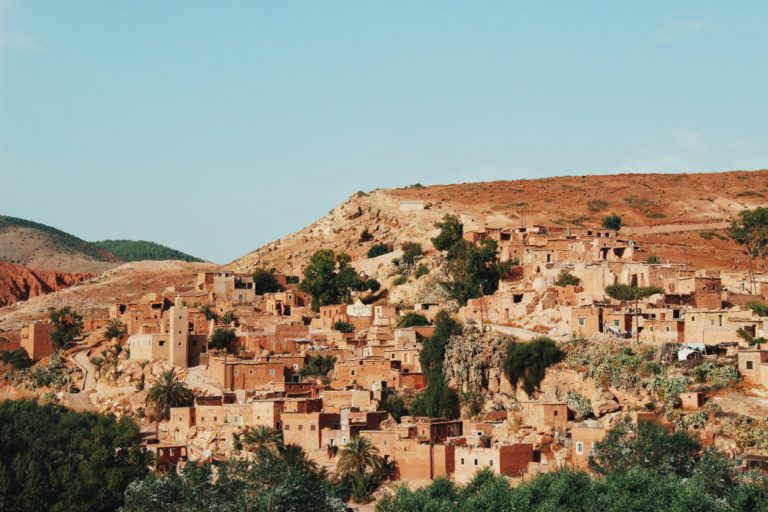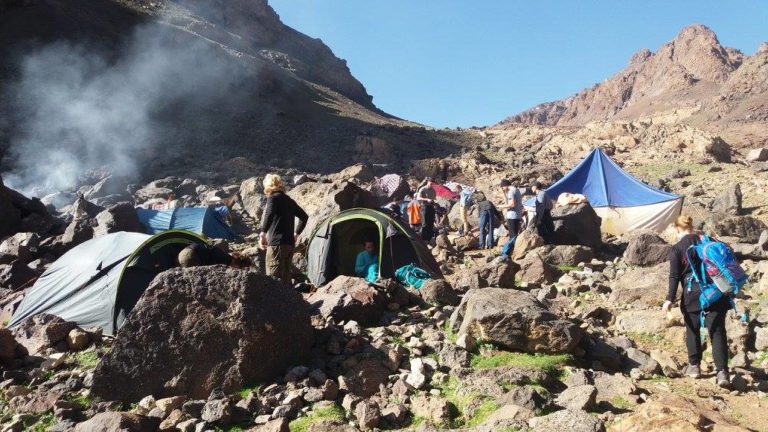 At Toubkal Refuge you can choose to camp or to stay in the refuge itself. Camping is a budget-friendly option but you might not want to lug all your camping  and cooking kit up the mountain. Toubkal Refuge is reasonably priced (€18 – €20 for a bed in a dorm room) with a cosy restaurant, home-cooked food and well-stoked fireplace. Whether you camp, or stay at the refuge, it is important to acclimatise here overnight to avoid altitude sickness.
It's worth getting up early to summit Toubkal before the sun has chance to warm the side of the mountain you need to hike up. The path is fairly easy to follow if it's not dark, just keep heading up! 
Figure out the length of your trek before hiking Mount Toubkal. If you want to head back to Imlil the day you summit (2 day trek) it will take at least an hour and a half to get back to the refuge and then another 3 hours or so to get back to Imlil.  Make sure you have enough time in the day! For a more leisurely trek, stay another night at refuge before retracing your steps to Imlil.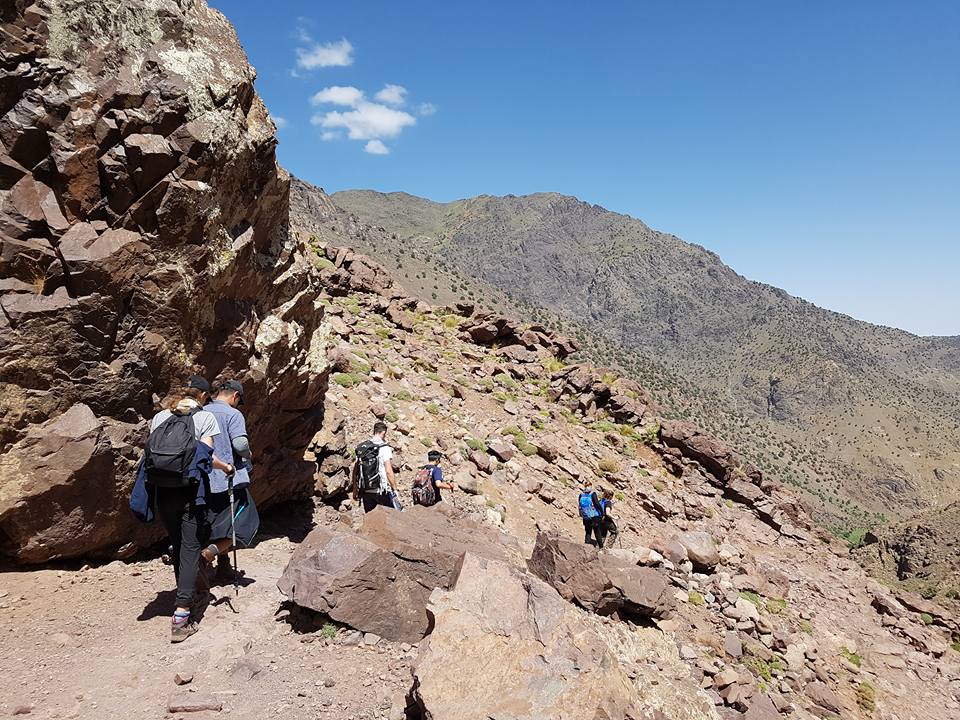 What to take on your Toubkal Trek
So now that you've decided this trek is 100% definitely on your bucket-list, you may be wondering what to pack. Traditional hiking gear will get you a long way on this trek. Make sure you have comfortable, well-broken-in hiking boots with good ankle support as it's quite rocky. You'll need comfortable hiking clothes including trekking trousers (not jeans!) and a breathable base layer.
In fact, layering is key for this trek due to the difference in altitude and temperatures at the base and the summit. Layer layer layer! Make sure you test out your kit before hiking Mount Toubkal to ensure it's comfortable and durable. Remember to check out our guide for eco-conscious hikers before setting off!
Here's what we brought on our Toubkal Trek:
Wind-proof and water-proof jacket
Light insulating layer, such as a fleece jumper
Down jacket (good for those cold nights at Refuge)
Technical base layer (we recommend merino wool)
Sturdy walking boots
Hat, light gloves, and buff
First aid kit 
Any prescription medication
Basic toiletries (toothpaste, lip balm, sanitiser etc)
Head torch + batteries  
Camera
Portable charger (especially if depending on your mobile device)
Kindle (Never without it!)
Follow our daily adventures on Facebook and Instagram
This post may contain affiliate links (yay for transparency!) This means that I will earn a small commission, at no additional cost to you, if you click the link and choose to buy the product. I only link to stuff I have personally bought and found useful and never endorse crap. Your support helps keep the site going, thank you!