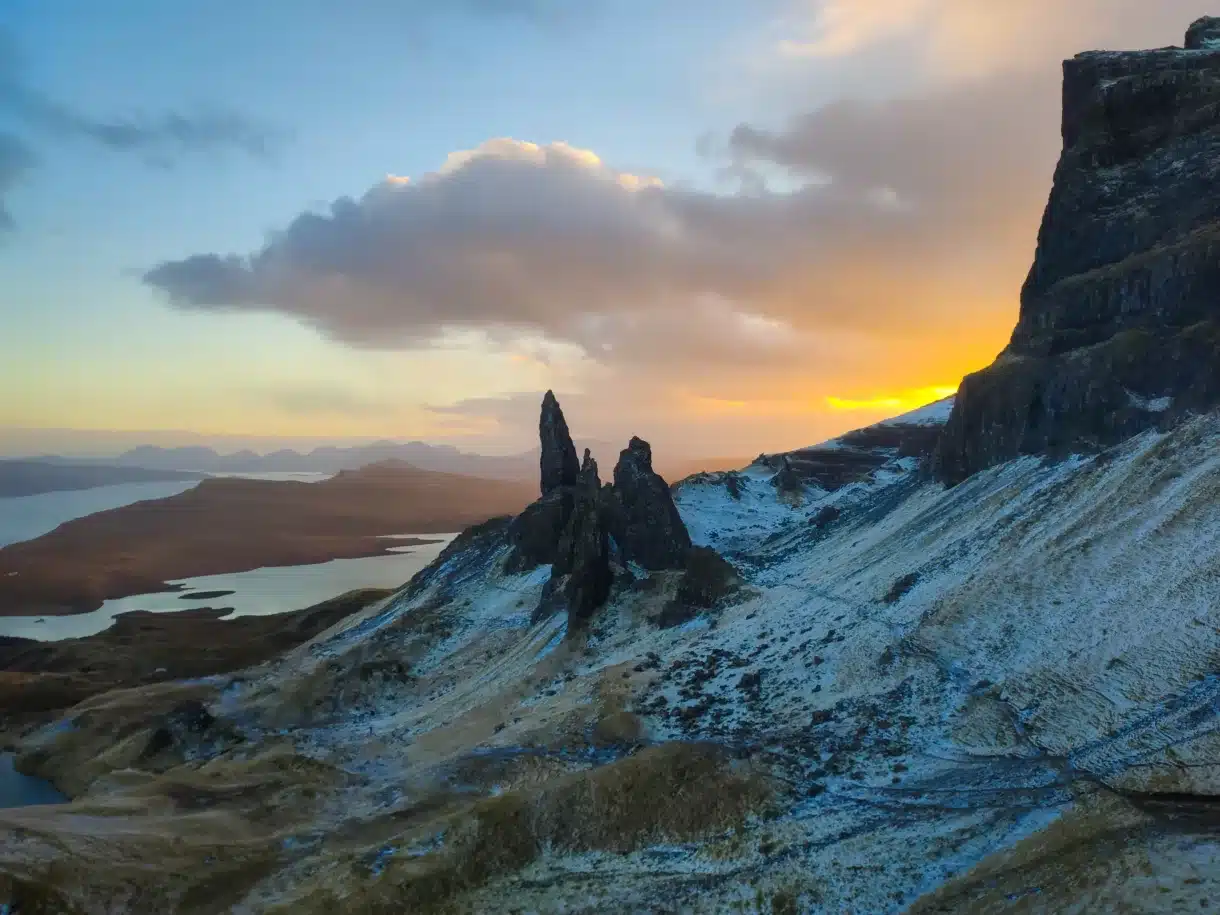 Isle of Skye in Winter: The Ultimate To-Do List [2023]
The Isle of Skye is a beautiful and rugged island located off the northwest coast of Scotland. It is known for its stunning landscapes, rich history, and unique culture. While the Isle of Skye is a very popular tourist destination in the summer months, it can be just as rewarding to visit in the winter. From outdoor activities and sightseeing to comfort food and whisky tours, there's something for everyone on the Isle of Skye in winter. So bundle up and get ready to experience the magic of this island in a whole new way as we explore some of the best things you can do on the Isle of Skye during the winter season.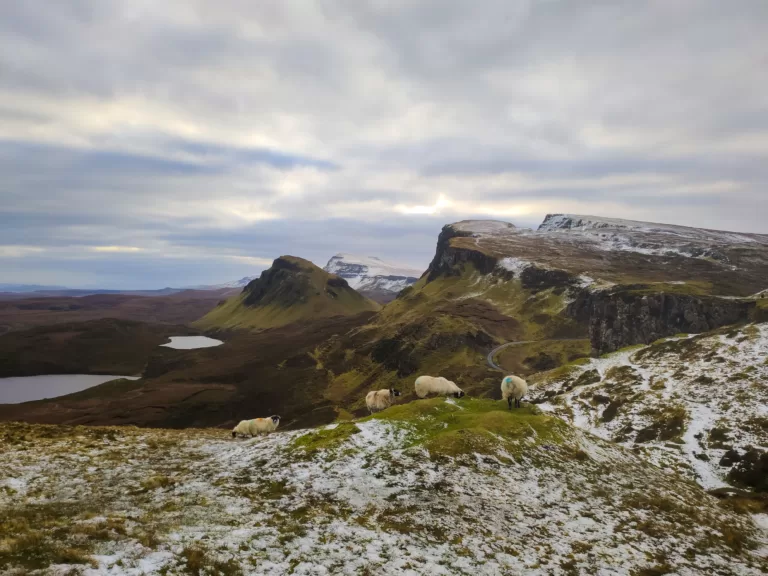 7 Must-Do Winter Activities on the Isle of Skye:
Take a Hike: The Isle of Skye is home to some of the most breathtaking landscapes in Scotland, and they are especially stunning in the winter months when they are blanketed in snow and frost. Take a drive or hike to see landmarks like the Old Man of Storr or the Quiraing, which are just as accessible in the off-season as they are during the summer months. Added benefits include both fewer people, and fewer swarms of midges on your hikes.
Visit the Fairy Pools: a series of crystal-clear pools and waterfalls surrounded by some of the most beautiful and dramatic landscapes on the island. These iconic natural features will take your breath away with their rugged beauty. Be sure to dress warmly and wear sturdy shoes, as the terrain can be muddy in winter. If you're brave, you could even go for a dip (wetsuit recommended!).
Walk in the footsteps of dinosaurs; An Corran beach, a secluded cove located in the northwest of the island, is a popular destination for visitors due to huge footprints in the stone. The footprints, which can only be seen at low tide, were left behind by a group of dinosaurs that walked on the beach around 170 million years ago. The beach itself is beautiful, with clear blue waters and white sand, and it's a great spot for a picnic – make sure to bring a flask of coffee or hot chocolate to warm up!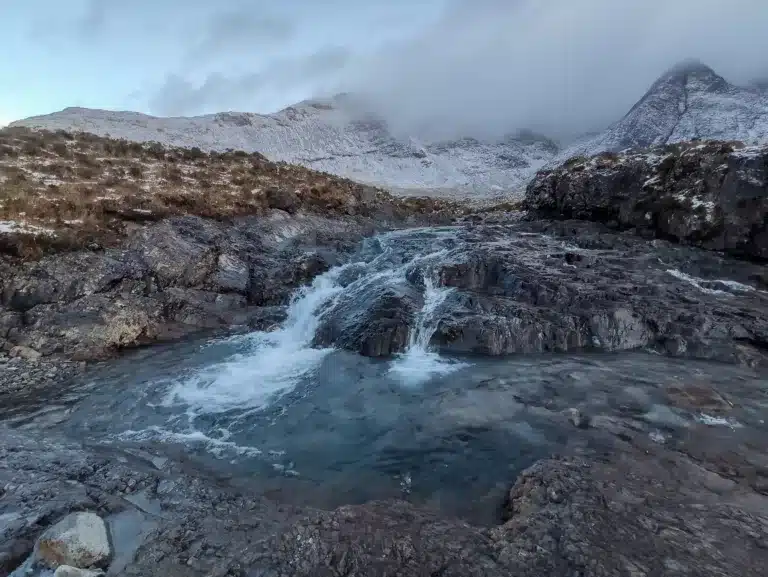 Visit a distillery: The Isle of Skye is home to some of the most famous distilleries in the world, including Talisker and Dunvegan. A distillery tour is a great opportunity to see the distillation process in action and learn about the different types of whisky that are produced on the island. At the end of the tour, visitors are usually invited to warm up by sampling a few 'drams' of different whiskies. This is a great way to find out which whiskies you like best, and it's also an opportunity to buy a bottle or two to take home as a souvenir!
Go on a winter wildlife tour: The Isle of Skye is home to a variety of fascinating wildlife, including whales, eagles, otters, and seals, many of which are more likely to be seen in the quieter winter months. Go on a tour with a local guide to try to spot these animals in their natural habitat. Or, for a more budget-friendly option, take yourself for a stroll around one of Skye's best wildlife-spotting spots, Neist Point, for a change of seeing whales, seals, and rare birds. You'll be amazed by the beauty and diversity of the island's wildlife!
Warm up with some hearty comfort food: When the weather gets cold, there's nothing better than a warm and hearty meal to chase away the chill. The Isle of Skye is known for its delicious seafood and comfort food, so be sure to try local specialities like haggis (a traditional Scottish dish made from sheep's organs) or Cullen skink (a creamy fish soup) to warm up on a cold winter day. We recommend the Oyster Shed for fresh-caught seafood; although it doesn't have the most reliable opening hours, it's a 'great catch' if you're driving past (haha). 
Chase the Northern Lights: The Isle of Skye has some of the darkest skies in Europe, making it an ideal destination for star gazing. Winter is the perfect time to go on a guided star gazing tour to learn about the constellations and see some of the most beautiful celestial sights in the world. If you're lucky, you might even spot the Aurora Borealis towards the north of the island.
If you're heading Skye-wards and want to chase the Northern Lights, check out this website for up-to-date Aurora Borealis information in Skye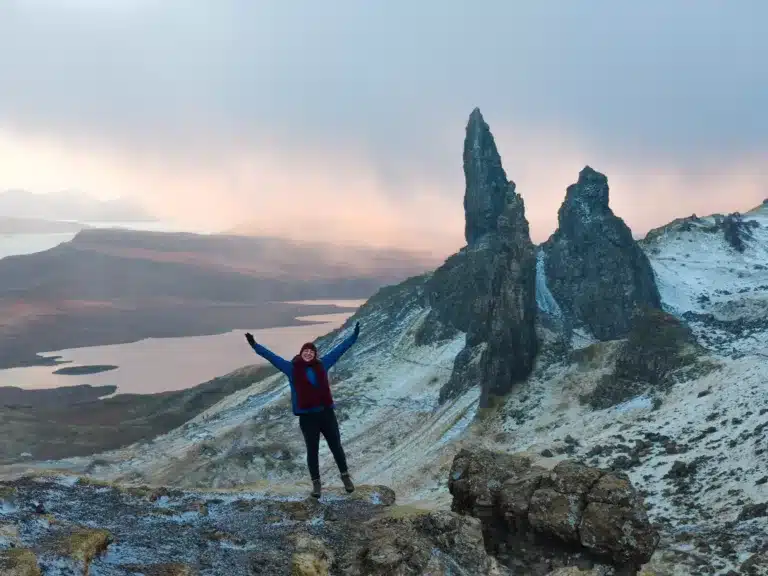 Have you visited Skye, or Scotland during the winter months? How did you find it? Would you like to share anything we've missed? Add your voice to the Discoveny community by leaving a comment below or dropping me an email here.
Follow our daily adventures on Facebook and Instagram
This post may contain affiliate links (yay for transparency!) This means that I will earn a small commission, at no additional cost to you, if you click the link and choose to buy the product. I only link to stuff I have personally bought and found useful and never endorse crap. Your support helps keep the site going, thank you!