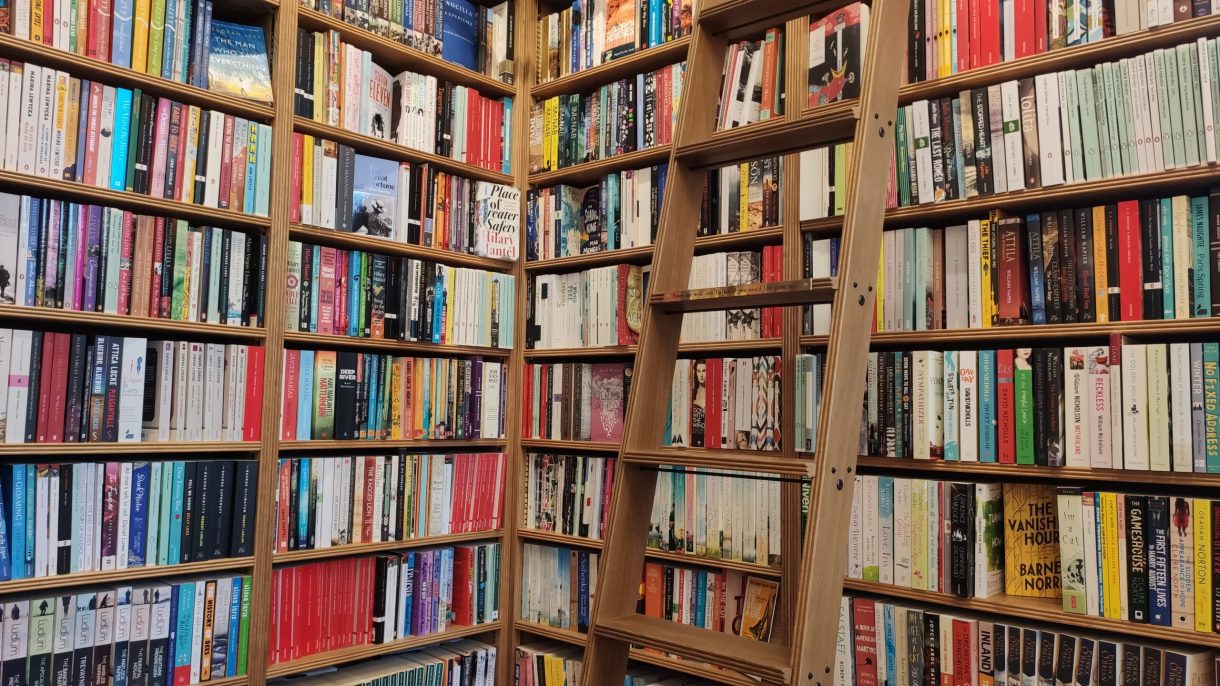 5 of the best indie bookshops in Edinburgh
The creak of wooden floors. The hushed tones of people browsing the shelves, flicking through the pages. And that unmistakable scent of new books begging to be brought home. There's honestly nothing like a good bookshop to lose yourself in, discovering everything from cooking books to crime novels. And you'd better believe there's enough beautiful bookstores in Edinburgh to satisfy anyone with a love for the written word. 
Read on for a local's guide to 5 of the best indie bookshops in Edinburgh, including where they are and what makes them so special.
So, what's so special about Edinburgh anyway?
Edinburgh is a book-lover's dream. There must be something about those historic cobbled streets and romantic Georgian buildings that sparks the imagination because the city has produced notable authors throughout history, including Sir Arthur Conan Doyle, J.M. Barrie and Scotland's National Poet, Robert Burns. 
There's also no shortage of contemporary authors. Ian Rankin, the UK's best-selling crime writer, began writing his famous detective novels as undergraduate student in an attempt to make sense of the city. Edinburgh's Victoria Street is also said to have inspired J.K. Rowling's Diagon Alley and it's certainly not hard to see why. This Old Town Street, with it's multi-coloured facades and secret stairways, would seem like the perfect place to wave a wand or buy a broomstick.
Challenge anyone who doubts Edinburgh's claim to be a literary city to come up with another capital whose main station is named after a novel. Edinburgh was the birthplace of Scottish printing in 1508, is a centre of publishing and has been designated Unesco's first City of Literature. In addition to this, the city is home to the largest public celebration of the written word in the world, hosting around 1000 writers and thinkers from across the planet every year for the International Book Festival. 
'So where can I find the best indie bookshops in Edinburgh?' I hear you ask. Don't worry, my fellow literature lovers because I've got your back. We're going to skip over the Waterstones and the Blackwells; these large corporations lack character. Instead, let's funnel our support into Edinburgh's unique independent book sellers. Still with me? Let's go! In no particular order, here are the best indie bookshops in Edinburgh…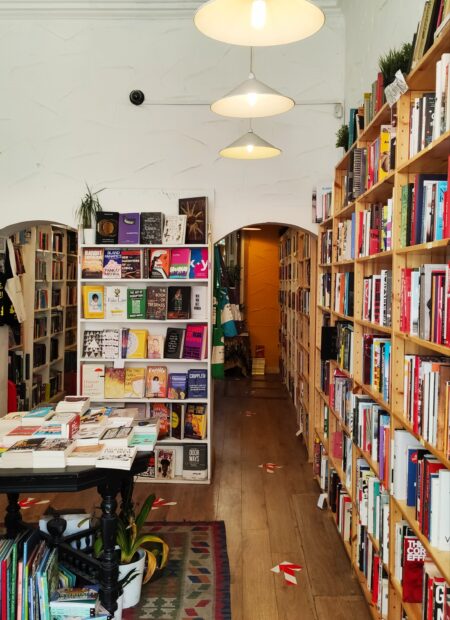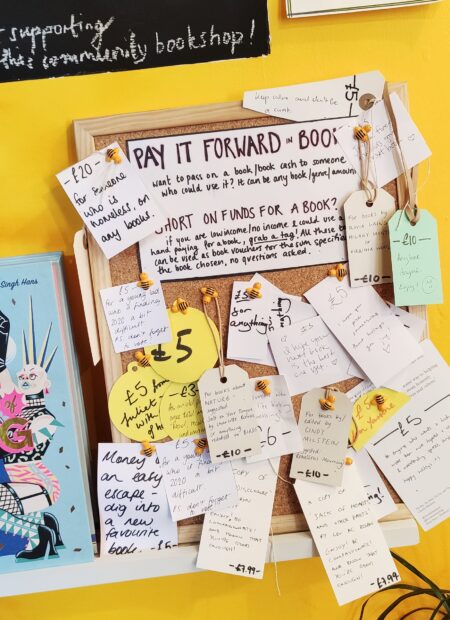 Lighthouse: Edinburgh's Radical Bookshop
Lighthouse is a queer-owned and woman led independent community bookshop. Unapologetically activist, intersectional, feminist, antiracist and LGBTQ+, this community space is a real celebration of diversity.
This bookshop aims to create a respectful, understanding and kind space where all people feel able to discover books and authors, express themselves and ask questions without fear of reprisal or humiliation. They house over 10'000 titles across all genres, from politics and history to fiction and travel writing. However, what makes Lighthouse truly shine is their passion for diversity, amplifying the voices of radical authors around the globe. This varied selection is a refreshing difference from big-brand-bookshops which tend to stock the same names across the country.
Nominated as Scotland's Best Independent Bookshop 2020, Lighthouse is also home to a vibrant year-round program of events, holding one or two a week as well as regular book groups. Grab hold of a lifeline to the bookshop's community spirit with Life Raft, a series of online bookish events for those in Edinburgh, and those elsewhere.
Find them at 43-45 W Nicolson St, Newington, EH8 9DB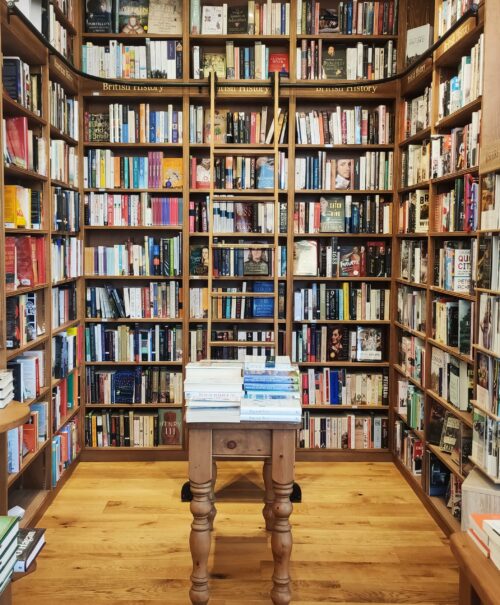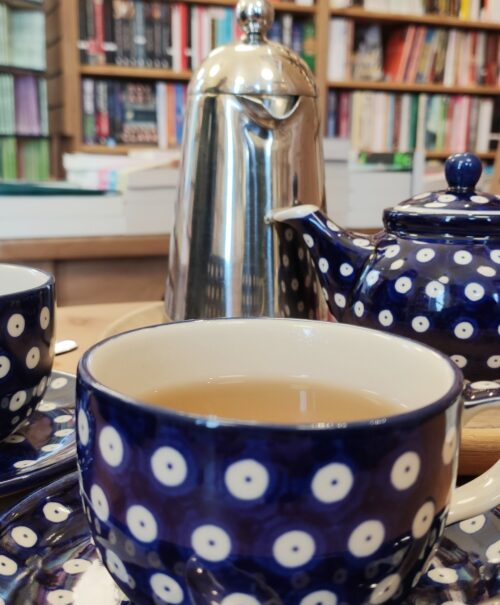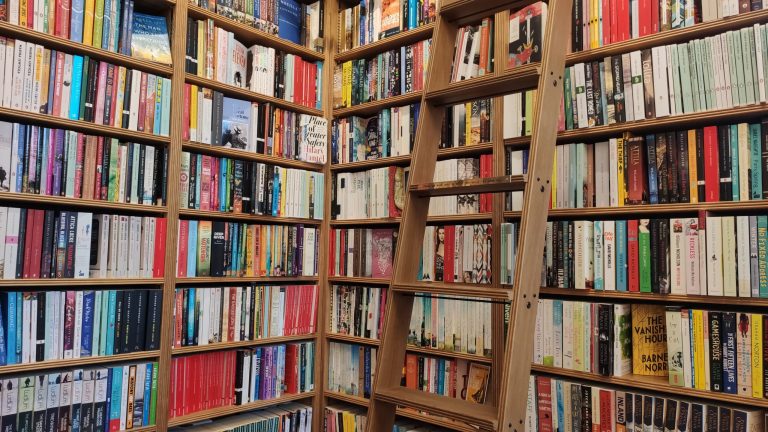 One of the city's newest bookshops, Topping & Company is just down the street from our apartment. Now a small chain based here in the UK, this family of bookshops began in Bath before branching out to St Andrews and now to enchanting  Edinburgh.
The shop comprises three floors, taking advantage of the Georgian architecture with floor to ceiling bookshelves. It's the perfect place to spend a rainy day, perusing the shelves for your next read. I adore the ladders that are scattered throughout the store for customers to use – they make me feel like I'm in the library scene in Disney's Beauty and the Beast.
If you're not already sold on a visit here, they also offer sustenance for browsing book-lovers. Tuck yourself between the shelves for a cup of complimentary coffee or admire the views of Calton Hill over a warming pot of tea. 
Find them at 2 Blenheim Pl, EH7 5JH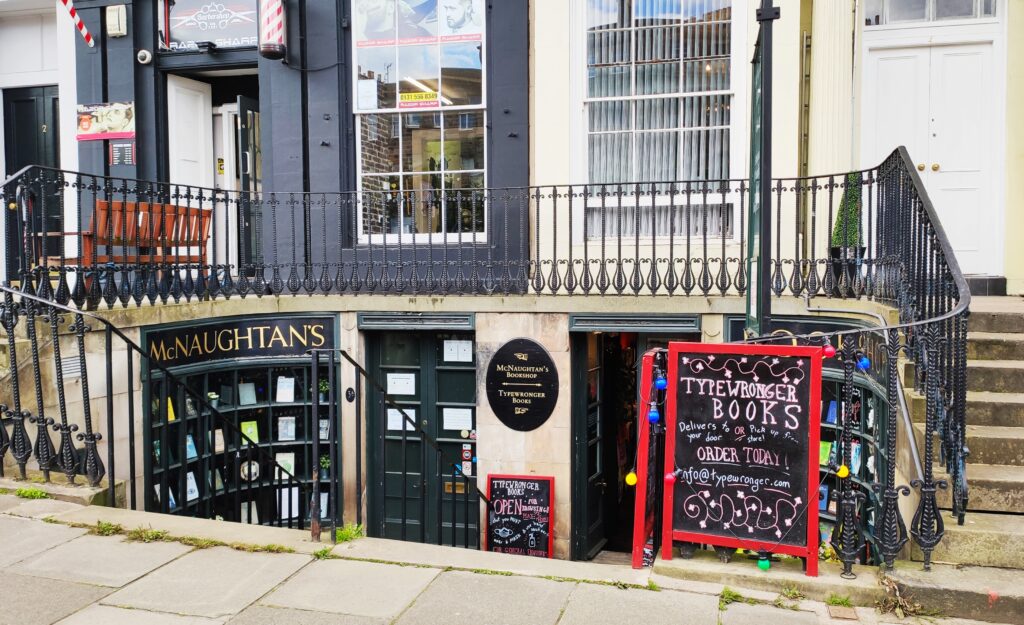 Head down the stone steps on Haddington Place to, in their own words, 'a very badly behaved bookshop and typewriter repair service'. Small but wonderfully cosy, Typewronger Bookshop specialises in crime novels and unique zines, although they rotate a variety of genres. They also sell a unique collection of new and refurbished typewriters.
As an extra special touch, Typewronger is also a typewriter that's hooked up to the internet with a custom coded raspberry pi. Simply tweet @tweetwronger with the #typethis and it'll tap out messages that you send to it on Twitter. Now, I don't tweet but this is almost enough to make me want to sign up!
Find them at 4a Haddington Pl,  EH7 4AE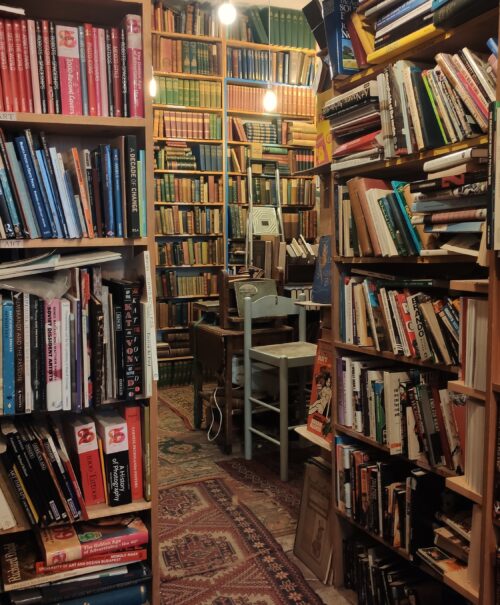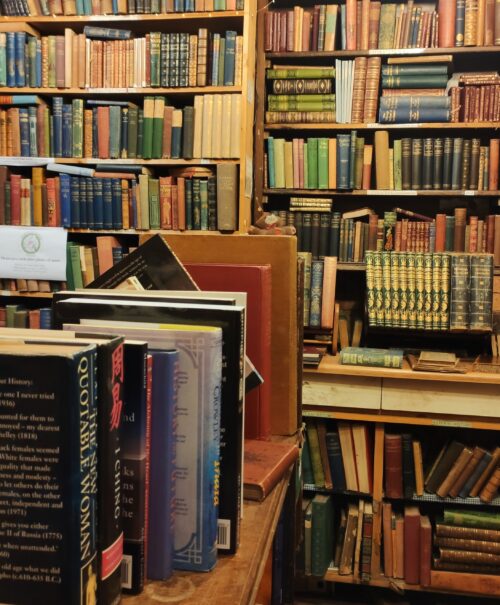 An endlessly charming, Dickensian-looking spot just a stone's throw from Edinburgh's Grassmarket, this place is an absolute haven for the second-hand book lover. Armchair Books is stuffed from floor to ceiling with second-hand gems and vintage editions. It's one of the only bookstores I've visited that thrives off disorganisation; its messy, cluttered shelving is what makes it a great place to browse. 
The shop is staffed by Edinburgh's finest book people who brave the shop's untraceable noises and unique microclimate to help you find 'that blue book with the gold writing on the spine'. Prices range from 50p to £50, so you can pick up bargains or go for the pricier things, there's something for every budget. 
Find them at 72-74 West Port, EH1 2LE
NOTE: this beautiful bookshop gets a lot of instagram fame. If you do come here for the 'gram' please consider buying a book to support this independent business.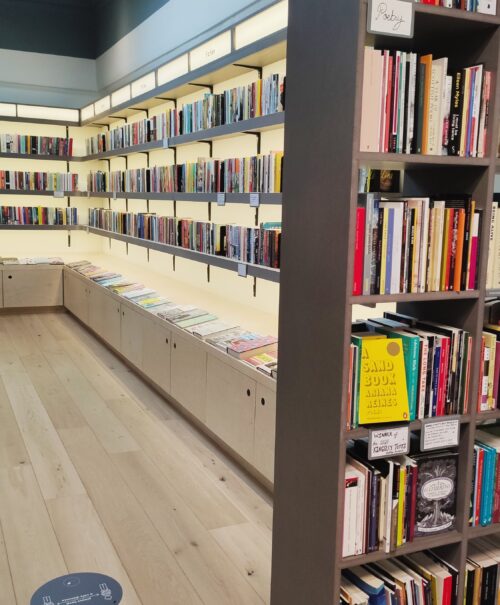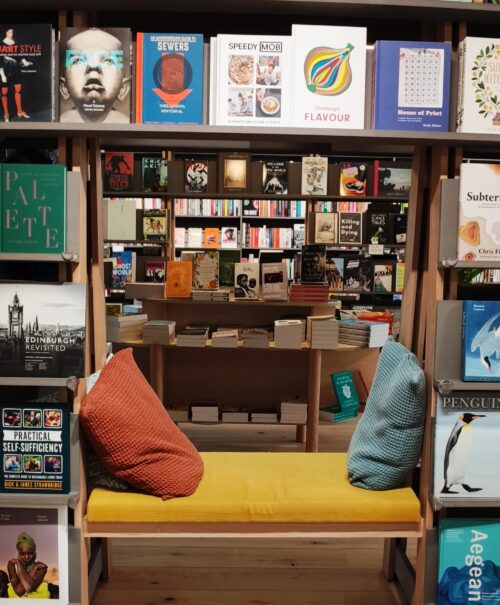 Ok, this one's a bit of a trek from the city centre but hear me out because it's so worth it. 
The Portobello Bookshop is one of Edinburgh's newer bookshops, opened in 2019. If it's a nice day, grab one of the JustEat bikes for £1.50 and head downhill to Leith before picking up cycle-friendly route 10. From there, it's a 15 minute ride along the coast to Portobello. Not up for a cycle? Not to worry, just hop on the number 26 from Edinburgh Bus Station and you'll be there in around 20 minutes
The bookshop itself has a very modern feel, and you can tell that their selection of books has been very carefully curated. It's stylish, light, airy, thoughtfully and beautifully designed, and buzzy, you'll love it. 
After you've finished browsing, head down to the coast to enjoy Edinburgh's sandy seaside spot. Grab an ice cream or a hot cup of coffee from one of the many cafés on the front and watch the waves before heading back to the city centre. 
Find them at 46 Portobello High St, Portobello, EH15 1DA
And that's it! The best indie bookshops in Edinburgh, brought to you by your favourite Scotland local. If you've got any more bookish recommendations I'd love to know all about them. Feel free to get in touch. Please remember to show your support for these indie businesses by buying something, whether it's a postcard or a novel. 
Follow our daily adventures on Facebook and Instagram
This post may contain affiliate links (yay for transparency!) This means that I will earn a small commission, at no additional cost to you, if you click the link and choose to buy the product. I only link to stuff I have personally bought and found useful and never endorse crap. Your support helps keep the site going, thank you!