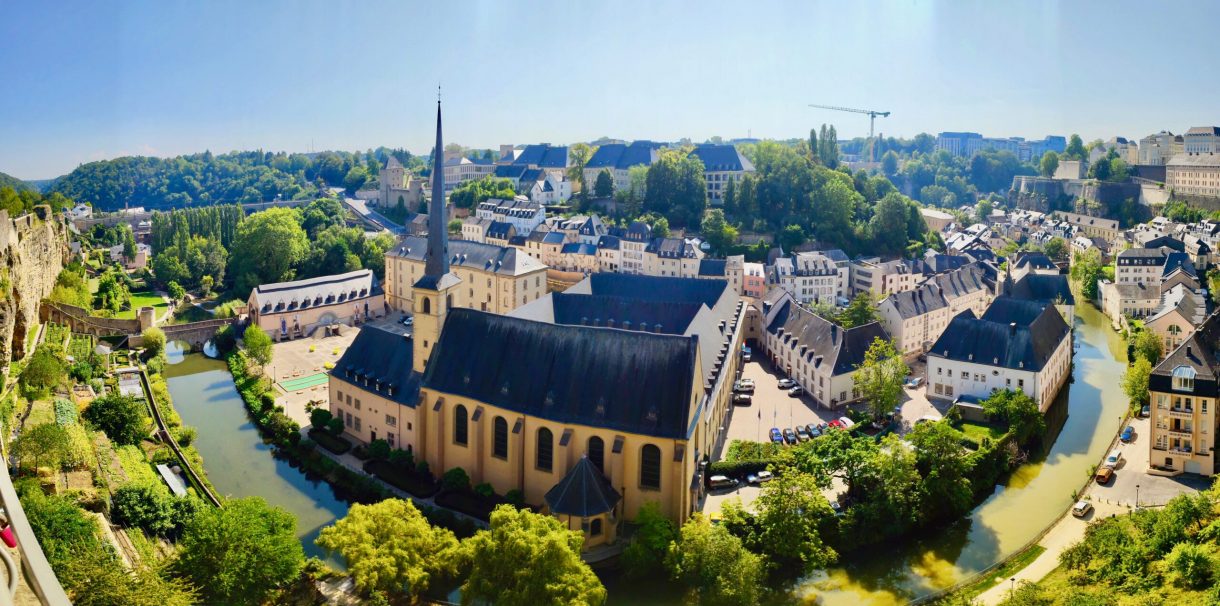 The Green Guide to Luxembourg
Part of the Green Travel Guide series, this Luxembourg Green Travel Guide will cover everything you need to know to get there and how to get around in an eco-friendly way. Our first-hand recommendations will ensure you're seeing the best sites, eating at the best restaurants and immersing yourself in the country. We've even thrown in some budget tips!
Dive right in to the Luxembourg Green Travel Guide
Click any of the bullets below to be taken straight to that section
Nestled between Belgium, France and Germany, the Grand Duchy of Luxembourg is one of the smallest sovereign states in Europe. A charming country, its culture, people, and languages are highly intertwined with its neighbours, France and Germany.
Although not touted as a popular European tourist destination, Luxembourg is beautiful, clean and easy to get around. The people are friendly, the food is a delicious blend of French and German Cuisine, and what's more, it's relatively easy to get to by train from most European capitals, making it the ideal weekend away.
This  Luxembourg Green Travel Guide will cover everything you need to know to get to Luxembourg, how to get around the country and the best sites to see while you're there. 
Train connections to Luxembourg. Zoom in for markers for places of interest.
Getting In and Out of Luxembourg
Our Luxembourg Green Travel Guide wouldn't be 'green' if it didn't recommend sustainable way s to travel. Travelling by train is easily the best way to get from A to B. Settling into your comfy seat for the next few hours, flicking through a book, listening to a good podcast or simply gazing out of a window as the scenery flashes past you – there's no better way to get to places than using the rails
In addition to this, the train is a super sustainable way to travel. When trying to be a responsible traveller, switching from wings to wheels is a great way to lower your carbon footprint and do your bit for our planet.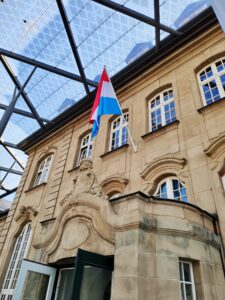 Luxembourg Gare du Central (Main Station) is easily accessible by train from most European capitals. 
If coming from the UK, start by taking the Eurostar to Brussels. There are regular rail services from Brussels and Paris, leaving approximately every hour. There are also good services from Trier, in Germany, and Liège, in Belgium.
Taking the train, you can be strolling around Luxembourg city centre just hours after leaving most European cities with none of the stress associated with flying. Say goodbye to lengthy baggage checks, luggage allowance and immigration processes as once you enter the Schengen Zone, border crossings become seamless, you can bring as much as you like and passport checks are no longer required. 
Although slightly less comfortable, travelling by bus is a budget-friendly option to get around Europe. The Luxembourg Green Travel Guide can wholly recommend Flixbus, which run direct services to Luxembourg City from dozens of European cities across France, Germany, Belgium, Italy and the Netherlands. This is a great option for those on a budget as prices start from as little as €4.99 per journey.
Easily accessible overland, there's really no point in flying to Luxembourg City for European Travellers. It's not regularly served by budget airlines, making flying an expensive option. As flight time is often the same as or longer than the train (by the time you add waiting around), I would say this is an un-necessary option.  I'm always advocating for greener travel and the Luxembourg Green Travel Guide recommends that those arriving from Europe take the bus or train as an alternative. It's more relaxing and greatly reduces your carbon footprint. 
For those visiting from further afield, air travel may be a necessity. It is important to know that Luxembourg City is mainly served by European airlines so changing flights may be unavoidable for those travelling from other continents. To be kinder to the planet, consider extending your trip and exploring more of Europe using overland transport. .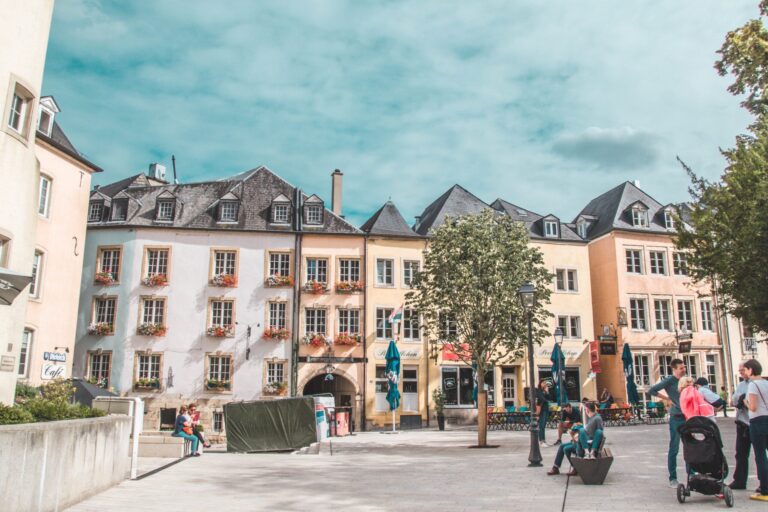 How to get around Luxembourg
Travelling around Luxembourg was easy before, but it just got easier. As of March 2020, all public transport is free in the Grand Duchy. This means you can hop on and off trains, buses and trams to your heart's content and really get to see the country you're visiting. 
What to do in Luxembourg City
Luxembourg, also known as Luxembourg City, is the capital of the Grand Duchy and lies at the heart of Western Europe, almost equidistant from Paris, Brussels and Cologne. One of the de facto capitals of the European Union, it is the seat of many important institutions and the grandeur of the main city shows this.
Small and walkable, Luxembourg City's main sights can easily be seen in a day. The capital is beautifully clean and a pleasure to walk around. The Luxembourg Card gives free and discounted access to the must-see places throughout the country and is definitely worth the cost of 10 EUR/day.
Read on for the Luxembourg Green Travel Guide's highlights for Luxembourg City.
Get lost in Casemates du Bock
The Bock Cliff in Luxembourg is known for its cannons and fortifications, as well as a beautiful walkway looking over the whole city. It's here that you can explore Casemates, which is a series of underground passages with a fascinating history.
A fortified castle in the cradle of the city, Casemates du Bock is a must-see when visiting Luxembourg City.  Built in 963 AD with 17 kilometres of tunnels over different levels, penetrating deep inside the rock face, Casemates du Bock is a fortification like no other. This vast complex of underground tunnels & galleries has stood the test of time, even being used as bomb shelters for the citizens of Luxembourg City in the Second World War
Explore the archaeological museum before heading inside the tunnels to get lost. Take beautiful pictures of the old-town below and most importantly, use the caves as a way to cool off from the summer heat. 
View a Town Panorama at Chemin de la Corniche
More of a photo-op than an activity, the Chemin de la Corniche is hailed as Europe's most beautiful balcony. This pedestrian promenade of 600m winds along the Alzette Valley, following the course of the 17th-century city walls with views over the Casemates du Bock and the peaceful old-town on the riverbank below.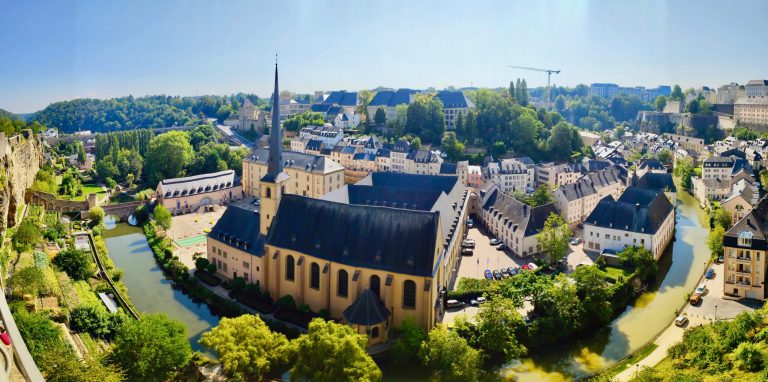 Wander around the Old Town
The Old Quarter in Luxembourg City is the perfect place to relax and is also a UNESCO World Heritage Site.
This original centre of the city would have been surrounded by graceful ancient fortifications, although these were sadly destroyed in 1883. Now, you'll find tree lined cobbled streets and lush parks and gardens alongside a winding river.
Lose yourself in the narrow alleyways or grab a coffee and people-watch as the city hums around you; the old quarter is the perfect place for a lazy afternoon.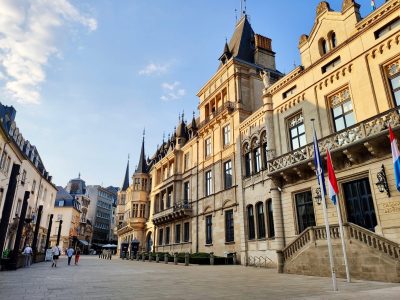 See how the Duke lives at Palais du Grand Ducal
The Palais du Grand Ducal, or Palace of the Grand Dukes, is the town residence of Grand Duke Henri of Luxembourg. Built in the 16th Century, the palace has one of the most beautiful façades in the city, however the equally stunning interior can only be visited by guided tour. As the palace is used for official functions, these tours only run through the summer months from mid-July till end of August. However, you can admire the outside of the building all year round.
Capture the Sunset at Passerelle Viaduc
Passerelle Viaduc is one of the most historically significant bridges in Luxembourg. This 'cutting edge' Victorian technology was completed by the Brits in 1861, although it is now lovingly known as Old Bridge. One of the main reasons to come here is to take in the stunning views that spread out over Luxembourg City. It is particularly special at sunset.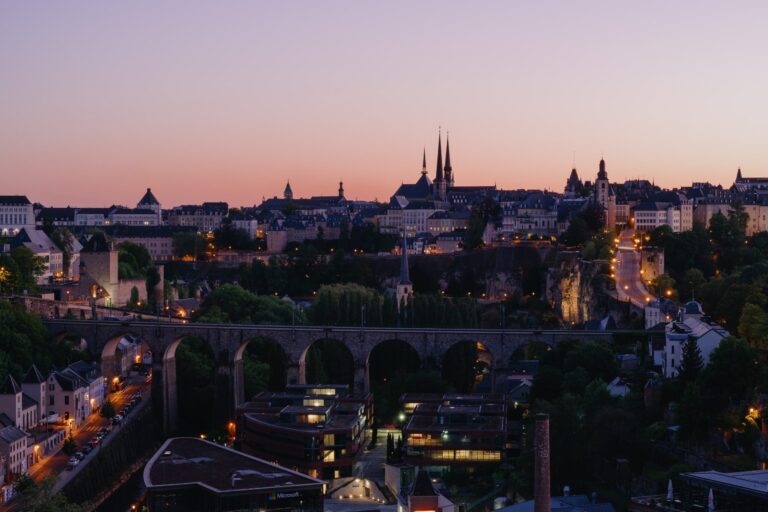 What to do in the rest of Luxembourg
Of course, there's a lot more to Luxembourg than Luxembourg City. Take advantage of the free public transport and explore the country by road and rail. 
Read on for the Luxembourg Green Travel Guide's highlights if you want to explore further afield and embrace this wonderful fusion of European culture
Visit Château de Vianden & Ride the Famous Vianden Chairlift
Located in Northern Luxebourg, Château de Vianden is one of the largest fortified castles west of the Rhine. Perched on a rocky promontory, the castle watches over the sleepy town of Vianden. The charming château contains an informative museum detailing the history and legends of Luxembourg and the surrounding area. Bonus, it looks and feels a bit like Hogwarts.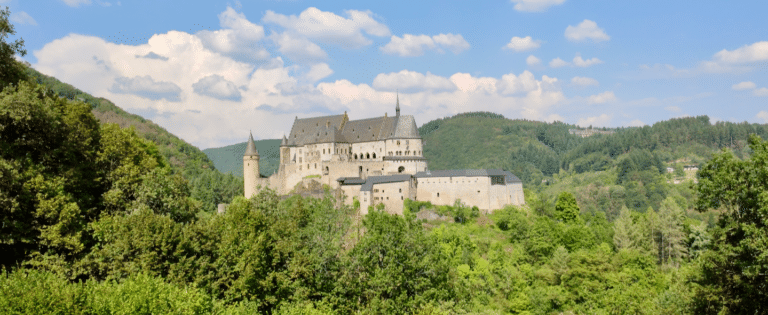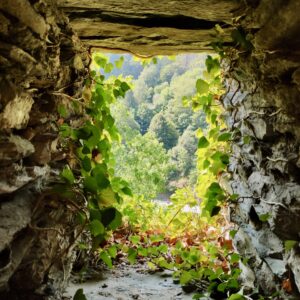 Vianden town is also home to Luxembourg's only chairlift. Lean back and relax as you soar to 440m and enjoy a gorgeous panorama over Luxembourg and the German border. 
Adventurous types may wish to walk down from the top, combining this with a visit to the stunning Château de Vianden on the way. For a more laid-back approach, admire the views over a coffee or beer from the restaurant on the hill before taking the chairlift back down. 
Warning: not for those scared of heights. 
If you like hiking or rambling then there are a range of trails that branch out from Vianden into the Our Valley. Make sure to check out the top tips for eco-conscious hikers before you go and follow the 'leave no trace' rules.
Other than the castle and chairlift, there's not really much going on in Vianden. The town is famous for being the place where Victor Hugo lived when he was in exile and there's a little museum in his former home for those interested.
However, Vianden is more than worth a visit. Wander the sleepy town streets, pop into a local shop or grab a beer opposite the bus stop to get back to Luxembourg city. You'll soon begin to enjoy the easy and relaxed pace of Vianden town. 
Take the train from Luxembourg Gare Central to Ettelbruck, then change for the 570 Bus to Stolzembourg, getting off at Vianden. You'll see the castle as you approach so you won't miss it! Return the same way. 
Get back to Nature in Echternach
Just 30 minutes ride from the city of Luxembourg, you can find the beautiful city of Echternach. Although it's small, there's actually a lot to do in Echternach if you know where to look.
Echternach is an abbey city with character and exudes a quaint charm. The historical and cultural centre of the Mullerthal Region, the oldest city of Luxembourg has retained its medieval ambience. Here, you'll find a labyrinth of streets and alleys, remains of the ancient city wall and a marketplace surrounded by pastel coloured town houses. 
The city of Echternach also has a wide cultural offer. The city comes alive during the  summer months, hosting a number of concerts folklore festivals and flea markets which provide a lively atmosphere. There's a museum in the centre of town for those interested in learning more about the history and area.
Echternach was recently awarded with  the European Destination of Excellence, an EU Award given for towns committed to social, cultural, and environmental sustainability. The Luxembourg Green Travel Guide recommends that you visit Echternach for yourself to experience this. 
You can get there in under 45 minutes from Luxembourg City. Take the 111 Bus from Luxembourg City Centre, Badanstalt all the way to Echternach. Return to the capital using the same route.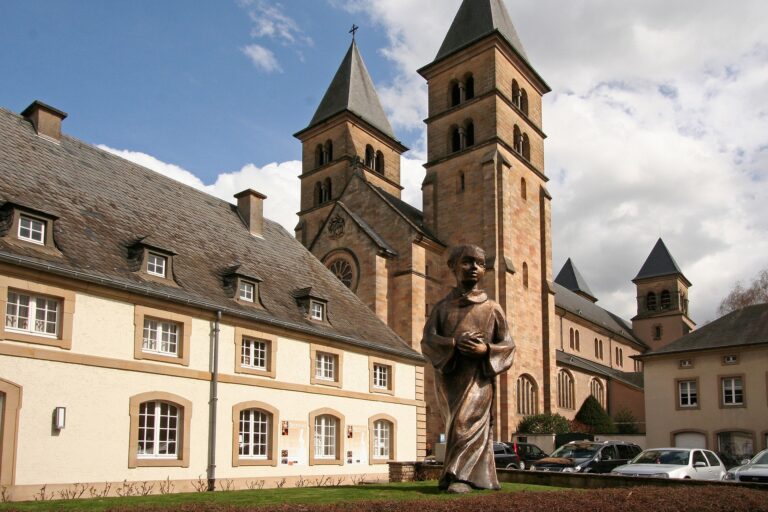 Benadictine Monastery of Echternach
If you visit the town of Echternach, then make sure to check out the Benedictine Abbey. The abbey dates back to the 7th century and was once the most powerful institution in Luxembourg.  
In addition to beautiful marble and colourful frescoes painted in the 10th century, the abbey also contains a crypt with the sarcophagus of St. Willibrord, one of the founders of Echternach City. The buildings are a working Monastery, however, they are open to visitors and there's also a little museum.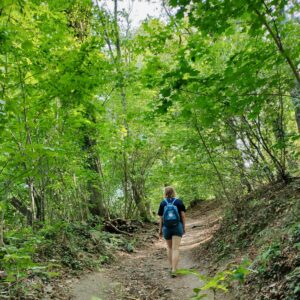 Echternach also has a large recreational lake with bike and hike trails, an adventure playground and miniature golf. Along the shores, you can hire bikes and pedal boats, allowing you to walk or cycle around the lake for the perfect peaceful escape. In addition to hotels and restaurants, there are two campsites and a modern youth hostel situated next to the lake. The lake is also home to the remains of the largest Roman villa north of the Alps, along with a visitor centre and a permanent exhibition. 
The Mullerthal Region is one of the most popular hiking regions in Luxembourg, with towering sandstone rock formations and beautiful rivers. In addition to the winding trails, the awe-inspiring rock formations are also a firm favourite with climbers. You may even hear the region referred to by its nickname: "Luxembourg's Little Switzerland".
Many hikes, including the famous Mullerthal Trail, start, end or pass through Echternach, making this a great base. The Mullerthal trail stretches over 112 km and consists of three big loops in six stages. Whether you hike the whole trail, or just a part of it, you're bound to see enchanted castles, gushing rivers and beautiful woodland. 
Larochette is a pretty market town which sits in a craggy valley surrounded by the picturesque woodland of the Mullerthal Region. The town is also famous for having not just one, but two castles perched above the valley (you may have noticed that I love a good castle).
Other signature features here include a medieval square with historic monuments, an interesting Museum of Industry and a beautiful church decorated in the Neo-Roman style with unusual Art Nouveau frescoes.
Hop on the Bus 100 in Luxembourg City, Badanstalt towards Larochette or Diekirch and be in Larochette in a little over 45 minutes.
Symbol of a borderless Europe, Schengen is best known for its European status due to the "Schengen Agreement". The Agreement was signed in 1985 on the passenger boat M.S. Princesse Marie-Astrid between the lands of France, Germany and Luxembourg, promising free movement and a borderless Europe for years to come. Here, you can find the European Museum of Schengen or even take a stroll over to France and Germany. 
Every year on the 3rd Sunday in October, the traditional Hunnefeier takes place in Schengen. The festival celebrates the end of the year's grape harvest and offers an incredible variety of entertainment; a huge flea and craft market, international street artists, an exhibition of historic farm equipment, music, pony riding, and food and wine tasting.
Schengen is also the start point for many hiking trails. The picturesque dream loop "Schengen grenzenlos" leads through the middle of the protected area "Strombierg". Starting from the European Museum, the trail winds through vineyards and on to France to the wine-growing village of Contz-les-Bains. Magnificent views over the Moselle valley, steep vineyards, and wide views towards Luxembourg and the Lorraine and create a unique and beautiful hiking experience.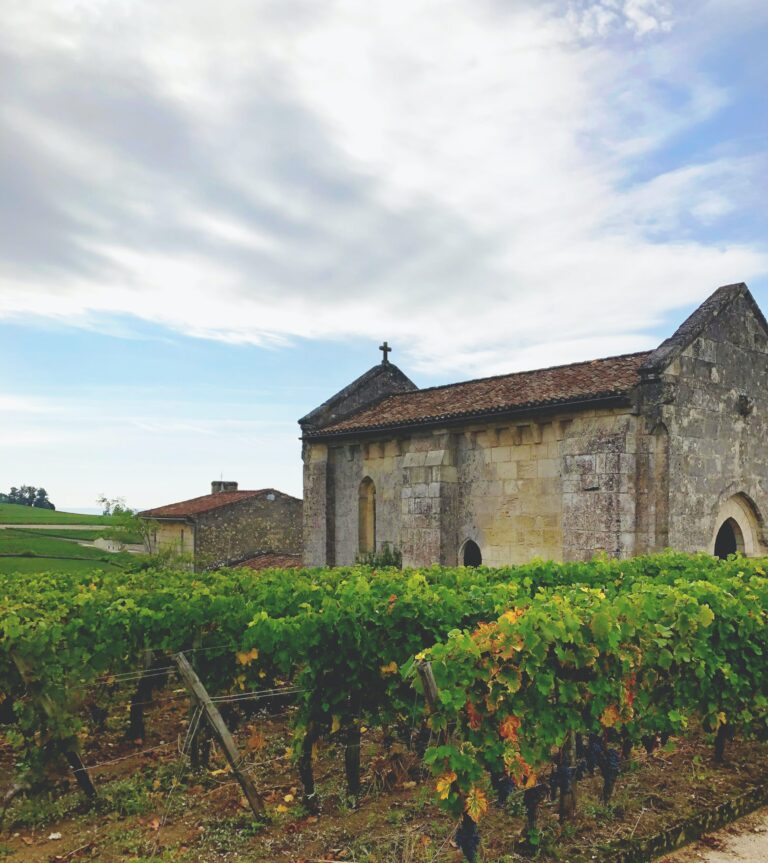 Hop on the 315 bus at Luxembourg City from Hollerich, Fonderie towards Perl, Maimühle. You'll cross the bridge to Germany (don't worry, most European countries are in the 'Schengen' zone), but simply walk back across to the Luxembourg side if you want to explore. Head back the same way.
"I thought Luxembourg would be on a par with the rest of Europe… they all have the same currency, right?"
Like many European countries, Luxembourg uses the Euro. I thought the country would be on a par with the rest of Europe but i was wrong. Luxembourg has the highest GDP per capita in the world and is in the top five most expensive countries on the planet – yes it's up there with Switzerland and Scandinavia! 
It's easy to travel sustainably on a budget if you know how! The Luxembourg Green Travel Guide shares hidden tips and knowledge to ensure you can stick to your budget, whatever that is.
The average price for a hotel is well over €100 a night and the cheapest are about €50. Using Airbnb yields similar results. Even hostels can be €30 – €40 for a bed. I used cheap-but-cheerful Luxembourg City Hostel which was about €30 a night for a dorm room. It wasn't the greatest hostel in the world, but I was too busy exploring to care. 
For those on a budget, hostels are definitely the way to go. If you're up for it you could try Couchsurfing, an alternative where you stay in a locals' home for free. This can be a great way to meet people and get a unique experience in a city, but be careful, read reviews and do your research! Check out our guide to safe Couchsurfing before you go. 
If the accommodations don't take the biggest part of your budget, then the food will. It's almost impossible to eat on a budget in Luxembourg City, although beer is pretty cheap! There are kebabs and fast-food available for a reasonable price but that's not the kind of food we want to eat for every meal, and additionally, most places don't offer vegetarian alternatives.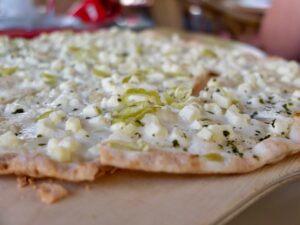 We've written a guide for saving money on food while travelling. You can bring down your food spending significantly by shopping at supermarkets and picking up food at bakeries or markets. If you're around at the right time, you can also rescue surplus food using apps like Too Good to Go. We usually like to purchase or 'rescue' most of my food from markets then splash out occasionally on a nice dinner, like the traditional Flammkuchen pictured, which we enjoyed in the main square of Luxembourg City.
One hidden gem we did find was Beet. Beet is a vegan restaurant and cafe located in the centrum of Luxembourg City. Super sustainable, they offer organic, consciously-sourced, local and seasonal dishes at a very reasonable price. These eco-ambassadors support local producers, recycle a lot and fight against unnecessary waste on a daily basis. Plus, a burger, fries and beer only set me back about €15 – not bad!
The Luxembourg Green Travel Guide would be nothing without recommendations for free and budget fun for the eco-consicous traveller. We think that a free walking tour is a must in every city, and Luxembourg City did not disappoint. TwentyTwo Tours takes you around the main monuments of the city, discussing the culture and history behind each. The tour is entirely tip-based, you only give what you can afford, and the money goes straight back to the locals.
There are so many ways to have budget fun around Luxembourg. Public transport is free, exploring is free, hiking is free and seeing most sites from the outside is also completely free. If you are keen on visiting lots of the main cultural sights in a short space of time, you may want to consider purchasing the Luxembourg Card. The Luxembourg Card gives free and discounted access to the must-see places throughout the country and is definitely worth the cost of 10 EUR/day. Buying a multi-day or group pass will save you even more money per person.
This post may contain affiliate links (yay for transparency!) This means that I will earn a small commission, at no additional cost to you, if you click the link and choose to buy the product. I only link to stuff I have personally bought and found useful and never endorse crap. Your support helps keep the site going, thank you!