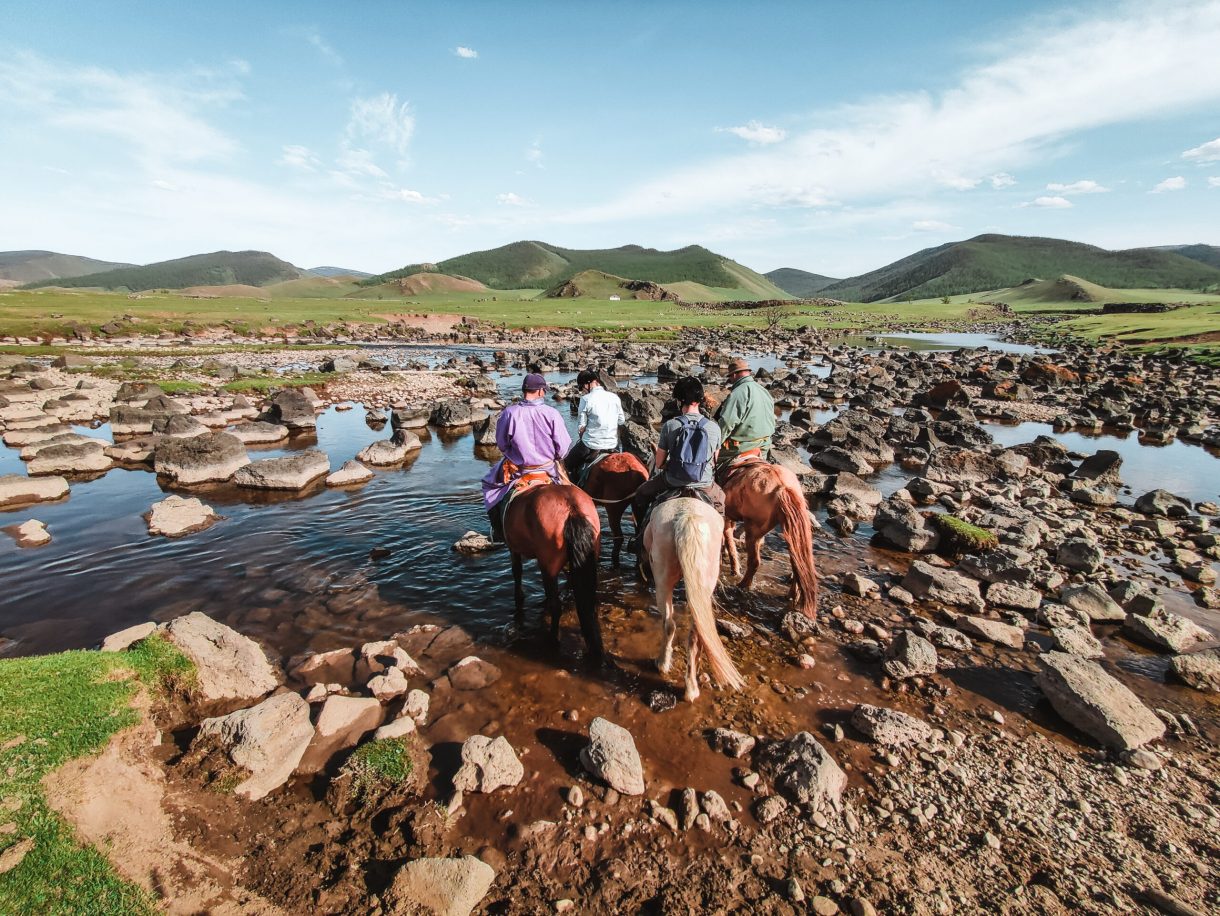 Central Mongolia: The Complete Guide for 2022
Mongolia, at the eastern end of Central Asia,  is a setting of steppes and forests, remote mountains and arid plains. Travelling through the immense distances of this high plateau, you can see antelopes, wolves, wild takhi horses, yaks and camels. There are hundreds of freshwater lakes, and you're sure to be provided with a warm welcome as you pass through isolated villages  on the way to your destination. Smoke rising from the chimneys of warm yurt camps curls across the hillside of the steppe, the Siberian taiga and the Gobi Desert.
Having existed in a Soviet bubble for most of the 20th Century, Mongolia is now welcoming tourists. This epic adventure destination remains off-the-beaten-path. If you choose to visit, prepare yourself for a wonderfully welcoming nomadic culture and vast, untouched landscapes.
In this country with a population of ten sheep for every person, you can travel for days without seeing a soul. That's why it's one of our favourite travel destinations. It's one of the last countries on Earth in which you can experience untouched wilderness. 
In a rush? Jump straight to the relevant section here!
Click any of the bullets below to be taken straight to that section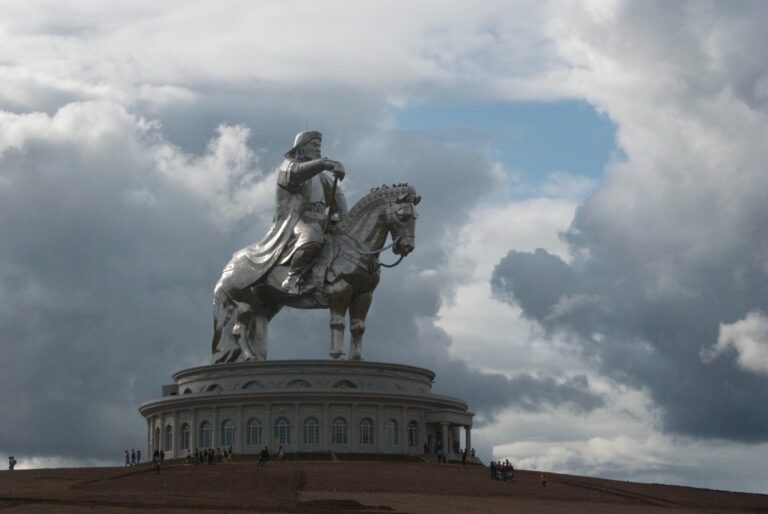 If you're in Mongolia for just a short amount of time, we recommend planning your adventures within Central Mongolia. There's plenty of activities to fill your time in the heart of Mongolia. It's loaded with historical artefacts, culture and adventure. 
Due to its proximity to Ulaanbaatar, the infrastructure in Central Mongolia is better than elsewhere in the country. And as you roll out of Ulaanbaatar in a Russian jeep (or even just a clunky old bus) it won't be long before the vast steppes of Mongolia begin to unfold before your eyes. 
Check out this map to see just how far this region stretches!
What to expect from Central Mongolia
Central Mongolia is a beautiful blend of history and nature. The centre of Chinggis Khan's Mongol Empire, this region contains many ancient monuments, from Turkic pillars carved with a mysterious runic script to monasteries which survived the Stalinist purges by being tucked away in the mountains. 
This vast region has marvellous scenery, including the Khangai Mountains, Terkhiin Tsagaan Nur (the Great White Lake) and the remote Naiman Nuur. There are countless opportunities for hiking, horse riding and camping. Central Mongolia is a truly undiscovered paradise.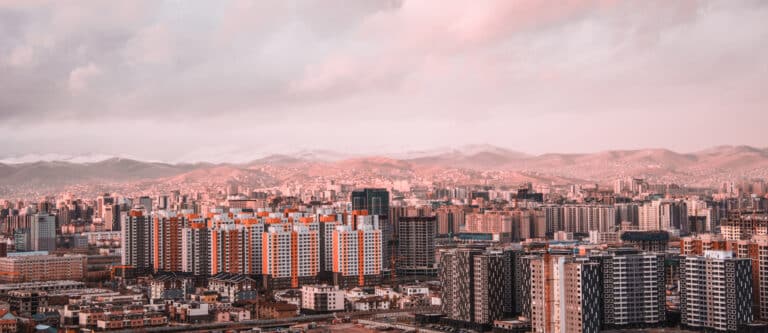 Things to do: Cities and Culture
All trains and planes stop at the capital city of Mongolia, Ulaanbaatar. Home to over half of the country's population, it's certainly not easy to navigate this sprawling, industrialised city of Soviet architecture. Ulaanbaatar isn't particularly beautiful either. But it's here that you'll discover world-class museums, international cuisine and thriving nightlife. It's ridiculously cheap too. 
Be sure to check out the National Museum of Mongolia to appreciate the country's ancient past which covers everything from the Mongol Empire to the World Wars and the Soviet Union. Also don't miss Sukhbaatar Square, which holds a Chinggis Khaan Statue, the Parliament House, the Cultural Palace and National Art Gallery.
Ulaanbaatar is home to some of the country's best restaurants, so don't forget to sample some Mongolian cuisine whilst you're here. Strolling around, you're bound to find something you fancy. If you're vegetarian or vegan and worried about the nomadic diet of meat and dairy, don't panic. We managed Mongolia on a plant-based diet and you can too! 
The ancient capital of the Mongol Empire (c. 13th Century), Kharkhorin will be one of your first stop-offs on your tour of Central Mongolia. The town itself is fairly nondescript. What makes this an ideal stopping point are the remains of 16th Century Monastery, Erdene Zuu Khiid, and the impressive museum that accompanies it.
Like us, you'll probably stop off at Kharkhorin on your way out of Ulaanbaatar. This town makes a wonderful base for those looking to explore Central Mongolia.  It's within striking distance form a number of worthwhile sights; the lakes of Naiman Nuur; Orkhon Valley & Khürkree waterfall; the secluded Tövkhön Khiid Monastery; the sand dunes of Mongol Els and the rocky nature reserve of Khögno Khan Uul. Kharkhorin is also a great place to arrange a nomadic homestay to experience Mongolian culture.
On our way to Kharkhorin, the weather was too cold to camp, as we'd planned. It's said that Mongolians are famously hospitable and will treat you like a member of their own family. This was proven to be true when complete strangers invited us into their home, shared their food and gave us a place to sleep in their ger for the night. I recommend arranging a nomadic homestay near Kharkhorin through your guide to be guaranteed this wonderful experience.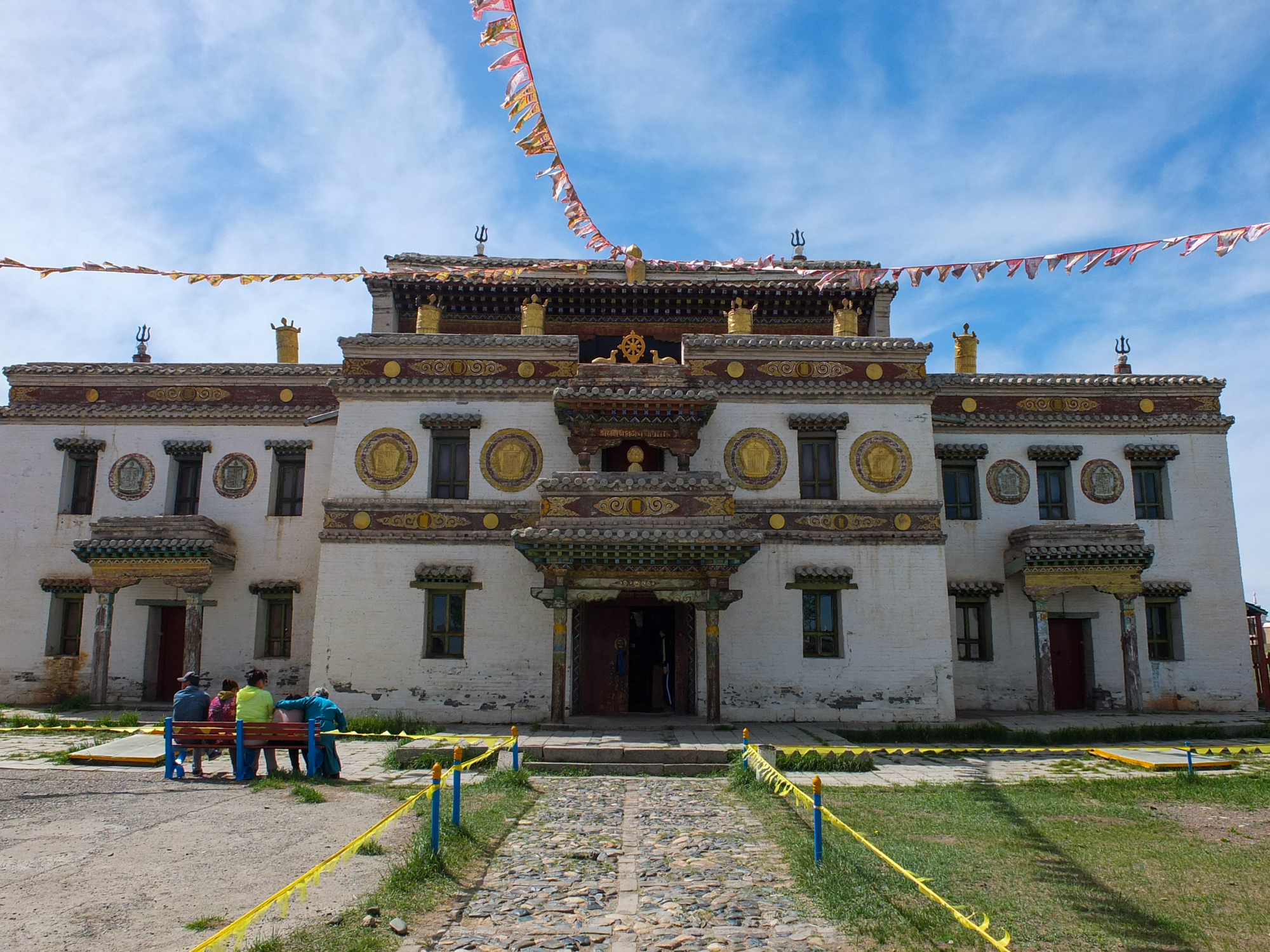 Founded in 1586, Erdene Zuu Khiid was the first and most important Buddhist monastery in Mongolia. At its peak, it had up to 100 temples and 1000 monks who lived in gers nested inside the protective walls. 
This monastery has survived centuries of invasions, political shifts, and religious purges. All but three of the temples were destroyed during the Stalinist purges of 1937 but the monks managed to save a remarkable number of artefacts by hiding them in the mountains. These have since been restored and the active Buddhist monastery now also serves as a museum, welcoming visitors from around the globe. 
We recommend hiring a guide for your trip to make the most of sights such as Erdene Zuu Khiid. There are few signs accompanying the artefacts or buildings and, on the rare occasions that descriptions are provided, they are not written in English. A guide will be able to tell you about the history of this historical site and any other that you visit. 
Another main draw for the town is the Kharkhorin museum. The exhibit contains artefacts dating from the 13th and 14th centuries which were mostly recovered from the town. Small but highly impressive, the artefacts are beautifully displayed, with pottery, bronzes, coins, religious statues and stone inscriptions in addition to a comprehensive history of the city
This is another case where it will be invaluable to have a guide, as many of the artefact descriptions are written in Mongolian or Russian (cyrillic alphabet) with few English translations.
Things to do: Nature and Wildlife
Immediately south of Ulaanbaatar likes the Bodgkhan Uul Nature Reserve, said to be the world's oldest. Historically, the park has been guarded by two-thousand club-wielding lamas to protect the animal population from poachers. These days, it's both safe and legal to enjoy the park and its wonderful hiking and horse riding trails. 
Bogdkhan Uul has multiple hiking routes which criss-cross across the large and flat summit of Tsetseegün Uul. It's possible to hike this route as part of a day or overnight hike. There's also opportunities for horse-riding when organised through a tour operator in Ulaanbaatar. 
The proximity of Bogdkhan Uul to the capital makes this a great location for travellers who want to get a taste of Mongolia whilst passing through as part of a longer Trans-Siberian Railway trip.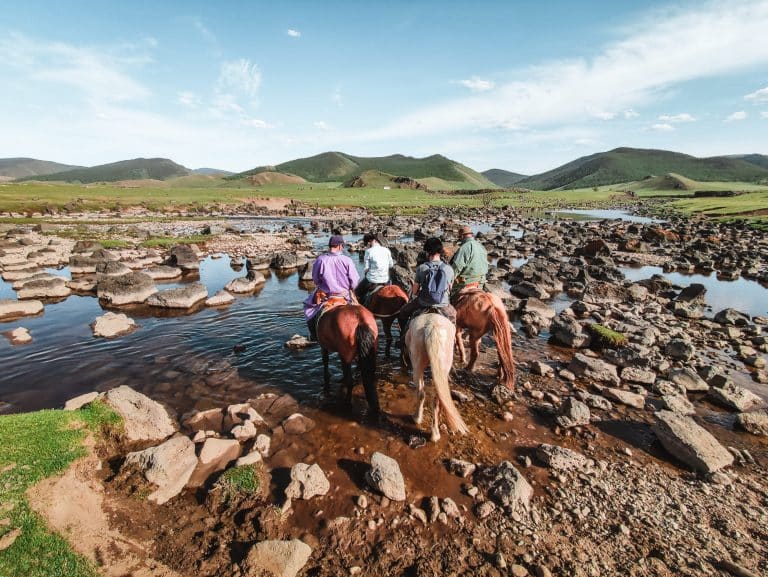 Gorkhi Terelj National Park
Just 55km north of Ulaanbaatar, Terelj National Park is a great way to make the most of Mongolian wilderness, especially if you're only passing through (e.g. on your way as part of a Trans Siberian Railway trip). Its proximity to the capital means that this National Park is geared up for tourism. It's a great location if you want to experience Mongolia without hiring a guide with a 4WD as you can get there by public transport. 
These cool alpine forests and beautiful hills and valleys have plenty of opportunities for hiking, swimming, river rafting and riding the famous Mongolian horses.  Those that are a fan of winter sports will enjoy skiing and dog sledding in the colder months. 
Particularly interesting to visit is the Gunjiin Sum Buddhist Temple which was not destroyed as part of the Stalinist purges. You can also visit the 100 Lama's cave, where 100 lamas hid in an attempt to escape the communist purges. 
Remember to stop by the Chinggis Khan Statue on the way from Ulaanbaatar. This 40m tall figure stands out sharply. You can climb into the horse for panoramic views of the surrounding steppe.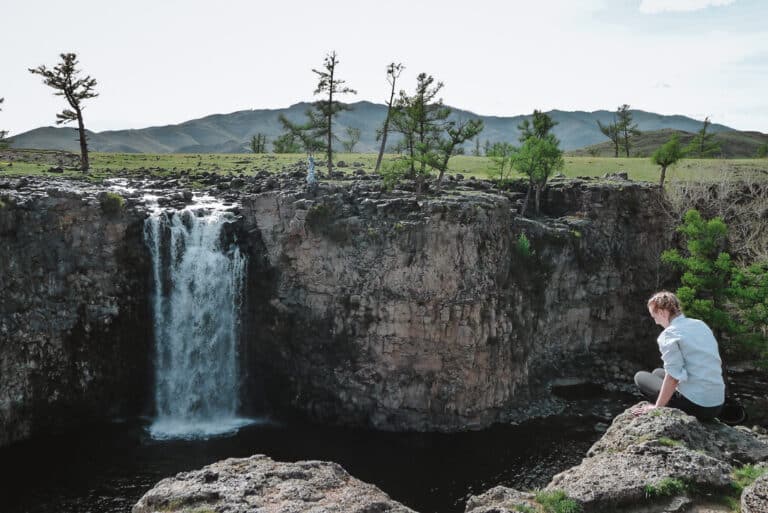 If you're planning a trip to Mongolia to embrace the vast, mountainous steppe then the Orkhon valley region should be on your itinerary. Bumping along in a jeep all day, passing through groups of goats and sheep that scurry out of the way, you'll hardly see another vehicle. Herds of semi-wild horses graze in the distance. Herds of grazing yaks and wild camels are scattered across the hills. Pointed, white gers sprinkle the steppe, contrasting against the lush greenery.
This route is popular with tourists travelling through Central Mongolia. Orkhon Valley is home to the Orkhon Khürkree Falls, Mongolia's tallest waterfall – impressive but still on the small side. There are multiple ancient monuments and burial sites to visit, all inscribed with Mongolian runic script. Opportunities for horse riding are plentiful. There are plenty of places to pitch a tent and there are a few tourist ger camps dotted around if you're looking for a more luxurious option. 
Orkhon Valley is also home to Tövkhön Khiid, an ancient monastery tucked away in a mountainous pine forest. Established in 1648, this scenic temple is now a place of pilgrimage for modern Mongolians and tourists alike. It is considered the birth of Tibetan Buddhism in Mongolia. 
I found Orkhon Valley to be the perfect place to relax for a few days and experience nomadic life. We borrowed some horses to gallop across the valley, practiced Mongolian wrestling, and cooked dumplings with the family of our homestay. 
On the road to Eastern Mongolia, the lake, Ugii Nuur, (1387 meters above sea level) is a wonderful place for bird-watchers. Cranes and ducks migrate to the area in late spring and remain here throughout the summer. The pristine lake is also perfect for fishing, with plenty of perch and pike. 
The lake makes a nice overnight break between Ulaanbaatar and Tsetserleg. We camped by the banks on our way back to the capital but there are a few tourist ger camps and a restaurant for those that prefer a little luxury. If you eat at the restaurant, the owners are happy to let you try out their archery equipment too!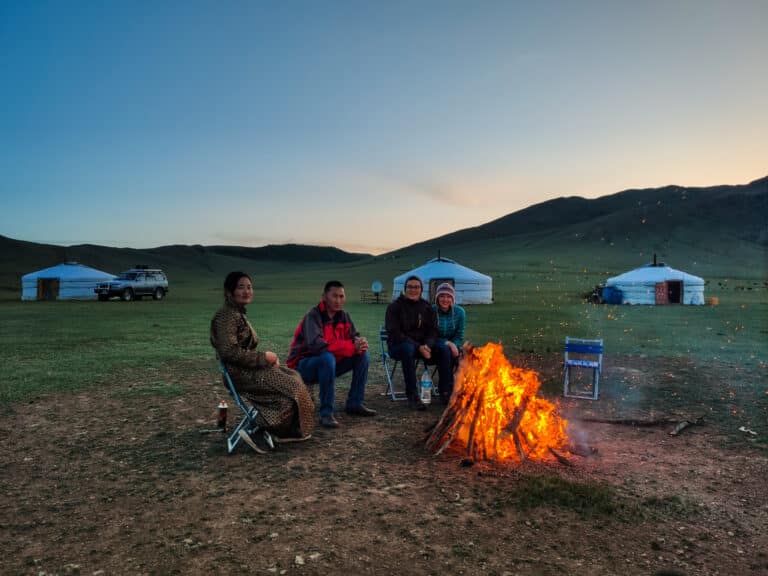 Khustain Nuruu National Park
Also known as Hustai National Park, this area was recently established to protect Mongolia's wild horse, the takhi. A wonderful place for wildlife-lovers, this area is also home to maral (asiatic red deer), gazelles, deer, boars, Pallas' cats, wolves, and lynx. Wildlife watching is best at dusk and dawn so it's worth staying overnight in the park to maximise your chances at spotting a rare species. 
There's plenty to do here. As in most of Central Mongolia, there are countless opportunities for hiking and horse riding. There are Turkic graves southeast of the park which you can ride or drive to. Slow travellers might also like to take part in eco-volunteer programmes, three-week programmes where you can volunteer to help out with research projects like that of the takhi.
Terkhiin Tsagaan National Park & Lake
One of Central Mongolia's 'standout sights', Therkiin Tsagaan National Park contains two 'jewels' of Mongolia. The freshwater Terkhiin Tsagaan Nuur (Great White Lake) glistens against the dramatic backdrop of the extinct volcano, Khorgo Uul.
The area is a wonderful place to relax by the lake, pitch a tent, swim, fish, and go hiking and horse trekking. You can climb the extinct volcano for excellent views over the lake and pine-clad hills. Wildlife-watchers will be amazed by the biodiversity of the area which is home to chitals, marsh deer, wild boars, ducks and great cormorants.
Tsenkher Hot Spring Resort
After an active trip of hiking, horse riding, camping, and (most likely) a limited number of showers, Tsenkher Hot Spring Resort is the perfect place to chill out before heading back to the capital. Set between forested hills, the hot springs are a popular location for locals in the summer and a great detour for travellers to Central Mongolia. 
If you're expecting picturesque natural pools you'll be disappointed. A resort has sprung up around this popular location and the spring water is pumped into a series of temperature-regulated wooden tubs and pools. Nevertheless, it's still a lovely place to relax after a bumpy jeep ride and worth a visit to enjoy the hot showers you'll have undoubtedly missed during your journey across Central Mongolia.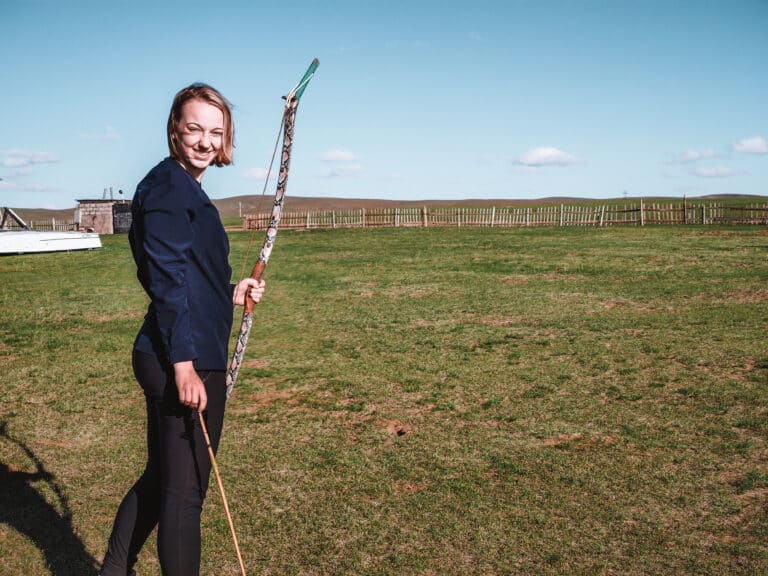 The best time to visit Central Mongolia is during the Mongolian summer, from June until August. The weather is mild to warm, and there are enough sunny days and sufficient rainfall to make the steppes lush and green. July is the best time to experience the Naadam Festival, an ancient nationwide cultural festival of horse riding, archery and Mongolian wrestling. 
That said, you can still have a great time in the shoulder-season. We visited in May and the weather was beautiful, but trails were dusty and nights were chilly. Visiting in September or October will see the steppe explode in autumnal colours and temperatures will be similar to May. A trip in March will allow you to experience the Golden Eagle Festival in Ulaanbaatar.
Winter is not the best time to visit Mongolia. It's cold. Frozen toes and eyelashes cold. Ulaanbaatar holds the record for the world's coldest capital and the rest of the country follows suit. The steppe is covered in permafrost, lakes are frozen over and temperatures rarely reach above -15°C. But for those that are properly prepared, winter in Mongolia can be dazzlingly beautiful. For those that love the cold, long-distance ice skating, skiing and dog sledging are possible within Central Mongolia over the winter seasons.  February is a particularly fun month for events, with Ulaanbaatar's Winter Festival and Nomadic Culture Festival. You can also experience Mongolian celebrations for Tsagaan Sar, or Lunar New Year.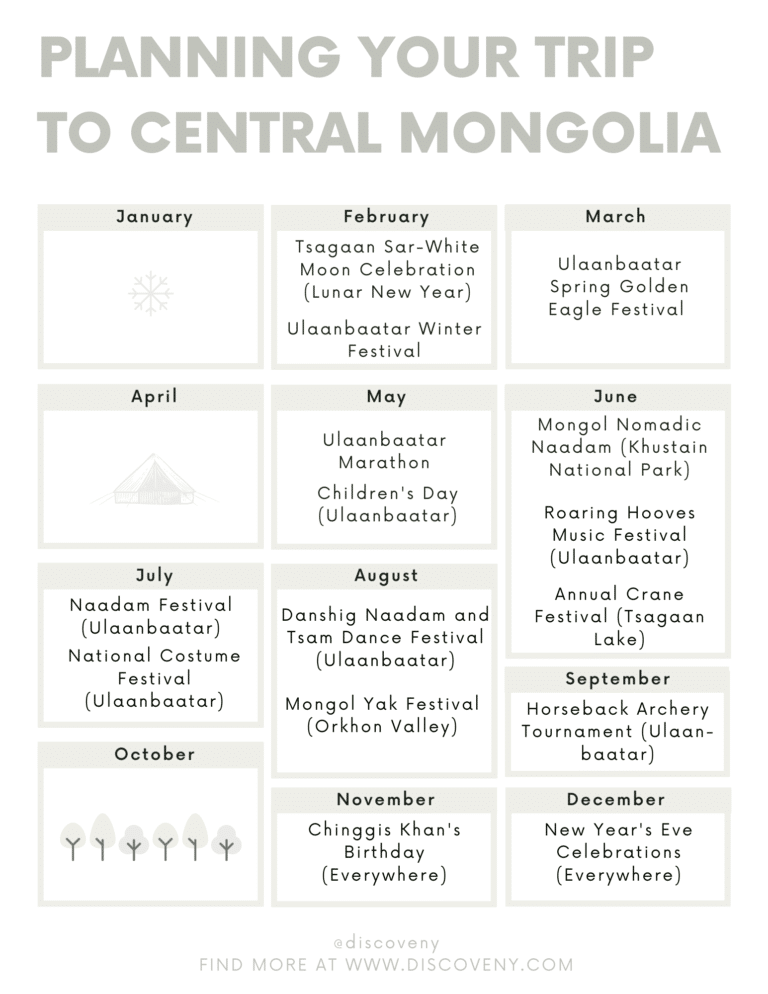 There are two main ways of getting to Mongolia. Train and Plane. All routes will lead you to the capital, Ulaanbaatar.
Flights are run year round by Mongolia's National Airline (MIAT) to Europe (Germany via Moscow) and several cities in Australia (via Hong Kong) as well as direct flights to Beijing, Seoul, Tokyo, and Delhi. Flying causes a lot of emissions which contribute to global warming and the progression of climate change. If you intend on flying, I recommend that you remain in Mongolia for at least two to three weeks and venture into other parts of this beautiful country. Those concerned about the effect of flying on the environment might want to check out how to offset their emissions.
Many travellers also choose to take the train through Mongolia as part of the Trans-Siberian Railway from Moscow to Beijing. This adventurous way of slow travel is much more sustainable and will take you through the beautifully diverse landscapes of China and Russia. Why not embrace this way of slow travelling? Make your trip through Mongolia a longer trip of a lifetime, a trip that you'll never forget. 
Although Central Mongolia is the closest area of the country to the capital, getting around can be difficult. Sandwiched between Russia and China, Mongolia appears quite small. However, the length of Mongolia stretches from the Southern U.K. to Eastern Ukraine. It's a huge country with an extremely small population and little infrastructure for public transport. 
Unless you're a very experienced driver and navigator, getting around Central Mongolia will be difficult. Most roads are unmarked and at times you won't even be on roads at all. Additionally, to get anywhere in Mongolia you'll need to hire and be comfortable driving a 4WD (expensive!) and driving is heavily 'off-road', you may even need to ford some rivers. There are no good up-to-date maps, very few road signs, and satellite service is patchy. 
Option 1: Hire a guide with a 4WD
I am very much a DIY traveller. I hate organised tours and the lack of freedom they bring. But Mongolia is the exception. To make the most of your experience, we recommend hiring a guide that speaks your language and/or a driver with an off-road vehicle, preferably one with 4WD. This will allow you to get the best experience in the most comfortable way possible. If you share the costs with others it doesn't work out to be too expensive.
Option 2: Travel the Mongolian way - on a horse!
You can also explore Central Mongolia on horseback through a multi-day horse trek. This is often more expensive but could be a great option for horse-lovers. Options to explore the National Parks on foot are also available through a hiking tour. 
Your guesthouse in Ulaanbaatar will be able to organise a tour at a reasonable price – you can even tailor it to your interests. It's important to note that it's bad form to stay in a guesthouse and book a tour with another. This is something that we didn't know before our arrival which caused a little hostility. If you want to brush up on your etiquette before your trip, check out this guide.
Amazing! You're now fully equipped with all the knowledge you need to make the most of your trip to Central Mongolia! 
To make the most of your trip and for more detailed information, we recommend grabbing a Lonely Planet. It makes great plane or train reading too and when you're done, you can pass it on or leave it in your guesthouse. 
Remember to check our complete packing list to make sure you don't forget a thing! And as always, reach out with any questions. Our inbox is open.
Follow our daily adventures on Facebook and Instagram
This post may contain affiliate links (yay for transparency!) This means that I will earn a small commission, at no additional cost to you, if you click the link and choose to buy the product. I only link to stuff I have personally bought and found useful and never endorse crap. Your support helps keep the site going, thank you!