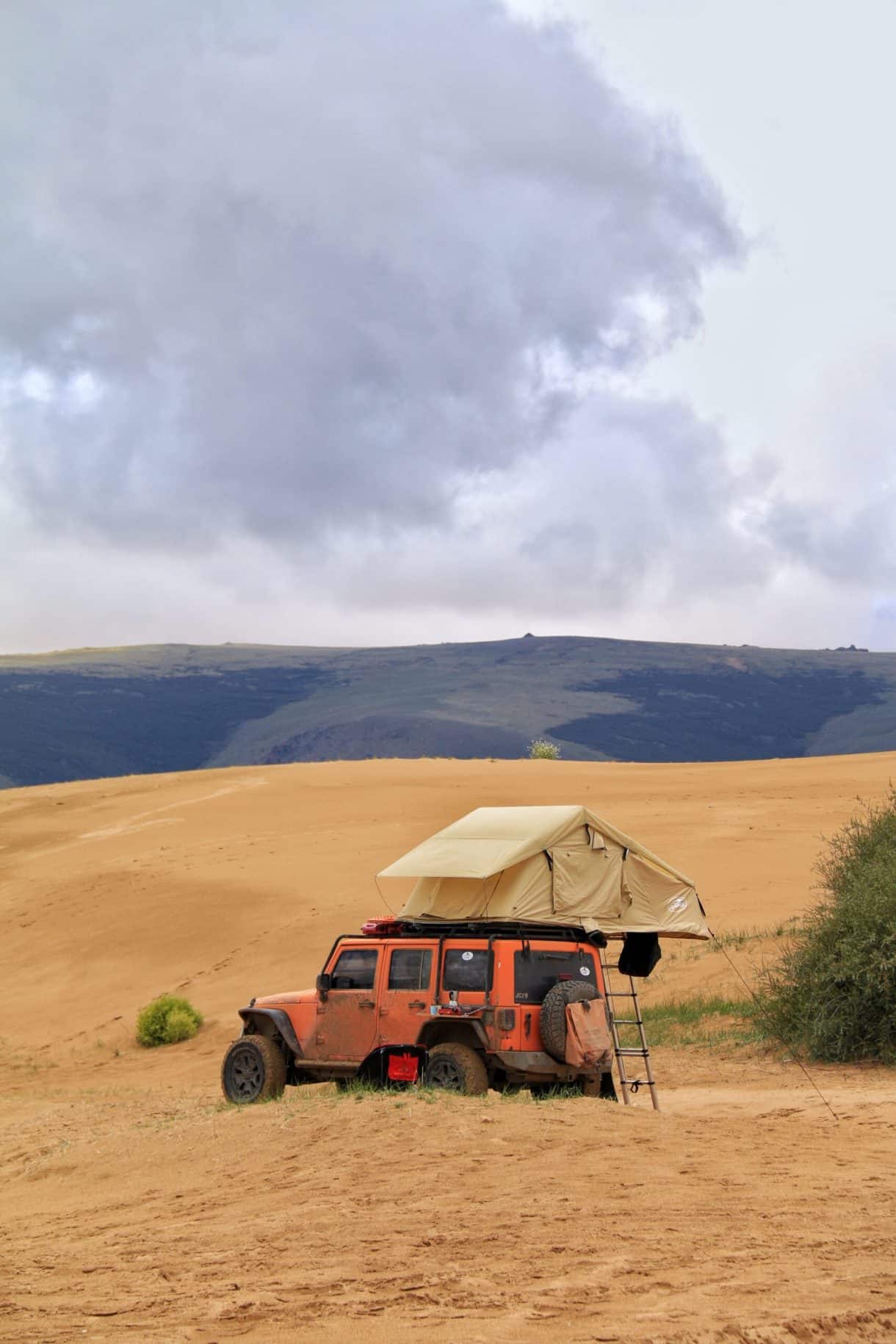 Southern Mongolia & The Gobi: The Complete Guide
Mongolia, at the eastern end of Central Asia,  is a setting of steppes and forests, remote mountains and arid plains. Smoke rises from the chimneys of warm ger camps tucked between the dunes of the Gobi. Desert foliage shimmers in greens and golds and gazelles sprint across the hills. At night, galaxies explode; a starry splash across the midnight canvas
Having existed in a Soviet bubble for most of the 20th Century, Mongolia is now welcoming tourists. This epic adventure destination remains off-the-beaten-path. Mongolia is one of the last countries on Earth in which you can experience untouched wilderness. If you choose to visit, prepare yourself for a wonderfully welcoming nomadic culture and vast, untouched landscapes. 
In a rush? Jump straight to the relevant section here!
Click any of the bullets below to be taken straight to that section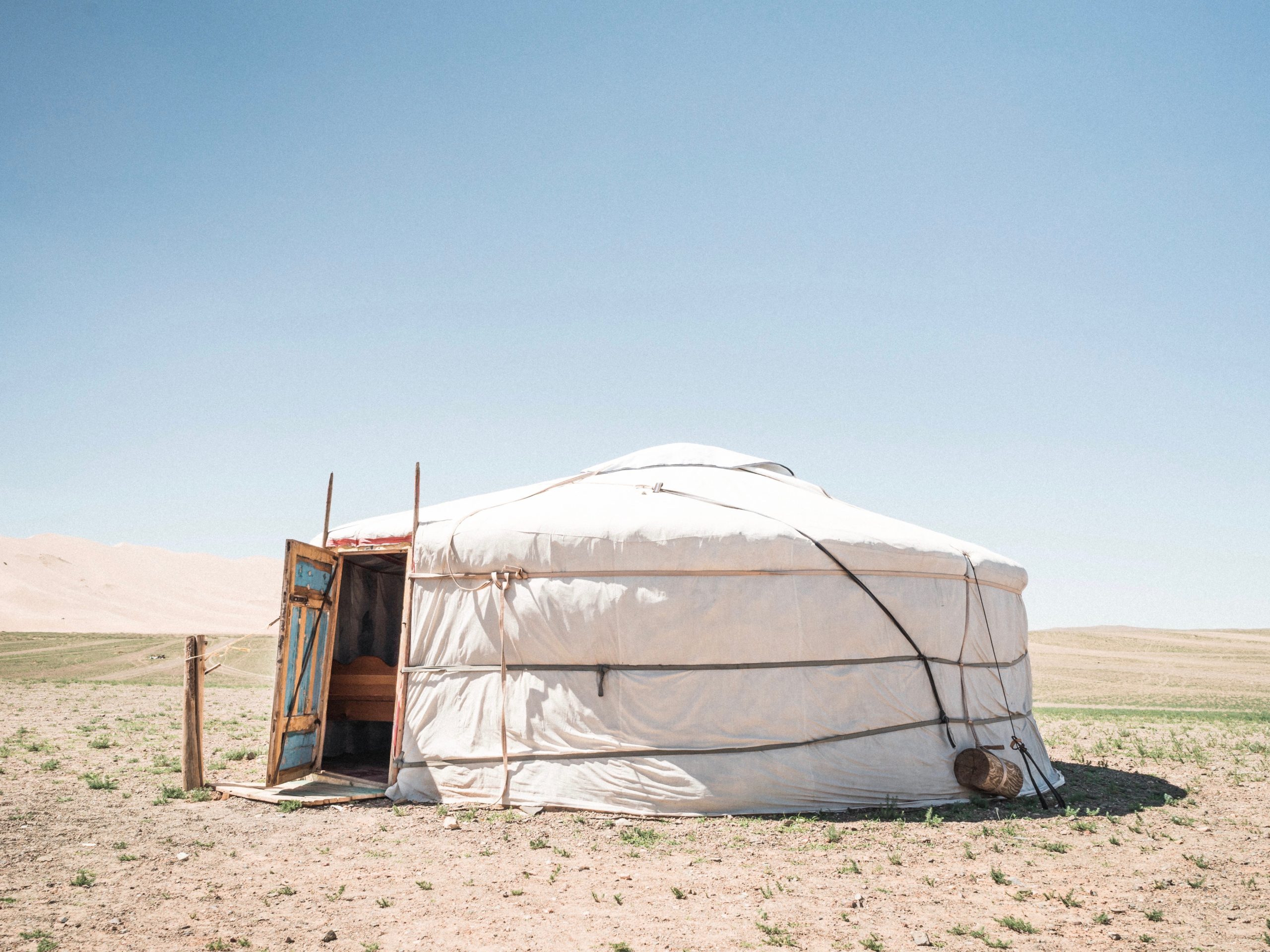 Southern Mongolia & the Gobi
The Gobi Desert stretches across Southern Mongolia and Northern China. It's one of Mongolia's top regions, promising colossal sand dunes, ice-filled canyons, camel treks and dinosaur fossils. As always, there's an abundance of nomadic herders who will shower you with warm smiles and milk tea.
Google maps is not accurate in Mongolia. The map below will give you an indication of distances between popular sites, however, we recommend downloading the What3Words app and saving it for offline use before your trip. 
Check out this map to see just how far this region stretches! 
What to expect from Southern Mongolia & the Gobi
Southern Mongolia and the Gobi is a beautiful region for adventurous souls.
The Gobi reveals itself in pockets of amazing scenery bridged by vast stretches of desolation. Smartphone signals flicker and die out and fresh winds carry the sound of silence across the sand. Much of the Gobi is not actually sandy but instead has exposed bare rock. It's a 'cold desert' and sees frequent frosts and snowfall with lows of -40°C in winter. However, in summer temperatures soar to +45°C.
The paleontological record of the Gobi is astounding, littered with fossilised bones and ancient dinosaur eggs. There are huge regions where the annual number of tourists can be counted on one hand. But this region offers experiences like no other. Trekking across the sand dunes on a camel, watching the orange glow of the sun bathe the golden sand dunes and camping out under the starry sky. If you visit the Gobi be prepared for a real adventure.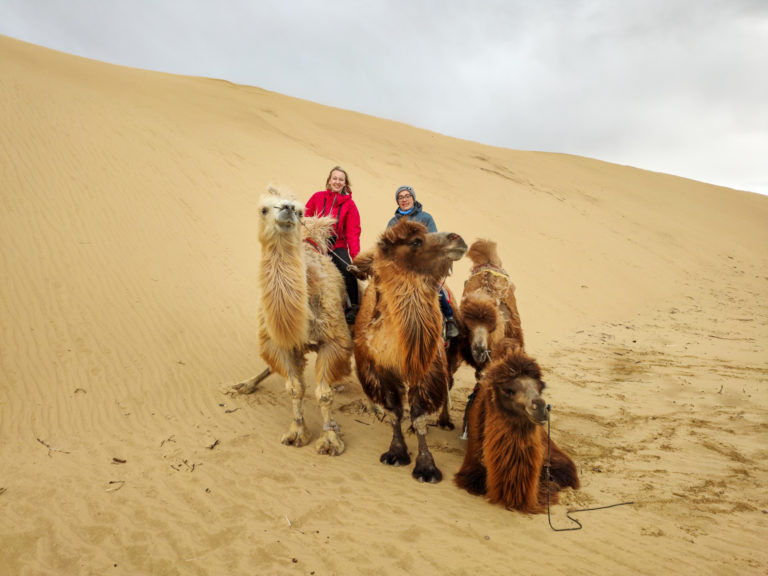 Things to do: Culture and History
Ok, most of these are monasteries. Mongolia isn't home to many large museums and you'll find the best ones back in the capital. But these cultural sites will give you an insight into Mongolia's religion and people. 
Once a place for devoted Buddhist scholars to seek enlightenment, the largest and most important religious centre in Mongolia now lies in ruins. This mountainous nook nestled against the Ongiin Gol River was formerly home to twenty-eight buddhist temples and four universities but was destroyed by soldiers in the 1930's. Monks reside here once again and are slowly restoring these ruins. There's an excellent museum showcasing historic artefacts from the site. 
Strong desert winds whip the prayer flags of this expanding monastery complex. Unlike most Mongolian monastaries Khamaryn Khiid isn't a relic of the past. This colourful and active monastery is alive with the sounds of drums, the rustling of scrolls and the smell of incense. Atmospheric is one word to describe it!
Keep going and you'll discover a sacred Shambala site, where locals come to chant and pray. Get swept away in the moment, or head on to Bayanzürkh Uul, the mountain home of a spirit. The temple halfway up the mountain is as far as local women can go, but foreigners can head all the way to the top. Once you get there, you are required to make three wishes and circle the summit. 
Things to do: Nature and Wildlife
Baga Gazryn Chuluu Nature Reserve
The name certainly doesn't lie! Baga Gazryn Chuluu translates as 'rocks in a small place' and these spectacular granite rock formations stand prominently in the middle of the flat dusty plains. In the summer, these red rock mountains provide a stunning contrast against the blue skies and green grasslands. The highest peak here (1768m) takes about an hour to climb and the availability of freshwater springs make this a great place in the desert to camp. 
Whilst you're there, check out the ruined 10th century temple of Süm Khökh Burd. This religious site sits on an island in the middle of the lake, but was abandoned and left in ruins just centuries after it was built. Now a theatre, the ruins are beautifully illuminated on nights attended by guests and speakers. During Naadam, you may be lucky enough to stumble upon a performance. 
If you're not impressed by Baga Gazryn Chuluu, venture south to Tsagaan Suvarga. These 400m long white sand cliffs are striped with pastel shades of purple, orange and red. With more colours and fewer tourists, it's the perfect place for a photo opportunity.
The 670-sq-km nature reserve of Ikh Nartiin Chuluu is worth a visit. Prayer flags flutter in the wind, looped around rocky outcrops. There are prayer beads hanging from weather-worn holes, left as offerings. The canyon has an magical, almost-spiritual feel. Scramble up navigable rock towers and enjoy views of gleaming, glittering, crystal beauty from above. 
Mountain goats leap fearlessly between rock pillars. Gazelles, and wolves and other wildlife patrol the valleys as vultures circle above. Make sure to check out the burial mounts and petroglyphs too!
Gurvan Saikhan National Park
Gurvan Saikhan National Park is one of Mongolia's most popular, with towering mountains, ice canyons and, of course, the Gobi's iconic sand dunes. In addition to spectacular natural beauty, the park is home to over 200 bird species. Endangered snow leopards patrol the peaks of the most deserted areas and wild camels roam the dunes.  
Most travellers see only a fraction of this area, sticking to the main sights. But give it the time and you'll be able to reach the western side, an eerie area so lacking in life that you could be on Mars. 
Some of the largest and most spectacular sand dunes in Mongolia, Khongoryn Els should be on the itinerary of anyone passing through Gurvan Saikhan. Also known as the Duut Mankhan (Singing Dunes), this strip of sand dunes stretch 300m high, 12km wide and 100km long. Getting to the top is exhausting. Every step forward is followed by a slight slip back as the sand shifts under your shoes. But the views from the sandy summit are truly wonderful.
This is a great place to arrange a multi-day camel trek with a local herder. You'll have to walk to the top of the dunes yourself, but the camels can help to carry your camping gear. Although not always an easy ride, a two or three day camel trek through the sand dunes would be a trip highlight.
A dirt road winding through the arid, rugged Altai mountain range, Yolyn Am translates to 'The Vulture's Mouth'. This gorge is a popular site thanks to its dramatic cliffs, which provide enough shade to allow swirls of blue-veined ice to persist year-round. The ice cannot be reached by vehicle, making this the perfect place for a short horse trek. Keep an eye out for shaggy wild yaks and maybe even an ibex! Before you leave, make sure to check out the Yolyn Am Nature Museum for crystals, dinosaur eggs and fossils discovered in this very region.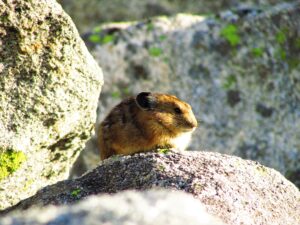 Keep an eye out for this small mouse-like creature, the Pika, which you may see darting between the rocks and crevices. They're incredibly cute but extremely difficult to photograph. Could this mammal be the inspiration behind the famous Pikachu?
Things to do: Eco-Adventures
Dundgovi is one of the most convenient Gobi regions to explore, lying just a few hours south of Ulaanbaatar. There are so many things to do in this aimag (province). 
One of our favourite activities in Dundgovi is Byamba's Tree Nursery (Gobi Oasis Mongolia). Byamba Tseyen helped to set up, and now maintains, a small tree-planting nursery in Mandalgov. Over ten-thousand trees and shrubs fend off desertification (shifting of the desert's sands) and you can help too. The equivalent of £8 (10 EUR) will get you lunch at their family home, plus your very own sapling to plant. 
Experience a Nomadic Homestay
Mongolian people are famously hospitable, and a highlight of many trips into the Gobi Desert is staying in the ger of  a herder family. Just over 50% of Mongolian people live and work the land, and have done  for generations.  In contrast to more tourist-focused activities, your schedule will fit around them as they go about their daily lives.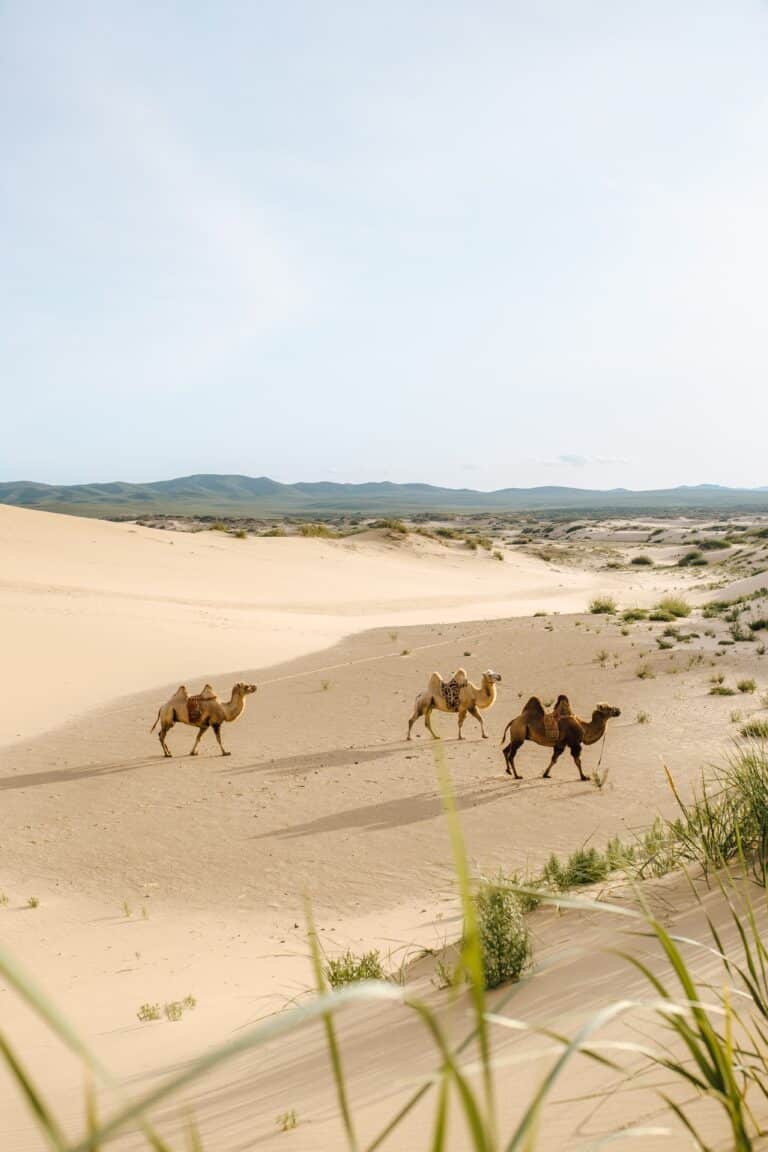 The best time to visit Southern Mongolia & the Gobi is during Autumn, from September to October. Southern Mongolia in winter and summer has incredibly harsh weather. June, July and August are extremely hot in the Gobi desert with temperatures  of up to +45°C. The air is dry, the sand is scalding and there's not much cover. Winter temperatures in the Gobi are equally dramatic and can drop to as low as -50°C.
That said, there are many enjoyable cultural events throughout the winter and summer. We're a firm believer that there's no such thing as 'bad' weather, only bad clothing and failure to prepare. A trip to the Gobi in winter will see you experiencing the famous Thousand Camel Festival, and, if you time it right, possibly Tsagaan Sar (Lunar New Year) too. The summer months are the time of the Nomadic Naadam Festival and the Gobi Sand Festival, amazing events if you can stand the heat.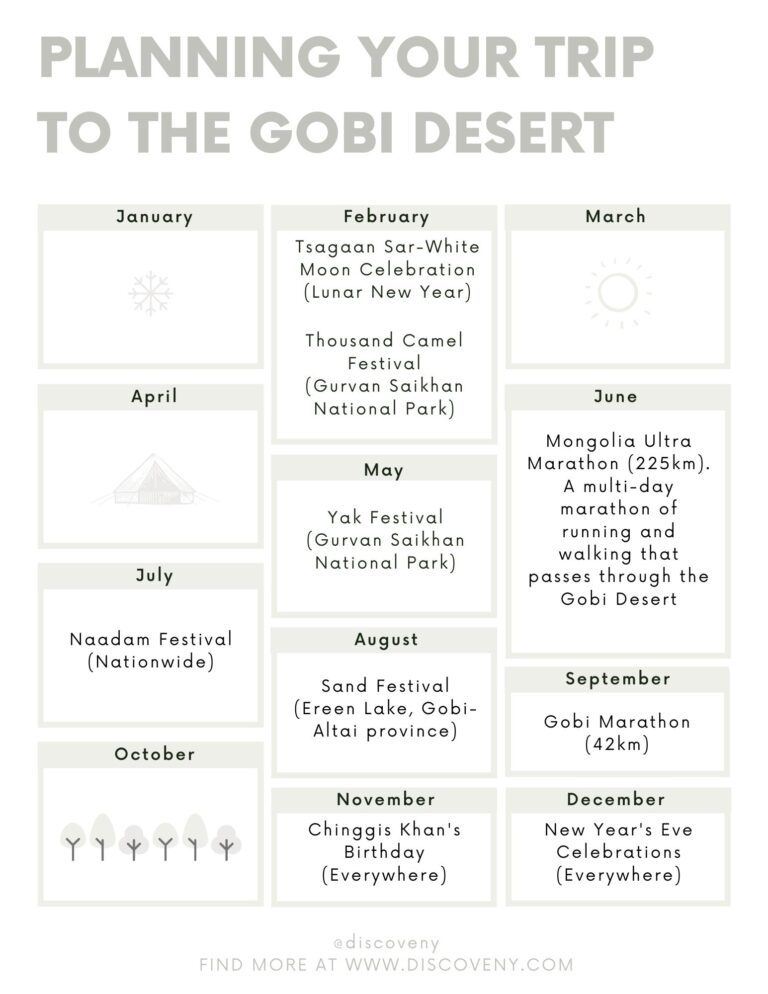 There are two main ways of getting to Mongolia. Train and Plane. Most routes will lead you to the capital, Ulaanbaatar. From there, there are plenty of shared minivans, taxis and jeeps that will take you to the Southern Mongolia aimag province capitals, as well as public buses. 
Flights are run year round by Mongolia's National Airline (MIAT) to Europe (Germany via Moscow) and several cities in Australia (via Hong Kong) as well as direct flights to Beijing, Seoul, Tokyo, and Delhi. From Ulaanbaatar, you can fly or travel overland to Southern Mongolia & the Gobi. Flying causes a lot of emissions which contribute to global warming and the progression of climate change. If you intend on flying, I recommend that you remain in Mongolia for at least two to three weeks and venture into other parts of this beautiful country. Those concerned about the effect of flying on the environment might want to check out how to offset their emissions.
Many travellers also choose to take the train from Russia or China as part of the Trans-Siberian Railway from Moscow to Beijing. This adventurous way of slow travel is much more sustainable. Why not embrace this way of slow travelling? If you want to travel through the Gobi, you can take local trains from China and cross the border at Zamyn-üüd. Why not make your trip through Mongolia a longer trip of a lifetime that you'll never forget?

There are good paved roads from Ulaanbaatar to Dalanzadgad, Bayankhongor and Altai. Flying is also an option to Dalanzadgad (daily) and Altai (weekly). However, in general infrastructure in the Gobi is non-existent. Public transport is infrequent and irregular and hitching poses small but potentially serious risks. You really don't want to get stranded in the middle of Southern Mongolia as it could be days or weeks before another vehicle passes by. 
That doesn't mean to say that it's hard to get about. On the contrary, jeeps and minivans whizz around the region, reaching hair-raising speeds of up to 100km/h.  But unless you're a very experienced driver and navigator, getting around the Gobi is difficult and breakdowns can be deadly. Most roads are unmarked and at times you won't even be on roads at all. You shouldn't think of setting off without a sturdy vehicle, a driver/guide and enough resources to sustain you all in an emergency.
Option 1: Hire a guide with a suitable vehicle
I am very much a DIY traveller. I hate organised tours and the lack of freedom they bring. But Mongolia is the exception. To make the most of your experience, we recommend hiring a guide that speaks your language and/or a driver with an off-road vehicle, preferably one with 4WD. This will allow you to get the best experience in the most comfortable way possible. Your guide will be prepared with all of the necessary equipment and will also function as your cook too. If you share the costs with others it doesn't work out to be too expensive.
Option 2: Multi-day horse or camel trek
Mongolians practically invented horse-riding, making this a great way to get around no matter where you are in the country. A Gobi alternative is a multi-day camel trek. Unlike their Middle-Eastern counterparts, the Bactrian camels of Mongolia have two humps. This gives you, the rider, a comfy spot to nestle for long-distance travel. 
Your guesthouse in Ulaanbaatar will be able to organise a tour at a reasonable price – you can even tailor it to your interests. It's important to note that it's bad form to stay in a guesthouse and book a tour with another. This is something that we didn't know before our arrival which caused a little hostility. If you want to brush up on your etiquette before your trip, check out this guide.
Amazing! You're now fully equipped with all the knowledge you need to make the most of your trip to Southern Mongolia & the Gobi! 
To make the most of your trip and for more detailed information, we recommend grabbing a Lonely Planet. It makes great plane or train reading too and when you're done, you can pass it on or leave it in your guesthouse. 
Remember to check our complete packing list to make sure you don't forget a thing! And as always, reach out with any questions. Our inbox is open.
Follow our daily adventures on Facebook and Instagram
This post may contain affiliate links (yay for transparency!) This means that I will earn a small commission, at no additional cost to you, if you click the link and choose to buy the product. I only link to stuff I have personally bought and found useful and never endorse crap. Your support helps keep the site going, thank you!