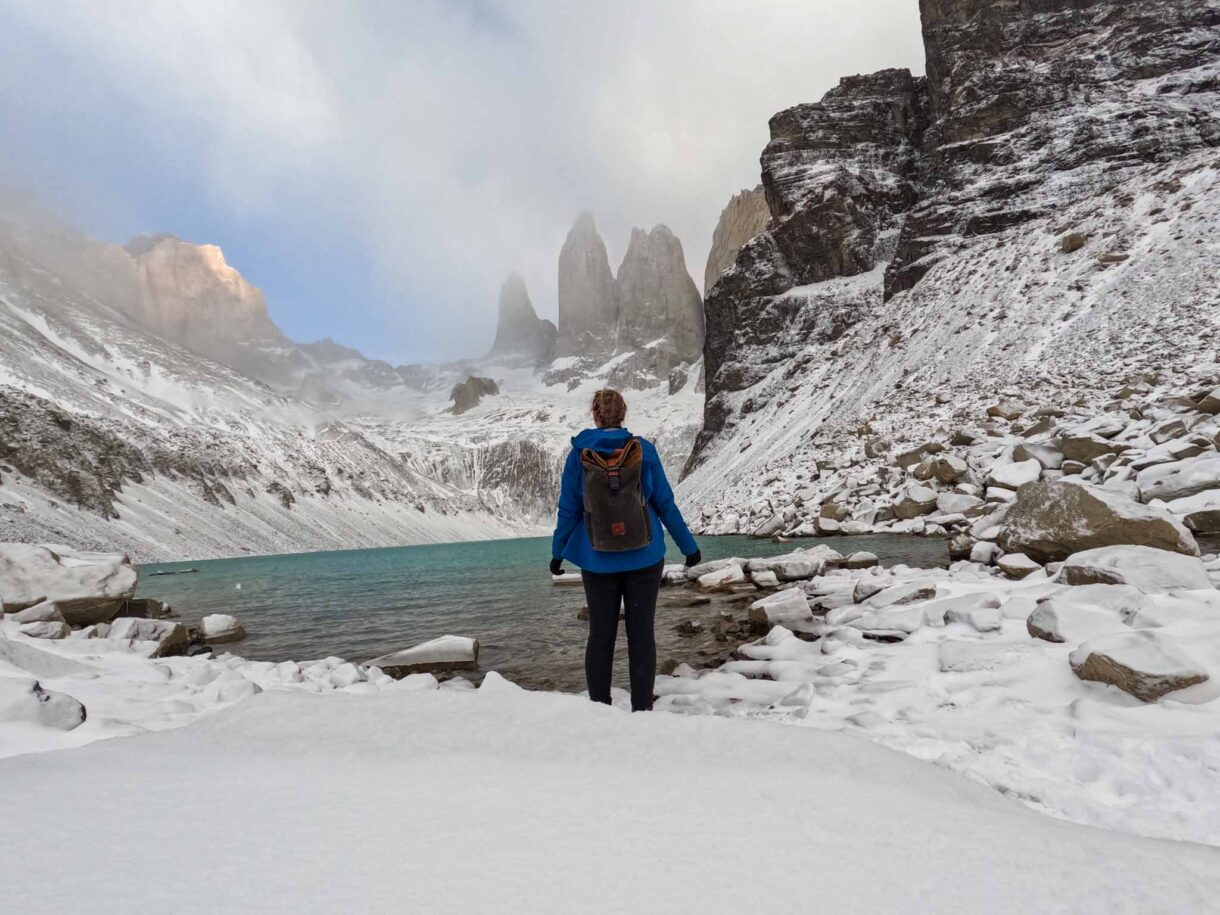 Chilean Patagonia in Winter: Everything you need to know (2023)
Your ultimate guide to visiting Chilean Patagonia in Winter, from two travellers who have been there, done that, and made mistakes so that you don't have to!
In summer, the striking mountains, lush green forests, and crystal blue glacier lakes of Chilean Patagonia draw tourists from around the world. Most tourists wouldn't consider visiting outside of the high season. However, winter (that's June, July and August in the Southern Hemisphere) is a great time to experience the untouched, wild side of this beautiful region. 
We visited Patagonia in June, and I fell in love with the snow-capped mountains and peaceful solitude of the region. Although it can offer extra challenges, and will most likely be a little more expensive than your budget backpacker trip in South America, the quiet trails and winter beauty made it worth every second to us. You'll have the whole place to yourself. When planning our trip, we found limited information about travelling in Chilean Patagonia in winter, which meant we made a lot of mistakes (and spent way more money than we should have done). That's why we wrote this guide to visiting Chilean Patagonia during the chilly winter months – so that you don't end up making the same mistakes we did! 
Note: this guide is about Southern Patagonia, including Puerto Natales, Punta Arenas, and the Torres del Paine National Park. Northern Patagonia (guide coming soon!) is just as beautiful and has so much to offer, as well as being less difficult to get to.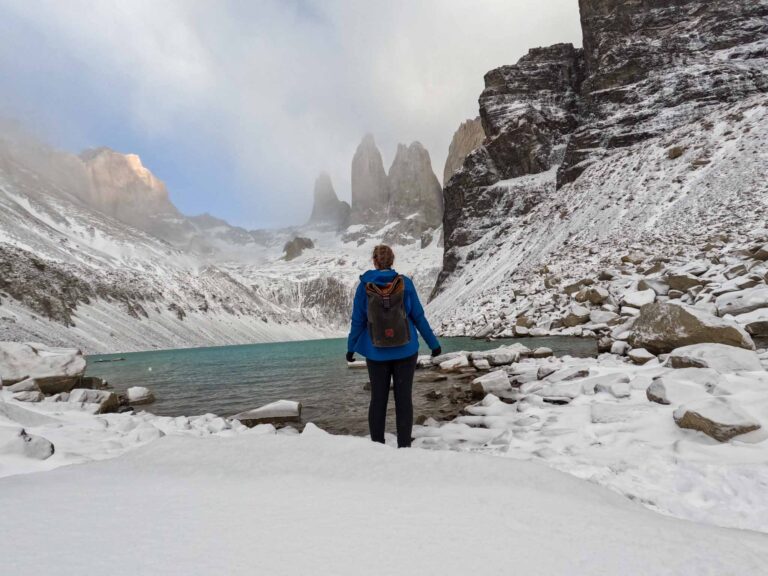 Hiking to the base of Las Torres – we had it all to ourselves!
When's the best time to visit Chilean Patagonia?
We're firm believers that there's no 'best time' to visit a country or area, as each season offers its own unique charm and appeal. Chilean Patagonia is beautiful year-round, with its stunning landscapes, wildlife, and natural wonders, and the 'best time' to visit this area will depend on what you, as an individual, are looking to get out of your trip. 
The summer months – December, January, and February – form the high season in Chilean Patagonia. The weather is mild but famously windy, and the days are longer, making it ideal for trekking and camping, but it also means larger crowds and higher prices.
In contrast, during the winter months – June, July and August – the region transforms into a winter wonderland with snow-capped peaks and unique opportunities to spot elusive wildlife such as the guanacos, pumas, and Andean condors. Winter in Chilean Patagonia offers a unique adventure that is perfect for those looking for an off-the-beaten-path experience. 
Visiting during the shoulder seasons of September to November or March to May can provide a quieter and more affordable experience, with stunning autumn or spring landscapes and colours to admire.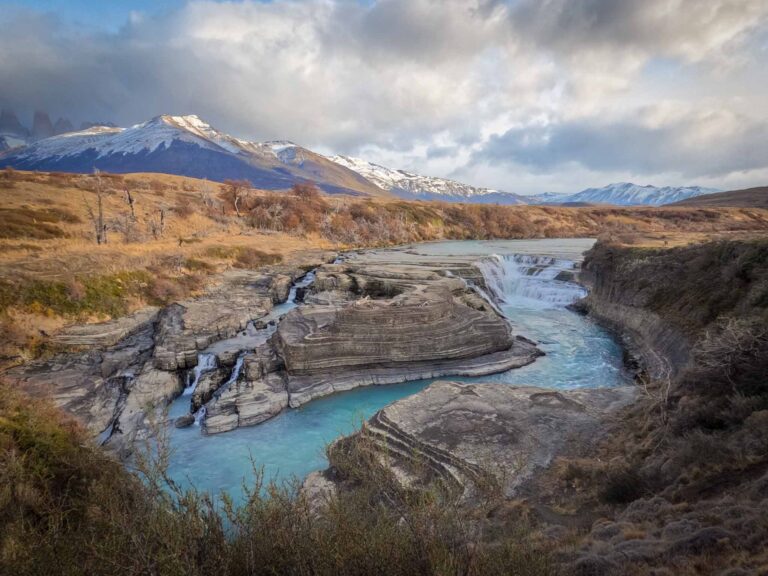 Why Visit Chilean Patagonia in Winter?
Winter is one of the best-kept secrets in Patagonia with snow-capped mountains, huge glaciers, and deep blue lakes. 
You can get cheaper accommodation, go on stunning snowy walks, avoid the crowds and enjoy fresh, clear, sunny winter days. There are fewer tourists, which allows you to explore the region at your own pace and enjoy a more intimate experience with nature. 
Plus, you'll be supporting the tourism industry during a season that can be difficult for many who rely on this for their income.
Here are some of my favourite reasons to visit Chilean Patagonia in Winter:
Get away from the crowds. Although the weather is colder and the trails may be more challenging, this is a great time of year to discover the wild side of Patagonia. Popular parks such as Torres del Paine lose their tourists, allowing visitors to enjoy a more peaceful and intimate experience with nature.
Better landscapes. Patagonia's rugged terrain, mountains, and glaciers transform into a snowy playground during the winter months. The conditions are also better, the relentless summer wind disappears, the sky is clearer, and there's more sunshine, providing stunning views and photo opportunities. 
Winter activities. Snow brings a host of unique winter activities. You can go snowboarding or ski down a volcano, try ice-climbing, or saddle up the horses for a ride through the snowy terrain. Many of the routes remain open during winter, you just might need to hire a guide! 
Better opportunities for wildlife watching. Fewer visitors you're far more likely to spot a puma as the crowds thin out and the elusive wildlife of Patagonia become braver as they venture from the high-altitude regions in search of food. You'll have a better chance of spotting puma, foxes, or condor, whilst herds of Ñandúes and guanacos are scattered across the rough terrain. 
See the Southern Lights. If you're lucky, you may even catch a glimpse of the Aurora Australis or Southern Lights, a natural phenomenon visible in the southern hemisphere similar to the more famous Northern Lights.
Better value for money. As Patagonia gets quieter during the colder months, many lodges and tour operators close for the winter. The ones that remain open often reduce their prices, which means you'll have more money to spend on excursions!
Should I visit Chilean or Argentinian Patagonia in Winter?
Both Chilean and Argentinian Patagonia offer incredible natural beauty and unique experiences.
If you are looking for winter sports, such as skiing and snowboarding, then Argentinian Patagonia may be the better choice as it offers several world-class ski resorts. We don't have a first-hand experience of Argentinian Patagonia, but many travellers reported that they found it to be cheaper than Chilean Patagonia in winter.
If you are interested in wildlife, glaciers, and hiking, then Chilean Patagonia may be the better choice. National Parks Torres del Paine and Bernardo O'Higgins offer amazing opportunities for trekking, glacier walks, and wildlife spotting.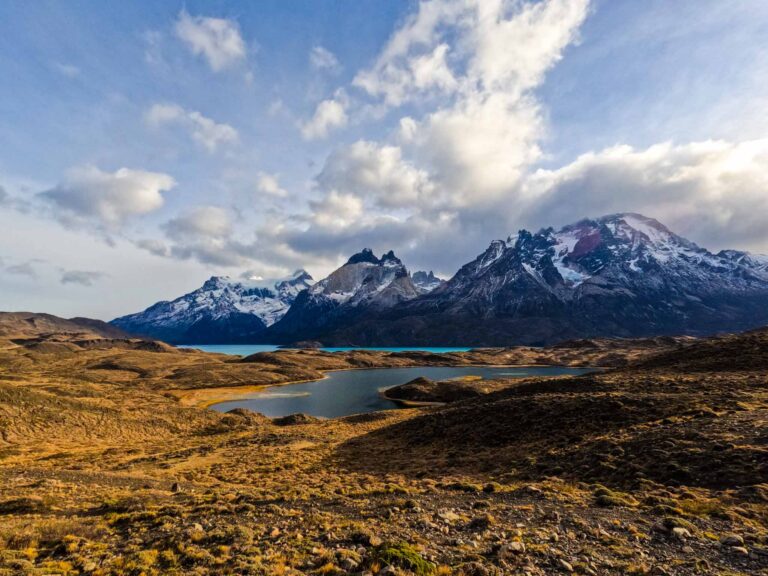 How to Visit Chilean Patagonia in Winter?
Now that I've convinced you to visit Chilean Patagonia in Winter, here are some logistics!
Where is Torres del Paine National Park?
If you're heading to Chilean Patagonia in the winter, you'll probably be heading to Torres del Paine National Park. Torres del Paine National Park lies in the far south of Chile, in the region of Magallanes and Chilean Antarctica. The park covers an area of approximately 242,000 hectares and is situated in the Andes mountain range, close to the border with Argentina. The nearest major city is Puerto Natales, which is located about 112 km (70 mi) to the south of the park.
How to get to Torres del Paine National Park:
As you can't currently travel overland from northern Chile – unless you want to go through Argentina – you'll have to transit via the regional airport in Punta Arenas. From the airport, you can take a bus to Puerto Natales, the 'gateway' to Torres del Paine. Both Bus Sur and Buses Fernández offer this route, which costs £10 GBP/$12 USD. There are buses every hour and they stop at the airport around 20-30 minutes after they leave Punta Arenas. Don't trust Google Maps! It's wildly inaccurate for most of Chile when it comes to bus times.
How to get around Torres del Paine National Park:
Gettting around Torres del Paine National Park in the winter cab be a little tricky. The regular buses that run during the high season stop making daily trips from May to September, and we didn't see any reliable public transport options operating during our stay in Puerto Natales. You have two options for exploring the park: go alone, or join a guided tour. 
Option 1: Go alone. Buses may not be a concrete option, but renting a 4×4 vehicle is an excellent alternative.  The roads to and from the park are well-maintained – you might need to take extra precautions if the weather is very wintry. 
Hitch-hiking could also work, but guided tours are unlikely to pick you up, and we only saw a handful of people driving around themselves. 
Option 2: Join a Tour.  Joining a guided tour is another option for getting around the park during winter. Most tours provide transportation and activities, ensuring that you get the most out of your visit while staying safe and comfortable. You can opt for day-trips from Puerto Natales (less expensive), or all-inclusive multi-day adventures (more expensive). 
Do I need a guide to visit Chilean Patagonia in Winter?
Ok, listen up, because we were fed a lot of misinformation when we were researching for this trip.
Many companies offer guided tours of Torres del Paine National Park. They'll tell you that this is the only way to see Chilean Patagonia in winter is with a certified guide. We bought into this and paid far more than we would normally for the once-in-a-lifetime opportunity to visit Patagonia in Winter. I was in Chile as part of a work trip, and although we are planning to see more of South America in the future, we don't plan to travel quite this far south again! It's logistically difficult and the budget-friendly options are concentrated in the north of the continent after all. 
Don't make the same mistake we did! 
Although companies advise that you require a certified guide to visit Torres del Paine in winter, this is only half true. Actually, you only need a certified guide for longer hikes. So if you're wanting to hike to the base of Las Torres in winter or complete the W trek, you'll need a guide. But shorter hikes, wildlife watching, and other activities do not require a certified guide!
Although we really enjoyed our time in Patagonia, we felt a bit ripped off when we realised that only one day of the four we spent in Torres del Paine legally required a certified guide. The same trek could have been booked through our hostel for less than 10% of the price, and we could have seen the rest of the park independently and at our own pace. 
What sort of budget should I have?
Let's talk about money! Chile is not a cheap country. Along with Argentina, it's one of the most expensive countries in South America. Here's a breakdown of what we spent: 
Accommodation isn't cheap in Chile, but it's far more reasonable during the winter months. We stayed at Yagan House Hostel in Puerto Natales, which I highly recommend – it's friendly, clean, and has good vibes. It cost around £21 GBP a night for a dorm room, or £50 GBP for a double bedroom with en-suite. 
Many of the refugios/hotels within the Torres del Paine National Park close during the winter. Our guide told us that Explora and Hotel Lago Grey are the only hotels within the park that stay open all winter, and they're EXPENSIVE. If you're visiting Torres del Paine National Park, your options are to pick one of these or to base yourself in Puerto Natales and take day trips.
Evening meals were around £25 ($26 USD) for two people. Groceries are relatively inexpensive, so we often made sandwiches for lunch – there's not much available to buy around Torres del Paine during winter, plus, it saves money! My favourite snack in Chile was half an avocado with a sprinkle of salt. Not only is it delicious, but it packs a punch with healthy fats that keep you full and satisfied all day. 
One of the great things about visiting Torres del Paine in the winter is that it is significantly cheaper. For foreigners, the 1-day (£21 GBP | $25 USD) and 3-day (£35 GBP | $42 USD) costs are halved during the winter season. When buying your pass at one of the entrance stations (open from 8:30 a.m. to 5:30 p.m) you must have your passport and pay in cash (only Chilean pesos are accepted during low-season). Make sure to get your ticket stamped on entry! You can check the park website for more details and updated fees.
Winter time in Torres Del Paine is incredible but it's definitely not a budget backpacker option. Our trip to Chilean Patagonia was the most expensive trip that I have ever taken (per-day cost). It took me a while to get over the price. Was it worth it? Heck yeah. But I could only justify it because so many of the costs of being in Chile (e.g. flights, insurance) were covered by my employer as part of my job at the time. 
Activities in Torres del Paine are generally expensive year-round. Here are some examples of how much things cost: 
4-day all-inclusive excursion in Torres del Paine National Park: £1500 GBP ($1795 USD). We went with a local company,

Chile Nativo,

and really recommend them if you're looking for an all-inclusive tour. 

Guided small-group hike to the base of Las Torres: £90 GBP (100 USD). This was the price available through our hostel. 

Full-day Kayak Excursion on Lago Grey: £185 GBP ($220 USD). We went with

Kayak Tutravesia

and loved every moment, even the parts that were so cold that I couldn't feel my fingers. 

Wildlife watching: FREE! Hire a car and drive around Torres del Paine National Park, hoping to spot the elusive Puma. You'll definitely see

herds of Ñandúes and guanacos, and we were lucky to see Condors too.

You can join an organised 2-day Puma tracking trip for about £650 ($785 USD)

Short hikes: FREE! You do need a guide for shorter hikes in the Torres del Paine National Park and can reach some amazing viewpoints that aren't far from the road
Visiting Chilean Patagonia in the winter is a unique and unforgettable experience. It's an opportunity to experience stunning landscapes, spot elusive wildlife, and travel sustainably. With the right preparation and mindset, you can have an incredible adventure that supports local communities and preserves the natural environment.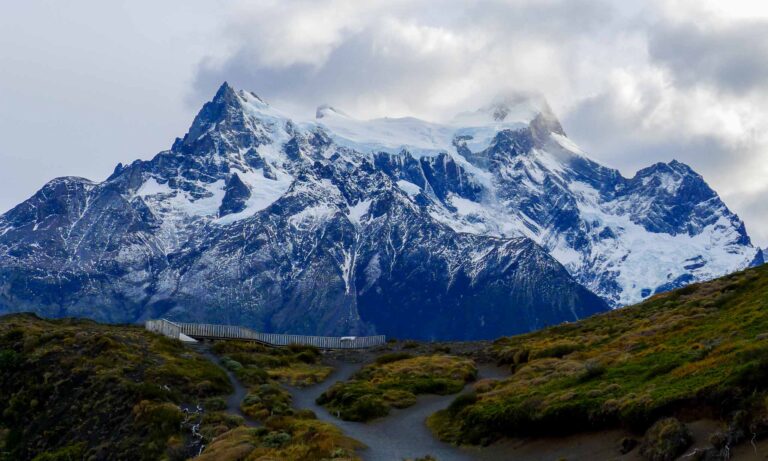 Q:  Is Patagonia in Chile or Argentina?
A: Patagonia is a region that spans across both Chile and Argentina. The region is located in the southern part of South America, and it covers an area of over 400,000 square miles.
Q: When is winter in Patagonia? 
A: Winter in Patagonia is between June and August. Northern Chile (San Pedro de Atacama, Santiago) is warmer and milder year-round. It's just the south that experiences a proper winter. 
Q: How cold is Chilean Patagonia in the winter?
A: Temperatures can range from -2°C to 8°C (28°F to 46°F) during the winter months. There's usually snow on the mountaintops and some of the higher trails above 1000m (3280ft), which only makes the views more special. Be sure to pack warm clothing and lots of layers
Q: What's the weather like in Chilean Patagonia during winter?
A: The weather in Patagonia is unpredictable year-round and it's not uncommon to encounter all four seasons in a day! We were lucky to encounter sunny days with clear skies, but the temperatures were chilly. Winds and snow can cause trail closures, so be prepared for changing conditions, and keep an eye on the weather forecast in the days leading up to your planned excursion.
Q: Is it windy in Torres del Paine during winter?
A: Although this area is also famous for its wild winds, the gusts die down from May  through September. We only encountered a short spurt of gusty winds when hiking to the base of Las Torres, but seeing as the valley was called 'windy pass' I think those particular gusts are here to stay!

Q: Is it safe to visit Chilean Patagonia in the winter?
A: Yes, it is generally safe to visit Chilean Patagonia in the winter. However, as usual, it's essential to take the necessary precautions when travelling in remote areas. Wrap up warm and make sure you have a plan for getting around.
Q: Is there anything to do in Chilean Patagonia in winter?
A: Yes, most of the summer activities, such as horse riding, hiking Las Torres or kayaking next to glaciers are available year-round. In the winter, many companies offer additional activities, such as snowshoeing and sledging.
Q: Do I need a guide to visit Chilean Patagonia in Winter? 
A: Contrary to what most travel companies suggest, you do not need a guide to visit Chilean Patagonia in winter. If you're visiting Torres del Paine National park, you will need a certified guide for longer hikes. The hike that you'll likely be wondering about is the viewpoint of Las Torres, which will require a guide in winter. See our section 'do I need a guide' for more information. 
Q: Can I hike the W and O trek in Torres del Paine in winter?
A: The famous W trek is open but it is mandatory to have a guide. The O trek is usually closed from the end of April, and opens again in November. This also means that the full Q Trek is not an option.
Q: What should I pack for Chilean Patagonia in Winter?
A: Layers are key! If you're planning to visit Patagonia in winter, pack a base layer (such as a long-sleeve top), a mid-layer (lightweight jumper), and a warm jacket (down jacket or parka). Patagonia is known for its unpredictable weather, so you'll also want a waterproof jacket and pants to stay dry. Add a hat, scarf, and gloves, and you're good to go! Oh, and don't forget your sunglasses and sunscreen! It may be winter, but the sun can still be harsh. 
Q: Do I need specialist gear to hike in Torres del Paine in winter?
A: It depends on where you want to go and what you want to do. If you're hiking at higher altitudes, warmer layers, waterproof hiking boots, and maybe even crampons may be needed. Many tours provide certain gear but be sure to check before the day of your excursion so you have the chance to pick something up in Puerto Natales before you go if you need.
Follow our daily adventures on Facebook and Instagram
This post may contain affiliate links (yay for transparency!) This means that I will earn a small commission, at no additional cost to you, if you click the link and choose to buy the product. I only link to stuff I have personally bought and found useful and never endorse crap. Your support helps keep the site going, thank you!