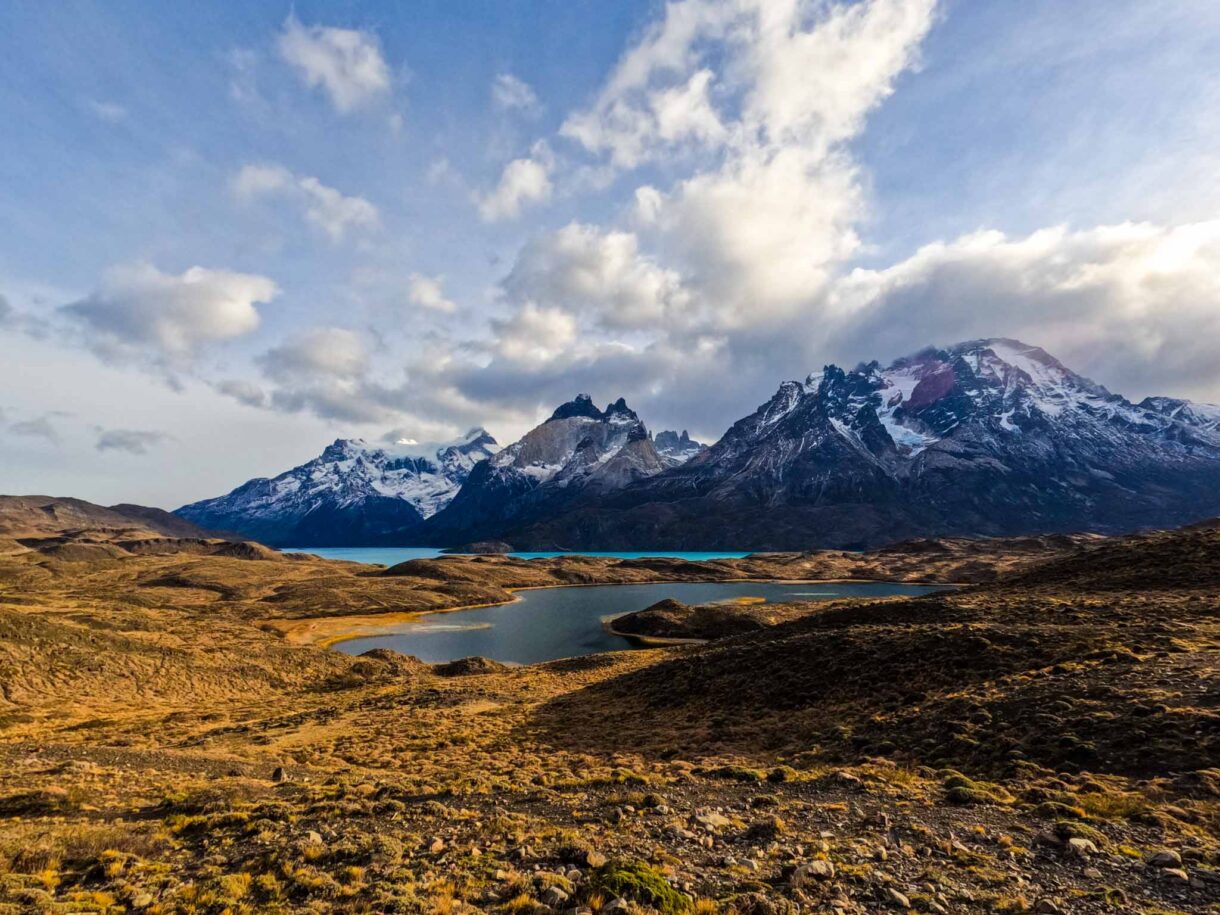 The Journey is the Adventure: How to get to Patagonia from the rest of Chile by Bus, Boat and Plane
Are you looking for a guide on how to get to Patagonia, Puerto Natales and National Park Torres del Paine from Santiago or elsewhere in Chile? Well, you've found it!
Chile is a LONG country. It's 4350 km (2300 miles) long and we made the mistake of seriously underestimating distances during our visit. Let us help you to avoid doing the same. 
In this post, we'll share the three main ways to get to Patagonia, with an overview of the route, cost, and other considerations. 
A word of warning for budget travellers...
Patagonia is not a cheap nor convenient destination for budget travellers. 
Hiking the famous 'W' trek or taking any other all-inclusive tour will likely take a significant chunk out of your budget, especially if you take a guide. You can cut costs by basing yourself in Puerto Natales and taking day-trips, but it will still likely cost more than you initially expect too. 
We debated a lot about whether we could afford to visit Patagonia. As budget travellers, our Patagonia trip was only financially possible because I was already in Chile for a work trip! We knew that when we return to South America, we'd like to stick to the warmer (and more budget-friendly) countries in the north (think Peru, Bolivia, Brazil!). So this was a once-in-a-lifetime opportunity for us!
After a lot of research, we decided to go for it, and we are so glad that we did! If you're willing to spend a bit more, the incredible experiences you'll have in Patagonia will be worth it. 
What is the best way to get to Patagonia?
We're going to be a little unhelpful here and say that the best way to get to Patagonia depends on several factors:
Your maximum budget. How much do you want to spend? Do you see the journey as an experience or a means to an end?
How much time do you have and how much do you value your time? Are you on an extended trip and needing to budget, or are you on a shorter trip and happy to splash the cash to get around quickly?
How far in advance are you planning your Patagonian adventure? Some transport options, such as sailing, need to be booked in advance
What are your comfort expectations? Are you used to roughing it or are you hoping for a comfortable and luxurious journey?
How to get to Patagonia if you're already in Chile
But given the vast size and diverse landscape of Chile, flying directly to the heart of Patagonia is typically the most practical option, particularly since the rise of the low-cost airline. It'll help you save several days of travel, and you also won't have to go to Argentina (which would have been impossible for us due to the border closures when we visited).
Several airlines fly to Chilean Patagonia, including:
Jet Smart: The budget airline of Chile, Jet Smart are cheap and cheerful but adding on luggage and any other extras will soon push up the cost. Great for travellers who pack light and move fast. 
Sky Airline: Similar prices to Jet Smart, but they have more regular departures.
LATAM: Anyone who's spent any time in South America will be familiar with LATAM. They have frequent departures, including the only flight from Santiago to Puerto Natales. But they're the most expensive airline to use in Chile.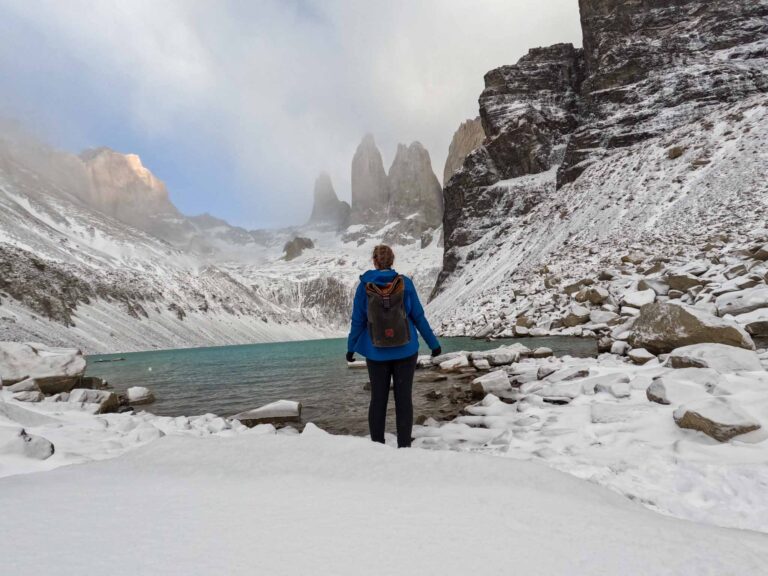 FLY FROM SANTIAGO TO PUERTO NATALES
If you're in Santiago, you can fly directly to Puerto Natales (the closest to Torres del Paine) 
Frequency: Daily from November to March. Direct flights are sporadic from April to October – you might have to change in Puerto Montt.
Cost: Between $49,000 CLP (£50 GBP, $60 USD) and $180,000 CLP (£180 GBP, $220 USD) each way. As usual, book early to secure the cheapest fares. 
Onward Travel: You'll need to take a taxi or a shuttle bus from the airport into the centre of Puerto Natales, it shouldn't be more than $7,000 (£7 GBP, $8.50 USD).
Note: if you're visiting Chilean Patagonia in winter, you'll have to fly to Punta Arenas. Keep reading, or check out this guide, which goes into detail about visiting Chilean Patagonia in winter.
FLY FROM PUERTO MONTT TO PUERTO NATALES
Are you heading south of Santiago to explore areas of Northern Patagonia, such as Pucón or Hornopiren. If this is your plan, it may be easier for you to get to Patagonia from Puerto Montt instead of Santiago.
Frequency: Daily from November to March. Several times weekly from April to October.
Cost: We found flight prices as cheap as $24,000 CLP (£24 GBP, $30 USD) up to $90,000 CLP (£90 GBP, $110 USD) each way. You can sometimes get good-value fares from Puerto Montt!
FLY FROM SANTIAGO TO PUNTA ARENAS
Flying into Punta Arenas and taking an onward bus used to be the only option for getting to southern Chile. As this is a route locals also take, there are far more flights available from Santiago, and it's usually cheaper. This is also the only way you can get to Chilean Patagonia in winter!
Frequency: Several times daily from November to March. Daily from April to October. 
Cost: Similar to the other routes, flight prices cost between $30,000 CLP (£30 GBP, $37 USD) and $80,000 CLP (£90 GBP, $98 USD) each way. Book early for the cheapest flights. 
Onward Travel: From the airport, you can take a direct bus to Puerto Natales (travelling with Bus Sur). It's just over 3 hours and buses depart several times daily (cost: $10,000 CLP, £10 GBP, $12 USD). You can't get tickets at the airport, but you can log onto the WiFi and get them here.
FLY FROM PUERTO MONTT TO PUNTA ARENAS
We were already in Northern Patagonia and this was the option we took. I would have loved to travel overland or by boat, but there were no ships and it wasn't feasible to travel through Argentina. Maybe next time…
Frequency: Several times daily from November to March. Almost daily from April to October. 
Cost: Sky Airline has really cheap flights from Puerto Montt and you can also fly with LATAM. Prices are between $24,000 CLP (£24 GBP, $30 USD) and $180,000 CLP (£180 GBP, $220 USD) each way. 
Onward Travel: See above.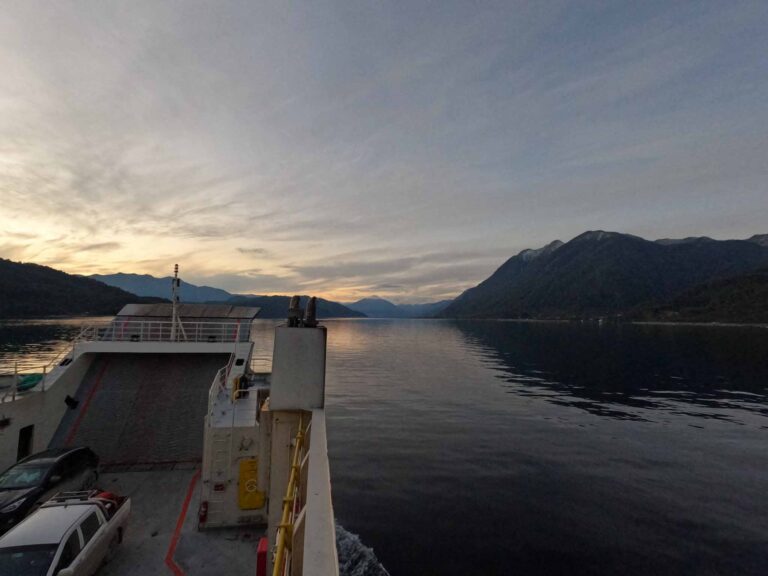 Sailing for four days and three nights through the Patagonian Fjords sounds like one hell of an experience. I wish that was something we'd have had the time for when we were in Chile. Instead we had to settle for day-ferries. Here's how to do it: 
Navimag is cargo company, that offers a unique and exciting way to travel to Patagonia. The company operates several routes – the one you'll take is the Puerto Montt to Puerto Natales route You'll travel through the beautiful Chilean fjords, past snow-capped mountains and glaciers, and into the heart of Patagonia on a once-in-a-lifetime opportunity.
The ferry journey typically takes around four days, and passengers have the option of booking different cabin types, from shared dormitories to private suites with a sea view. Just like any ferry, there are restaurants, bars, and lounges, as well as lectures and other educational activities about the history and culture of the region (we love this!). You can even take a yoga class!
This is definitely a more expensive option than overland or air travel and the journey can be rough at times, especially during bad weather. But for those who see the journey as an adventure in itself, the experience of sailing to Patagonia with Navimag is  truly unforgettable.
Departure:  Ferries leave from Puerto Montt once a week. Passengers must check-in at the Navimag offices before travel by shuttle bus to the port (around 20 mins away). You'll have to pay a port-tax on the way out, which is CLP 8'000 (£8 GBP, $10 USD)
Frequency: Boats depart weekly during the high season (October to March). You can find a full timetable on the Navimag website.
Travel Time: You'll be on board for three nights (four days). For those who are up for the experience, this won't be a problem, but if you are on a tight time schedule in Chile (as we were), taking the ferry might not be the best option for you. 
Cost: It depends how much luxury you'd like! At the time of writing, a bed in a shared dorm for three costs £480 GBP ($590 USD) per person. A private suite for one could cost as much as £2100 GBP ($2650 USD) for one person, but would be half the price per person for two travelling together (solo travellers definitely draw the short straw here!). As with most cruises, you'll also pay extra for a room with a view. 
You can check out the cabin options and book your journey here. If you're lucky and the boat isn't full, you might be given a free upgrade! 
Not ready to commit to a 4-day sailing trip? Explore the fjords of Northern Patagonia overland (coming soon)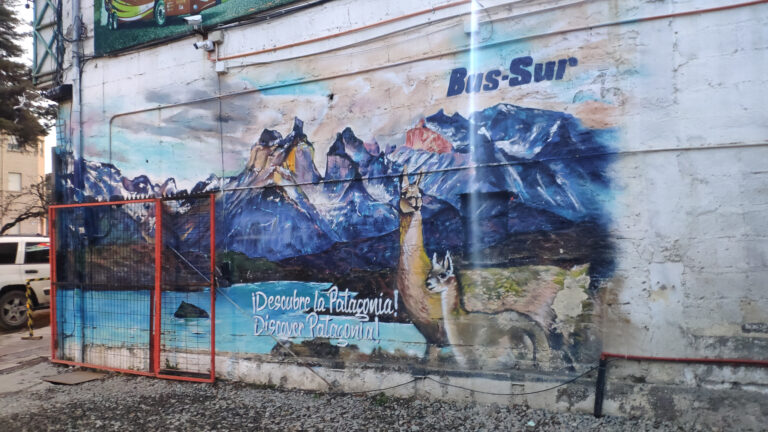 Bus Sur run a regular service between Punta Arenas and Puerto Natales
TRAVEL BY BUS TO PATAGONIA
Chile is long, and the issue with travelling by bus to Patagonia, other than the that it's about as far away from the rest of the country as it's possible to be, is that the Carretera Austral (the road that runs the length of Chile) stops before Puerto Natales. 
This means you'll have to wind your way across the Chile-Argentina border several times, before you reach Patagonia. 
This isn't a problem, except that it makes the journey from Puerto Montt a gruelling 32 hours long. 
It used to be the sensible route for budget backpackers, but with the rise in cheap flights, travelling overland is becoming less convenient and won't actually save you that much money. 
That said, there's something romantic about the long and beautifully scenic journey. If you are also planning to visit Argentina, you could break up your journey, stopping off to admire Argentinian Patagonia on your way.
Departure: The direct bus leaves from Puerto Montt. If you're starting in Santiago, you might want to break up your journey in Pucón. We stayed in Pucon for 5 days and had a great time! 
Travel Time: The shortest bus is 32 hours non-stop. This isn't the best option for travellers who don't have a lot of time in Chile (like us!) The bus will take at least two days out of your itinerary, and you'll likely feel too wiped out to enjoy your first day in Patagonia. Is that how you want to be spending your vacation?
Frequency: A couple of companies offer this route with limited departures several times a week. 
Cost: Around $45,000 CP (£45 GPB, $55 USD) per person from Puerto Montt to Punta Arenas: a bargain!
Onward Travel: Once you arrive in Punta Arenas, you can hop on the same Bus Sur bus to Puerto Natales and start your Patagonia adventure! 
Follow our daily adventures on Facebook and Instagram
This post may contain affiliate links (yay for transparency!) This means that I will earn a small commission, at no additional cost to you, if you click the link and choose to buy the product. I only link to stuff I have personally bought and found useful and never endorse crap. Your support helps keep the site going, thank you!