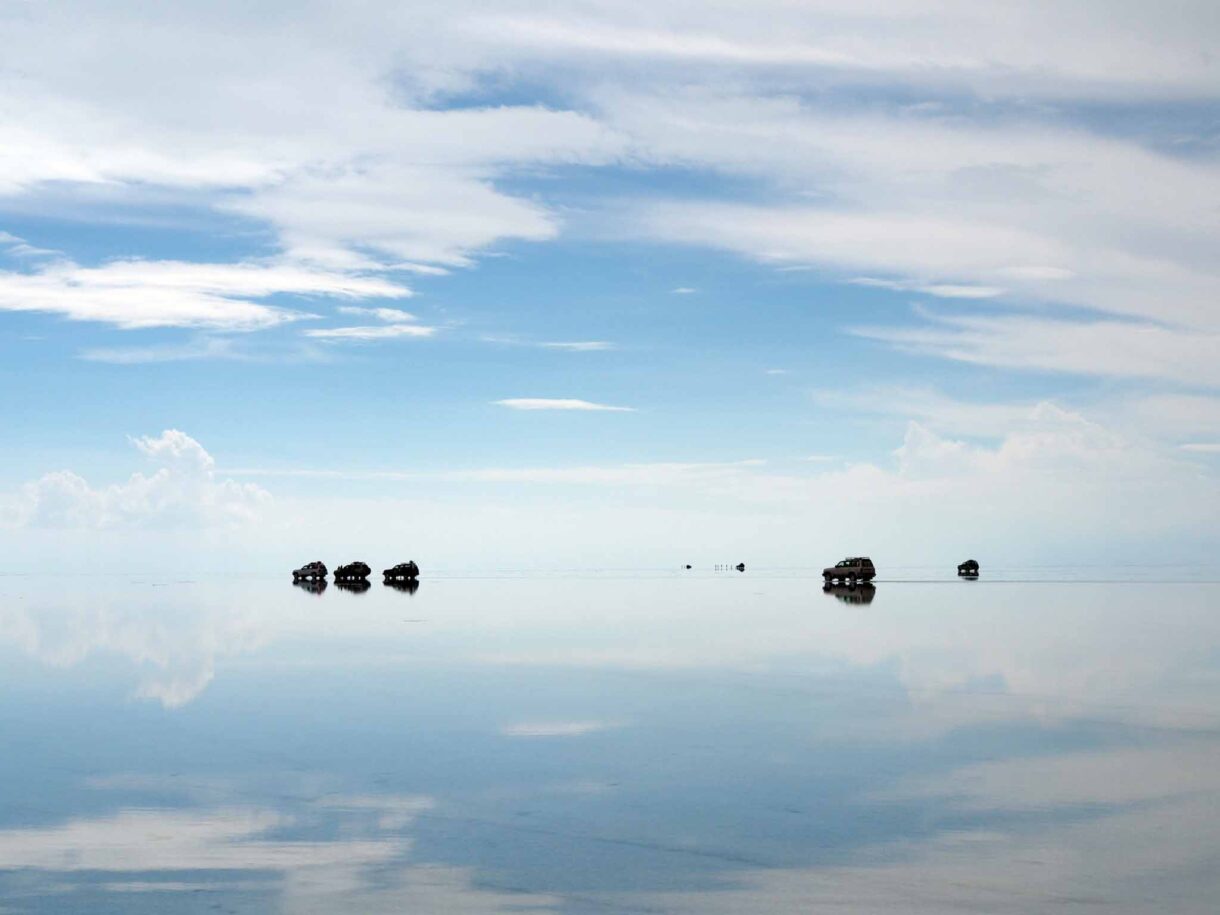 From Salt Flats to Starry Nights: the best guide for your Uyuni tour.
It doesn't matter if you are on a strict schedule or a strict budget, no trip to Bolivia would be complete without a visit to the famous salt flats: Salar de Uyuni.
We visited Salar de Uyuni in July 2022 as a brief detour from our trip along the length of Chile. We did the San Pedro de Atacama to Uyuni round trip over 4 days and I absolutely loved it!  Although the big highlight of the tour is the Salar de Uyuni, the rest of the area has so much to offer, from hot springs and geysers, and towering rock formations and flamingos.
Our four-day tour of Salar de Uyuni was one of the best things we did during our South American adventures. Here, we would like to share all the knowledge we gained with you, to ensure that you have the best time too!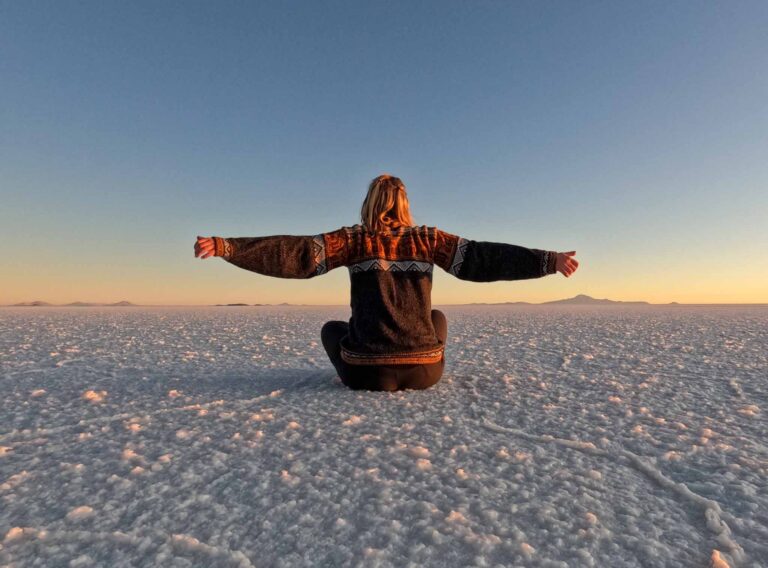 Sunrise across the Salar de Uyuni
Salar de Uyuni is the largest salt flat in the world, covering over 10,000 square kilometres. It can even be seen from space. The flat expanse of salt stretches out for miles, creating a mesmerising and otherworldly landscape that's unlike anything else on earth. When it rains, a thin layer of water covers the salt flats, creating a surreal mirror effect that reflects the sky and clouds above.
Salar de Uyuni can be seen as a part of a day trip from the nearby town, Uyuni. But for those who are travelling between Chile and Bolivia, or have more time, I highly recommend the 3 or 4-day tour. This will take you around the national reserve of Fauna Andina Eduardo Avaroa, where the endless scenery is defined by blue and white lakes, geysers, six thousand meters high volcanoes, brightly coloured lagoons with flamingos and rocky, mars-like landscapes.
Why Visit Salar de Uyuni?
I can't think of any reason why you wouldn't want to visit the largest salt flat in the world? But if you need some convincing, here are a few reasons why I think the trip from San Pedro to Uyuni is totally worth it: 
Salar de Uyuni itself: the highlight of the trip. Looking across the salt flats from Isla Incahuasi, a rocky outcrop covered in giant cacti, you feel like you're on another planet. 
Natural wonders: In addition to the salt flats, Eduardo Abaroa Andean Fauna National Reserve (which you will also visit) is home to a variety of natural wonders. You'll have the chance to visit colourful lagoons, geysers, hot springs, and towering volcanoes, all set against the stunning backdrop of the Andes Mountains.
Unique photo opportunities: The flat expanse of the salt flats creates incredible mirror-like reflections during the rainy season, making for some truly unique and stunning photo opportunities. During the dry season, the otherworldly landscape of Salar de Uyuni is also a popular location for creative and surreal photography.
Cultural experiences: Salar de Uyuni is also home to indigenous communities that offer a chance to learn about traditional farming and weaving practices, as well as taste delicious local cuisine. You won't believe how many types of quinoa they grow in Bolivia!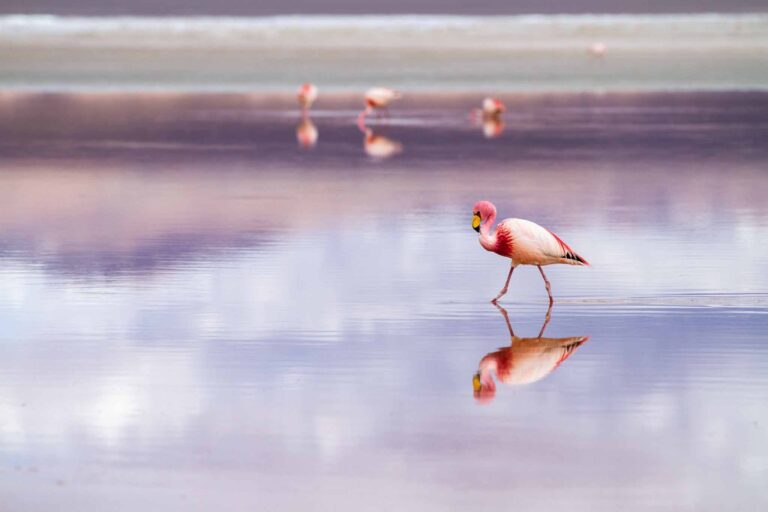 Pink flamingos on the Uyuni Tour!
When is the best time to visit Salar de Uyuni in Bolivia?
This all depends on what you're looking for.
If you want clear blue skies and picture-perfect photography conditions, then the dry season from May to October is your best bet. This will get you the 'classic salt flats view', with dry, crystallised salt crust that stretches for miles in every direction. It's also the best time to have fun with perspective photos – make sure to bring some props to play about with!
However, if you're feeling adventurous and don't mind a little rain, you might want to consider visiting during the rainy season from November to April. The rain can make travel difficult in some areas but the water creates a unique and beautiful mirror effect. The mirror at sunrise or sunset is truly breathtaking and can make for some lovely photos. But you'll miss out on Isla Incahuisi (cactus island), as you'll only stop at the edge of the salt flats.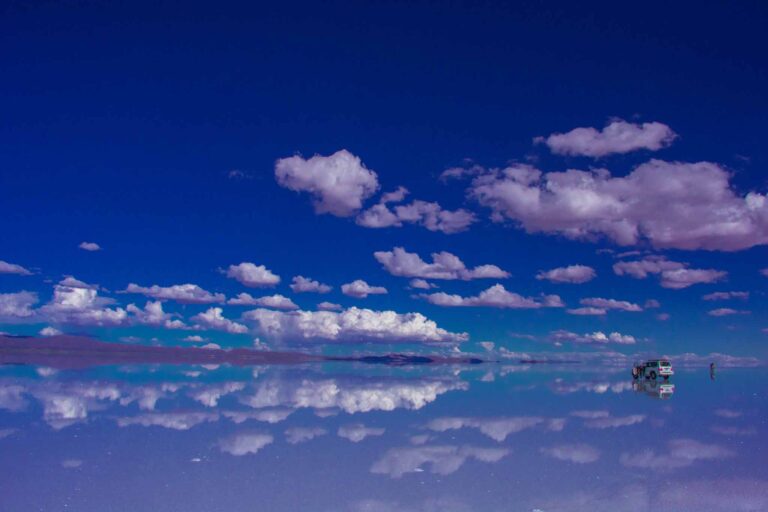 The stillness of the water makes beautiful reflections on this endless mirror-lake.
Do I need a tour guide to visit Salar de Uyuni?
This tour is possible to do on your own, providing you have a 4×4, but we don't recommend it. The salt flats and surrounding desert are challenging to navigate, especially if you're not familiar with the area or the climate. We didn't see any road signs – the guides knew the route by memory – but even our guide got lost at one point and he'd been driving this route for 20 years.
There have been horror stories of people getting lost in the desert as it looks the same for miles. There's a time for independence, and a time to jump into a Jeep and let someone else take the wheel for a few days. This is definitely the latter!
Which tour company should I use for a Uyuni Tour?
We booked our trip with Cordillera Traveller: they had good reviews on Google Maps and were recommended in the Lonely Planet for Chile. Our guide, Edgar, was lovely. Although he only spoke Spanish, he was very clear at communicating across the language barrier and we understood each other most of the time. In general, English-speaking guides are hard to come by in Bolivia. If you want the tour in English, expect to pay a premium. 
However, it doesn't really matter which tour operator you use as there's little difference in price. We also found that most of the companies in San Pedro de Atacama worked together to group as many travellers as will fit in a jeep, and split the cost between them. You might book with one company, but end up with another! They all do the same trip, so you won't be missing out on anything. 
How far in advance should I book a tour?
There's no need to make a reservation more than a day or so before you want to leave! Many people arrive in San Pedro and jump straight into a Jeep for their Uyuni tour. 
We recommend taking a few days in San Pedro de Atacama to acclimatise to the altitude. San Pedro itself is about 2500m high, but you can take a few day trips to destinations at higher altitudes, staying in San Pedro overnight. This will help your body get used to the lower oxygen levels and you're less likely to get altitude sickness during your Uyuni trip.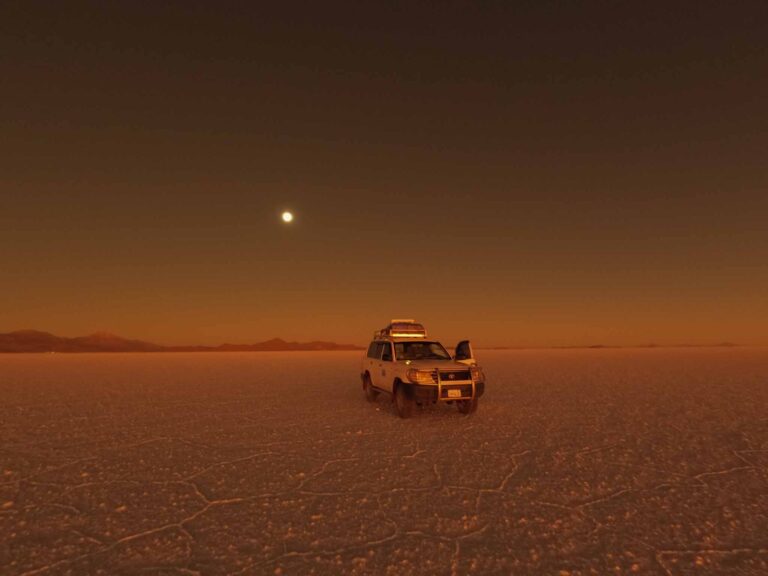 Having a guide is essential, they know exactly where to go so that you don't get lost!
How much did the San Pedro to Uyuni Tour cost?
Let's talk budget! A Salar de Uyuni tour is most definitely a budget-friendly option for most travellers. It's cheaper than staying 3 days in San Pedro, Chile, that's for sure!
Our 4-day round trip Salar de Uyuni tour, which started and finished in San Pedro de Atacama, cost around £150 GBP ($180 USD). This included transport, meals, accommodation and all the sights on the trip, but didn't include the fee to Eduardo Abaroa Andean Fauna National Reserve (£18/$21), Isla Incahuasi (£4/$5), and tips for our guide (£2-3/$3-4 per day).
Should I start the tour in San Pedro de Atacama or Uyuni?
San Pedro de Atacama is a colourful laid-back desert town in Northern Chile. As it's close to the borders of Argentina and Bolivia, it's really popular with backpackers who want a taste of Chile on their adventures. 
Most travellers will visit Salar de Uyuni as a fun way to transit between Chile and Bolivia as part of a 3-day route (we love a slow travel experience!). Where you start the tour will usually depend on whether you're already in Bolivia or Chile.
It doesn't really matter whether you start in San Pedro or Uyuni: you'll visit the same places and, as this is a popular trip, you'll have no trouble finding a tour operator or other travellers to share the experience (and cost) with! 
If you start from Uyuni, you'll visit the salt flats on your first day. As this is the highlight of the trip (and the reason you're probably considering it), it may leave you feeling like the rest of the trip is a little anticlimactic. If you start from San Pedro, the trip will build up over 3 days, finishing with the highlight of Salar de Uyuni.
This tour is also possible as a 4-day round trip, dropping you back off in the same town you started from. We took the 4-day round-trip from San Pedro de Atacama as we were flying out of Santiago de Chile at the end of our adventure.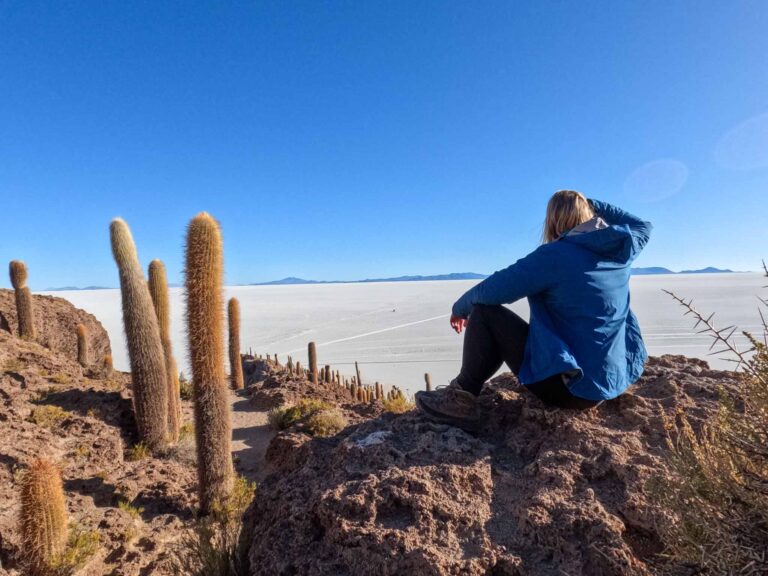 Isla Incahuisi – Cactus Island!
What to Pack for a Salar de Uyuni Tour?
When packing for a Salar de Uyuni tour, it is important to keep in mind that you will be travelling through a remote and harsh environment at high altitudes. It can get windy and at altitude, you're more likely to feel the chill. And believe me when I say that the desert gets COLD at night. No amount of blankets could keep me warm on our trip.
Here are some essentials I recommend you bring:
Warm Clothes – It's high altitude and temperatures can get really chilly at night. Not a lot of hostels have central heating and it gets cold inside too, especially during winter. Be sure to pack warm clothing like a heavy jacket, thermal underwear, gloves, and a warm hat (during the night, your head will be the only thing sticking out from piles of blankets!).
Sun Protection – The sun is just harsher at higher altitude and reflective salt flats don't help. Although it may feel cool, don't forget your hat sunscreen and sunglasses!
Comfortable Shoes – The tour involves a lot of walking and climbing over rocky terrain, so wear sturdy and comfortable shoes like hiking boots or trainers.
Water and Snacks – Most tour operators should supply food, but if you want soft drinks or snacks, make sure to bring to sustain you throughout the tour as there's not really anywhere to stop and buy anything once you set off. 
Camera – The Salar de Uyuni is known for its stunning natural beauty and unique photo opportunities, so bring a camera with extra batteries and memory cards to capture your experience.
Cash – Bring enough cash to cover any additional expenses like souvenirs, entrance fees, or tips for your tour guide. There'll be nowhere to stop for cash between San Pedro de Atacama and Uyuni. If you're coming from Chile, you'll need to exchange your Chilean Pesos for Bolivian Bolivanos before you leave.
Toilet paper – not everywhere has it, and you don't want to be caught short!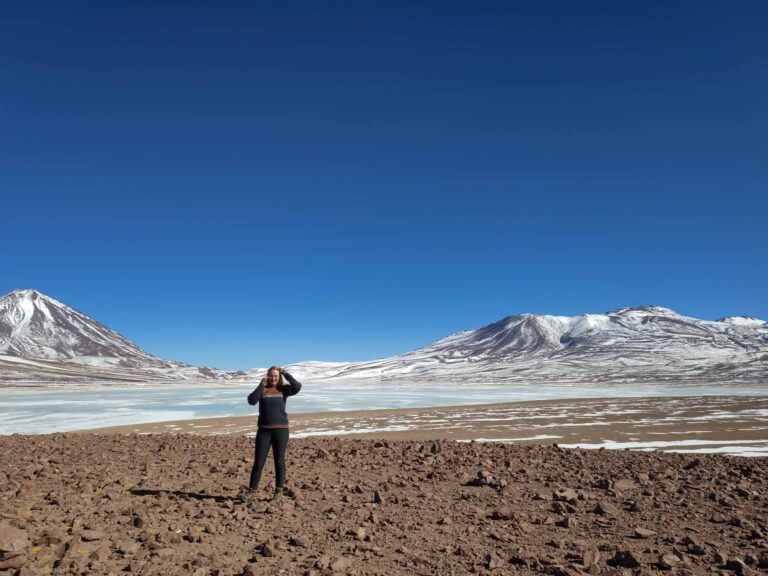 First stop on the tour – white lagoon.
What Can I Expect on a 3 to 4-day Uyuni Tour
A 3 to 4-day Uyuni tour is a popular way to explore the stunning landscapes of Bolivia's southwest region.
We took the 4-day round trip starting and finishing in San Pedro de Atacama, Chile. Here's what our tour was like: 
Uyuni Tour Day 1: Blue Lagoon, Hot Springs and Geysers
Day 1 started with an early morning. We were picked up by a minibus at our hostel in San Pedro de Atacama and driven to the Hito Cajones border crossing between Chile and Bolivia. We had a delicious breakfast as we waited for the Bolivian border to open, and were first through into Bolivia where we were picked up by a 4×4 vehicle.
Our first stop was the White Lagoon, which was a short drive from the passport control. The colour of the lake was a beautiful light blue with a backdrop of dramatic volcanoes. The iconic Licancabur volcano, which is directly behind the lake, straddles the border between Bolivia and Chile. 
After the White Lagoon, we stopped off at the Salvador Dali rock formations: a cool rock formation in Bolivia that look like something out of a surrealist painting.
The Andean region between Bolivia and Chile is a hotbed of geothermal activity. The Polques Hot Springs are situated at an altitude of over 4,000 meters. We paid 6Bs (< £1 GBP/$1 USD) to relax in warm, mineral-rich water while enjoying stunning views of the surrounding mountains and landscapes. Afterwards, we stopped for a delicious vegetable-filled lunch cooked by our guide.
After lunch, we drove to the Sol de Mañana geysers. Their poetic name translates to 'Morning Sun'.  Here, we saw bubbling mud pots, steaming vents, and boiling hot springs. The landscape was covered in vibrant yellow and orange mineral deposits, which was also really unique! .
The geysers are at an altitude of almost 5000m which shouldn't be underestimated. If you're feeling the altitude, you can try chewing on coca leaves, which are said to help.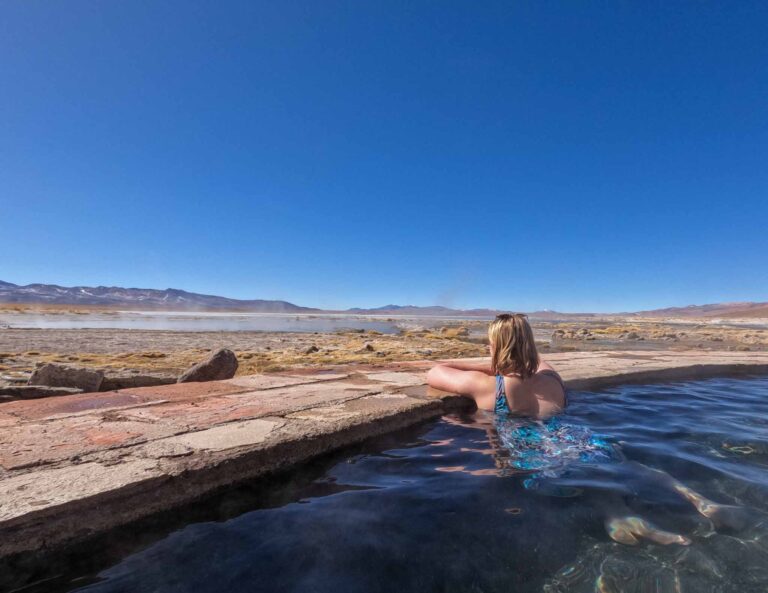 Relaxing at Polques Hot Springs
We ended the day at Laguna Colorado (the Red Lagoon). This beautiful shallow salt lake gets its distinctive reddish colour from the pigmentation of algae and other microorganisms that live in the water. The lake is also home to thousands of flamingos of three species! I'd never seen flamingos in the wild – it was so exciting.
We saw so much wildlife on our drive, including vicunas and even a desert fox. We stayed overnight in Villa Mar. The hot showers weren't working, but the desert gets so cold during the night that I didn't even want to undress! 
Uyuni Tour Day 2: Rocks, Canyon Del Anaconda and San Juan Village
After a delicious breakfast of bread, Dolce de Leche, and coffee, we were on our way to experience the second day of our Uyuni Tour
We stopped twice to see some incredible rock formations, which we could climb to the top of to get a great view. There were zero health and safety regulations here, which made it all the more fun!
From here, we drove to another beautiful spot, a small lake. We were directed to follow a beautiful dark stream leading up to it whilst our guide stayed behind to cook us some lunch. There were so many cool birds here, and a couple of llamas too.
Canyon Del Anaconda & San Juan Village
We then drove to Canyon del Anaconda, aptly named as it 'snakes' through the valley! The views were unbelievable. We stopped off at San Juan village, driving across a smaller salt flat on the way. We visited a quinoa museum here, where we saw the many varieties of quinoa grown in Bolivia. I didn't know that there were so many different types. It blew my mind a little.
We spent the night in a hostel made from salt on the edge of the Salar de Uyuni. As salt is so readily available here, they use it as a building material. I'm not going to lie and say that I didn't lick the wall (I totally did!). It remains one of my favourite hostels to this day.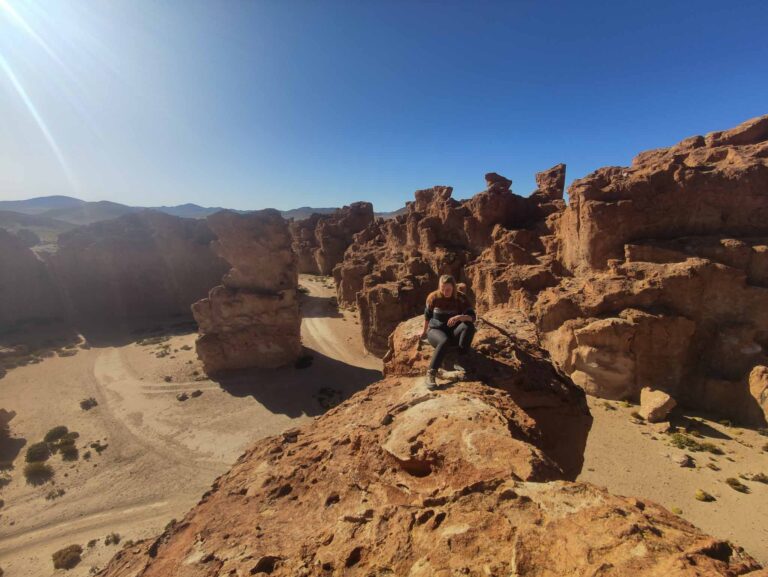 Uyuni Tour Day 3: Salar de Uyuni, Isla Incahuisi, Colchani Village, Train Cemetery
The one we've all been waiting for! We woke before the sun and drove in the dark to the middle of the salt flats. Experiencing the sunrise over the salt flats was a truly magical and unforgettable experience. We watched the colours of the salt flat changed from pink to orange to gold. We were all alone, and everything as far as the eye could see was salt. 
After the sun was up, we drove to Isla Incahuisi (Cactus Island). This rocky outcrop in the middle of the salt flats was like a tiny oasis. It's famous for its towering cacti, which can reach up to 10 meters in height and are estimated to be over a thousand years old – as a botanist, I was a little overexcited. The golden light on the island was truly beautiful.
After a quick breakfast back at the car, we drove into the middle of the salt flats for an attempt at some fun perspective photos. I'd seen travellers doing fun photos with toy dinosaurs, and Edgar, our guide, did not disappoint! He even brought out a toy llama from the glovebox too. You can get really creative, and it's a great laugh!
We stopped briefly at an old salt hotel, which was closed to protect the environment, before a longer stop at Colchani Village. This is a great place to pick up some souvenirs, and there's a little salt museum (although it's all in Spanish!)
Our last stop on the tour was at the train graveyard on the outskirts of the small town of Uyuni. The trains were abandoned in 1940 when Bolivia's mining industry collapsed. It was a really eerie sight to see dozens of rusting, abandoned locomotives scattered across the desert landscape. We could explore the abandoned trains and even climb on them, which made for some great photos. 
Travellers are dropped off in the small, dusty town of Uyuni for onwards travel. There's not much to do here (I took a nap). For those making a round-trip (as we were!) you'll be grouped up with new travellers to begin the drive back to San Pedro. As it got dark, we stayed overnight again in Villa Mar.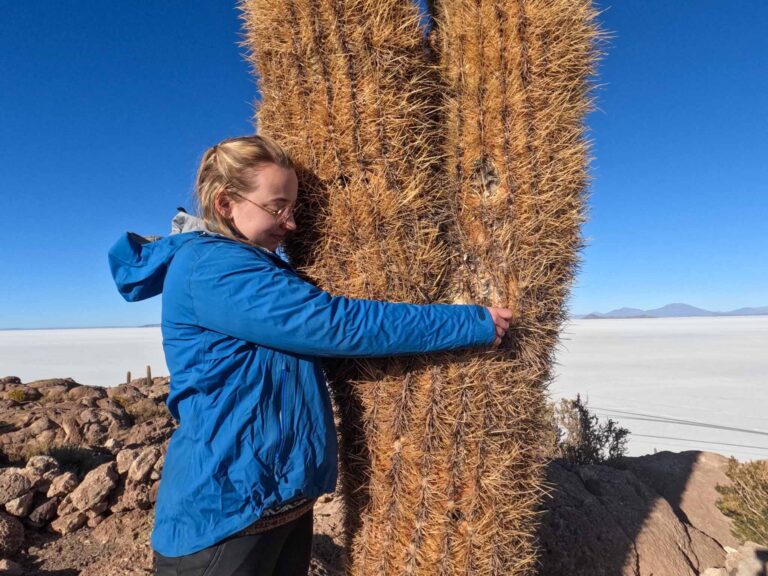 Uyuni Tour day 4: Return to San Pedro de Atacama
Nothing to write home about here. We had to return to San Pedro and, after spending the night near the border, we arrived at the border to Chile quite early in the morning.
The drivers that drop tourists back at the Bolivian border are the same drivers that will be waiting to pick up the minibus of tourists coming from Chile, so you might have to wait around a bit. 
There'd been a snowstorm and the border guards' had broken down on the way, so we had to squeeze up and give them a ride to the border in our Jeep! We huddled in a small outbuilding with hot drinks and a delicious breakfast whilst we waited for the Chilean vehicles to arrive. 
And that's a wrap on our Uyuni trip!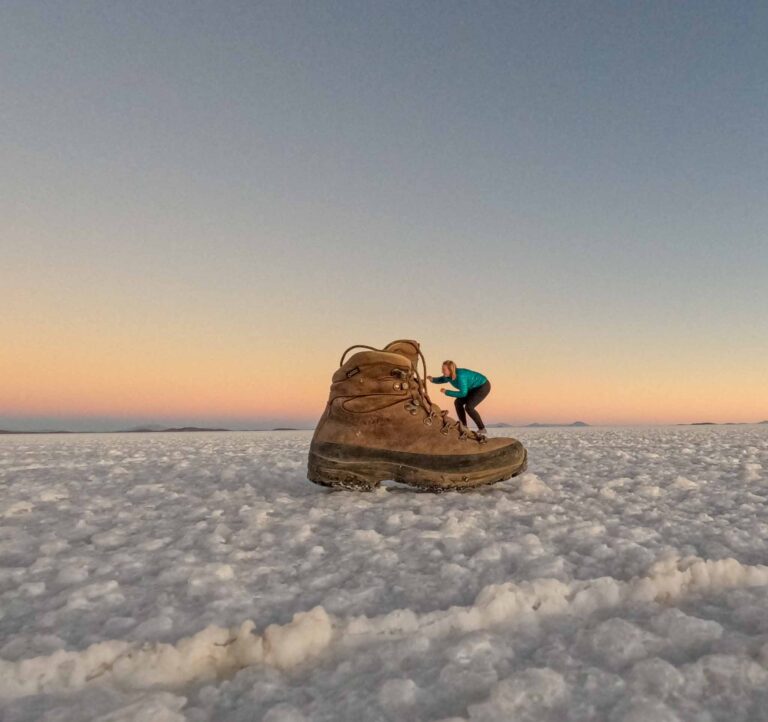 Playing with perspective: climbing up my hiking shoe.
Q: WHERE IS SALAR DE UYUNI?
A: Salar de Uyuni is the world's largest salt flat located in Bolivia's southwest near the Andes Mountains. The nearest major city to Salar de Uyuni is Uyuni, which is about 20 kilometres (12 miles) to the north.
Q: HOW FAR IS SALAR DE UYUNI FROM SAN PEDRO DE ATACAMA?
A: The distance between Uyuni, Bolivia, and San Pedro de Atacama, Chile, is around 470 kilometres (292 miles). You'll drive this over 3 days and make lots of stops to take in the view, so it doesn't feel like such a huge distance.
Q: HOW DO I GET TO SAN PEDRO DE ATACAMA?
A: If you're coming from Chile, most choose to fly into the nearby Calama Airport (CJC) which is a 2h flight from Santiago. Chile is long, and overland distances shouldn't be underestimated, but buses also travel between San Pedro and Calama if you're relaxed on time. From Calama, you can take a taxi or a shared shuttle to San Pedro de Atacama in around 1h. 
Q: HOW FAR IS SALAR DE UYUNI FROM LA PAZ?
A: The distance between La Paz, Bolivia, and Uyuni is approximately 556 kilometres (345 miles) by road. You can get to Uyuni by bus (10-12h), train (8-9h) or private car.
Q: IS BOLIVIA SAFE TO TRAVEL?
A: We had no problems in Bolivia, the people were kind and we had a great time. But like any country, it's important to take precautions and just use some common sense. If you're doing the Uyuni tour, you'll be crossing some very remote areas, so if you're not part of an organised trip you should know where you're going and what to do in case of emergency (e.g. breakdown).
Q: IS BOLIVIA TOURIST-FRIENDLY?
A: Bolivia is a welcoming country and very open to tourism. In terms of infrastructure, Bolivia is constantly improving its transportation, accommodations, and tourism services. There are many tour operators and travel agencies, especially in popular destinations like Salar de Uyuni, Lake Titicaca, and La Paz. 
That being said, some areas of Bolivia may have limited tourist facilities and more basic accommodations and services. Also, there aren't so many English speakers in Bolivia, which might make it difficult for some travellers.
Q: WHAT ARE THE ENTRY REQUIREMENTS FOR BOLIVIA?
A: Entry requirements will depend on your nationality. Many nationalities (including the USA) require a visa on arrival. If you're from the UK or EU, you can stay in Bolivia for up to 90 days visa-free. This information can change, so make sure to check the specific entry requirements for your country on the website of the Bolivian embassy before you go.
Q: HOW MUCH CASH SHOULD I EXCHANGE FOR A UYUNI TRIP
A: We took a little over 200 Bs each, which was enough for all the National Park entry fees, the thermal hot springs, the Isla Incahuisi and a couple of souvenirs to take home. If you're continuing to travel in Bolivia after the trip, you could always exchange more.
Follow our daily adventures on Facebook and Instagram
This post may contain affiliate links (yay for transparency!) This means that I will earn a small commission, at no additional cost to you, if you click the link and choose to buy the product. I only link to stuff I have personally bought and found useful and never endorse crap. Your support helps keep the site going, thank you!