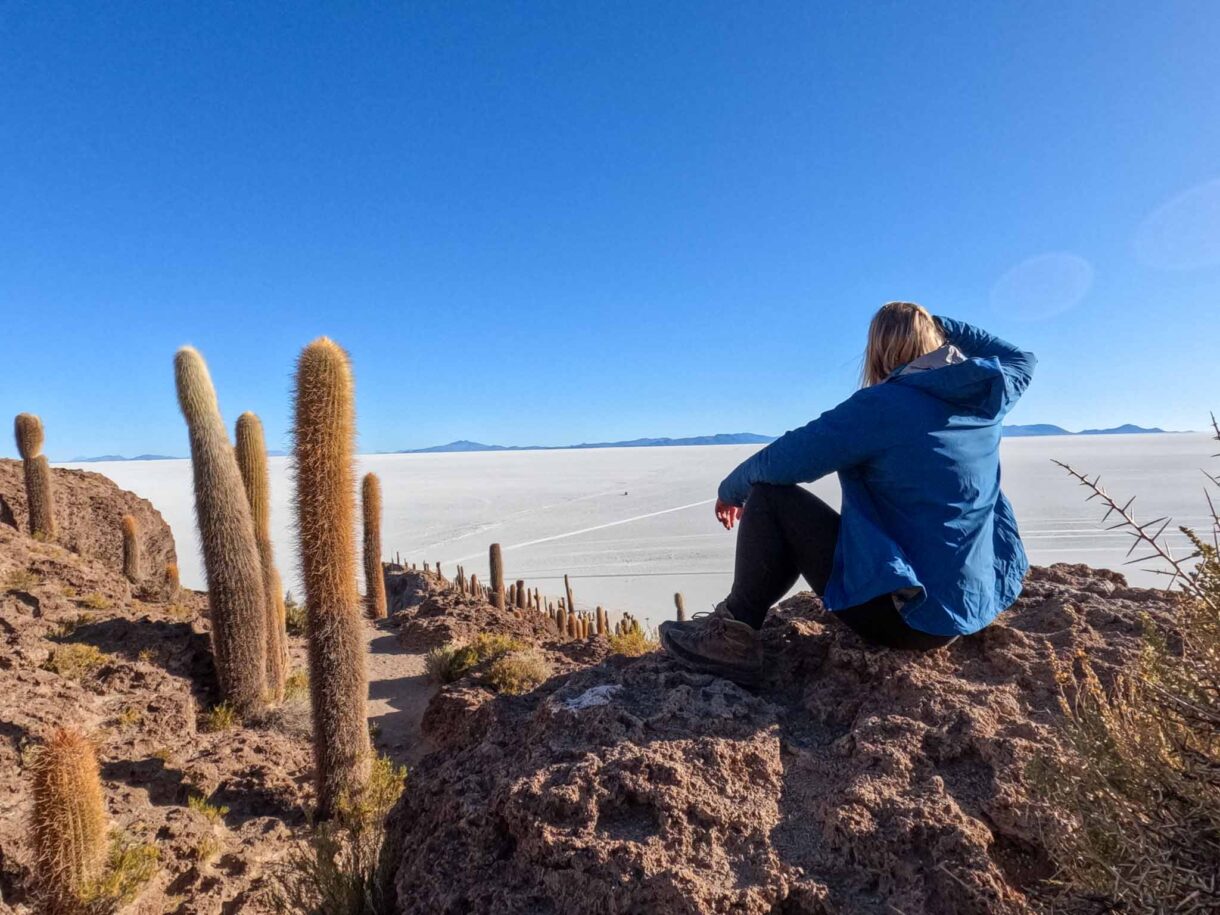 What do things cost in Bolivia?
We hadn't actually planned to cross from Chile into Bolivia. But during our time in Chile, the Chile-Bolivian border re-opened. So we rushed to Bolivia to see what it had to offer.
It was like a breeze of fresh air. We could take day trips again (hello Salar de Uyuni!), sleep in a double room, and get around fairly cheaply. Even though our time in Bolivia was mostly spent on a Salar de Uyuni Tour, it still worked out to be a really budget-friendly destination compared to Chile.
The costs below are the average we encountered during our time in Bolivia. We've chosen the individual items for their ubiquity across the world and because they're the sort of things we think most backpackers will need to buy at some point. This will allow us, and you, to make a comparison of living and travel costs worldwide.
Currencies are Bolivian Bolivianos / £GBP / $USD. Conversion rate as at time of publication. Updated 2023. 
our average daily cost for two
Ok, this might not be as cheap as you might expect for Bolivia. But most of our time in Bolivia was spent on a Salar de Uyuni Tour. We didn't have time for independent travel in Bolivia, but I can't wait to go back!  
I reckon if we did Bolivia again, we could cut our daily spending by half! 

average cost of a dorm bed (locally run)
average cost of a dorm bed (party hostel)
Accommodation in Bolivia can be tricky! Either you stay in locally-run guesthouses, which are cheap, but no-frills and sometimes offer poor amenities. Or you stay in backpacker hostels, which are aesthetic but quite expensive for South America. 
We mostly went for double rooms in local guesthouses which were clean and comfortable, but basic. Accommodation costs can add up in Bolivia, so it's important to be savvy! 
50 BS / £5.7 / $7.2
90 BS / £10.4 /$13

average cost of a 10h bus journey
Transport in Bolivia is cheap, especially if you're coming form Chile or Argentina. For basic public buses, the average cost was around 10B per hour.
Buses usually aren't modern or comfortable, but for the price, they aren't bad. But driving standards in Bolivia are much worse than you'd think. If you're anxious, we recommend trying to get some shut-eye and you'll (hopefully) sleep through the near-misses. 
average cost of a 1km taxi ride
Taxis are an expensive way to get around Bolivia compared to taking public transport.
Bolivia does not have Uber. But there are similar apps (Cabify and Beat) that work in the same way and can be a convenient way to get around in major cities like La Paz, Cochabamba, and Santa Cruz.

average cost of one basic breakfast
Bolivia doesn't really do breakfast in the traditional sense. The locals start their days early, and have usually all eaten by the time tourists are up and about. 
We recommend not bothering to eat out for breakfast. The quality isn't great, and you'll end up paying more than you should for some bread and jam with a coffee. Instead, stock up on delicious fresh fruit, avocado, eggs, and bread at the market and cook breakfast yourself. 

average cost of dinner (inexpensive restaurant)
Local food, such as soup, meat, pulses, and vegetables, is cheap and plentiful. You can eat very cheaply in Bolivia, especially in the markets, where you'll find local women with huge pots of steaming pasta and rice. 
As usual, meals in popular tourist areas or larger cities like La Paz or Santa Cruz may be more expensive than in smaller towns or rural areas. Expect to pay more for 'foreign food', such as pizza. 
average cost of street food
Popular street foods in Bolivia include salteñas (savoury pastry filled with meat or vegetables), anticuchos (grilled meat), empanadas (pastries filled with cheese, meat, or vegetables), and choripán (sausage sandwich).
Street food is usually ~10 BS per item. It might be more expensive in larger cities. 

average cost of one litre of water
You absolutely should not drink the tap water in Bolivia. This leaves you with two choices: opt for plastic bottles (awful for the planet) or invest in a travel filter bottle, like we use.
A travel filter bottle has a larger initial up-front cost, but you'll quickly make your money back, especially on a longer trip. You can get a cheeky 15% discount on this one if you want to give it a go.
average cost of one litre of milk
What can I say, it's milk? If you want non-dairy versions, such as soya or oat milk, expect to pay more, or go without. Not everywhere caters to dairy-free folk. 

average cost of one dozen eggs
What can I say, it's eggs? A great vegetarian protein option and a staple in South America, along with beans and rice. 
Bolivia had the most variety in eggs of any country we travelled in South America. You can get eggs in every size, and they even had free range options.

average cost of one cup of coffee
Coffee in South America is mostly grown for export, and lots of locals can't afford the proper stuff. You can get a cup of instant on every corner for around 5BS, but if you want real coffee, stick to the tourist-friendly areas.
If you want to save money, consider buying an aeropress, so that you can buy and make fresh ground coffee anywhere in the world. 
average cost of one beer
Bolivia is cheap. Their beer is not. After a few days of sobriety to adjust to the high altitude, we looked at trying a couple of local beers and baulked at the price of 25 BS. That seems like a lot, especially considering the average salary of Bolivians. 
average cost of one can of pop
This is the average cost at a supermarket or street vendor. If this is something you buy regularly, opt for larger bottles to save money. 

average cost of one kg of laundry
Laundry has no right to be this expensive in Bolivia. But fleecing tourists seems to be the common thing to do. Some of the popular backpacker destinations charged even more than this!
Keep an eye out for hostels or accommodation with a washing machine or cheaper rates. Or get used to washing your underwear in the sink and feeling a bit grubby on occasion (like us!). 
Follow our daily adventures on Facebook and Instagram
This post may contain affiliate links (yay for transparency!) This means that I will earn a small commission, at no additional cost to you, if you click the link and choose to buy the product. I only link to stuff I have personally bought and found useful and never endorse crap. Your support helps keep the site going, thank you!