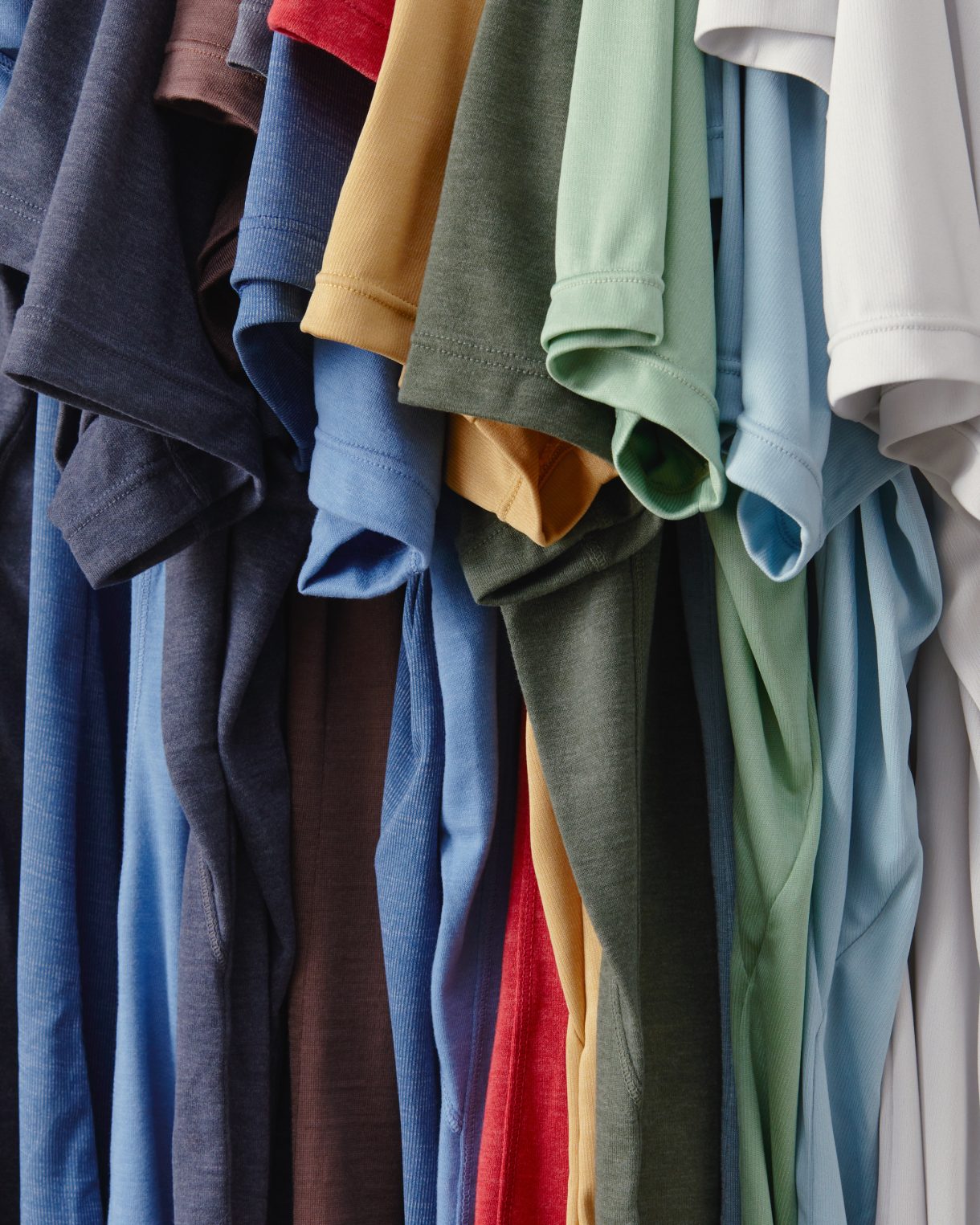 Seadon Review [Earth-Friendly Travel Tees and Trousers]
Seadon is a brand new company that are trailblazing their way into the fitness apparel industry. Their mission? To enrich your outdoor adventures when you set out to enjoy earth. 
Everything Seadon does comes from their ethos to keep it sustainable; from the land to the sea. No shortcuts. No compromise. I've had the pleasure of trying some of their kit for the best part of a year, and I'm here to give you the low-down on what's so great about it.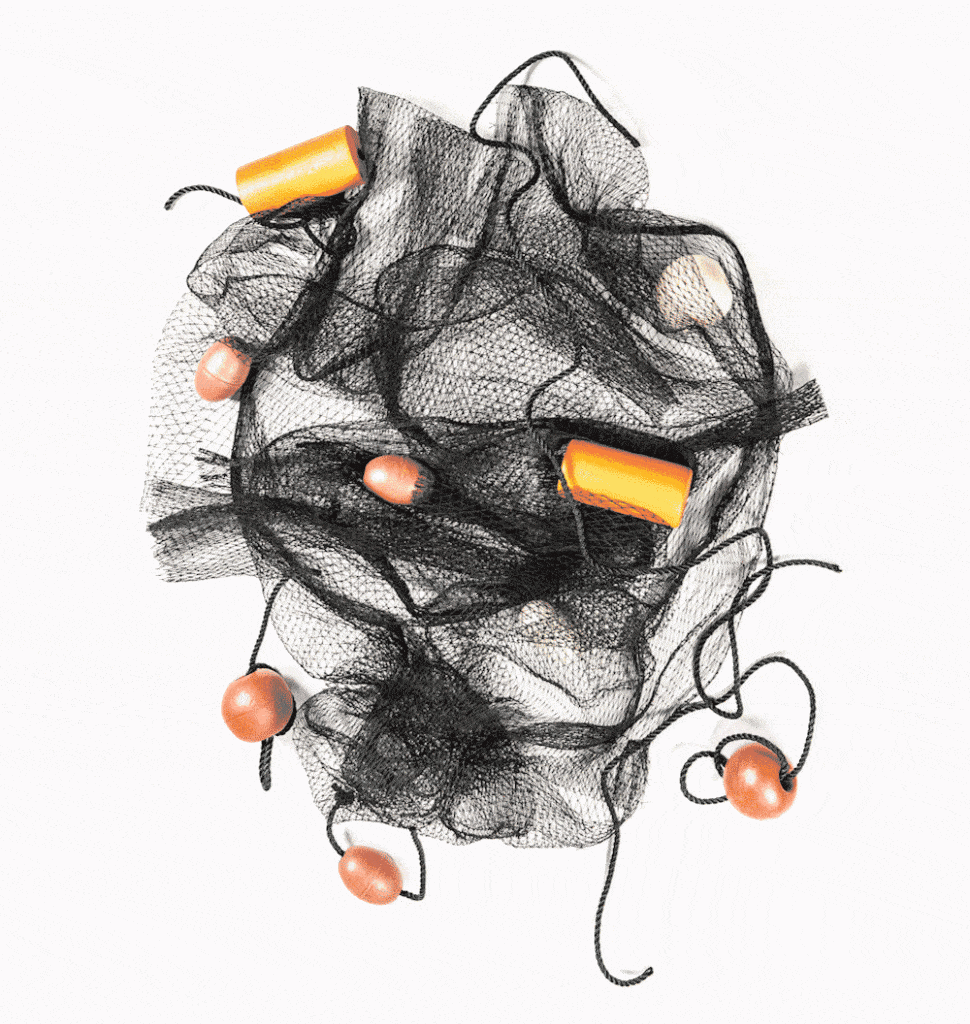 Seadon clothing is designed with everyday people in mind, whether you are working out at home, hitting the trails, or just chilling out in the city. Their aim is to create high-quality trail goods, made with today's most sustainable and ethical practices. 
What I really love about this brand is that they keep sustainability in mind every step of the way from design to delivery. All their products are created from natural and recycled fibres in factories with high ethical standards. Everything is delivered in plastic-free packaging and Seadon offset their greenhouse gas emissions each year to minimise their carbon footprint and impact on our planet. They also donate 1% of their annual sales to environmental nonprofits! 
"Preserving and protecting Planet Earth is our No.1 priority. If people are going to buy outdoor gear regardless, it is our responsibility to offer the most sustainable and ethical choices, with the least impact on the environment."
Seadon Trail Tees [Earth-Friendly Travel Tees]
Seadon have a bundle of technical tees perfect for travel! They all have slightly different specifications. The Daymaker is a premium thick tee perfect for the casual adventurer. The Traveller is perfect for long journeys across all seasons and temperatures – especially those heading into the unknown (with little access to a washing machine).  And the Trailblazer is for active travellers, those who love the outdoors and need something that they can sweat in. 
Check out a brief overview below!

I've had the privilege of wearing some of Seadon's gear for around a year. Products were not received in exchange for a positive review. Here are my honest opinions. No bribes (promise!)
The Daymaker is a great all-round tee that can be worn around town as easily as it can be worn on the trail –  perfect for unplanned adventures! It's made from a blend of Tencel® and recycled polyester from ocean plastic. Tencel® is 100% natural fibre derived from Eucalyptus trees. It's cooling, silky-soft, efficient in moisture absorption, and gentle to the skin – everything you want from a t-shirt. The Daymaker also has odour-reducing technology from Polygiene® and biowick technology (from algae!) that helps to absorb sweat, keeping you nice and dry all day. 
I have the Daymaker in Cloud Grey, a soft blue-grey colour that goes with everything. Honestly, it's the softest, comfiest t-shirt ever. It's thick and high quality, and looks and fits great. It's also incredibly versatile, I wear mine for everything, on hikes but also to work (yes, we have quite a chill dress-code). I love that Seadon keeps unnecessary branding or logos to a minimum; their clothing doesn't stick out or look obnoxious like many fitness brands do.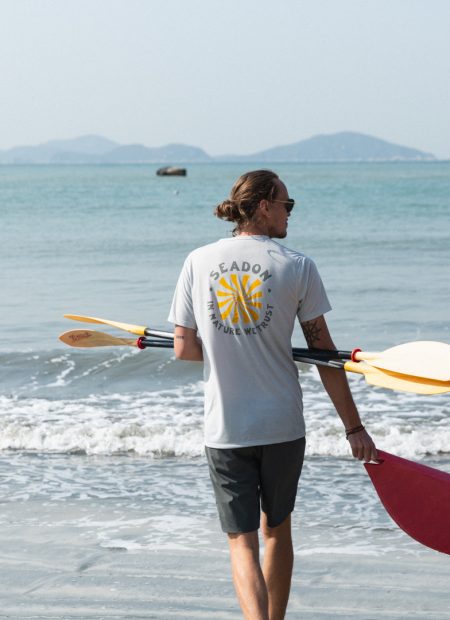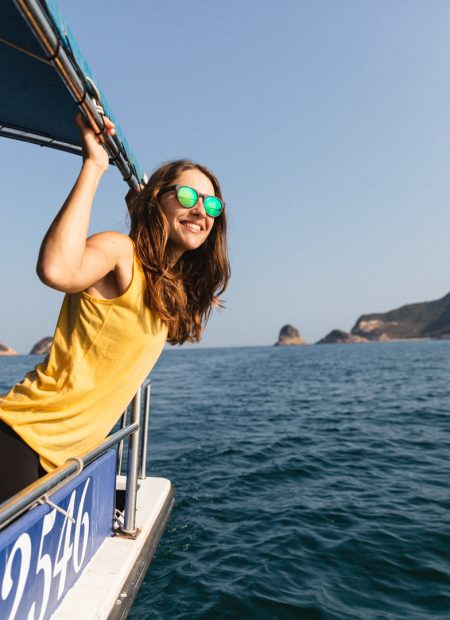 The Traveler is a versatile tee for long journeys. Made from natural fibres, merino wool and Tencel®  , the Traveller takes the coolest parts of nature and turns them into something awesome.  Merino Wool is truly a magic fabric (I'm a big fan). This tee can absorb 1/3 of its weight in water without feeling damp to the skin so it's perfect for travellers who love to hike, climb, run and cycle. It's also one of the best antimicrobial fibres in the world, which means you can stay fresh for over a week before you have to do laundry (trust me – i've tried it!). What more do you want when you're on the go? This fibre combination means the Traveller tee can naturally adapt to a range of temperatures whilst being extremely lightweight and luxuriously soft to wear. It's wrinkle-resistant (perfect for long-term adventure travel!) and offers ultimate sun protection, with a rating of UPF 50+. It'll also regulate your temperature, keeping you warm when it's cold out, and cool when it's hot. 
I have the long-sleeve Traveller in navy blue – perfect for the Scottish winters. It's amazingly soft and breathable, super comfortable and non-itchy, which I sometimes find to be the case with merino products. The stylish, neutral design means it's incredibly versatile and goes with everything – perfect for travelling! I also like that Seadon have gone for minimal branding. However, the best part about this tee is the 7-day freshness guarantee. I wore this tee every day for a week to test this out so that you don't have to. Simply airing it overnight on a hanger leaves the Traveller smelling neutral and odourless. This t-shirt is my new travel companion. If Seadon did more colours I'd snap up every one of them.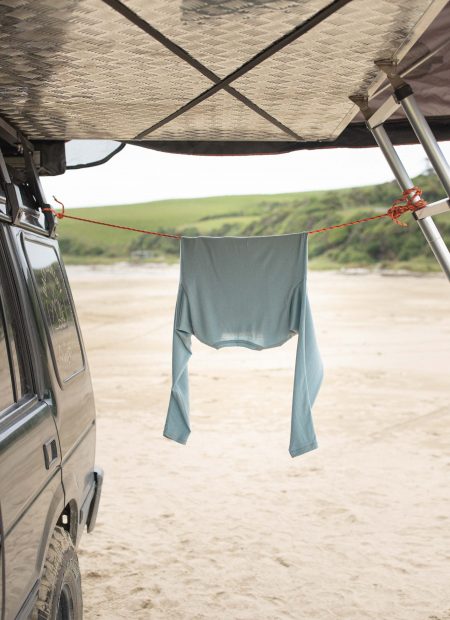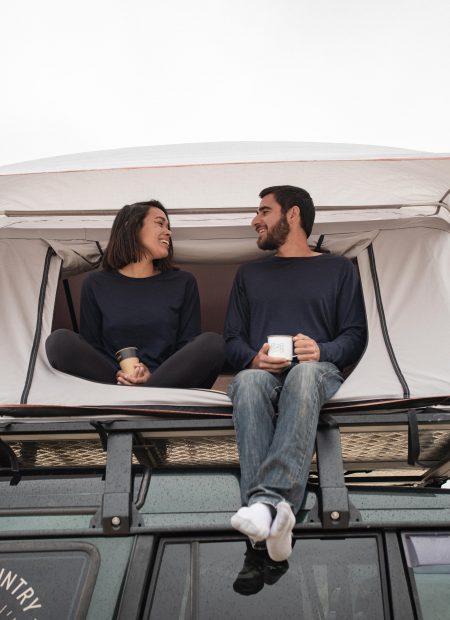 The Trailblazer is the tee built to pursue performance, perfect for travellers who like to hike, run or climb. It's a feather-light, super thin technical tee but that doesn't mean it compromises on quality! The fabric is silky smooth. Ultra-fast moisture-wicking technology made from microalgae means it'll dry out in minutes, keeping you cool when you're pushing to the edge. It'll also protect you from the sun with UPF 20+. The best bit? Each Trailblazer tee helps divert around 5 plastic bottles from entering into our oceans and landfills.
I haven't tried the Trailblazer myself but am certain it'll be up to the high quality of Seadon's other technical tees. Do let me know if you try it and how you get on!
Seadon Helios [Pants made from Ocean Plastic]
Helios is a lightweight pair of hiking pants built for versatility and comfort, wherever the adventure takes you. These trousers use a unique Sunsail™ fabric re-engineered from discarded fishing nets! Fishing equipment, also known as 'ghost gear', is the most deadly form of marine plastic debris and creating a fabric that reduces this is nothing short of amazing. The Helios trousers are incredibly lightweight, breathable, and dry really quickly. They're stretchy and wrinkle resistant too. Seadon describes these as 'the all-round pants that can do it all – from trekking long ridgeline hikes, to sending multi-pitch lines' and I'd totally agree! I've worn them a LOT this summer and they've been ace! 
I tried the Helios trousers in both 'Men's' and  'Women's' styles to compare the differences. I love the choice of bright colours – something I don't see enough of in adventure gear – and opted for a 'Marlin Blue' and 'River Rock Charcoal'. Both pairs are light and soft to the touch.
I've worn them for hiking, bouldering, cycling and just chilling and they've held up really well so far, withstanding scrapes and nicks despite the lightweight thin material. Both pairs also feel to be really high quality and with the SPF 50+ sun protection factor, adjustable features and quick drying time, I have the feeling they'll be my go-to travel trousers for many future trips. 
The one let-down about this product is the difference between the number of features in the 'Men's' and 'Women's' styles. 
The 'men's' style features FIVE deep pockets; two at the front, two at the back, and one zippable cargo-pants style pocket which is the perfect phone size. In contrast, the 'women's' style features only three, all of which are at the front.
The 'men's' style is also full-length with adjustable cuffs and has a built-in belt – both are high quality features that I love. The 'women's' style lacks these, instead having a cropped leg length which is a little more slim-fit and elasticated waistband.
As is usual with travel and trail gear, it feels like the men's style has been paid more attention to. This style feels a lot more technical and I prefer to wear the 'men's' Helios for outdoor activities. The full leg length is so important for hiking in Scotland as we have a lot of ticks which always seem to go for my ankles, and the ability to crop the trousers is lovely for bouldering or spontaneous paddling in lochs. I'd have liked to see a little more innovation with the 'women's' style, which are more 'aesthetic' but with less technical features.
In my experience, women have a harder time than men to find well-fitting technical clothing and I feel a brand like Seadon could definitely pull off a technical-but-still-aesthetic womens trousers to rival the men's version. It's 2021, I need pocket equality! That said, I do enjoy wearing the 'women's' style more for work and around the city. In short, both are great and can be worn by all, pick the one that suits your lifestyle more.
Seadon make awesome sustainable, ethical, top-quality travel gear without a high price point. Their tees and trousers are lightweight, comfy and practical – perfect for anywhere your adventures will take you. If you need new travel gear, I'd definitely consider investing in a handful of Seadon pieces. 
Follow our daily adventures on Facebook and Instagram
This post may contain affiliate links (yay for transparency!) This means that I will earn a small commission, at no additional cost to you, if you click the link and choose to buy the product. I only link to stuff I have personally bought and found useful and never endorse crap. Your support helps keep the site going, thank you!