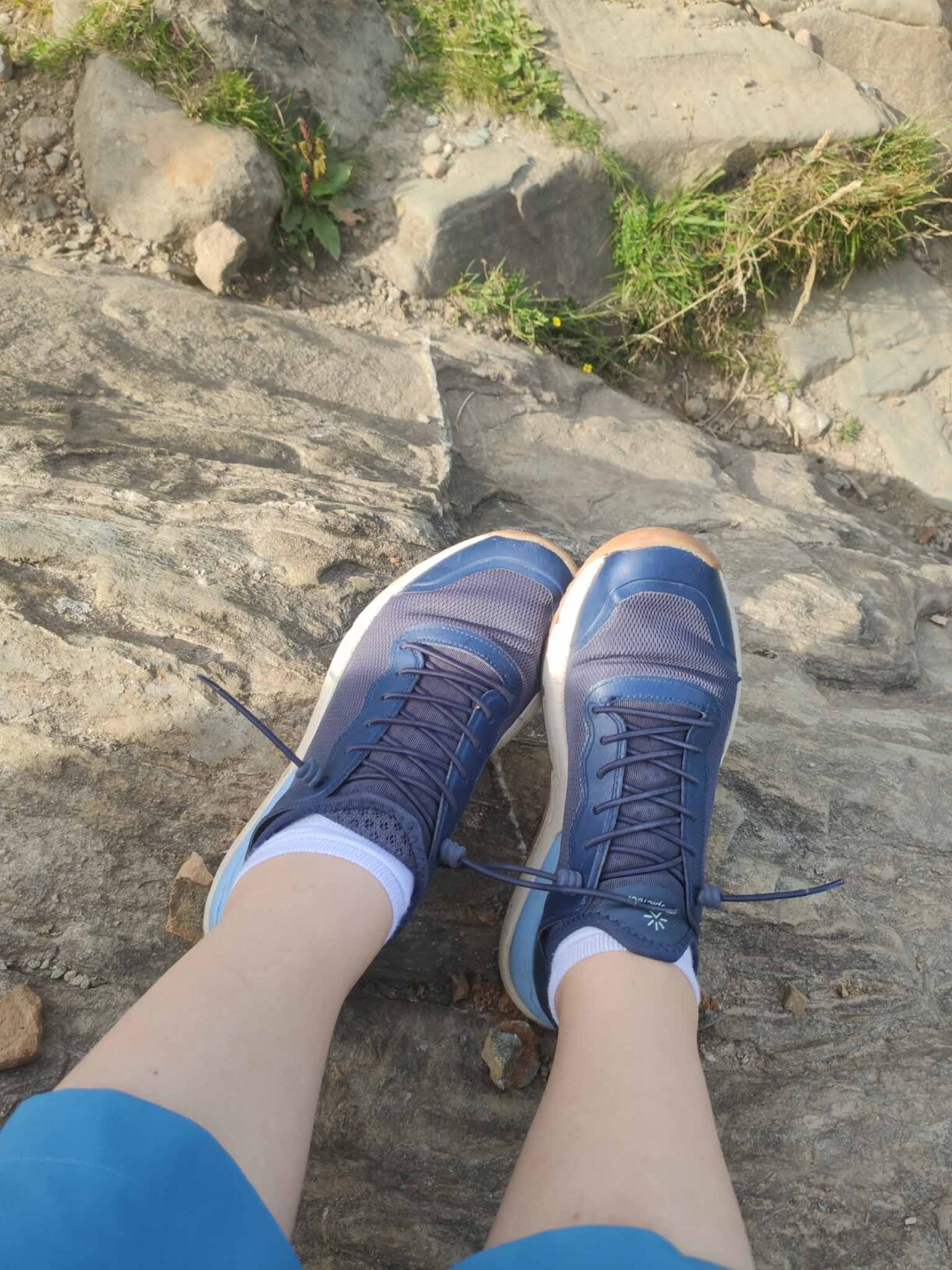 Are these the Ultimate Travel Shoes? Tropicfeel Canyon Review
As a traveller, you'll likely spend a lot of time on your feet, so it's essential to have good shoes that will keep you comfortable and help you avoid blisters and sore feet. That's why I'm on the hunt for the ultimate travel shoe! Today, I'm reviewing Tropicfeel Canyon Sneakers.
Tropicfeel is a brand that has made waves in the travel industry, offering functional and stylish products that cater to the needs of modern travellers. I purchased a pair of their Canyon Trainers last year, in my search for the perfect travel shoe. A year on, I'm here to give you the low-down on what's hot… and what's not.
As you may (or may not) know, I like to pack light. When space is limited, every item has to count. That's why I was so excited to try out a pair of Tropicfeel shoes, which promised to be the 'ultimate all-terrain travel sneakers'. 
I went for the Tropicfeel Canyon trainers (£99 GBP, $120 USD) which were advertised as sneakers that you can swim and hike in whilst still being stylish and comfortable. These sounded ideal. I bought them as the only (proper) shoes I planned to take on an active 3-month backpacking trip around Central America.
So let's dive into the review!
The Pros
Lightweight (just 180g/7oz)
Cute sneakers with lots of styles and colours!
You can wear them in the water!
Breathable – perfect for summer
The Cons
Not the best quality for the price
Get scruffy-looking quite quickly
Not amazing for long-distance hikes
Not great for rainy weather 
Tropicfeel Canyons in Navy fresh out of the box. Is it love?
The first thing that stood out about Tropicfeel trainers is their versatility. They are designed to be worn in a variety of settings, from exploring city streets, to swimming in the ocean, and trekking through the great outdoors. They are also incredibly lightweight, making them easy to pack and carry on all my adventures.
Initially, I was surprised by their comfort. The shoes are made from breathable materials that keep your feet cool and dry (unless they're in the ocean, then your feet will be cool and wet). Mesh sidewalls and purpose-made holes in the soles means that they dry quite quickly. And, despite their all-purpose nature, they still provide enough support and shock absorption for your feet.
The trainers also looked really good, with a minimalist design that wouldn't look out of place in a bar or restaurant. They look pretty sharp, for a pair of shoes made for the water.
What really stood out to me about this brand is their sustainability. Tropicfeel uses recycled materials in the production of their trainers, reducing their environmental impact. About 8% of the insole is made from harvested algae, which is a really cool material that creates a lighter, more durable, and eco-friendly shoe. How cool!
I was so pleased. I thought I'd found the perfect travel trainer…
But  the biggest question is whether Tropicfeel holds up to the rigours of the road. Well, despite the positive reviews I read online, my answer is no. 
I was initially impressed with the style and comfort of these trainers. Knowing that they were the only shoes I wanted to take travelling with me, I started to put them through their paces. I wanted to make sure they wouldn't fall apart mid-way through a long adventure. 
I wore them:
In the city, to work, and out to meet friends. They blended right in around town. Smart but casual, they didn't make me look like I'd just hit the gym.

On a few day hikes.  As versatile as Tropicfeel is, the line is drawn at cold and snowy temperatures or rainy hikes. They let the water/dew in when walking so definitely don't work as an all-round for hiking in Scotland, but they are called Tropicfeel after all. 


On the beach. I could walk in and out of the ocean without taking off my shoes!  This was great for rocky beaches and to avoid stepping on spiky sea urchins.
However, after just two months of not-so-intense use, the trainers started to fall apart. The loop you use to pull them on and off began to fray, and eventually came completely undone. The stitching came undone around the toe, leaving holes which continued to grow. And the sole developed a weird crinkly look. 
It was disappointing to see such a rapid decline in quality, especially for a company that promotes sustainability. Although it's great to see more innovation in renewable materials, sustainability is so much more than using recycled plastic bottles in your products. Sustainability is about using post-consumer or recycled materials to create a long-lasting product that is able to be repaired or disassembled and completely recycled at the end of its life. 
That said, their customer service was great, and they offered me a full refund as store credit. I patched up my trainers as I didn't want to send them to landfill – they're still wearable after all! Instead, I used the store credit to buy a pair for my partner. He chose the Jungle trainers (£99 GBP, $120 USD), which are still holding up really well 6 months later (no rips, tears, or holes!). 
Perhaps I just got a pair from a bad batch? I'll give Tropicfeel the benefit of the doubt, but I won't be racing back for a replacement pair any time soon.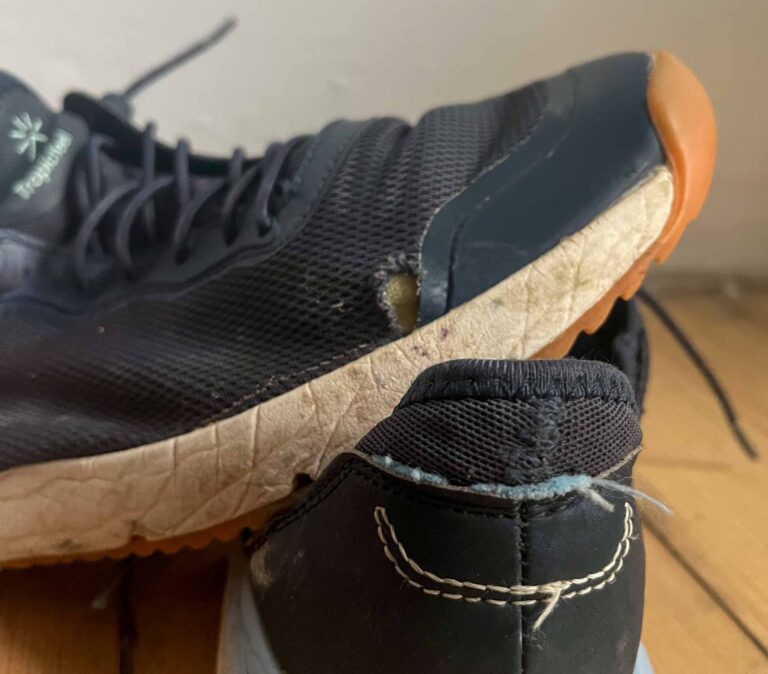 Tropicfeel Canyon Sneakers after just three months of casual wear around town, on short hikes, on a short trip to Spain, and a couple of times in the ocean
I continue to wear my Tropicfeel Canyon sneakers (and in the name of sustainability, I'll use them to until they become unusable!) but they've been downgraded to outdoor/water shoes only. They no longer look smart enough to wear around town. 
Given the high price and the hype around these trainers, I expected them to last much longer than they did. Overall, I would not recommend these trainers to anyone looking for a reliable and durable shoe. Although they're cute, and I love the design and concept, I don't think I'd trust them to hold up for a multi-month backpacking adventure. 
My verdict? Tropicfeel is close to achieving a nice balance of function, style, and comfort. They have a 5* advertising campaign (I see these everywhere) but they need to improve their quality to live up to the hype
The search for the perfect travel trainers continues!
Q: Are Tropicfeel shoes durable?
A: Despite the many positive reviews, my Tropicfeel Canyon sneakers started showing wear in just under two months. They're still hanging in there, but I wouldn't pack them as 'the only shoe you'll need for your travels'
Q: Are Tropicfeel shoes true to size?
A: I bought my normal size and they were absolutely fine, but Other buyers have noted that these fit a little big, so try sizing down if you want a good fit. The slip-on laces are a little too long, especially when you pull them too tight, but they come with another pair of 'normal' laces which you can use.
Q: Are Tropicfeel shoes waterproof?
A: Tropicfeel have two lines of shoes, water-friendly and weatherproof. The water-friendly ones are made to be worn in the water, so they're not waterproof but dry really quickly! The weatherproof ones advertise as being waterproof, but I haven't personally tried them. 
Q: Do you need socks with Tropicfeel shoes?
A: That's up to you! They fit well and are comfortable with and without socks. I prefer to wear socks unless I know I'm going in the water. The shoes may be quick-drying but my socks definitely aren't!
Q: Are Tropicfeel shoes good for hiking?
A: They're good for light hikes but I wouldn't use them as a robust hiking shoe. If you're planning to embark on longer hiking trips, you'll require a pair of shoes that offer more ankle support and structure. 
Q: Are water-friendly sneakers worth it?
A: The water-friendly capability of Tropicfeel Canyon sneakers are one of the only useful features this brand advertises and I continue to use my broken pair as water sneakers for paddle boarding and kayaking. 
Follow our daily adventures on Facebook and Instagram
This post may contain affiliate links (yay for transparency!) This means that I will earn a small commission, at no additional cost to you, if you click the link and choose to buy the product. I only link to stuff I have personally bought and found useful and never endorse crap. Your support helps keep the site going, thank you!