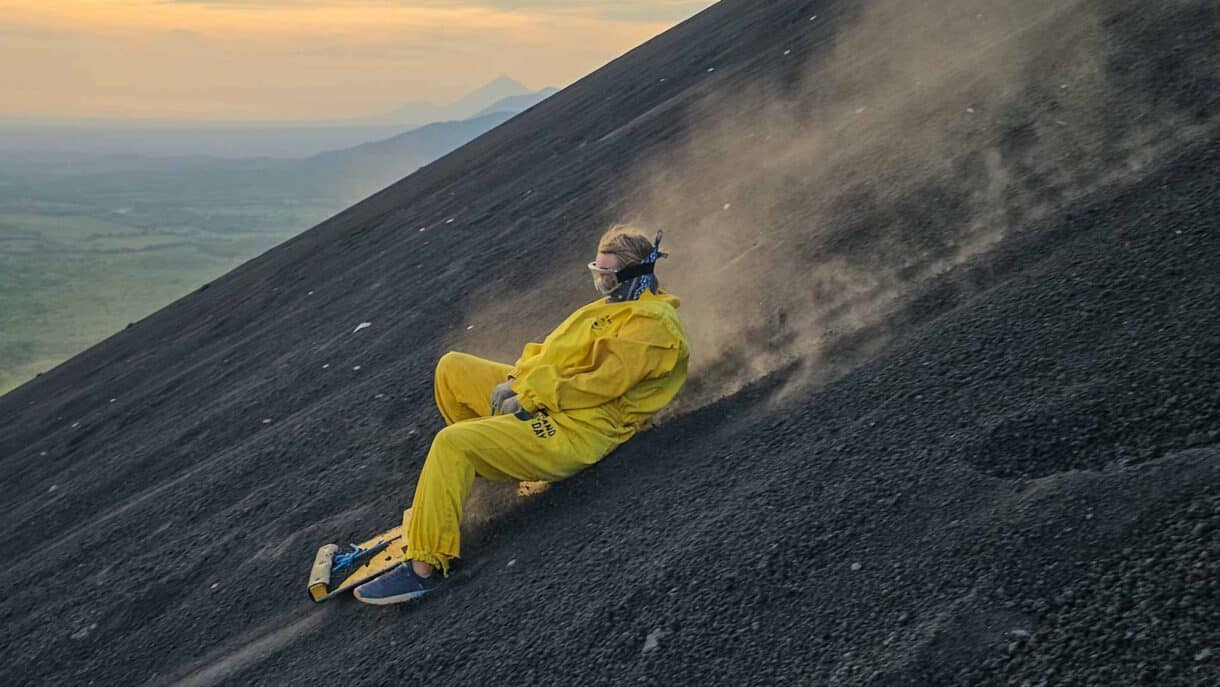 Volcano Boarding in Nicaragua: The ULTIMATE Guide [2023]
Léon, Nicaragua: As we've mentioned, Léon in Nicaragua is the birthplace of volcano boarding. Cerro Negro's ash-covered slopes are perfect for it!
Pacaya, Guatemala: If you've got a taste for volcano boarding, here's another one in the Central America area! Most people hike around the Pacaya Complex, but there are some tour operators offering the rare chance to surf down the slopes. 
Mount Yasur, Vanuatu: Vanuatu, an island nation in the South Pacific Ocean, is home to Mount Yasur. It's not as widely known for volcano boarding as Nicaragua, but the volcano's accessibility and regular eruptions make it a perfect destination! It's a little more dangerous though, eruptions can occur daily.
Mount Bromo, Indonesia: Mount Bromo is an iconic volcano and a more recent addition to global volcanoboarding destinations, with its latest eruption dating 2015.
Mount Etna, Italy: Mount Etna, is one of the most active volcanoes in Europe. Although we couldn't find any guided tours, you can certainly see people boarding and skiing by themselves. Unless you're a pro, we don't recommend this.
WOULD WE RECOMMEND VOLCANO BOARDING IN NICARAGUA?
Definitely! Volcano Boarding in Nicaragua was one of the best things we did in Central America. Even though it sounds way more adrenaline-packed than it actually is, not many people can say that they've ever boarded down a volcano. There are only a few places in the world you can do this, so it's not one to be missed! 

It's difficult to hike up volcanic scree with a huge board, but the climb itself is worth the trip just for the views over the other volcanoes. The after party is also really awesome, in fact, we found it more fun than some huge organised parties, such as Granada's Treehouse Rave. And we thought that the price is super accessible for most tourists, especially since it includes all your snacks and dinner! We loved this trip, and it's definitely not one to miss whilst you're in Central America.
We hope we've covered everything. If you have any more questions, shoot us a message on Instagram or leave us a comment! We're pretty active here, and we'll get back to you soon.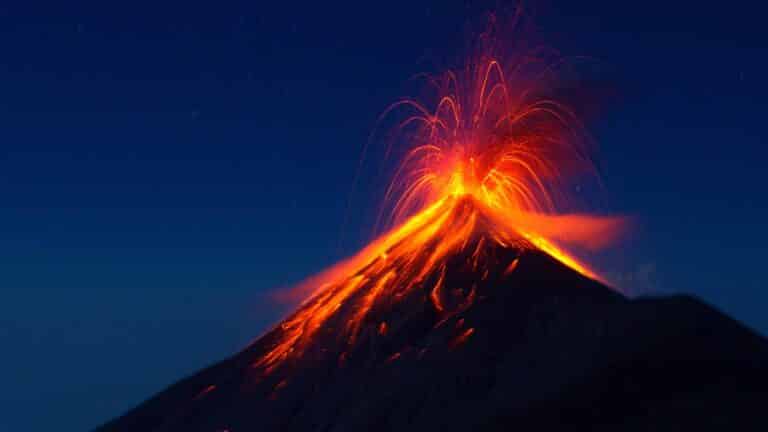 Into volcanoes? Head to Guatemala and check out Acateango! (above)
IS VOLCANO BOARDING DANGEROUS?
All sports are dangerous and you will be sledging down an active volcano! But if you go with a reputable tour company, follow instructions, and wear safety gear, you'll be unlikely to get more than just a few bumps and grazes. 
IS VOLCANO BOARDING WORTH IT?
Yes! Volcano boarding is absolutely worth it – we had the best time. The rush of sliding down an active volcano's slopes is an unforgettable adventure and you'll create lasting memories of your time in Nicaragua and Central America. 
WHERE CAN YOU GO VOLCANO BOARDING?
You can board down a volcano in just a few places in the world! These are: Cerro Negro, Nicaragua; Pacaya, Guatemala; Mount Yasur, Vanatu; and Mount Bromo, Indonesia. Theoretically, you can also board down Mount Etna in Italy too, but we couldn't find any tours for this and we don't advise trying it alone. 
WHAT ARE THE RULES OF VOLCANO BOARDING?
Basically, just listen to your guide. Wear the safety gear they give you, listen when they teach you how to control the board, and don't do drugs/alcohol before you go (save it for after!).
WHO INVENTED VOLCANO BOARDING?
Adventurous Aussie, Darryn Webb, knew how to snowboard on sand dunes back home and began to experiment with this on Cerro Negro.  After trying a mattress, a fridge, and even a car hood, he settled on the sledge we use today! 
SAVE THIS POST TO PINTEREST TO INSPIRE YOUR NEXT ADVENTURE!
Follow our daily adventures on Facebook and Instagram
This post may contain affiliate links (yay for transparency!) This means that I will earn a small commission, at no additional cost to you, if you click the link and choose to buy the product. I only link to stuff I have personally bought and found useful and never endorse crap. Your support helps keep the site going, thank you!