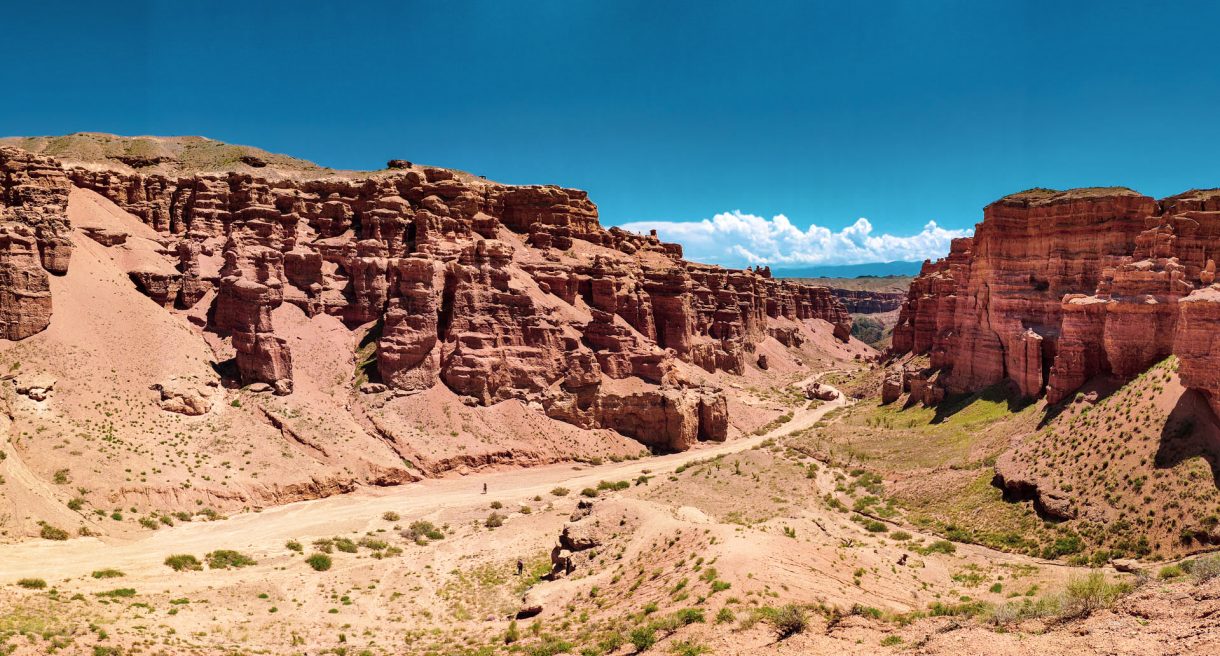 Charyn Canyon: The Complete Guide for 2022
Charyn Canyon. Kazakhstan's answer to the Grand Canyon. This gorgeous gorge gives Arizona and Utah a run for their money, with beautiful layers of burning reds and fiery oranges contrasting against cloudless blue skies. Whether you're travelling around Kazakhstan or just passing through, a visit to Charyn Canyon should definitely be on the cards. 
This guide covers all the information you need to know about visiting Charyn Canyon in Kazakhstan. We'll let you know how much it costs, how to get there from Almaty, where to stay and what to do whilst you're there

Reminiscent of Arizona or Utah, the Charyn Canyon (Шарын шатқалы) is part of the breathtaking Charyn Canyon National park. Around 200km east of Almaty, the valley stretches 150m along the Charyn River, one of the deepest rivers in the Tien Shan Mountains. The highest point rises up to 1300m, with towering cliffs reaching up the valley. 
Chiseled out of the steppe, the multicoloured rock layers are the product of different stages of sediment deposits deposited by the rivers that once flowed through, filling the canyon with an abundance of life. Sculpted by wind and water, these layers of fiery sandstone have been shaped into rare and colourful structures. 
There are five different canyons, each named for their own unique formations, including the  Valley of Castles, the Devil's Gorge and the Ghosts Gorge.
The Valley of Castles is the most famous part of the Charyn Canyon and where most day-trippers will explore. It feels almost mystical. When the sun is low in the sky, the coloured stones appear brighter and the eroded rock sculptures cast strange shadows across the valley floor.
Walking along the bottom of the valley is encouraged, although getting down can be a bit of a slip and a slide. Once you're there, gaze up at the towering formations.
This canyon is also the main tourist entry point, although don't expect much. This consists of a payment booth and public bathroom, which wasn't completed until 2019. Head past the checkpoint and enjoy the views over the canyon before walking through the valley. 
Temir means iron, and this canyon is of the reddest iron red. Only accessible by a four-wheel drive vehicle, or on foot, this cozy canyon makes a great camping spot. There's plenty of caves to explore and even a small waterfall (useful for a cold morning shower and to get water for cooking if you're camping).
Thought to be the last place in which you can find the rare Sogda Ash tree, the unique Ashen Grove is nestled in the flood-plain of the Charyn river. This location will stun you, no matter which season you visit. Spring will surprise you with emerald green leaves and au­tumn will take your breath away with the yellows and reds of the leaves adding a layer of colour to the rust-red canyon. 
There are a few legends about the canyon. People believed that it was a place haunted by spirits who didn't like to be disturbed by the living. This may be grounded in the discovery of ancient burial sites in the area. Perfect to visit if you're interested in history, or the supernatural.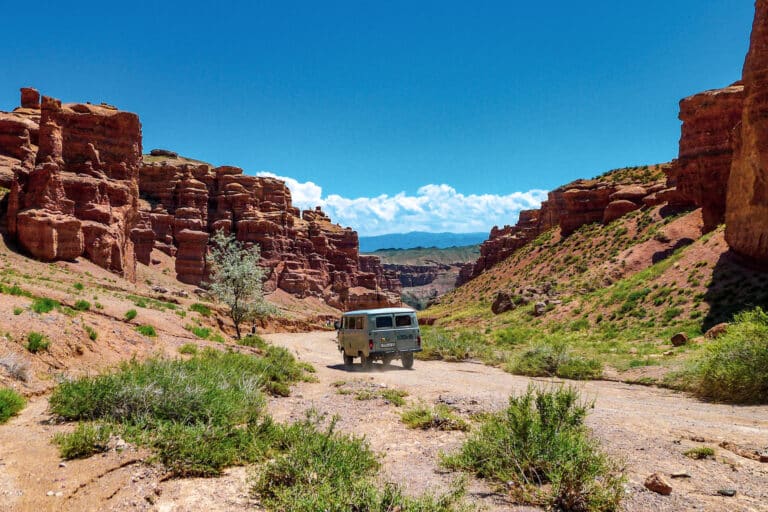 Besides sightseeing and photography, the Charyn Canyon is a great place for hiking, and rafting, as well as off-road jeep touring, camping out under the stars, and just enjoying nature
The main hiking trail is in the Valley of Castles and runs for 3km. Of course, there's nothing to stop you from hiking in the valley but there are few signposted routes and paths. Bring a map, bring a GPS, and remember to tell someone about your plans.
During the summer, the canyon can be scorching hot. Luckily there's a cool river for you to take a dip but stay near the shore during summer as the current is deceptively fast. Some tour companies in Almaty offer rafting and kayaking activities in the Canyon. You can also arrange to fish for Charyn's local fish, the 'Naked Osman'.
Best times to visit to Charyn Canyon
As with many Central Asian countries, the Kazakh steppe will leave you shivering in the winter, and sweating in the summer. Although it appears warm, temperatures in Charyn Canyon can hit  -30° C in the depths of winter to and soar as high as +40°C in the height of summer. Take this into consideration and pack appropriately.
Spring (April – June) and Autumn (September- October) are the best times of year to visit Charyn Canyon, although I'm a firm believer that fun can be had even in the 'off-season'.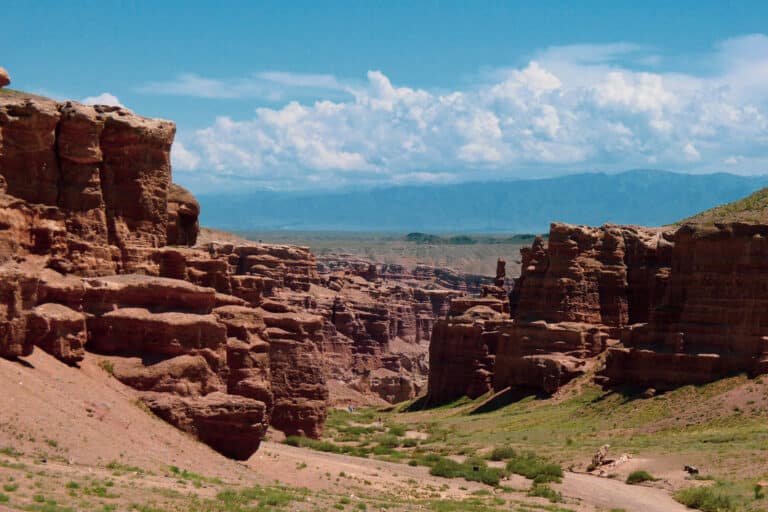 How to get to Charyn Canyon & Costs
Kazakhstan isn't a popular tourist destination. Despite its beauty, Charyn Canyon does not see a lot of tourists and getting there can be difficult. Don't worry. Getting to Charyn Canyon won't break the bank!
There are three official tourist routes in the park. The "Valley of Castles" is the "easiest" to visit and possible with a normal car or taxi hire. All others routes require a vehicle with four-wheel drive.
How to get to Charyn Canyon
The best (but most expensive) option is to hire a vehicle. It takes about three hours to drive there from Almaty. If you want to drive into the canyon with your vehicle, you will have to pay an additional entrance fee.
You can reach the viewpoint at the top of the Valley of Castles with any car (///regular.impacting.soloist). All other canyons are best visited with a four-wheel drive.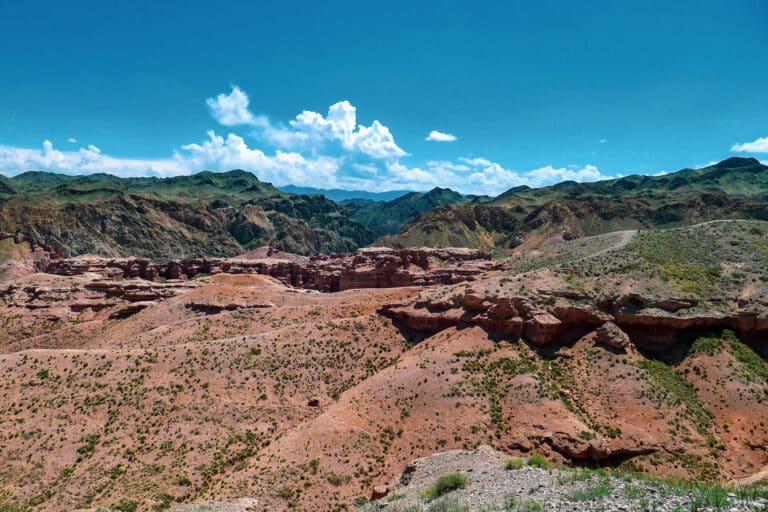 Hitching a ride to the Canyon is possible and a popular option. Considering the distance from Almaty and the low frequency of traffic, it'll be a stretch to make Charyn Canyon a day trip from Almaty if you choose to hitch-hike. We'd always recommend bringing a tent if you plan to hitch-hike anywhere, as there's no guarantee you'll be dropped off somewhere with accommodation. 
Shared taxi or tour operators
If you don't have your own transportation and you don't want to hitchhike the whole way, taking a shared taxi from Almaty will be the safest and least stressful way to get to Charyn Canyon. However, it's also the most expensive. Many guesthouses and hostels in Almaty organise shared transport to the canyon.
Almaty-based hostel "Almaty Backpackers" offers day trips for around £80 per vehicle. So your best bet is to find like-minded travellers and share the cost among the 4-5 available seats. 
If you can't find anyone to split the cost with, head to Sayahat bus station and search for the shared taxis that go to Kegen (Кеген), a small village near the canyon. Ask the driver to drop you off at the intersection with Charyn Canyon (say "stop Charyn povorot"). It's another 10km walk from there, but you could always hitchhike the last bit. The shared taxi should cost around 2000 – 3000 tenge per person (about £3.50 – £5 at the time of writing).
During my visit, I could not find direct public transport to and from the canyon. I heard that there is a bus that goes from Sayahat bus station (Almaty) to Saty and that you could convince the bus driver to drop you off at an intersection about 10km from the canyon. However, no schedule for this bus is available. 
If you have more updated information on this bus connection please let us know in the comments. 
Costs of visiting Charyn Canyon
Upon arrival, you'll have to present your passport (and driving documents if you have your own vehicle) to the officer in the little kiosk (///frantically.hereafter.hogs). The entry cost is around 750 tenge (£1.25) and if you want to camp, you'll have to pay another 350 tenge (60p).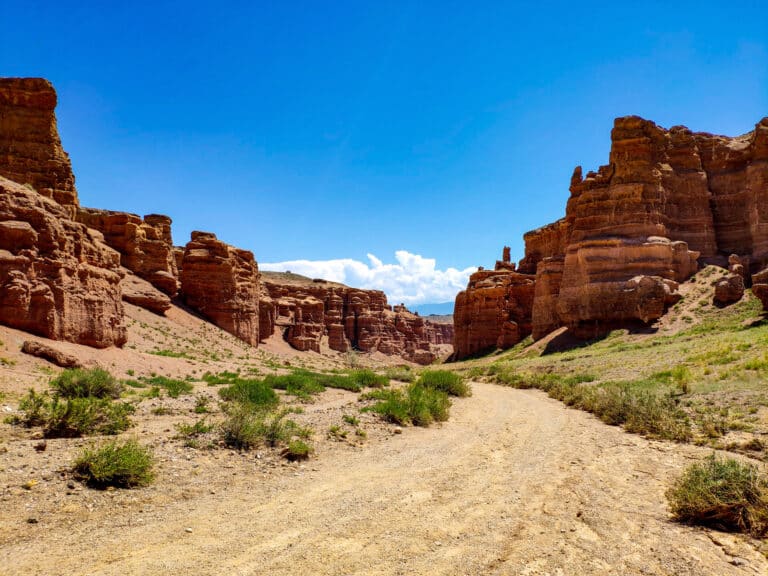 Most tourists want to make Charyn Canyon a day trip from Almaty. Although there is nothing wrong with this, we advise staying at least two days to get the full experience. You can really explore the canyons, experience the sunset and sunrise casting the canyon in a spectacle of golden colours, and camp under a canopy of stars. You will not regret it.
For those that enjoy comfort, there's an eco-friendly resort close to the Charyn River, which runs through the bottom of the Valley of Castles. Here, you can stay in a wooden cabin or try one of the traditional nomadic yurts. You can experience Kazakh food at their in-house restaurant. The park also has a restaurant and hot springs, but it's not cheap. 
If you prefer camping, simply pitch your tent anywhere! Campfires are allowed, but remember to take your rubbish with you!
We hope this guide to Charyn Canyon has left you feeling inspired to visit Kazakhstan. Let us know in the comments if you plan to visit in the future!
Follow our daily adventures on Facebook and Instagram
This post may contain affiliate links (yay for transparency!) This means that I will earn a small commission, at no additional cost to you, if you click the link and choose to buy the product. I only link to stuff I have personally bought and found useful and never endorse crap. Your support helps keep the site going, thank you!