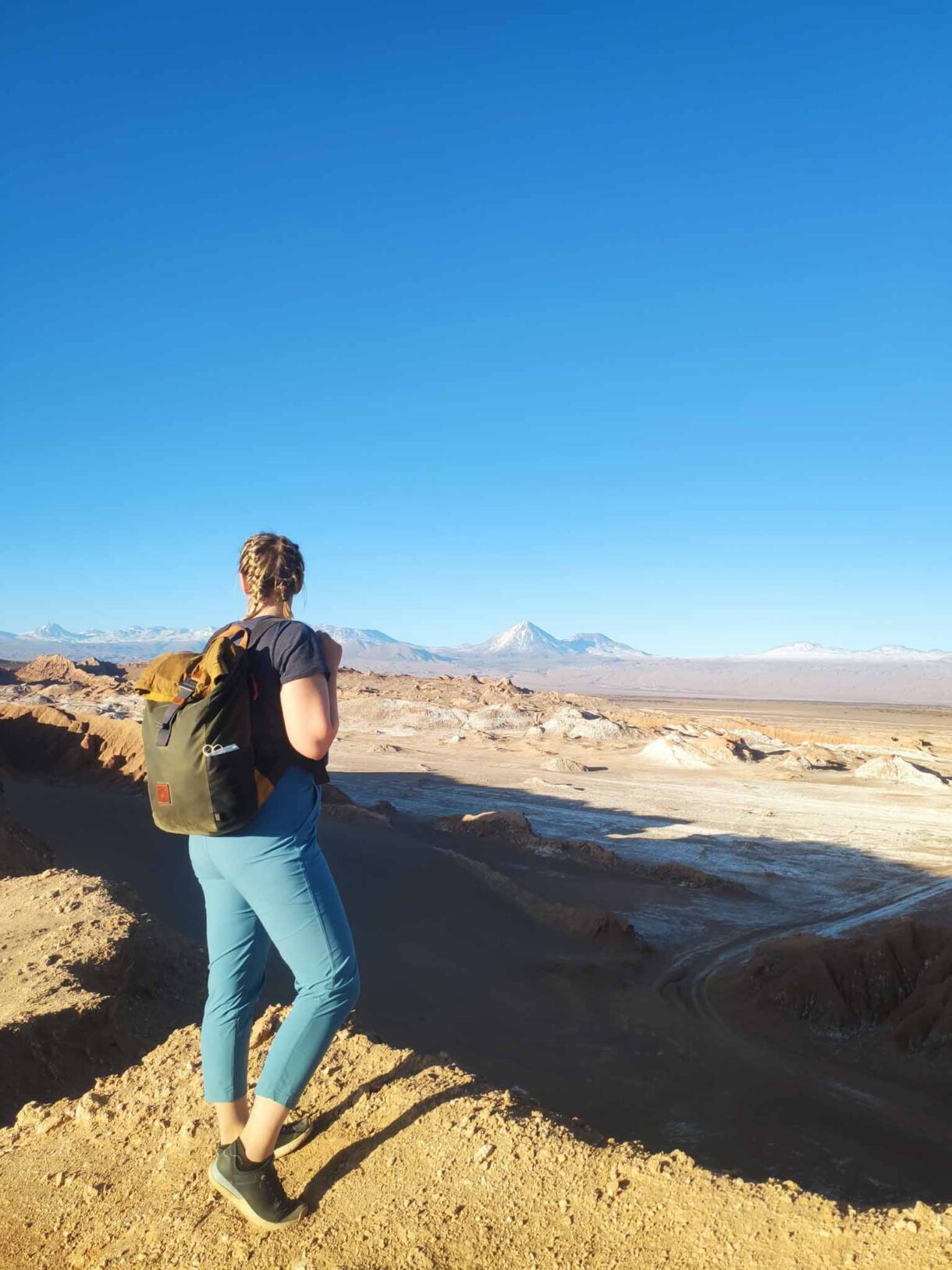 What to pack for Chile (packing list for every region!)
Are you planning a trip to Chile? If so, you might be wondering what to pack for your adventure. 
Chile is a country of contrasts, from the hot and dry Atacama Desert in the north to the cold and windy Patagonia in the south. Packing for such a diverse country can be a challenge, but fear not! In this post, we'll give you some tips on what to pack for Chile, including specific recommendations for Patagonia, Santiago, and the Atacama Desert.
Disclaimer: These are just some tips to give you an idea of what you might like to bring. Everyone has different must-have items when travelling. I like to pack light, this might not be how you like to pack!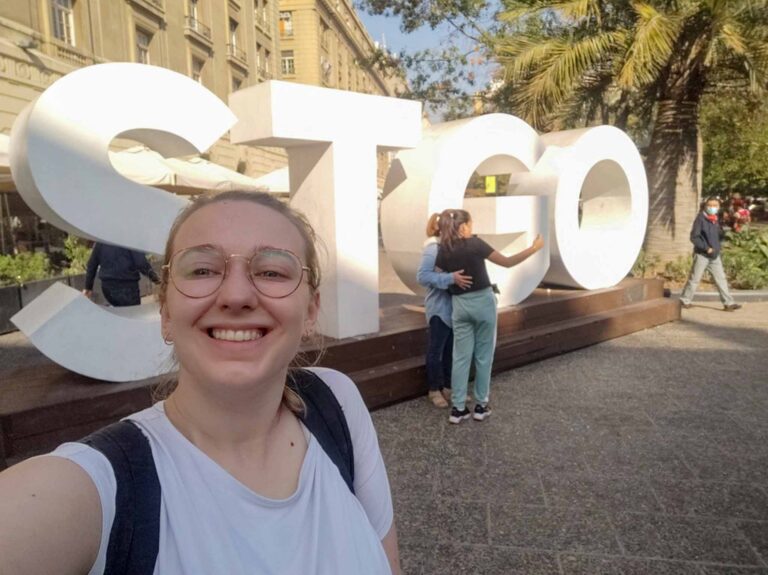 What to pack for Valparaiso and Santiago?
Santiago is Chile's capital city and has a mild Mediterranean climate – it's not unlike Italy or Los Angeles. In summer, it's hot. In autumn and winter, it's sunny and warm during the day, but temperatures can plummet at night. 
Valparaiso and Santiago both look like a crayon box exploded on them, with tons of cool street art, painted staircases and switchback paths, as well as endless alleyways of cute and quirky boutiques that you'll want to explore!
TOP TIP: The colourful backdrops of Valparaiso and Santiago are a photographer's dream! Bring clothes that are comfortable, but that will complement the scenery!
Style is evolving in Santiago and becoming more fashion-forward, particularly in the vibrant and eclectic pockets of the city like Lastarria. That said, no one really cares what you wear. It was much cooler than I expected in Santiago in June (remember, seasons switch, so this is winter in the Southern Hemisphere), but no one gave a toss that I was wearing the warmer, outdoorsy gear I'd packed for Patagonia.
Here's what you should pack for a trip to Santiago and/or Valparaiso:
Pack lots of layers in preparation for the day-to-night temperature changes and be prepared with comfortable footwear. The weather in Santiago is mild, so you won't need heavy winter clothes. Bring a light jacket, a sweater, and a few t-shirts.
What to pack for Santiago and/or Valparaiso:
Light jacket

Lightweight jumpers

T-shirts or camisoles

Jeans or leggings

Comfortable shoes/trainers

Waterproof jacket or umbrella

Sun protection (a hat and some sunscreen)
If you are planning to visit cities and beach towns, then add light summer dresses and sandals to your packing list too!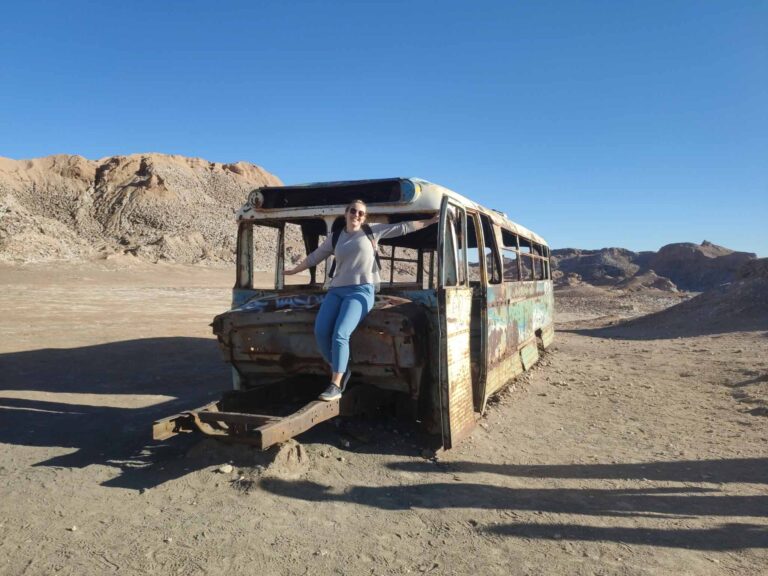 What to pack for the Atacama Desert?
That Atacama is one of the driest places on Earth, but don't be fooled by thinking desert = warm! The climate can be quite extreme: temperatures in the Atacama can vary drastically between day (32°C/90°F) and night (-2°C/28°F.).
Lots of the trips in the Atacama desert are also at higher altitudes, where it's much colder,  so you'll want to make sure to pack enough layers. I'm not being dramatic when I say that visiting the El Tatio Geysers in the Atacama desert was the coldest I've ever been! We'd just sent most of our clothes for laundry, so I couldn't even layer up. Don't make that mistake!
TOP TIP: San Pedro de Atacama has some great markets with some really cool stuff. If you find you're a bit chilly, it's easy to pick up a crazy-coloured poncho or fun llama wool jumper here. 
Here's what you should pack for a trip to the Atacama Desert:
Again, layers are key here. You'll want to pack clothes that you don't mind being active in, as you might have to hike or climb to get the most out of the Atacama. The sun is harsh, so you might want to cover your shoulders to avoid getting burned! And believe me, it gets really cold at night, so long trousers and maybe even thermals are useful!
What to pack for the Atacama: 
Warm/windproof jacket

Warm jumper (or a few  lighter ones that you can layer)

Long or short sleeve t-shirts

Comfortable shoes (the desert can be rocky and uneven)

Leggings or trousers you don't mind being active in

Sun protection (a hat, sunglasses, and strong sunscreen are a must)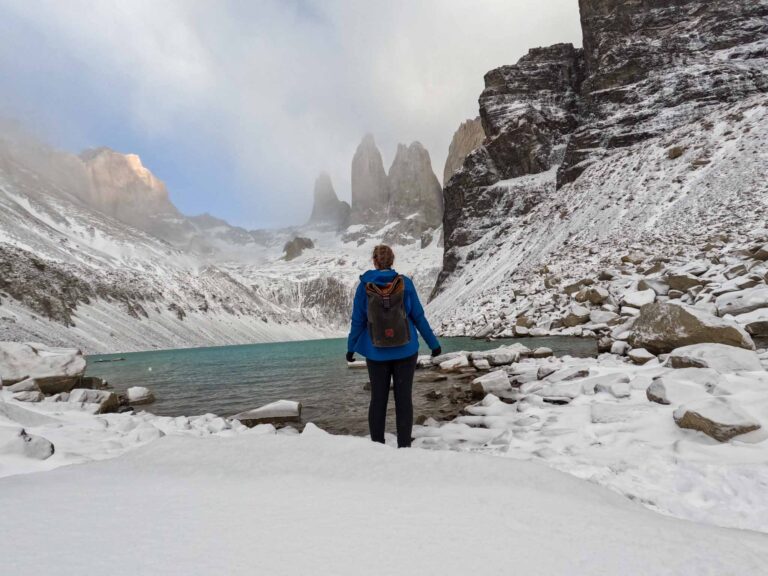 What to pack for Patagonia?
Patagonia has a cool, temperate climate that is heavily influenced by its location at the southern tip of South America. Due to its proximity to the Antarctic, the weather can be unpredictable, and it is known for its strong winds and sudden changes in temperature.
Whilst Santiago and the Atacama are warm all year round, the climate in Patagonia really varies depending on the season. The summer months from December to February are the warmest (10-15°C (50-59°F)) during the day but it can get chilly at night. Patagonia is also famously windy during the summer The winter months of June to August are the coldest, with temperatures often dropping below freezing, and snowfall is not uncommon. 
TOP TIP: The weather in Patagonia is famous for being unpredictable and it's not uncommon to have four seasons in a day. Be prepared for anything!
Here's what you should pack for a trip to Patagonia:
Most people who visit this part of Chile come for skiing, mountaineering, or hiking. As with any mountainous area, layers are key! Overall, it's best to pack for colder weather and be pleasantly surprised if it's warmer than expected!
What to pack for Patagonia :
Windproof and waterproof rain jacket 

Warm fleece 

Long sleeve and short sleeve t-shirts

Hiking trousers or leggings 

Well-broken-in, waterproof hiking boots

Sun hat (summer) or woolly hat (winter) 

Sunglasses and sunscreen (year-round, the sun is

harsh

)
If you're visiting Patagonia in winter (as we did) you might also consider:
Down jacket 

Thermal base layers

Waterproof trousers (for rainy or snowy hikes)

Scarf
Other things to pack for Chile:
Ok, we've got clothing covered (which is what I always worry about – I'm a bit of a gear junkie and like to be prepared!). Let's move onto other things you might want to pack for Chile:
Personal Items: You can pick up toiletries and medications in most large cities, but some areas in Chile are very rural. Bring all the toiletries you'll need, plus personal medications and insect repellent. 
Travel Documents: Make sure to bring your passport, visa, and other necessary travel documents. It is also a good idea to make copies of your documents in case they are lost or stolen, and take a notebook with details of any reservations. 
Electronics: I'll say it now, you'll want to bring a camera! Make sure to bring the chargers and adapters that you need. And lots of spare SD cards for all the amazing photos you'll be taking!
Cash: Although cards are accepted in the larger cities, some folk only accept cash, or you may have an issue paying on debit card (as we did!). It's important to bring enough cash to cover your expenses. ATMs can be found in most cities, but they may not be available in more remote areas.
Sun protection: The sun's UV rays are stronger at the higher altitudes of San Pedro, especially. Bring sunscreen, sunglasses, and a hat to protect yourself from the sun.
Water Bottle: It is important to stay hydrated while travelling in Chile. Bring a reusable water bottle to fill up when you can. The water in Chile is drinkable in some areas, but locals said that it wasn't very tasty and we don't like to take risks! We use our travel filter bottles, which provide safe, clean drinking water anywhere! (Use code DISCOVENY15 for 15% off)
That's it! Everything you need to know to pack for your trip to Chile. If you still have questions, shoot me a message on instagram, or leave a comment below and I'll get back to you as soon as I can!
This post may contain affiliate links (yay for transparency!) This means that I will earn a small commission, at no additional cost to you, if you click the link and choose to buy the product. I only link to stuff I have personally bought and found useful and never endorse crap. Your support helps keep the site going, thank you!