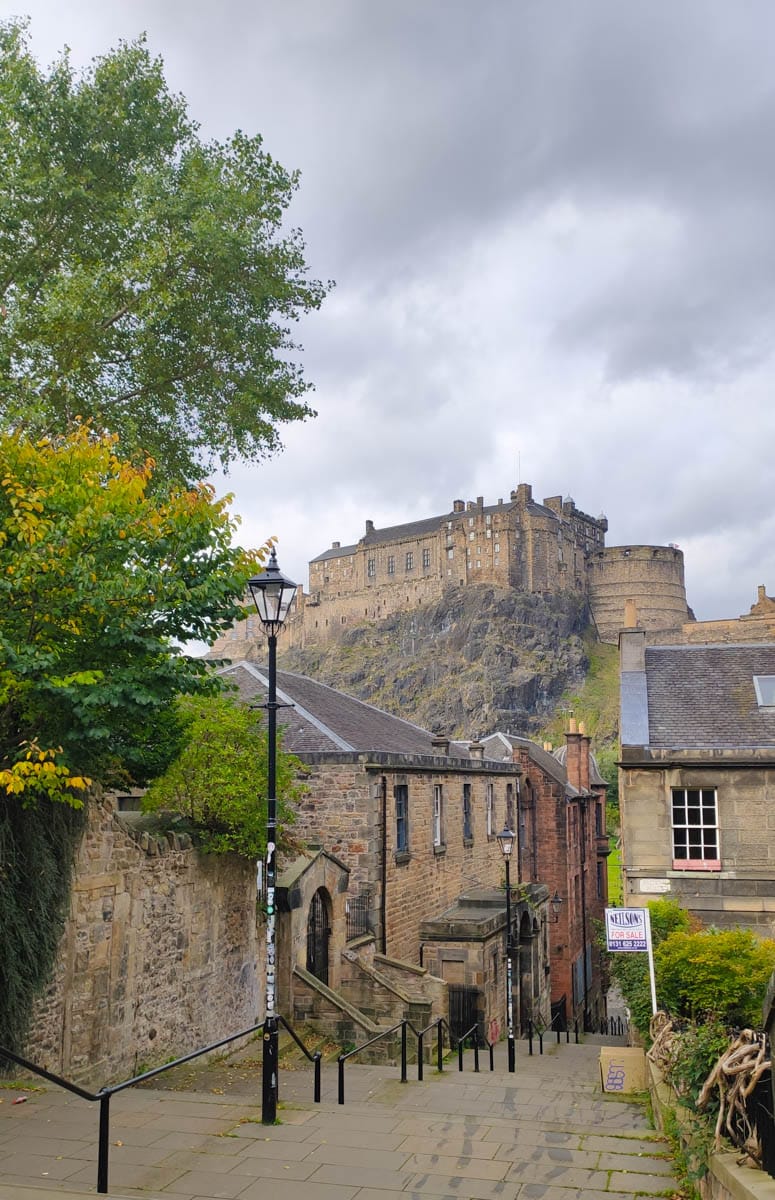 A Local's Guide to Edinburgh
Part of the Green Travel Guide series, the Local's Guide to Edinburgh is the only guide you need. Written by locals, it will cover everything you need to know to experience this historical city in the most sustainable way possible. Our first-hand recommendations will ensure you're seeing the best sights with the insider knowledge of the locals.
Dive right in to the Local's Guide to Edinburgh
Click any of the bullets below to be taken straight to that section
Best things to do in Edinburgh
Our favourite thing to do in any new city is a free walking tour, and Edinburgh is no exception. These tips-based tours are your best bet for getting your bearings – simply tip what you can afford at the end. Edinburgh Free Tours offer 2-hour walks of the Old Town. Pick from one of their many fun themes (including history, haunted and Harry Potter) to find a stance on this city that suits your interests.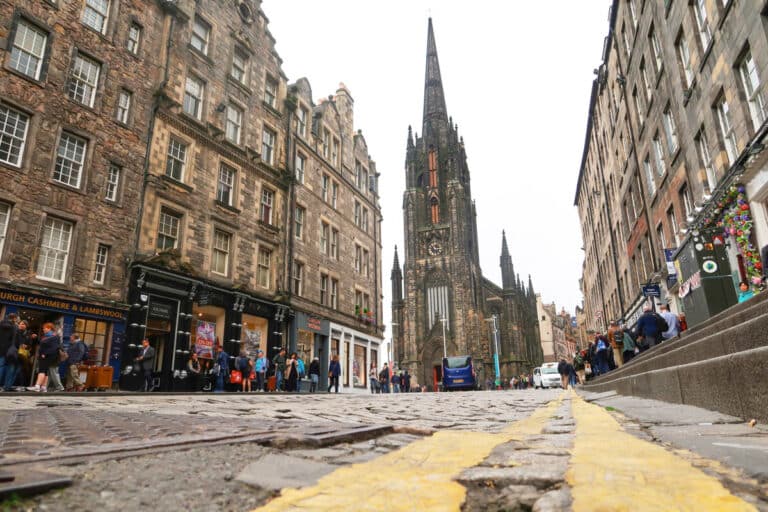 The Royal Mile runs through the heart of Edinburgh's Old Town, connecting the imposing Edinburgh Castle with the beautiful palace of Holyrood House. The Mile is alive with history. Impressive, towering tenements overlook this cobbled street, many of which are home to famous historical events and characters. Narrow stairways and alleys interlock to create a secret world of hidden cafes, garden squares and photograph-worthy scenes. It's definitely worth checking out.
I know what you're dying to ask. Is the Royal Mile exactly one mile long? Well, yes and no. It is exactly one Scots mile long. A Scots mile was longer than an English mile, however this measure of distance hasn't been used since the eighteenth century. Even still, the name has stuck now. It'd be a shame to have to change it.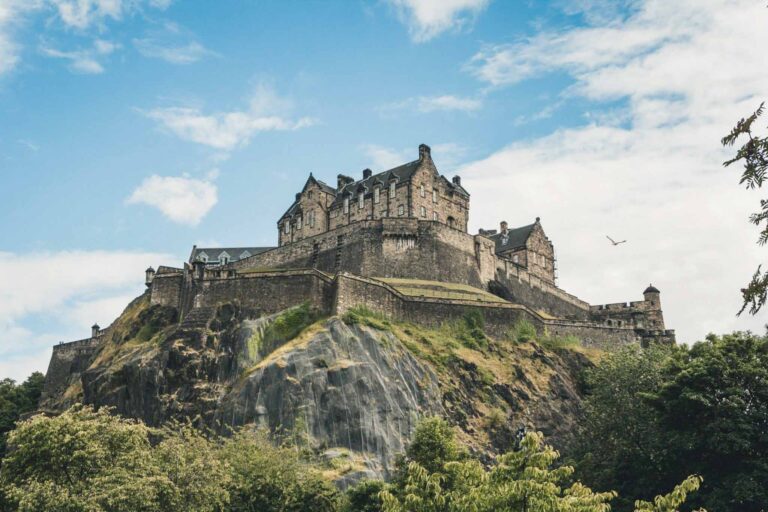 Edinburgh Castle is one of the most important historic sites in Scotland and dominates the city's skyline.  Built atop an extinct volcano, it is home to the Crown Jewels (the Honours of Scotland) and the Stone of Destiny – an oblong block sandstone that has been used for centuries in the coronation of Scottish monarchs. Well worth a visit, this impressive fortress is educational and exciting for all ages. It also offers wonderful views across the city, as any defensive fortress should.
Relax in the Royal Botanical Gardens
The Botanics, as we fondly call it, is my favourite place in Edinburgh (and yes, I am biased because I study here). It's a beautiful space to relax, unwind and appreciate the seasons. Entry is free. There is a beautiful art gallery, tropical and temperate greenhouses and a well-curated gift shop where you can pause for a coffee. If you bump into me studying/working with the plants, feel free to say hi!
Explore Edinburgh's Literary Scene
Edinburgh is a book-lover's dream. There must be something about those historic cobbled streets and romantic Georgian buildings that sparks the imagination because the city has produced notable authors throughout history, including Sir Arthur Conan Doyle, J.M. Barrie and Scotland's National Poet, Robert Burns. 
There's also no shortage of contemporary authors. Edinburgh is said to have inspired J.K. Rowling's Harry Potter, and the narrow streets and winding alleyways may have been the backdrop for Ian Rankin's crime novels. Check out a Harry Potter Walking Tour or an Edinburgh Book Lovers Tour if you want someone to show you around. Alternatively, stay tuned! I've got posts in the planning.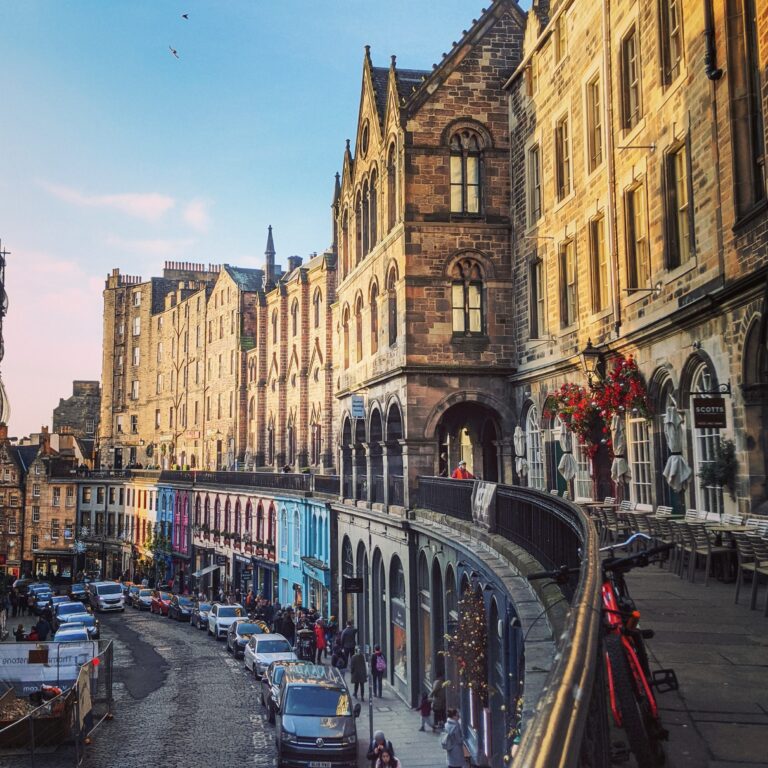 National Museum of Scotland
Free and fun; the National Museum of Scotland holds something to captivate everyone. In addition to Scottish History, the museum also has exhibits on nature, world cultures, art, design, science and technology, all in one bright, airy building. However, be aware that the UK's National Museums tend to have a somewhat colonialist attitude. The National Museum of Scotland is no exception, heavily featuring the 'achievements' and 'discoveries' of old white men. That said, the exhibits are interesting and it's a good place to visit on a rainy day. 
Live like Royalty at Holyrood House
The Palace of Holyroodhouse stands at the end of Edinburgh's Royal Mile. It's the official residence of the Royal Family when carrying out their duties in Scotland, but is open to the public when they're away. Unfortunately visiting Holyrood Palace is quite expensive. However, fans of the British Royal Family will definitely want to include this on their Edinburgh itinerary. 
This Local's Guide to Edinburgh wouldn't be much of a local guide if it didn't mention one thing locals enjoy on a weekend. Edinburgh is a hikers paradise, with tons of hiking trails beginning from the city centre itself. You can also venture further afield for a taste of the Scottish highlands.
Just a stone's throw away from Edinburgh are the Pentland Hills. Around 100km of paths connect across this regional park, providing access to a rich mosaic of farmed land, heather moorland, reservoirs, woodland and hills. If you fancy a day in the countryside but don't have the time to drive further into the Highlands, this is the perfect way to get a taste of the Scottish Hiking Experience. 
The easiest way to get to the Pentland Hills from Edinburgh is to take a bus. Lothian Bus Service numbers 4, 10, 11, 16, 27 and 44 will get you close enough to various trailheads, depending on which hike you plan to do.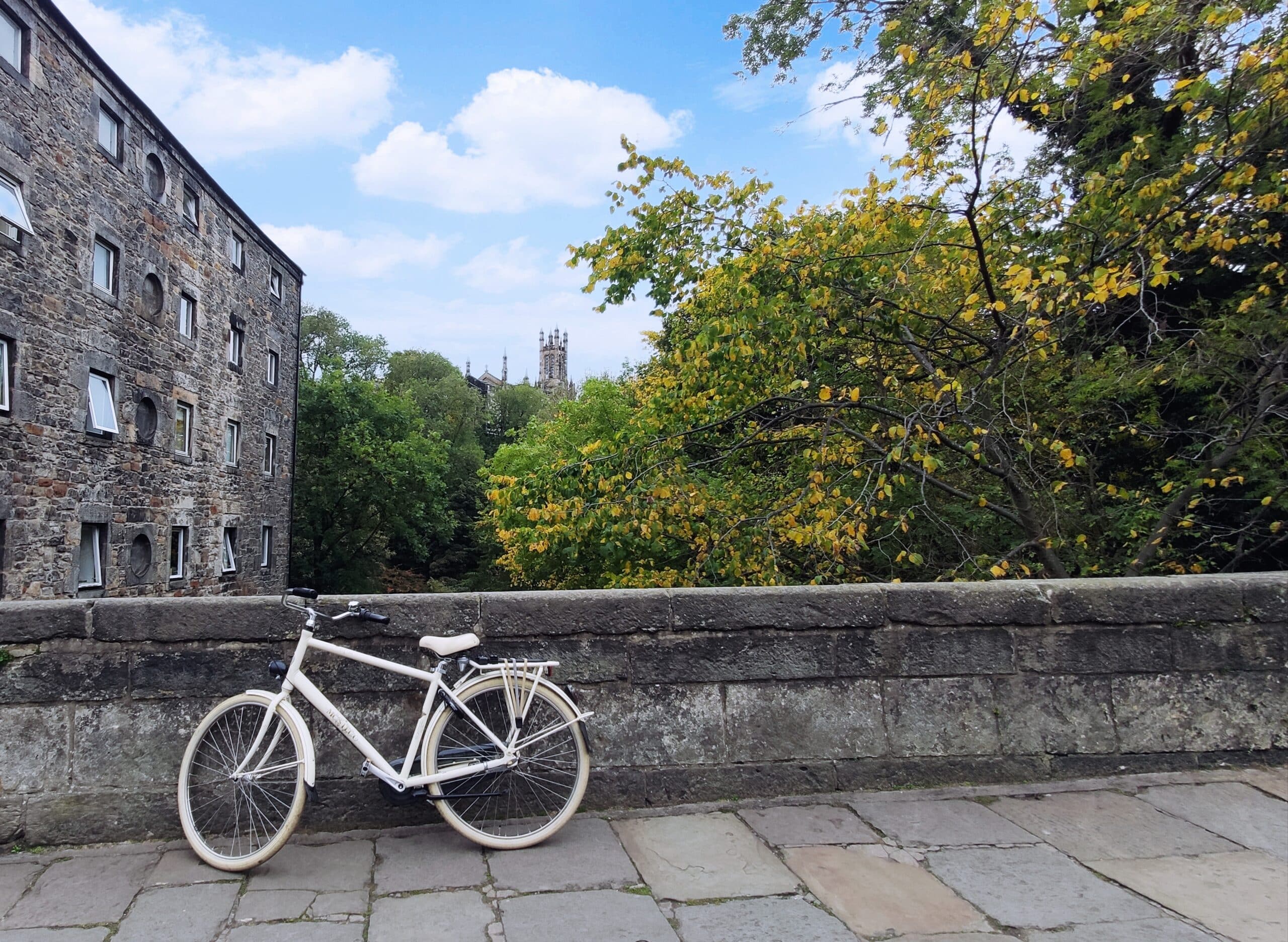 Although not immediately obvious, Edinburgh is also a great city for cycling. National Cycle Networks wind through the city, utilising disused railway lines to create a car-free space for pedestrians and cyclists. Not many people know about them, not even all the locals! Which is why this Local's Guide to Edinburgh is going to be the first to let you in on the secret.
Why not check out the engineering marvel of the Forth Rail Bridge at Queensferry, or cycle the elusive Cramond Island. You could head to Portobello beach for some sun, sea and sand, or explore the docks down in slightly eccentric Leith. Check out a map and discover your next destination here.
No bike? No worries! Edinburgh has an excellent cycle hire scheme with tons of pick-up/drop-off points scattered across the city. For just £1.50 an hour (£4.50 for 24h) you can ride around to your heart's content. All you need is a smartphone and you're good to go.
Sustainable Shopping Guide
Edinburgh is a city of creatives, there's no doubt about it. And it's this creative community that is responsible for many of Edinburgh's independent shops. This Local's Guide to Edinburgh will touch on some of our favourites. Feel free to reach out for a personalised shopping guide.
Supporting independent businesses is so important. By shopping small, you can support people that decided to take a risk or chase a dream. Your money doesn't wind up in some corporate bank account but goes straight to someone who does a happy dance every time someone buys from them. You are not just encouraging the sense of community spirit, but you are helping to build it. Small businesses see this and are more likely to give back to the local community through supporting or donating to schemes which can benefit people and the planet.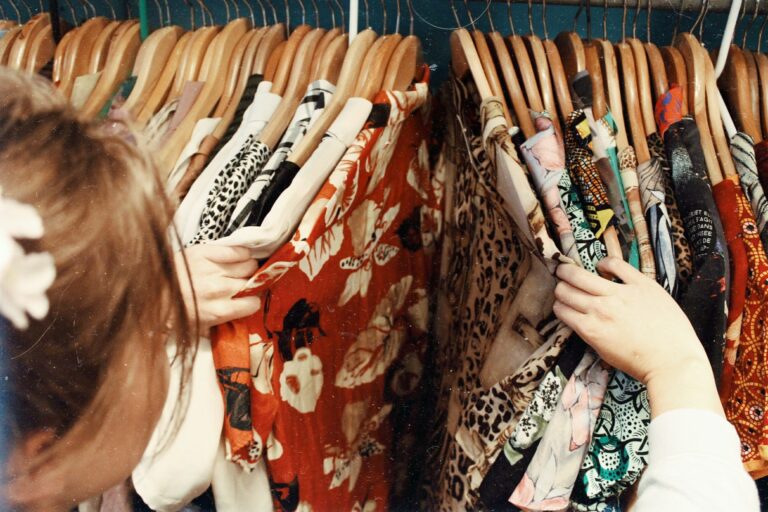 Go thrift and vintage shopping
If you love picking up pre-loved bargains (and you should, the environmental benefits are phenomenal!) then you've come to the right city. The large population of young people and students in the city means that thrift shops have an excellent turnover. It's the perfect place for a spot of secondhand shopping!
Why not try vintage shopping in Edinburgh's Grassmarket. You can pick up some great, high-quality bargains from Armstrong's if you're willing to have a good rummage, or you can head to Carnivàle Vintage for a higher-end browsing experience (but also higher price tags!). We also love Godiva, who stock a lovely selection of new clothing from ethical brands in addition to their vintage collection. 
Edinburgh also has so many thrift shops where the money you spend goes to support local charities. Check out the charity shops which are mostly located in Newington and along Leith Walk for some cheap thrills.
Lose yourself in Edinburgh's bookshops
If you're wanting books, look no further! Edinburgh is a UNESCO City of Literature, so you can bet it's got a lot to offer. Lighthouse Radical Bookshop is quite central and stocks a diverse range of authors with a focus on political and feminist literature. However, our local bookshop (and favourite!) is Toppings of Edinburgh. With steaming cups of complimentary coffee and bookshelf ladders that you're encouraged to climb, you'll feel as happy as Belle in Disney's Beauty and the Beast.
If you're about in festival season, make the most of the amazing events put on in Edinburgh throughout the summer months. Whether you want to support some up-and-coming talent or a more established act, we recommend browsing what's on and taking a chance on something new.
Remember to enjoy the festivals with sustainability in mind. Find out what drinking facilities are available and bring a refillable bottle and reusable cup for those drinks. Try and shop second-hand or support small businesses for your festival attire. And most importantly, remember to dispose of your trash or pack it out with you.
It's the largest creative festival in the world. For three weeks in August the Edinburgh Fringe Festival opens the doors, streets and alleyways of an entire city to artists, creatives and performers worldwide. The city explodes with colour and energy as locals and tourists make the most of the summer heat and festivities.
The Fringe is open to all performers, from well-established acts, to those just beginning to make a name for themselves. There's theatre, stand-up comedy and spoken word. There's dance, musicals, opera and music. For those that like to laugh, there's circus, cabaret and children's shows. Edinburgh Fringe Festival has something for everyone, guaranteed. 
You can check out the line-up and get your tickets from the official Fringe website. Be aware, Edinburgh gets busy during the Fringe! If you aren't interested in the festivities and just want to see the city, you should avoid booking your trip during August. 
Edinburgh International Book Festival
Edinburgh  is home to the largest public celebration of the written word in the world, hosting around 1000 writers and thinkers from across the planet every year for the International Book Festival. Check out their website here.
Each year, established writers from all over the world gather alongside up-and-coming authors. They spend two weeks meeting their audience and fans, giving talks, and sharing thoughts. The Book Festival encourages a love of books, words and reading. It aims to inspire people of all backgrounds and ages to explore new ideas and expand their horizons.
We don't eat out much (I'm a student and it's expensive!) but here are a few restaurant recommendations. This  Local's Guide to Edinburgh list for foodies will be constantly updated as we discover more excellent eateries in Edinburgh.
A vegan cafe and yoga studio in Edinburgh, believing in finding health and joy through good food, yoga, laughter, and a loving environment. We love Beetroot Sauvage, it's not just perfect for vegans and vegetarians but for anyone who likes great food!
Flamboyant but friendly, La Casa serves Greek-inspired mezze and Spanish tapas. Their honey fried cheese dish is delicious. I think about that cheese at least once a week!
One of my favourite Indian restaurants in Edinburgh, their Mung Bean Dahl is to die for! Good vegetarian options too!
As a student, I'm fuelled by coffee. Cafés are my spot of choice for studying and socialising alike. These are my favourites:
Black Medicine Coffee Company
One of the older independents, Black Medicine Coffee Co has been going for more than 21 years. Their motto is simple, good coffee, good food and a space to bring people together. Plus, their mascot is a little goblin, what's not to love!
This independent speciality coffee shop nestled in the Old Town recently won the award for most eco-friendly speciality coffee shop in Edinburgh. They've got good vibes and great coffee, although it's strong!
Century General Store and Cafe
You won't be disappointed with a trip to this cosy community-oriented café. The open and airy space is perfect for relaxing or getting some work done. Vegan and vegetarian-friendly options are abundant, and their dark hot chocolate is divine. Century General Store also stocks a variety of beautifully curated and locally made goodies from artists and independents.
Who doesn't love ice cream? Mary makes all the gelato and chocolate freshly every morning. The flavours change through the days and seasons. My favourite is the pumpkin spice in autumn, and cherry cinnamon in winter. 
Mary's Milk Bar are also true eco-champions, with their bar and stools made from 100% recycled milk bottles and their colourful tops.
Things to do near Edinburgh
Got a bit more time in the Scottish capital? Don't worry, there's plenty more to see and do. Most locals don't own a car. The Local's Guide to Edinburgh has made sure all of these options are easily accessible by walking or public transport, so you don't need to worry about having your own wheels.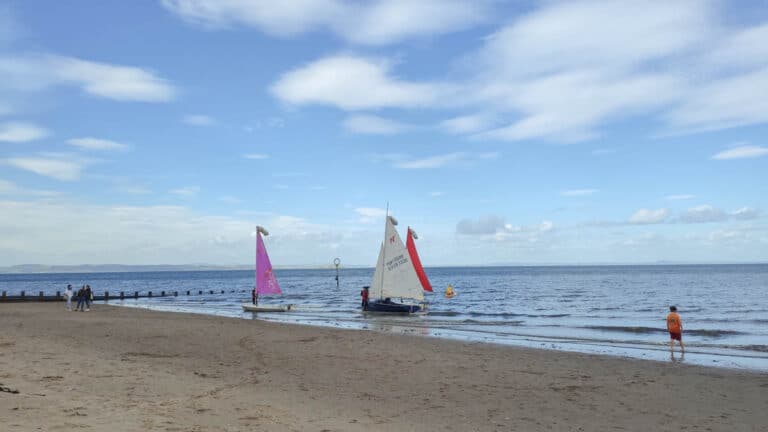 Portobello Beach is just a few miles from Edinburgh city centre. This little seaside suburb has over three kilometres of sand, perfect for some summer sunbathing or swimming (don't try this in the Scottish winter!). Why not visit at sunrise or sunset, Portobello Beach's unique placement is the perfect position for photographing the changing skies. We enjoy sipping a cup of cocoa next to a campfire and toasting marshmallows for s'mores.
Portobello Beach can be reached by bus 124, 21, 26, 42, and 45 from the city. If you pick up a hire bike at the top of Leith Walk, it's only a 20-minute cycle which can be done entirely on car-free cycleways.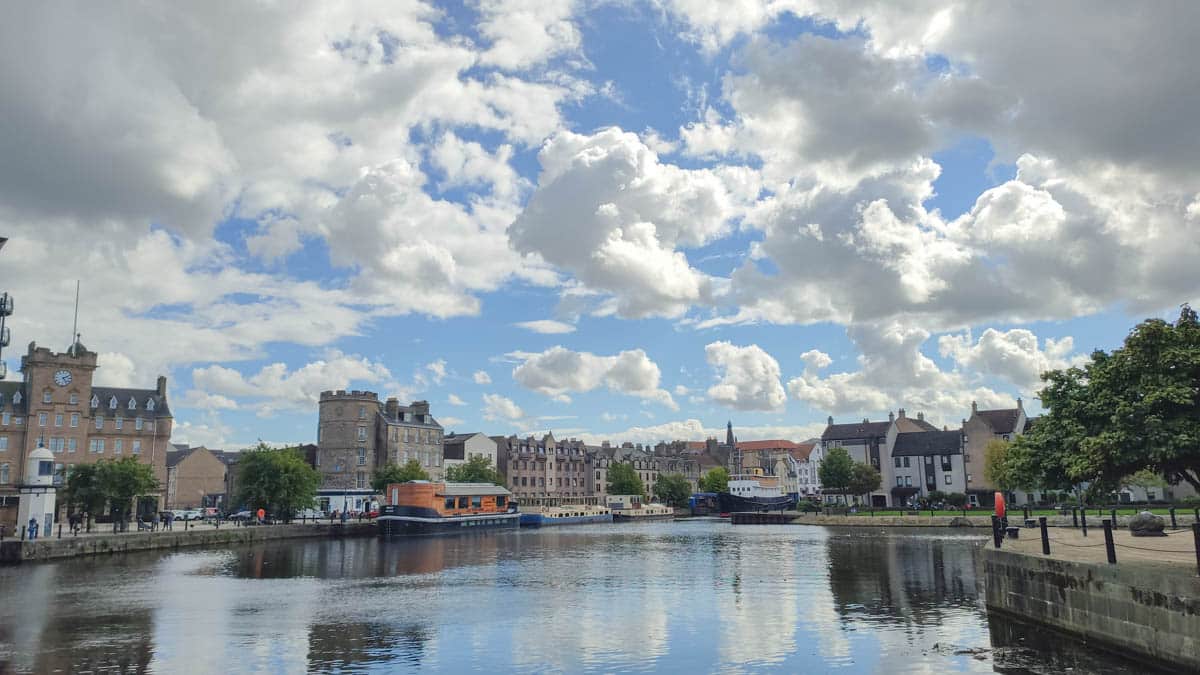 Leith is an area like no other – although we may be biassed because this is where we live. The district of Leith rests on the shores of the Firth of Forth. These historic docklands are now a hipster hub, jam-packed with delicious delis, cute cafes and some of Scotland's best chefs. Don't believe people who tell you Leith is dodgy or unsafe, it's really not! 
A short stroll down Leith Walk will get you to these beautiful docks. Why not stop by Leith Walk Police Box on the way to support a local start-up business? And make sure to pop into Weigh to Go for some zero waste snacks if you get peckish.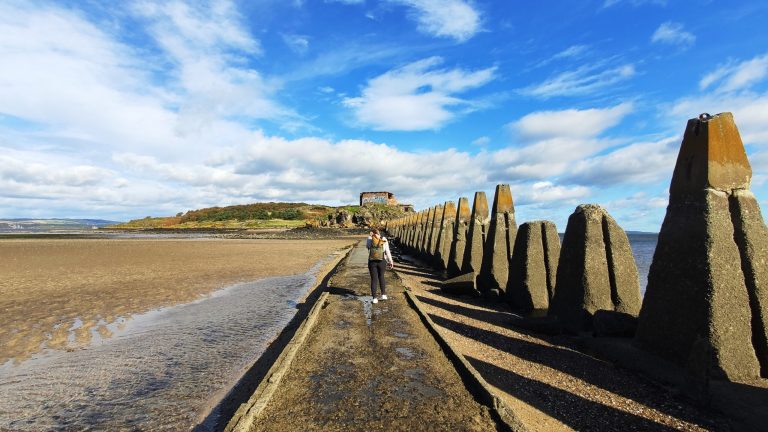 Explore an Elusive Island
Cramond is a sleepy suburb with a secret – Cramond Island! This elusive little island sits in the middle of the Firth of Forth and can only be accessed when the tide is at its lowest. It's a great place to explore, with beautiful views of the three bridges which straddle the estuary. Why not pack a picnic? Just make sure you get back across to the mainland before the tide closes in over the pathway.
The easiest way to get to Cramond is by taking bus 41 from Princes Street. It's also a very pleasant cycle which can be done entirely on Edinburgh's quiet cycle routes. Check out our post on cycling to Cramond here.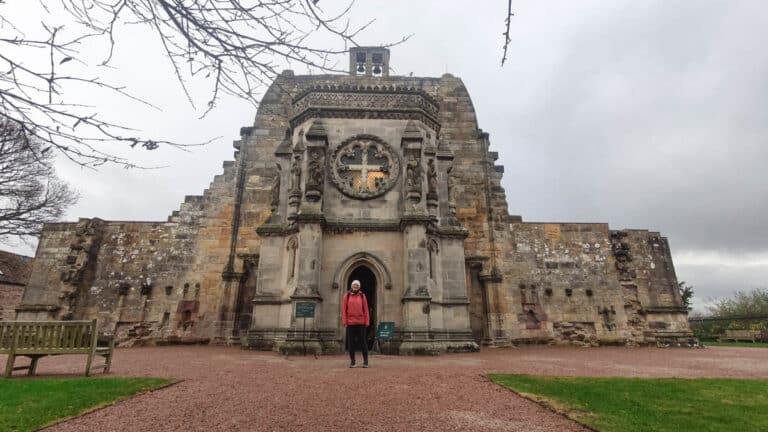 Break the cryptic code of Rosslyn Chapel
Roslin, also spelt Rosslyn, is a village just 11 kilometres south of Edinburgh. Most tourists head here to visit Rosslyn Chapel, a 15th-century stone chapel with exquisite carvings covering almost every surface. Its architecture is considered to be among the finest in Scotland and it has featured in famous films, such as The Da Vinci Code. Make sure to stop off at the castle nearby too!
To get there by public transport, take the 37 Lothian Bus from Edinburgh city centre. We cycled there when we went, however, we wouldn't recommend this to someone visiting Edinburgh. The cycle route is mostly along busy roads and the city hire bikes system doesn't stretch quite that far out, meaning there would be nowhere to drop your bike off when you arrive.
If you're already in the UK, Edinburgh is easily accessible by train. You can take a direct train from London which goes up the scenic East Coast and takes just 4 hours. You can also take a train up the West Coast which takes longer, but travels through the beautiful Yorkshire Dales and Lake District National Parks. 
The National Express and Megabus are more budget-friendly options to get between major UK cities. However, they do take a long time and always run late! 
Budget flights are readily available from many European cities. If you must take a flight you should consider extending your trip to Scotland or visiting the rest of the UK. If you choose to fly, please consider offsetting your carbon emissions. 
Edinburgh is fairly small for a European capital city, although there's no shortage of things to do! This makes the city wonderfully walkable. You probably won't need to take public transport during your visit at all. Check out the cycle-hire service if you want to get around faster, although be warned, Edinburgh is quite a hilly city. 
That said, the Lothian bus service in Edinburgh is one of the best-run bus services I've had the pleasure of taking. Edinburgh also has a great tramline, extending from the airport to the heart of the city. For both services, you can easily pay by tapping your credit/debit card. If you want to pay with cash, make sure you have the exact change. 
Follow our daily adventures on Facebook and Instagram
This post may contain affiliate links (yay for transparency!) This means that I will earn a small commission, at no additional cost to you, if you click the link and choose to buy the product. I only link to stuff I have personally bought and found useful and never endorse crap. Your support helps keep the site going, thank you!