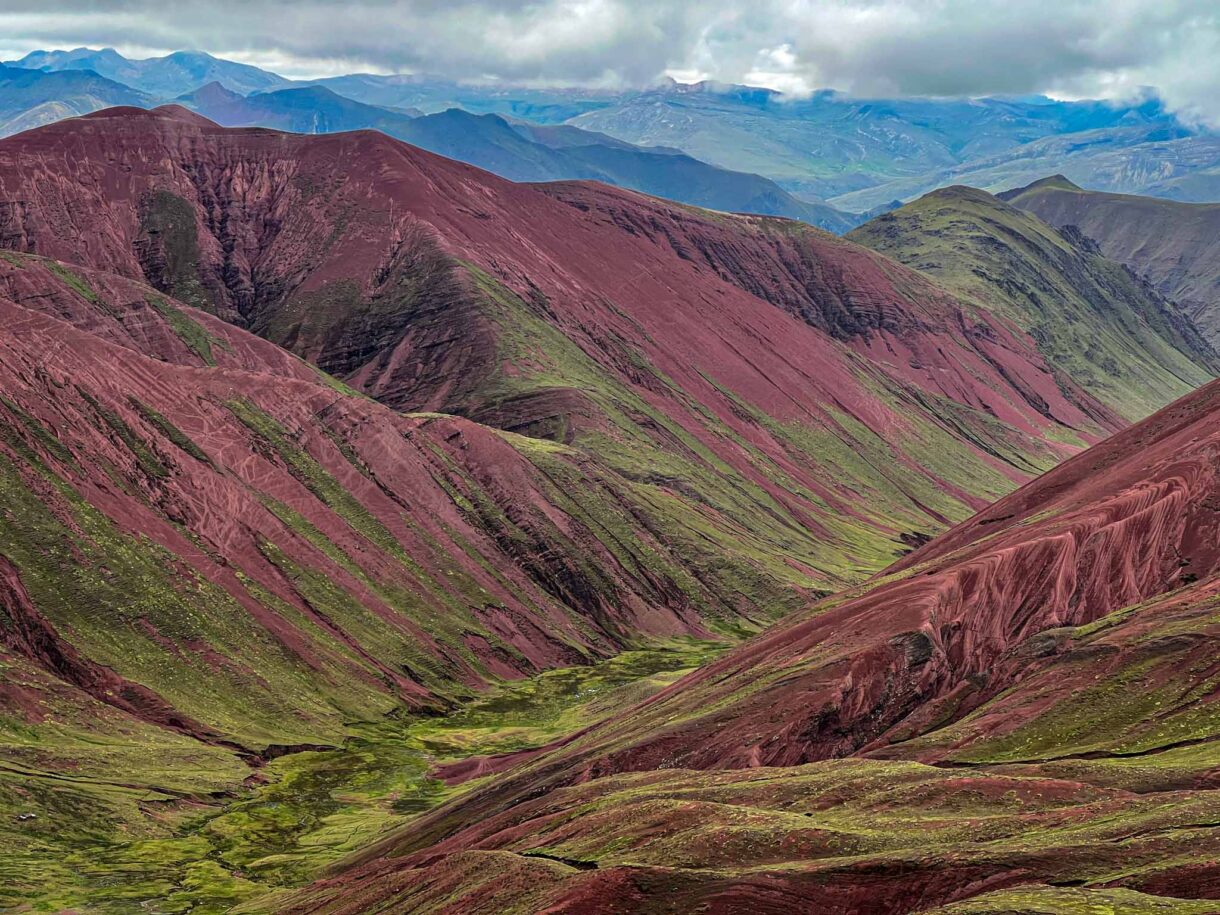 The Ultimate Guide to the Hidden Red Valley, Peru [2023]
Are you planning on visiting the recently discovered Rainbow Mountain from Cusco? We're about to let you in on a secret location, just a 20 minute walk away. Our guide includes everything you need to know about the Red Valley, what to expect, what to pack, and tips to acclimate to high altitude.
In 2015, Rainbow Mountain exploded onto the world's tourism stage in a burst of colour. Previously hidden under a thick blanket of snow, this incredible varicoloured mountain soon became a social-media sensation. Now one of the most popular attractions in Peru, Rainbow mountain is a huge bucket-list destination. In fact, both the mountain itself, and the surrounding communities, are suffering heavily from overtourism. 
We're sure you've heard of it, so we won't bang on about Rainbow Mountain too much in this post. Yes, it was beautiful, but it wasn't the tranquil experience I'd envisioned. It was freezing cold, the rainbow colours were muted behind a thin layer of mist, and my head was pounding from the altitude. There were so many people queuing for the photo (yes, you know the one). It was chaos.
But I'm going to let you in on a little secret. What you may not know is that, just next door, is a landscape that is (dare I say) even more stunning than Rainbow Mountain. Hello, Red Valley Peru! 
Red Valley was a breath of fresh air. Despite how close it is to Rainbow Mountain, there was no one else there. No one even knew about it. Chances are, you haven't heard about Peru's Red Valley either, and you're not alone. Let me fill you in, as we cover everything you need to know about Peru's Red Valley in this blog post.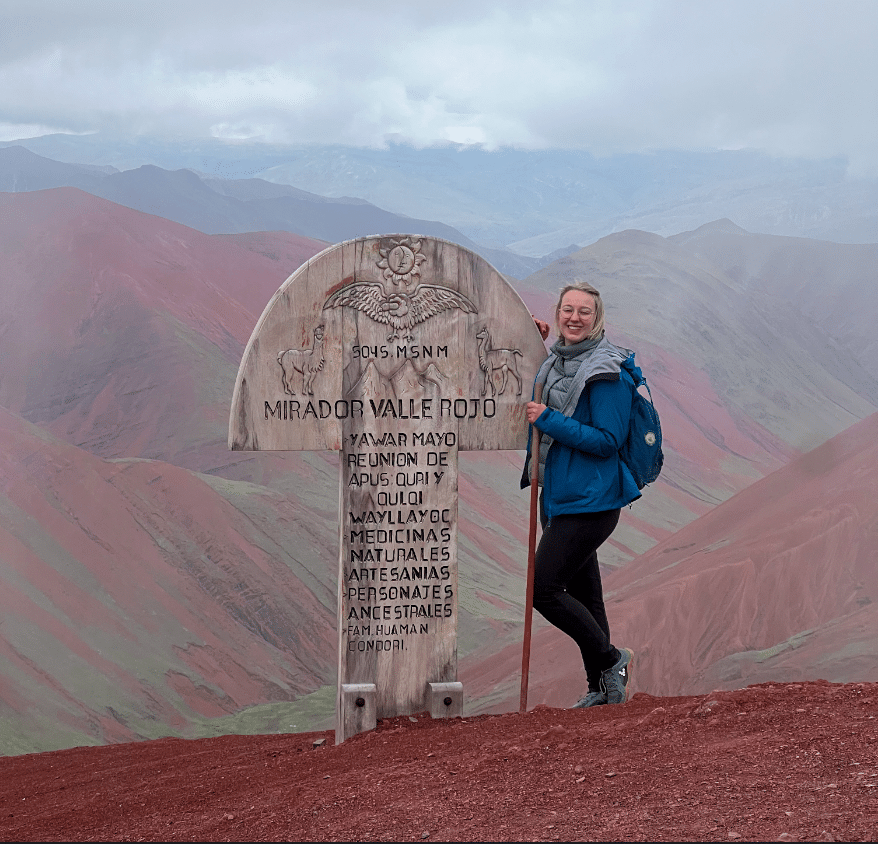 WHAT IS THE RED VALLEY IN PERU?
Red Valley (known in Spanish as Valle Rojo) is a seemingly endless tapestry of rich, earth tones that will take your breath away. Or maybe that was the altitude…. The rugged landscape is characterised by rolling red hills, rocky outcrops, and dramatic cliffs, sprinkled liberally with contrasting splashes of green vegetation.
The intense red and orange colors are a result of mineral deposits in the earth, namely iron oxide. Unlike the subdued colours of Rainbow Mountain, which are often heavily edited in photographs, the Red Valley really is as bold, bright, and beautiful as you expect. Embraced by the majestic snow-capped peaks of the Andes Mountains against a backdrop of blue sky, Red Valley was one of the highlights of our trip to Peru.
And the best bit? You'll likely have this stunning view all to yourself since no one knows it's there yet. You won't see it advertised by tour companies in Cusco. It's not featured on popular itineraries. Not all of the locals on the mountain knew it: we had to ask around a bit to find the right trail. The lack of large crowds creates a sense of tranquility and calm. It's beautiful!
WAIT... NO LARGE CROWDS? HOW MANY PEOPLE VISIT THE RED VALLEY EACH DAY?
Compared to more popular sites like Rainbow Mountain, Red Valley tends to be less crowded. During the high season, up to 4000 people visit the Rainbow Mountain. Every. Single. Day. FOUR THOUSAND. The Red Valley gets significantly fewer visits. Even in high season, less than 500 people visit the Red Valley each day. That's eight times less than those up on Rainbow Mountain!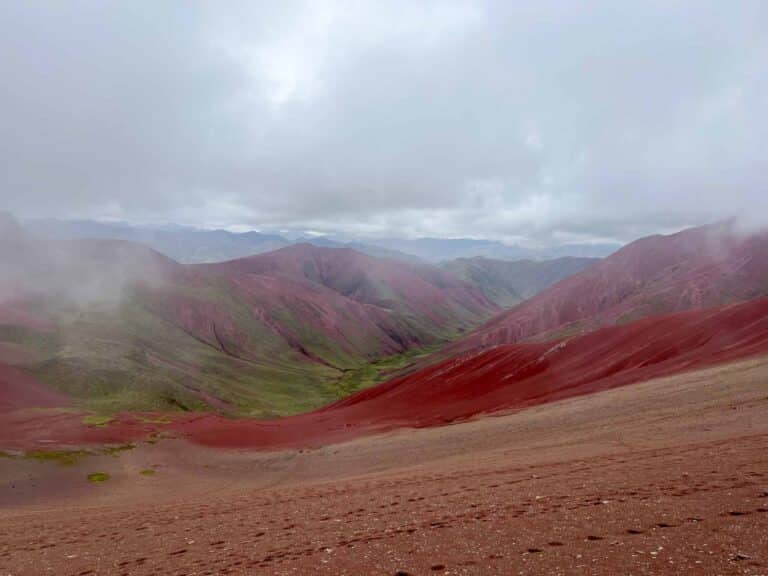 The Red Valley is hidden in the Vilcanota Mountain Range in Peru, on the border between the Cusco and Puna regions. This range, which makes up  just a small fraction of the magical and mysterious Andes Mountains, is also home to the instagram sensation, Rainbow Mountain, and the less famous but equally colourful, Palcoyo Mountain. 
It's super easy to visit both Red Valley and Rainbow Mountain on the same hike! Scroll down a bit to our map and look how close to each other they are.
WHAT'S SO SPECIAL ABOUT THE RED VALLEY?
Unlike Rainbow Mountain, the Red Valley is entirely… well… red! And, whilst photographs of Rainbow Mountain are often heavily edited, the bold colours Red Valley really are that saturated. 
Due to the quieter trails, you'll have a higher chance of spotting semi-wild llamas and alpacas. You may even see rare wildlife, such as Peru's famous condors or even an Andean mountain cat.
The hike itself is relatively short, especially if you are coming down from Rainbow Mountain anyway. It's also not that dangerous, although you do need a pretty good physical condition to attempt both Red Valley and Rainbow Mountain due to high altitude. Overall, Red Valley is a moderate hike which a lot of people will like, and it's a very good idea to try it out.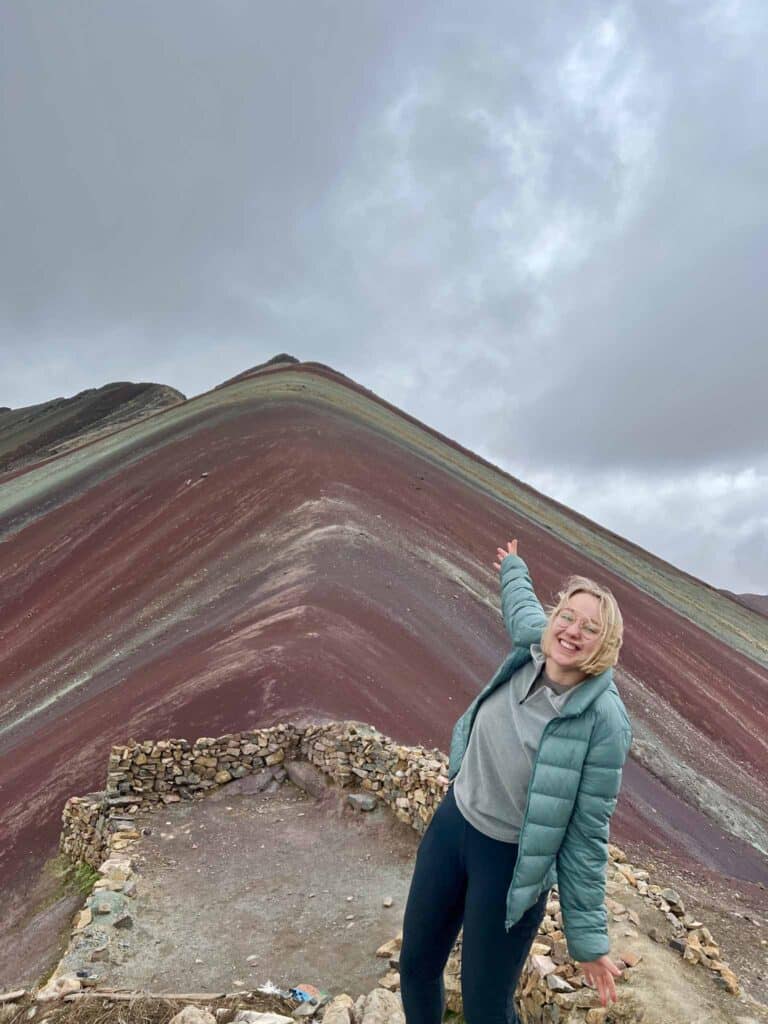 We saw Rainbow Mountain and Red Valley in the same day! All photos here are unedited, to show you the true colours of both of these magnificent landscapes
HOW TO VISIT THE RED VALLEY IN PERU:
There are so many ways to visit Red Valley. Let's look at the options below.
NOTE: There is a small cost of S/20 (£5 GBP) to visit Red Valley in Peru. This may be included in your tour price, but it's always good to check!
#1 (UNOFFICIAL) RAINBOW MOUNTAIN ADD-ON
The easiest way to visit the Red Valley in Peru is to see it in combination with Rainbow Mountain. This was the option we went with, and means that you get to see two incredible natural wonders in one action-filled day!
For this option, you can book onto a day tour to Rainbow Mountain with any operator in Cusco. Before you start the hike, simply mention to your guide that you'd like to see the Red Valley on your way back down. You'll pop up to Rainbow Mountain first with the rest of the group, and then return to the trailhead via the Red Valley. Your guide may not be able to come with you as they may need to stay with the larger group. However, they should be able to point you in the right direction (even if it's not explicitly included on the tour). 
Note: Including Red Mountain (unofficially) on your Rainbow Mountain tour requires you to either a) be slightly fitter than average to reach the top of Rainbow Mountain before the rest of the group, or b) walk up with the group but sacrifice some time at the top of Rainbow Mountain so that you have time to detour to Red Valley on the way down. This means you may miss out on key photo opportunities, for example, that one llama photo as you won't have time to queue.
Now, cute as they may be, I felt a bit sorry for the llamas up on Rainbow Mountain, all dressed up and being forced to pose with tourists all day. Missing out on the llama photo wasn't a huge deal for me and Rainbow Mountain was almost entirely shrouded in cloud when we got there, so I didn't mind heading down a little early. That said, if spending more time on Rainbow Mountain is important to you, you might want to consider option two… 
#2 RAINBOW MOUNTAIN AND RED VALLEY TOUR
Although it's not common, more and more operators are advertising guided tours to both Rainbow Mountain and Red Valley in the same hike. This is the same as above, except you'll have a guide for the whole hike. They'll make sure to schedule enough time to fully enjoy Rainbow Mountain and Red Valley, which will feel a little less rushed. 
If you're a keen photographer, this may be a better option. You'll have more than enough time to enjoy the walk, set up your gear, and take as many photos as you like in both locations without sacrificing one for the other. 
However you choose to do it, both options are much better than heading all that way just to see Rainbow Mountain on its own, which is what most visitors will do on a day tour.
As of 2023, this option is still gaining traction, but it is possible to find the right tour company or guide to just hike in the Red Valley with (without seeing Rainbow Mountain). This would be a great choice for those who are dissuaded from hiking Rainbow Mountain entirely and prefer a more tranquil hike. 
If you only want to see Red Valley, your best bet is to ask around with local tour agencies in Cusco and see if they can arrange something. You'll likely take the same route from the car park up to Rainbow Mountain, eventually deviating from the path before cresting the hill and getting your first views of the magnificent crimson landscape! From here, the trail weaves through Red Valley, looping round and returning to the trailhead in just a couple of hours.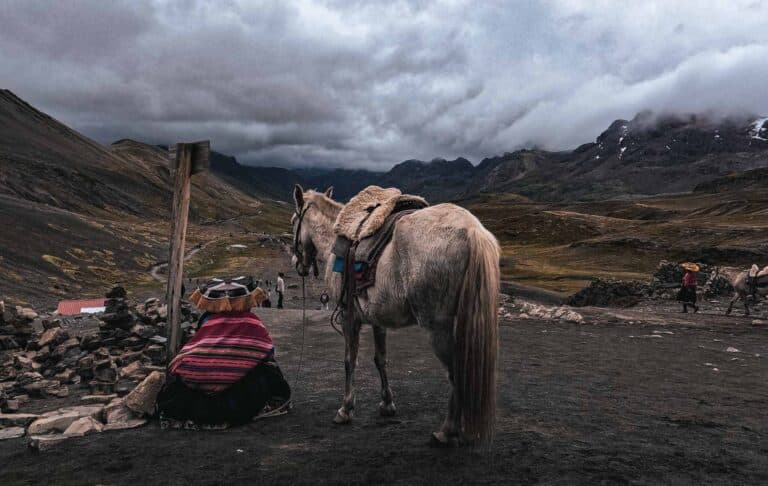 Turn left, just after you see the horses waiting as you come down from Rainbow Mountain
HOW TO GET TO THE RED VALLEY FROM RAINBOW MOUNTAIN BY YOURSELF
So, you're hoping to see the Red Valley but you're heading there by yourself, without a guide? 
This was the option we took. We'd booked onto a tour of Rainbow Mountain from Cusco and decided, rather last minute, to hike to Red Valley on the way back down. Our guide was up on Rainbow Mountain with the rest of the tour group, and we'd agreed to meet them back down at the car park. 
We almost didn't make it. As we were heading down from Rainbow Mountain, we were enveloped in a thick blanket of cloud. We could barely see the trail in front of us. We took a very 'interesting' route over to Red Valley. The entire time, I wish we'd had a map or a detailed set of instructions. That's why I made one for this post, so that you don't get lost the same way we did!
STEP BY STEP GUIDE TO GET FROM RAINBOW MOUNTAIN TO RED VALLEY
Start by heading back down from Rainbow Mountain the same way you came up. Just after you pass the area where the horses wait to offer rides to tourists, you'll notice a small path with a rope handrail on the left. 
Take this path and walk for around ten minutes.
At the next path divide, you'll meet a local landowner who will charge you 10 Soles (£2.50) to cross over into their land. They will direct you to the right path. It's fairly flat for about 5 more minutes, then it gets really steep for another 10 minutes or so, depending on your walking speed.
Just before you reach the ridge, you'll see a wall with a small gate. We  to pay another 10 Soles here, but apparently the landowner isn't always around to charge you. Head through the gate, and along the path down the other side of the ridge and marvel as views of the Red Valley open up in front of you!
WHEN IS THE BEST TIME TO HIKE IN RED VALLEY?
We're firm believers that there's no 'best time' to visit a country or area. Each season offers its own unique charm and appeal. 
For the nicest and most consistent weather, we recommend you plan your visit to the Red Valley between April and November. This is Peru's dry season, so you're likely to enjoy sunnier days, which will make those reds and greens look really vivid! The very best weather is usually between June and August. However, these months coincide with peak season so it may be busier on the trail. 
But good weather can never be guaranteed and mountain weather is famously unpredictable. It's not uncommon for Red Valley and Rainbow Mountain to be shrouded in cloud. We visited in late April and the weather was cold and incredibly overcast. Not ideal to soak in the expansive views of the Red Valley!
If you're visiting during the wet season – December to March – there is a much higher chance of mist, rain, and low clouds obscuring your views. Still, there are always breaks in the cloud. If your visit to Cusco coincides with the wet season, you should definitely still visit. Just keep an eye on the weather, if it gets really bad, the trail to Red Valley may be closed for safety reasons.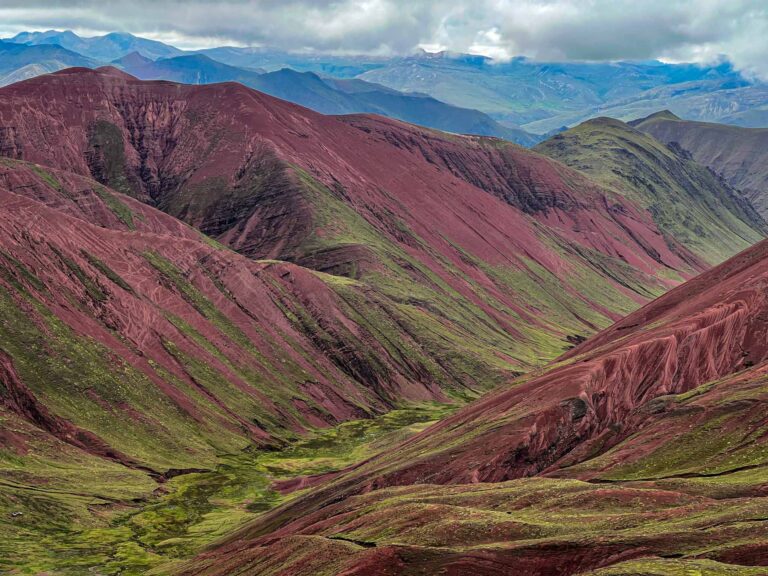 HOW HIGH IS THE RED VALLEY IN PERU?
Down the hill from Rainbow Mountain, the Red Valley sits at around 5,000m above sea level. If you were feeling the altitude in Cusco (a woozy 3400m high) then you'll understand the importance of acclimatising properly before visiting the Red Valley in Peru.  
THE IMPORTANCE OF ACCLIMATISATION
Altitude sickness, or acute mountain sickness, is a common illness experienced at high altitudes. It happens when travellers and hikers ascend to high altitudes too quickly, without giving their bodies time to adjust to the reduced oxygen levels. The main symptoms of AMS include headache, shortness of breath, nausea, lightheadedness, dizziness, indigestion and loss of appetite. 
It doesn't matter how fit you are, or if you've avoided altitude sickness before. There's no guarantee that it won't affect you this time. I was fine hiking the Annapurna Circuit in Nepal (5417m), and reaching the summit of Mount Toubkal in Morocco (4167m). However, I experienced mild altitude sickness when hiking up to Rainbow Mountain and back down to Red Valley. This might have been because we didn't spend enough time in Cusco first!
HOW TO AVOID ALTITUDE SICKNESS
Disclaimer: these tips are just a few things that have helped me. You should always consult a medical professional for any medical advice. 
The best way to avoid altitude sickness in Red Valley is to avoid going up too high, too fast. When hiking above 2000 metres above sea level, mountain guides will recommend increasing your altitude by less than 500 metres a day. If you're coming straight from Cusco though, this won't be possible. 
There are a few other things you can do to reduce the severity of altitude sickness. Hike slowly and don't rush around, it's not a race after all. It's really important to stay hydrated, so sip plenty of water throughout the day. You can also eat lighter meals and don't eat too quickly. The locals will tell you to take coca leaves, tea, or sweets, which may help. You can also buy over-the-counter altitude sickness tablets(such as Diamox) in Cusco. But these should be used as a last resort!
Check out our guide to acclimating to altitude (coming soon)
WHAT TO WEAR AND PACK FOR HIKING TO THE RED VALLEY IN PERU?
Peru might not be seen as a country with a cold climate, it's got hot deserts and tropical jungles after all. But hiking in the Andes Mountain Range above 5000m was chilly. I definitely hadn't packed enough layers and felt fairly cold once we stopped at the top to take in the views. 

If you have thermal or moisture-wicking base layers, I recommend that you wear them. Then layer up in the same way you would for any cold-weather hike. Don't forget to pack something warm for when you get to the top (we brought our down jackets). And as always, remember your waterproof jacket.
You should also pack water, snacks, sunglasses, a warm hat (you may even want to bring gloves too). We'd usually bring our own trekking poles, but we packed really light for this trip. If you forget anything, you can rent anything you don't have in Cusco. The sun can be harsher at altitude, so remember to use sunscreen even if you feel like you don't need it. 


OVERTOURISM IN RAINBOW MOUNTAIN AND RED VALLEY
The rapid increase in popularity of Rainbow Mountain has raised concerns about overtourism. The surge in visitors, attracted by the mountain's stunning beauty and the images they see on social media, has put a strain on the delicate ecosystem and the local communities in the area. 
Red Valley in Peru hasn't experienced the same level of overtourism yet. But it's only a matter of time before this hidden gem is added to popular itineraries. This means it's really important to understand how to be a responsible tourist. 
HOW TO BE A RESPONSIBLE TOURIST:
You can minimise your effect on Rainbow Mountain and Red Valley by choosing responsible tour operators, respecting local customs and the environment, and being mindful of the impact of your visit. You should also stick to paths, use designated bathroom facilities, and take your litter home with you. Additionally, it's important to stay informed and follow any guidelines or regulations in place to protect this natural wonder and its surrounding communities.
FINAL THOUGHTS: IS IT WORTH IT TO VISIT RED VALLEY IN PERU?
Absolutely! Going to the Red Valley in Peru is an amazing idea, and one of the things near Cusco that you won't want to miss. Although still a 'hidden gem', this otherworldly landscape is slowly gaining popularity because of its genuinely vibrant colours. 
If you prefer quieter routes for a more peaceful experience with nature, the relative lack of visitors to Red Valley might be appealing. And, it's not an 'alternative' to Rainbow Mountain but can be done alongside it. Two amazingly beautiful and bold views in one day? It's a hard deal to resist. 
Rainbow Mountain was great. But it was the Red Valley that truly made it an incredible day. 
BONUS TIPS: From Incan Ruins to Cusco's Coffee Scene: we're sure you can't wait to explore more in and around Cusco and the Sacred Valley. There's so much to do and see in this area. We spent ten days in and around Cusco and still felt like we hadn't seen it all!
Follow our daily adventures on Facebook and Instagram
This post may contain affiliate links (yay for transparency!) This means that I will earn a small commission, at no additional cost to you, if you click the link and choose to buy the product. I only link to stuff I have personally bought and found useful and never endorse crap. Your support helps keep the site going, thank you!